Does the name Michelle Moyer ring a bell? If it doesn't, then you'd certainly remember husband Dennis Rodman who is a former NBA player and a wrestler. Michelle is famously known for being the third wife of the former NBA star and the pair was married for a brief period of time before their relationship was dragged into the mud. Read on to find out more on Rodman's ex-wife, their relationship, and other interesting facts below.
Who is Michelle Moyer?
aMichelle Moyer is a gorgeous American celebrity and the former spouse of the NBA Star Dennis Rodman. She rose to the mainstream following her marriage to the sportsman. While their marriage didn't last for a long time as everyone thought it would; Moyer became even more popular following her struggles for child support after their divorce. Meanwhile, she has two children with Rodman before their relationship deteriorated.
Michelle Moyer was born and raised in the United States and her birth year is 1967. Information regarding her birthday and month are currently unavailable. Also, she possesses an American nationality and her ethnicity is white. There are no much details in Michelle's educational background and her career. She came into the spotlight after she married Dennis Rodman. Learn all you need to know about Michelle in these facts below.
Michelle Moyer's Relationship with Dennis Rodman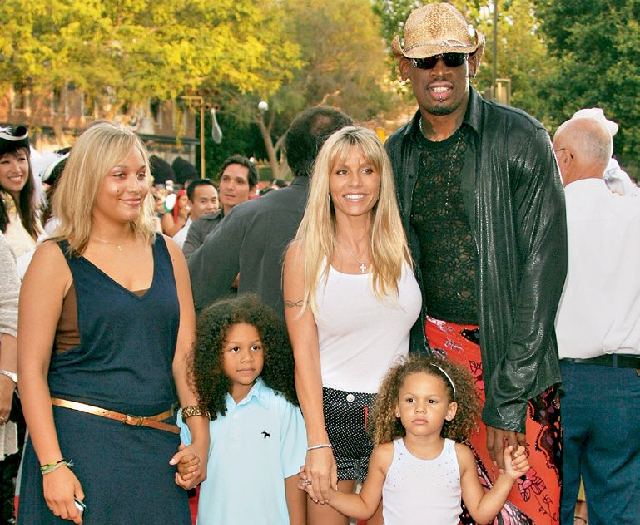 The amazing lady fell in love with Dennis Rodman in 1999 and the duo eventually tied the knot in 2003. Dennis is a well-known NBA superstar and his professional career lasted from 1986 to 2006. Interestingly, he was a five-time NBA champion and was named NBA All-Star twice. Known for his defensive and rebounding skills, Dennis led the NBA in rebounding for seven seasons consecutively. He also won the NBA Defensive Player of the Year Award twice in 1990 and 1991. During his career, Dennis played for top NBA teams including the San Antonio Spurs, Detroit Pistons, Chicago Bulls, and Los Angeles Lakers, just to mention a few.
The amazing couple tied the knot in 2003 after four years of successful relationship. Meanwhile, they welcomed their first child, a son named Dennis Rodman Jr. in 2000 and the following year; they also welcomed their daughter named Trinity. The pair was enjoying a beautiful married life before their relationship turned sour in 2004 and they went their separate ways.
Surprisingly, Michelle isn't the first wife of Dennis. The former NBA was previously married to Annie Bakes with whom he had a daughter named Alexis in 1988. The pair went their separate ways in the early nineties. After that, he married a model named Carmen Electra in 1998 and they divorced one year later.
Divorce
Just one year after Michelle Moyer and Dennis Rodman tied the knot, their relationship started having hiccups which eventually led to a divorce. The problems between these two began when Rodman could not give up his heavy drinking and excessive partying habits. The effect of his reckless life is often seen in the constant domestic abuse he lashes out on his wife Michelle. When she couldn't take it anymore, Michelle went ahead to file for a divorce in 2004. The struggle for their divorce lingered for about eight years before they finally divorced in 2012.
After their divorce, Rodman also failed in his duties to pay Michelle for child support in order to help raise their two children. This prompted Michelle to also petition the court informing them that she had never received any money for their children's upkeep. However, it was later discovered that the former NBA star has owed an accumulated sum over $850 thousand in child support. Since then, there has not been any news regarding Michelle's subsequent relationships. She is currently focused on raising her two kids.
What Is Her Net Worth?
After her divorce from Dennis Rodman, Michelle's net worth experienced a significant increment as she received her divorce settlements. However, her net worth is still under review and can't be ascertained at the moment. Meanwhile, that of her ex-husband is currently pegged at $500 thousand. Although he had a huge net worth earlier, his bad decisions and lifestyle have made him lose all his money; thus making it hard to even pay for his divorce settlements.
Check Out: All You Must Know About Sunshine Kiki Brown – Clayne Crawford's Wife
Her Height and Body Measurements
Michelle Moyer is indeed a beautiful lady with a charming personality. In addition to her beauty, Michelle is very tall, standing at an average height. She has a slim bodybuild with a great physique; nevertheless, her body measurements are currently not available. Michelle has blonde hair and brown eyes. Her body weight, shoe size, bra size, and dress size are unavailable.