Many people know him for his incredible work in the American culinary world but not many know what Michael Symon's age is at the moment and questions have often been asked about the month and year in which he was born. Respected for his cooking skills, Symon has managed to build an admirable career as a chef and restaurateur, winning a lot of praise for his persistence and creativity and cementing his status as one of the most talented men in the culinary business who are pushing the boundaries and creating new exciting trends.
As a famous public figure in America, the chef's age and other aspects of his life have been among the highly sought after details about him by fans who want to know everything about his background. So, what is Michael Symon's age and what exactly are the things he has done that gave him so much fame? Let's find out.
What Is Michael Symon's Age?
He was born on the 19th day of September 1969. The chef was born in Cleveland, a city in Ohio, the U.S.A., but he grew up in North Olmsted. Apparently, Symon is an American, however, it is noteworthy that he also has Greek, Italian, and Eastern European roots as well.
Growing up, he attended the St. Richard School located in North Olmsted. He also attended the St. Edward High School in Lakewood and graduated in 1987. At this time, he was taking a serious interest in cooking and took a part-time job as a cook at Geppetto's Pizza and Ribs on Warren Rd.
Michael Symon later attended the Culinary Institute of America in Hyde Park, New York, where he honed his cooking skills before graduating in 1990. Following his graduation, the chef went on to make a successful career as a culinary expert.
What Is Michael Symon Famous For?
Like we have earlier mentioned, Michael Symon is a chef and he has so much fame as a result of his cooking skills and creativity. In fact, he has been credited severally with helping to save the Downtown Cleveland restaurant scene, having worked for a long time and established businesses in Cleveland and the state of Ohio in general.
At first, Symon started working at Player's, a Mediterranean restaurant located in Lakewood. He then moved to Piccolo Mondo, a popular Cleveland restaurant to work as a chef. While there, he made some fame and gained quite a following among customers, especially because of his very cheerful nature. He later moved to Caxton Cafe, another restaurant and after working for some time, decided to open his own.
Michael Symon now owns several restaurants around the USA. He opened his first in 1997 and called it Lola. He opened the restaurant in Cleveland along with his then-fiancée Liz Shanahan. The restaurant found serious success in Cleveland and was even listed in the Gourmet magazine as one of America's Best Restaurants in 2000. Symon and his wife later opened a second restaurant called Lolita in 2006 and this also found some success.
As his success grew, Symon kept opening other restaurants and expanding his influence as a restaurateur of note. Some of his other restaurants now include Mabel's BBQ, as well as BSpot, and Michael Symon's Roast. He also owns Angeline in New Jersey.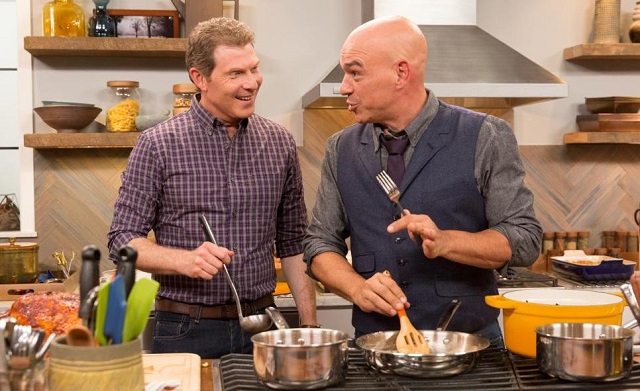 Michael Symon is also famous as a TV personality. He has appeared on different TV shows across Food Network and ABC, as well as the Cooking Channel. On the Food Network, he has appeared in many shows including Iron Chef America, as well as Burgers, Brew and 'Que, Food Feuds, and The Best Thing I Ever Ate. On ABC, he has starred on The Chew, a talk show and on the Cooking Channel, he appeared in Cook Like an Iron Chef. His appearances on these shows have increased his immense popularity.
Read Also: Eric Ripert Net Worth: How Much Money Does The French Chef Have?
Michael Symon's Height
Apart from Michael Symon's age, fans have also been curious about what the chef's height is. Symon is a handsome man who knows how to carry himself with pride everywhere he goes. So, how tall is he?
Michael stands at 5 feet 9 inches in height which is above average. In addition to this, he is also reported to weigh about 208 lbs or 94.3 kg.