Melissa Reeves has carved out a career for herself in the acting industry. She is known for the diverse characters she has portrayed on film and television, most notable among them is Jennifer Horton, the iconic role she has been playing on and off on the long-running soap opera Days of Our Lives since 1985. Melissa is one of the fan favorites on the show. Her enviable acting talent combined with her persona on and off the screen has earned her the admiration of millions of fans, as well as the respect of her colleagues.
For over three decades, Melissa has dazzled audiences with her performances, building a solid professional resume along the way. Although her portfolio is not overflowing with acting credits, Melissa has managed to make the best with what she has. She has picked up a number of accolades over the years for her work as an actress. She has won four Soap Opera Digest Awards and has been nominated for one Gold Derby Award, two Daytime Emmy Awards, and four Young Artist Awards.
Who Is Melissa Reeves?
The Days of Our Lives star was born Melissa Brennan on the 14th of March 1967, in Eatontown, New Jersey. She is the daughter of Lawrence Brennan and his wife Marion. Her father worked as a radio broadcaster while her mother looked after the family. She has a brother named David Brennan.
Growing up, Melissa Reeves aspired to become a professional dancer. After graduating from high school, she moved to New York City to study dance under the tutelage of Phil Black. She then went on to attend the Lee Strasberg Institute in Manhattan.
Although she began appearing in commercials when she was 15, Melissa didn't break into the film industry until 1983 when she played Georgina in the movie Somewhere, Tomorrow. The following year, she scored her debut television role in the soap opera Santa Barbara playing the character Jade Perkins. She embodied the role to perfection and was rewarded with two nominations under the category of Best Young Actress in a Daytime or Nighttime Television Series for the Young Artist Awards.
Her next television role was as the adult Jennifer Horton. She played the character from 1985 until 1995. Since her departure from the show was abrupt, Sony TV Entertainment and Corday Productions sued Melissa Reeves for breach of contract. However, the case was eventually settled out of court and the actress was made to pay an undisclosed sum as damages for her breach.
Meanwhile, Melissa appeared in other works such as Summer Camp Nightmare, Days of Our Lives: One Stormy Night, Days of Our Lives: Night Sins, Days of Our Lives: Winter Heat, and The Hitchhiker.
After leaving Days of Our Lives, she starred alongside Scott Reeves in the 1999 television film Half a Dozen Babies. In 2000, Melissa returned to Days of Our Lives to take up her role as Jennifer Horton, which had been played by Stephanie Cameron after she left. This time around, she remained with the show until 2006 when she announced that she was leaving because her family was moving to a different state.
On June 9, 2010, Melissa returned to Days of Our Lives again to continue her role as Jennifer Horton and continues to play the character till date.
What Is Her Net Worth?
Melissa Reeves has accrued a substantial amount of money for herself from her acting career. With more than thirty years of experience in the profession, she has found success and wealth in the entertainment industry. She is estimated to have a net worth of $9 million.
See Also: Brianne Howey – Bio, Age, Parents, Boyfriend, Movies And TV Shows
Is Melissa Reeves Still Married to Scott Reeves?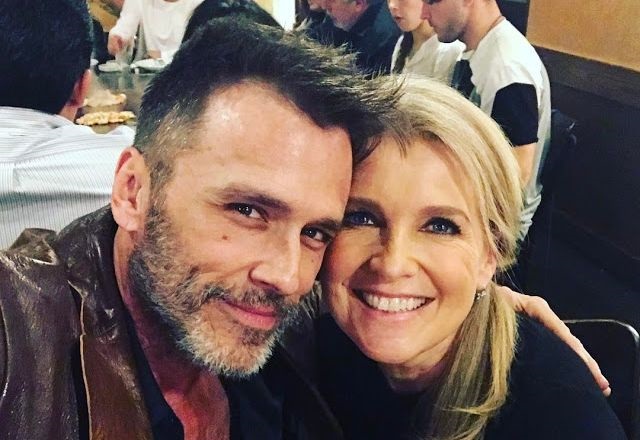 On March 23, 1990, Melissa Reeves walked down the aisle with the county music singer and soap opera actor Scott Reeves. Scott has starred in a number of popular shows including Nashville, The Young and Restless, General Hospital, and Days of Our Lives. In fact, it was on the set of the latter that the couple met and started writing their love story.
Melissa and Scott share two children together: a daughter named Emily Taylor Reeves who was born on June 23, 1992, and a son christened Lawrence David Reeves born on August 4, 1997.
The television and film actress is still happily married to Scott Reeves. They live in their home in Franklin, Tennessee. The couple also owns a farm called Revival farm located in Nashville, Tennessee.