Without a doubt, Charles Barkley was a popular basketball player who played for NBA franchises like the Philadelphia 76ers and the Phoenix Suns. His career made him into one of the best players in NBA history and he has consolidated that popularity via his role as an NBA Analyst on TNT. This has kept a focus on the personal life of Charles and that of his wife, Maureen Blumhardt, in the media.
Charles' wife, Maureen Blumhardt, most definitely does not share the legend and fame of her husband, but what she lacks in global legend, she has made up for in being an honorary member of Fresh Women's Foundation and being a loyal wife to the basketball star whom she has been married to for almost 30 years.
With plenty of articles already on the internet about her husband, we take an in-depth look at the life of Maureen Blumhardt life.
Who is Maureen Blumhardt?
Being the less popular half of the power couple, there are several details about her life that is very much unknown at the moment, one of them being her birth date. So far, all we know is she was born in the city of New York in 1960 to American parents.
In the box of mystery and unknowns about her life are also details about her education history. While it might be easy to blame the media for choosing to focus more on the star of the family, Maureen, on her own, has so far chosen to remove herself from the media and public appearances that might draw attention to her. She is rarely seen in public along with her husband for media events such as red carpets and basketball games.
Some have speculated that it is a reaction to the controversy that surrounded her decision to engage in an interracial marriage following her decision to marry the famed basketball player decades ago. Whatever her reason might be, this has led to very few pieces of information publicly available about her.
Regardless, we have been able to obtain some facts about her. Here are six interesting facts about Maureen Blumhardt.
Interesting Facts About Her
1. She used to be a model
One thing we do know about Maureen as an individual is that, before she met Charles, she was a model. The extent of her modeling career is unknown, but considering the non-availability of information about her career in contrast to the wealth of information available about successful models, we would say it wasn't an extensive career.
2. She worked as a legal aide
Seeing as we do not know exactly what Maureen Blumhardt studied in college, if she attended college, we cannot determine the extent of her professional career. However, through her relationship with Charles, we learned that she worked as a legal aide in Buck County. It is believed she was working in this role when she met the basketball player.
3. Maureen is a Philanthropist
Having married a black man in the 80s when overt racism was still in its heyday, it is a fair assumption to think of Maureen Blumhardt as a good person with positive moral judgment. If that isn't enough, however, one could look at her philanthropic contributions to helping women.
Maureen is an honorary member of Fresh Start Women's Foundation, where she is supporting the foundation's quest to provide disadvantaged women with the resources and education to positively transform their lives.
4. Maureen met Charles in a Restaurant
One is likely to wonder where Maureen could have met Charles who, at the time in his career, was one of the top and most popular players in the NBA.
They say food brings everyone together, the rich and the poor, the regular and the famous, which is the explanation as to how the couple met. They met in a restaurant, City Avenue, while Maureen was working as a legal aide in Buck County.
5. The marriage has lasted for 30 years
That fateful meeting in the restaurant has brought about lasting joy for the couple. They have been married since 1989, getting married while Charles was still playing for the Philadelphia 76ers. Together, they have weathered marital storms and external ones like the controversy regarding their interracial marriage.
See Also: Who is Ashton Meem Former Wife of Russell Wilson, Is she Dating Anyone?
6. Maureen has a daughter, Christina Barkley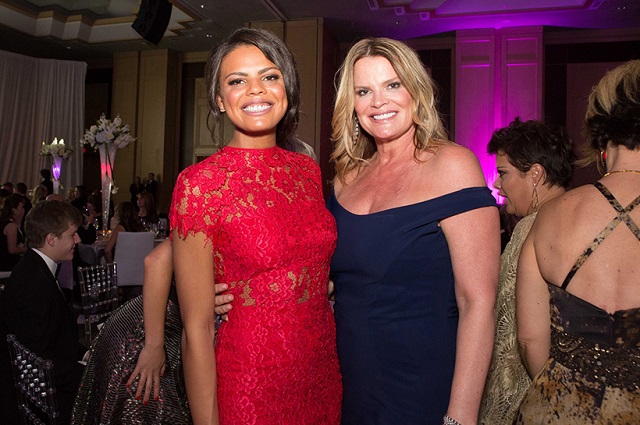 In the same year they got married, Maureen and Charles Barkley welcomed a daughter, Christina Barkley. There has been speculation that she is not their only child, with rumors of the existence of a son; but this has not been confirmed by the couple.
Their daughter seems to be pursuing the same path as her father. She is currently attending Columbia Journalism School.