Age/Date of Birth:

19 January 1992 to 7 September 2018
Height:

5 ft 6 ½ inches
168.9 cm
Ethnicity/Race:

Irish, Scottish, Jewish ancestry
Nationality:
American
Wife or Girlfriend:
N/A
Parents:
Father: Mark McCormick
Mother: Karen Meyers
Net Worth:
$10 Million

Mac Miller was an American rapper and record producer with an estimated net worth of $10 million. Miller was born Malcolm James McCormick on January 19, 1992, in Pittsburgh, Pennsylvania. In high school, Miller was actively involved in sports but later settled for hip hop. He taught himself how to play instruments like the piano, guitar, drums, and bass. In 2007 at 15, he released a mixtape "But My Mackin' Ain't Easy" under the name EZ Mac. He built a fan base via performances at a local club, the Shadow Lounge. He later became part of rap group The III Spoken, and with them, he released the mixtape "How High" in 2008 before going solo.
He released two other mixtapes before signing with Rostrum Records in 2010. The company who was also working with Wiz Khalifa at the time got attracted to him when he was working with another mixtape titled "K.I.D.S" which was inspired by the 1995 film "Kids". The movie centred around the lives of a group of sexually active teenagers, the mixtape was later released by Rostrum. Later in 2010, Miller went on his first tour, "The Incredibly Dope Tour" which was a significant breakthrough as all the locations were sold out.
Debut Album Release and Continued Success
He released several other mixtapes including "Best Day Ever" which featured single Donald Trump before independently releasing his debut studio album titled "Blue Slide Park" in 2011. The album sold 400,000 copies and debuted at #1 on the Billboard 200. It became the first independently distributed album top on the Billboard 200 since Tha Dogg Pound's Dogg Food" in 1995. Since the album was released independently, Miller and Rostrum made greater profits, splitting the profit between themselves after paying iTunes their 25% cut.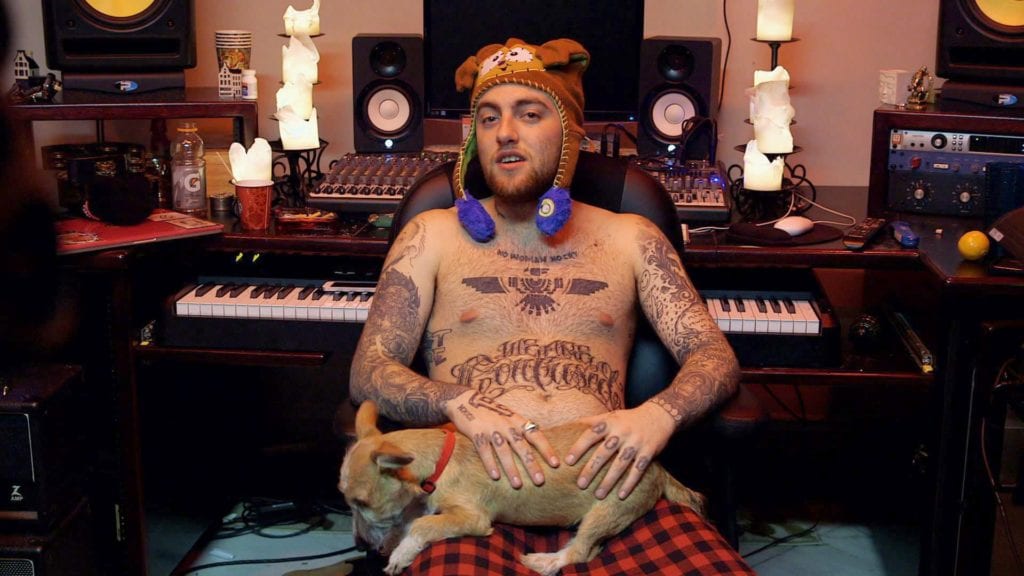 So far, Mac Miller has released 2 other albums, 10 mixtapes and several EP's. His second album "Watching Movies with the Sound Off" debuted at #3 on the Billboard 200 selling 101,000 copies in the first week. The third album "GO: OD AM" released in September 2015 debuted at #4 on the Billboard 200.
He has toured with other popular rappers like Lil Wayne, 2 Chains, and Wiz Khalifa. In 2011 Miller earned $8 million from shows and $30 million in 2013.
Mac Miller was also a record producer under the pseudonym Larry Fisherman. In 2013 he founded his own record label imprint REMember Music which he named after a friend he had lost. In 2014, Miller announced he was no longer with Rostrum Records, thereafter, his label signed a $10 million record deal with Warner Bros. Records.
He has made numerous TV appearances. His debut was on VH1 show "Single Ladies". He currently features on MTV2 reality TV show titled "Mac Miller And The Most Dope Family" which debuted in 2013.
In 2013, Mac Miller worked with Neff, a streetwear brand, to launch a clothing line. The collection is an 8 piece limited edition that includes co-branded tribal-inspired hats, sweatshirt, watch, t-shirts and tank tops.
Miller who was worth $10 million, has done commercials for Mountain Dew and BMX shoes.
Mac Miller's Success With KIDS Mixtape
KIDS (Kickin' Incredibly Dope Shit) is the fourth mixtape by Mac Miller, which he released on August 13, 2010. It has been viewed over 2,200,000 times as well as downloaded over 800,000 times. It has also been streamed over 550,000 times from the official mixtape host, DatPiff.com.
Throughout the mixtape, the 1995 film "Kids" was quoted, so the title of the mixtape was an obvious reference to the movie.
For the mixtape, Mac Miller began his first tour, titled the "Incredible Dope Tour" on which he sold out every location. It was a massive success.
His Relationship With Ariana Grande
Mac Miller and Ariana Grande are a couple and have been going strong for a while now.
Apart from a few Instagram pictures here and there, Mac Miller and Ariana are known for keeping their romance pretty private. They almost never talk about their relationship. They have never even confirmed their relationship at all, even though Ariana Grande recently sparked engagement rumors when she was spotted wearing a diamond ring on her ring finger.
Mac Miller and Ariana Grande met on Twitter after Ariana mentioned that she was watching a Thanksgiving parade and Mac Miller replied to her tweet wishing her a happy Thanksgiving and asking for a duet for "Larry Loveskin." Ariana replied him, saying she would love to do that.
They both did a duet, which happened to be a "Baby It's Cold Outside" duet. Ariana posted it on her Youtube page, and later, in March 2013, she posted another single, "The Way" on which she had featured Mac.
From then on, it seems they only got stronger. Even though they both denied the rumors of their relationship, they have both been spotted kissing on dates together.
After the Machester Attack at Ariana's concert, Ariana held a star-studded concert in honor of the victims of the bombing, and also to raise money for their families. During this concert, she did a performance with Mac Miller, in which she was wearing a diamond ring on her ring finger, sparking an engagement rumor. Since that day, she has not been spotted in public without the ring on her finger.
Tattoos
Miller has an extensive collection of tattoos all over his body. From his neck to his sleeves, wrists, knuckles, and to his legs, the rapper obviously loves having art on his body. According to him, the designs represent who he is. Miller's tattoos remind him of the moment and he encourages people not to get too lost in the meaning of tats.
In 2016, Mac Miller and Ariana Grande got inked at the same time at a popular tattoo shop, however, they did not get matching tattoos. The couple later took to social media to flaunt their new designs.
Though the rapper admitted that the process of tattooing his body actually hurts, he, however, doesn't regret any of them. Miller only regrets not having enough space on his body to do more and thinks getting fatter might be the only solution.
A Look at Mac Miller's Tragic End – What Really Happened
A few minutes before noon on September 7, 2018, Miller was found unresponsive in his Studio City home in San Fernando Valley. His body was discovered in his bedroom by his personal assistant cum sober coach, who called 911 and performed CPR until paramedics arrived. Unfortunately, he was pronounced dead at the scene.
An autopsy report made available by the office of the Los Angeles County Coroner on the 5th of November revealed that the 26-year-old rapper passed on after he accidentally took an overdose of a number of drugs and alcohol. According to the report, a lethal mixture of fentanyl, cocaine, and alcohol was all present in his system when he died. Among the things that were also found in his home were a bottle of alcohol and prescription pills in addition to a powdery substance that was also seen on his body.
According to witness statements documented in the autopsy report, Miller's assistant saw him last at about 10:30 p.m. on the day before his death and he also had a phone conversation with his mother that same night. However, no one close to him knew that anything was wrong until the following morning when the assistant arrived and went to wake him up as he usually does only to find him unresponsive. The rapper's body was subsequently laid to rest by his family in their hometown of Pittsburgh, Pennsylvania.
Mac Miller's struggle with drugs was a habit that became uncontrollable in 2012 when he started using promethazine to relieve the stress of the Macadelic Tour. Sadly, he graduated to lean, and other hard and dangerous drugs, which he eventually got addicted to. By 2014, Miller was taking drugs daily but before he died, he had intermittent periods of soberness, one in 2016 and another in 2017. A statement in his autopsy report, however, showed that while he made efforts to be sober, Miller had regular "slip-ups" that could be excessive, and the last of such occurrence before his passing, his assistant said, happened on the 4th of September, 2018.
Celebration of His Life and Legacies
On October 31, 2018, close friends and musical peers of celebrated his life and legacy during a concert titled Mac Miller: A Celebration of Life in Los Angeles. Present at the event were Earl Sweatshirt, Action Bronson, Dylan Reynolds, Anderson.Paak, John Mayer, and Chance the Rapper, among others. Money made from the event went to the Mac Miller Circles Fund, which was newly-founded with the aim of supporting youth arts and community-building programs in Mac Miller's memory.
The charity, which was later renamed Mac Miller Fund, raised more than $700,000 by the first month of 2019 and four months later, it gave out its first grants of which the foundation, MusiCares received $50,000 that was used for the launching of their Mac Miller Legacy Fund to provide help to young musicians who were battling substance abuse.
Other Interesting Details About The Late Musician
He was a self-taught musician
There are a few remarkable things that Mac Miller did before he, unfortunately, passed away but one fact about him that sparks interest in his musical exploits is the fact he taught himself music. On his own, he learned how to play the guitar, drums, bass, and piano, all before he was fourteen years old and once again, taught himself how to rap. At the age of 15, he decided to make a career out of being a rapper, releasing his first mixtape in 2007 under the stage name, Easy Mac.
His first charting single was titled, Donald Trump
If Mac Miller were still alive, he might not be a big fan of the 45th President of the United States, if his statements leading up to the 2016 election are anything to go by, but back in 2011, he was a fan of the real estate mogul. His first Billboard Hot 100 single was named after the businessman, with lyrics praising him and his wealth. The single peaked at number 75 and has sold more than one million copies.
Mac Miller's first album was a critical failure
Considering his debut studio album, Blue Slide Park was a commercially successful album that established Mac Miller's fame as a rapper, one of the lesser-known truths about it is the fact it was a critical failure. The album was panned by critics from Metacritic to Pitchfork and Rolling Stone. The disappointment of the critical reception of the album sent Mac into a tailspin of drugs.
He faced multiple legal problems
Another untold truth about the life of Mac Miller is that he faced a variety of legal problems during his lifetime. His first run-in with the law was an arrest for marijuana possession in February 2011.
Others include a couple of lawsuits for stolen intellectual property, a $10 million lawsuit from the renowned producer, Lord Finesse and a $150,000 lawsuit from the band, Aquarian.
He was also arrested for driving under the influence, during which he also committed a hit and run. He was charged for the crime but he died before a trial, and the charges were eventually dropped.
Three people have been arrested for his death
Although he died of a drug overdose, an investigation into his death has resulted in the arrest of three people who were involved in the chain distribution of the toxic drug. Cameron James Pettit, Ryan Reavis, and Stephen are facing charges for lacing the drugs with counterfeit oxycodone which contained fentanyl.
He was worth $9 million at the time of his death
Despite the struggles in his career, Mac Miller was worth a significant amount of money at the time of his death, estimated to be $9 million. His net worth came from five albums, multiple mixtapes, and other career ventures and his entire wealth was willed to his mother, brother, and father.
Profile Summary
First Name:
Malcolm
Last Name:
McCormick
Also Known As:

Mac Miller
Sex/Gender:

Male
Profession:

Rapper, singer, record producer
Famous For:
His deep rap sense and relationship with Ariana Grande
Colleges/Universities Attended:

Winchester Thurston School
Taylor Allderdice High School
Educational Qualifications:

NA
Religion:

Jewish
Birthday & Zodiac

Age/Date of Birth:

19 January 1992 to 7 September 2018 (26 years)
Zodiac Sign:
Capricorn

Birth Place:

Point Breeze, Pittsburgh, Pennsylvania, United States
Nationality:
American
Ethnicity/Race:

Irish, Scottish, Jewish ancestry
Country of Residence:

The United States
Physical Attributes

Height:

5 ft 6 ½ inches
168.9 cm
Weight:

73 kg
161 lb
Eye Colour:

Green
Hair Color:

Brown
Other Body Measurements:

Chest – 38 in or 107 cm
Arms / Biceps – 13.5 in or 34 cm
Waist – 34 in or 86 cm
Relationships

Marital Status:

Unmarried
Spouse/Partner:

NA
Family and Relatives

Father:

Mark McCormick
Mother:
Karen Meyers
Children:

NA
Siblings:
Miller McCormick (brother)
Other Relatives:

Marcia Weiss (grandmother)
Net Worth
Estimated Net Worth:

$10 Million

Salary:
NA
Source of Wealth:

Music