Mac Miller was an American rapper and record producer with a current estimated worth of $10 million.
Mac Miller's Early Life
Miller was born Malcolm James McCormick on January 19, 1992, in Pittsburgh, Pennsylvania. In high school, Miller was actively involved in sports but later settled for hip hop. He taught himself how to play instruments like the piano, guitar, drums, and bass. In 2007 at 15, he released a mixtape "But My Mackin' Ain't Easy" under the name EZ Mac. He built a fan base via performances at a local club, the Shadow Lounge. He later became part of rap group The III Spoken, and with them, he released the mixtape "How High" in 2008 before going solo.
He released two other mixtapes before signing with Rostrum Records in 2010. The company who was also working with Wiz Khalifa at the time got attracted to him when he was working with another mixtape titled "K.I.D.S" which was inspired by the 1995 film "Kids". The movie centered around the lives of a group of sexually active teenagers, the mixtape was later released by Rostrum. Later in 2010, Miller went on his first tour, "The Incredibly Dope Tour" which was a significant breakthrough as all the locations were sold out.
Debut Album Release and Continued Success
He released several other mixtapes including "Best Day Ever" which featured single Donald Trump before independently releasing his debut studio album titled "Blue Slide Park" in 2011. The album sold 400,000 copies and debuted at #1 on the Billboard 200. It became the first independently distributed album top on the Billboard 200 since Tha Dogg Pound's Dogg Food" in 1995. Since the album was released independently, Miller and Rostrum made greater profits, splitting the profit between themselves after paying iTunes their 25% cut.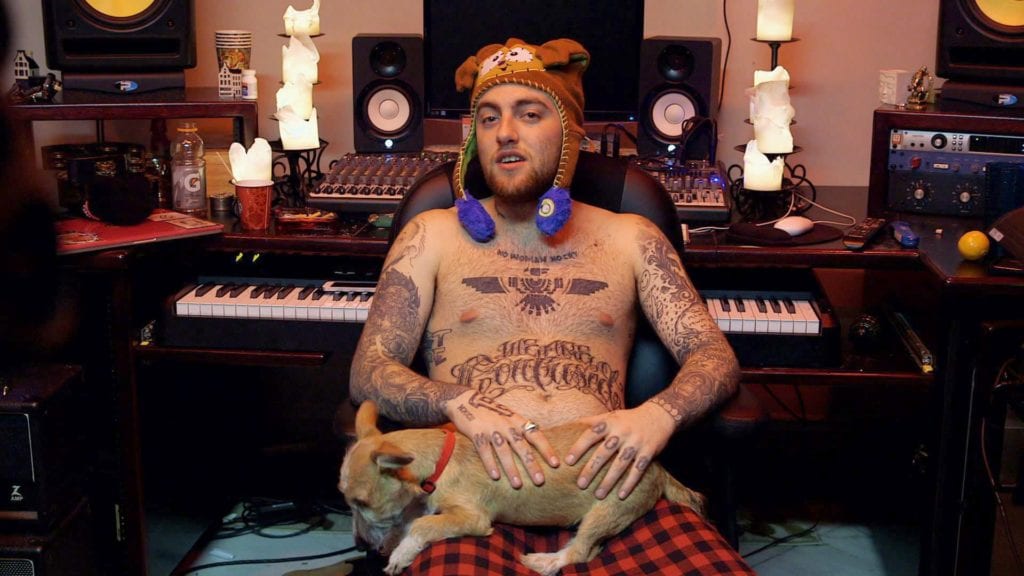 So far, Mac Miller has released 2 other albums, 10 mixtapes and several EP's. His second album "Watching Movies with the Sound Off" debuted at #3 on the Billboard 200 selling 101,000 copies in the first week. The third album "GO: OD AM" released in September 2015 debuted at #4 on the Billboard 200.
He has toured with other popular rappers like Lil Wayne, 2 Chains, and Wiz Khalifa. In 2011 Miller earned $8 million from shows and $30 million in 2013.
Mac Miller was also a record producer under the pseudonym Larry Fisherman. In 2013 he founded his own record label imprint REMember Music which he named after a friend he had lost. In 2014, Miller announced he was no longer with Rostrum Records, thereafter, his label signed a $10 million record deal with Warner Bros. Records.
He has made numerous TV appearances. His debut was on VH1 show "Single Ladies". He currently features on MTV2 reality TV show titled "Mac Miller And The Most Dope Family" which debuted in 2013.
See Also: Soulja Boy's Bio, Height, And Girlfriend
In 2013, Mac Miller worked with Neff, a streetwear brand, to launch a clothing line. The collection is an 8 piece limited edition that includes co-branded tribal inspired hats, sweatshirt, watch, t-shirts and tank tops.
Miller who was worth $10 million, has done commercials for Mountain Dew and BMX shoes.
Mac Miller's Success With KIDS Mixtape
KIDS (Kickin' Incredibly Dope Shit) is the fourth mixtape by Mac Miller, which he released on August 13, 2010. It has been viewed over 2,200,000 times as well as downloaded over 800,000 times. It has also been streamed over 550,000 times from the official mixtape host, DatPiff.com.
Throughout the mixtape, the 1995 film "Kids" was quoted, so the title of the mixtape was an obvious reference to the movie.
For the mixtape, Mac Miller began his first tour, titled the "Incredible Dope Tour" on which he sold out every location. It was a massive success.
His Relationship With Ariana Grande
Mac Miller and Ariana Grande are a couple and have been going strong for a while now.
Apart from a few Instagram pictures here and there, Mac Miller and Ariana are known for keeping their romance pretty private. They almost never talk about their relationship. They have never even confirmed their relationship at all, even though Ariana Grande recently sparked engagement rumors when she was spotted wearing a diamond ring on her ring finger.
Mac Miller and Ariana Grande met on Twitter after Ariana mentioned that she was watching a Thanksgiving parade and Mac Miller replied to her tweet wishing her a happy Thanksgiving and asking for a duet for "Larry Loveskin." Ariana replied him, saying she would love to do that.
They both did a duet, which happened to be a "Baby It's Cold Outside" duet. Ariana posted it on her Youtube page, and later, in March 2013, she posted another single, "The Way" on which she had featured Mac.
From then on, it seems they only got stronger. Even though they both denied the rumors of their relationship, they have both been spotted kissing on dates together.
After the Machester Attack at Ariana's concert, Ariana held a star-studded concert in honor of the victims of the bombing, and also to raise money for their families. During this concert, she did a performance with Mac Miller, in which she was wearing a diamond ring on her ring finger, sparking an engagement rumor. Since that day, she has not been spotted in public without the ring on her finger.
Tattoos
Miller has an extensive collection of tattoos all over his body. From his neck to his sleeves, wrists, knuckles, and to his legs, the rapper obviously loves having art on his body. According to him, the designs represent who he is. Miller's tattoos remind him of the moment and he encourages people not to get too lost in the meaning of tats.

In 2016, Mac Miller and Ariana Grande got inked at the same time at a popular tattoo shop, however, they did not get matching tattoos. The couple later took to social media to flaunt their new designs.

Though the rapper admitted that the process of tattooing his body actually hurts, he, however, doesn't regret any of them. Miller only regrets not having enough space on his body to do more and thinks getting fatter might be the only solution.

On September 7, 2018, Miller was found unresponsive in his Studio City home by his personal assistant, who called 911 and performed CPR until paramedics arrived on scene. He died of an apparent overdose

Fact Check: We strive for accuracy and fairness. If you see something that needs updating,