Lisa Page is a former FBI attorney who briefly served in the special team investigating the collaboration between Russia and Donald Trump's 2016 presidential campaign. However, she is widely known as the married woman who exchanged terrible texts and emails against Trump with her FBI influential lover. The numerous messages she exchanged with her beau during their affair showed they wanted Hilary Clinton to emerge as the president of the United States.
While she willingly left the security service, people have been concerned about her personal life, with questions that revolve around her husband and marital status popping up now and then.
A Brief History of Lisa Page's Life
Lisa was born on August 2, 1980, in Ohio, USA. She schooled at Moritz College of Law located in Ohio. Page was a trial lawyer in the Organized Crime and Gang Section of the Justice Department's Crime Division and also contributed her quota as an advisor to former Deputy Director Andrew McCabe.
She wanted more and continued nurturing herself in public service until she landed a spot with the FBI as an attorney. Things went well for her until her reputation was rocked by a huge extramarital scandal involving her and another top FBI agent.
Details of the affair unfolded while the duo worked towards unveiling the facts surrounding the alleged collaboration between Russia and Donald Trump's 2016 presidential campaign.
The Damning Anti-Trump Text Scandal
Lisa Page's prominence in the security service was one that couldn't go unnoticed. As a result, she was appointed on Robert Mueller's special counsel team that was looking into Russia's involvement with President Trump's campaign during the 2016 election. At the time, she was an attorney with the FBI's Office of the General Counsel. During the investigation, messages between her and her FBI lover Peter Strzok were discovered; he was the deputy head of counterintelligence at the bureau. The content of the numerous text messages gave a bad press to President Donald Trump while protecting his strongest opponent Hillary Clinton.
Strzok was also part of the investigative team looking into Hillary Clinton's use of a private email server during her time as the secretary of state. In addition to this, he was tasked to probe the possible association between Russia and Trump's campaign. The FBI big gun is married to his fellow Georgetown University graduate, Melissa Hodgman. And just in case the name Mellissa rings a bell, it's because she is a famous lawyer who was promoted to Associate Director of the U.S. Securities and Exchange Commission's (SEC) Enforcement Division by Obama in late 2016. She has three children with Strzok.
Before the messages were discovered, Lisa had already left the investigating team. But the scandal led to her willful resignation on the 4th of May 2018. She worked with the FBI for four years and it is believed that her resignation was facilitated by the criticism she received from Trump supporters. Strzok, on the other hand, was dismissed from Robert Mueller's probe team and posted to a different role in the human resources department.
Implications and Aftermath of The Scandal
Following the discovery of the text messages exchanged between Strzok and Page, most Republicans ruled out the possibility of an impartial outcome in Mueller's investigation. This created a lot of buzz on the alleged collusion between Donald Trump and Russia.
Conservative media outlets also had a field day, analyzing and discrediting the Mueller investigation while rallying around Trump in support. Senator Ron Johnson suggested that from what can be deduced from some of the text messages, former President Obama may have been personally involved in the investigation of the Clinton emails that raised a lot of dust during the 2016 election.
Following the release of the text messages in December 2017, it emerged about two years later that Lisa Page would be having her day in court with the Justice Department and FBI after suing the offices for releasing her private messages to the public. She termed the act illegal, debunking the claims that the messages suggested they were teaming up against Trump.
I sued the Department of Justice and FBI today.

I take little joy in having done so. But what they did in leaking my messages to the press was not only wrong, it was illegal.https://t.co/ecR58rmxlB

— Lisa Page (@NatSecLisa) December 10, 2019
She further disclosed that the messages were released without her knowledge, speculating that this was done to make the Justice Department a darling to the president who was publicly attacking their affairs at the time.
How It Affected Lisa Page's Marriage
Lisa is not much of a public figure and as such, not much is known about her. Also, the nature of her job with the FBI which was sort of a classified one, made it almost impossible to know things about her personal life. Given that, not much is known about her early days. Notwithstanding, her sudden presence in the spotlight led to investigations into her private life.
She is married with two children. Her husband is Joseph Burrow, a non-profit executive at an international education organization. He is the father of their two children; a son and a daughter. Their names and dates of birth are not known.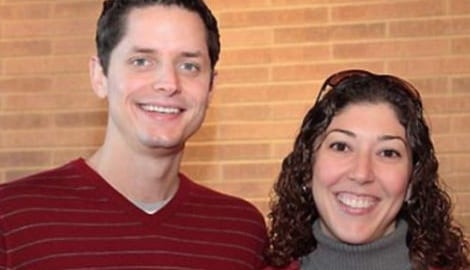 Joseph is an alumnus of New York University. He holds a Bachelor of Fine Arts degree and serves as a director for i-graduate. From what we gathered, he has over ten years of experience in international education; having previously worked with International Student Exchange Programs (ISEP). He has also worked as an accommodation and student service manager at Kaplan international colleges from 2006 to 2011. Burrow equally taught English as a second language in Italy and also in a private high school in Ohio, U.S.
While many expected that Lisa's affair with her former FBI lover which garnered much attention would end her marriage to Joseph, that didn't seem to be the case. To the best of our knowledge, she is still married to him. At least the public hasn't heard otherwise and Joseph has been seen wearing his wedding ring after the messages were exposed.
The couple probably sorted things out and has moved on from the drama, or so it seems. In the meantime, we know they are still together and Lisa and the Justice Department, as well as the FBI still have their case in court.