If you grew up in the late 80s through the early 90s, you probably spent many Saturday mornings watching the show Saved By the Bell and you are likely to still remember the rebellious, leather-jacket wearing, tough-a$$ teenager, Tori Scott who joined the show in its fourth season. This eccentric character was played by Leanna Creel, but her story arc only lasted 10 episodes, much to the dismay of fans and viewers who had grown to love her. Since she was unceremoniously dropped from the television series in 1993, it seems as though Leanna just vanished from our screens completely, leaving fans to wonder what she was up to.
The Los Angeles born actress began her career while in her teens and went on to appear in a couple of made for television movies such as Parent Trap: Hawaiian Honeymoon and The Wonderful World of Disney: Parent Trap III. Leanna also scored guest roles on television shows like Parker Lewis Can't Lose, CES Schoolbreak Special, Ned & Stacey, Growing Pains, Anything But Love, One West Waikiki, and Beverly Hills, 90210. Leanna's last on-screen appearance was in 1997, and since then, very little has been seen or heard of her. So where is Leanna Creel now and what has she been up to since leaving Saved By the Bell? Read on for all the details.
Leanna Creel's Siblings
Leanna Creel is the oldest of a set of identical triplet sisters. Her siblings are named Joy and Monica, and they look overwhelmingly alike, so most people are unable to tell them apart just by looking. Although they love the close bond that sharing a womb bequeathed them, the Creel sisters have tried to lead separate lives and build a personality that uniquely belongs to each of them.
Interestingly, Leanna, Joy, and Monica all got into show business at the same time. They started their careers by featuring in commercials, which led to more offers for them to audition for film and television roles. Fortunately for them, because of their unique characteristics, they didn't have to go searching for parts in movies and shows as offers simply came to them.
Leanna and her siblings are very competitive people, although they mostly tried to avoid going up against one another. However, the older they got, the less time they spent fighting with each other and simply settled into being themselves. Today, the Creel sisters are still very involved in each other's lives even though they all have families of their own to look after.
Who Is Her Husband?
Leanna doesn't have a husband. The Saved By the Bell actress has a wife, Rinat Greenberg, whom she married on June 18, 2008, after California legalized same-sex marriage. The couple began dating in 1998 after being introduced by a mutual friend. They had a commitment ceremony in 2004 and headed to the altar four years later when it became legal for them to officially get married.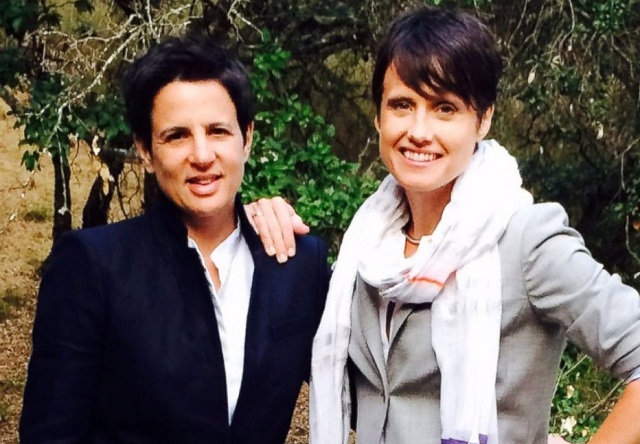 Rinat Greenberg is a producer and one half of the production company Creel Studios, which she runs alongside her former actress wife, Leanna Creel. Their union has been blessed with two wonderful sons christened Levi and Milo.
See Also: Brianne Howey – Age, Movies & TV Shows – Biography
Where Is Leanna Creel Now?
It has been over two decades since Leanna last acted in a movie or television series. Judging by her memorable role in Saved By the Bell and the projects that came after, Leanna had plenty of talent to take her far in the industry, but she chose to quit acting for other pursuits.
Leanna discovered that she had a passion for filmmaking, so after graduating from UCLA, she returned to grad school to earn an MFA in film production. After completing her program, she joined forces with an investment banker to launch Ignite Entertainment, her first production company. She learned on the go and before long the company became profitable and was acquired by Lionsgate for a lot of money.
Switching career paths once again, Leanna became a photographer and founded Creel Photos. However, her love for production remained and she soon found herself working as a producer once more, creating webisodes, commercials, documentaries, and a string of movies. Leanna also widened her professional scope to include directing, then she changed the name of her company to Creel Studios.
At present, Leanna Creel is still living in California, where she spends her time caring for her family and building her business. She might have turned her back on acting, but she is still actively working with cameras and telling stories with visual aids.