When Latarian Milton hit the spotlight at the age of seven, it was for a reason that brought so much laughter and produced numerous memes to an internet community that was extremely capable of finding humor in anything.
The incident involved a young Latarian stealing his grandmother's car and causing damage to a whole lot of properties which resulted in some of the funniest jokes on the internet and thankfully, a lack of jail time for the young boy. However, the lessons of his childhood did not appear to stick and Latarian Milton soon found himself on the other side of the law as a teenager. This prompted a reminder of the infamous moment of his life way back.
Latarian Milton's Life Before The Spotlight Located Him
Latarian Milton was born on the 30th of August, 2000, to his mother Sheneequa who is the only known parent of the former viral video star. Nothing has been revealed about his birth father but from every indication, he was not really part of his life.
Sheneequa gave birth to him at the age of 16 and although she was pretty young at the time, one can presume that she had no idea that one day, her son would become an internet star. Latarian was born in Palm Beach, Florida, where he was raised by his mother, along with his grandmother Vikkita Stratford. Thus, it's safe to say that Latarian is not exactly from a stable home and the kind of upbringing he had may have influenced his choices in life. The young boy attended middle school and just when it seemed like he was having a seemingly normal childhood, the incident that made him a viral star occurred.
The Joyride That Made Him Famous
In April 2008, Latarian Milton took the keys to his grandmother's Dodge Durango automobile and decided to go on a joyride with his friend in what he later described as revenge. Apparently, he decided to do this as a way to pay his mother back since she would not let his friends come over to watch cartoons with him.
When Latarian took the car, he had a friend of his in the passenger seat while he was behind the wheel, barely seeing where he was going. We did mention he was just 7 years old at the time. At first, the ride seemed to be going well until as expected of a child who had never driven in his life and had no business doing so, the whole situation turned chaotic. In his obvious lack of driving experience and physical incapability, he ran over two mailboxes and grazed a lot of other moving cars before eventually ramming into two parked cars in the parking lot of Costco.
His Arrest and Subsequent Appearance on TV That Turned Him Into an Internet Sensation
Of course, cops were already on his tail and were ready to save the day but Latarian Milton had already stopped the car after causing huge damage to the vehicle that made it come to a halt. When the chaos finally ended, he was quickly apprehended by sheriff deputies of Palm Beach County who had been called by concerned citizens about a child behind the wheel.
News of the incident got to the broadcast station, West Palm Beach WPBF, and the resulting interview of Latarian sparked his internet fame, where he famously said 'it is fun to do bad things'. Trust the online community to make the most of such situations by creating more fun times.
The video of the interview, which was uploaded to YouTube, sparked several memes and parody videos that ultimately made Latarian Milton a popular digital personality for a while, so much so that he featured in an episode of the famous TV show, The Boondocks.
One would think the young lad will turn a new leaf after the incident that made him popular for the wrongs reasons. On the contrary, he was back under police radar sooner than expected.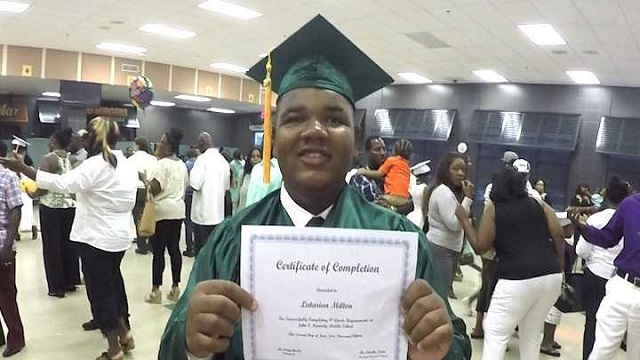 Latarian Milton Strikes Again
The joy ride incident was not the end of Latarian's public outbursts as another happened shortly after the first. The next incident shows the 2008 viral video star on camera attacking his grandmother in Wal-Mart after she refused to buy him chicken wings. Clearly, he appears to always express his anger in odd ways without giving a second thought to the consequences.
The two incidents happening close to each other prompted child protective services to demand a mandatory mental health evaluation for Latarian Milton. Something had to be done to save the boy from damnation but did it work? A look at who the young man has become today will answer that question.
See Also: Ashtyn Joslyn – Everything To Know About The Youtube Star
What Has Latarian Milton Been Up To?
Latarian Milton might still be growing but he already has the body of a grown adult with a height of 5 feet 5 inches and accompanying weight of 73kg. The Florida native can be categorized as a fat person and this often makes him appear older than his age. Thus, he now looks all grown up but has he moved on from the juvenile delinquency that plagued him in the past?
Following the incident in 2008, Latarian Milton harbored dreams of becoming a sportsman, specifically a footballer. He also had hopes of joining the US Military, with a special interest in the Navy. While none of those has completely eluded him, the chances of them happening are getting slimmer.
About a decade later after the infamous joy ride incident, Latarian repeated the behavior that turned him into a viral star as he was arrested along with some friends for carjacking and armed robbery. The crime, which was committed on a weekend in May 2017, saw Latarian once again at the driver's seat, speeding away after he and his friends had robbed a Lyft driver of his car and belongings.
At the moment, Latarian Milton is believed to be awaiting judgment at a juvenile detention center where he is facing a possible 15 years in jail for his crime.