For fans of the Florida based NFL team, the Miami Dolphins, there are a couple of reasons why the name Katina Taylor would ring a bell. She was once an insider reporter for the team, who frequently shared news about whatever was going on with the Dolphins. She was also married to one of Dolphins' famous stars, Jason Taylor, who played with the team for 13 years. While her sports journalism days are very well behind her, Katina Taylor remains a fixture of the news.
The former sports journalist was born in 1976 in Pampa, Texas to parents Steve and Bobby Thomas and was raised alongside two siblings. Two older brothers named Bart Thomas and Zach Thomas. One could say fame runs in the Thomas family, starting with her father, Steve, who is known to be the builder and proprietor of the second largest cross in the Western Hemisphere. Her older brother, Zach Thomas, is also a football player who spent 13 seasons in the NFL.
After her high school education, she attended Texas Tech University, where she earned a bachelor's degree in broadcast journalism. After college, she worked at CBS Miami as a sports reporter, where she became an insider reporter for the Miami Dolphins. Other professional accomplishments include being a former beauty pageant holder and a co-founder of a foundation, Jason Taylor Foundation, with her ex-husband. She also founded Camp Katina in 2006, where she hosts children and teenagers, teaching them cheerleading, gymnastics, and other life lessons.
Relationship with Jason Taylor
It is unknown how Katina Taylor met Jason Taylor, but it is presumed they met each other in the line of work while she worked as a reporter covering the Miami Dolphins, and he played for the Dolphins as a linebacker.
Following a period of dating and engagement, they got married in 2000. While Katina and Jason were together, they gave birth to three children, two sons, Isaiah and Mason, and a daughter, Zoey.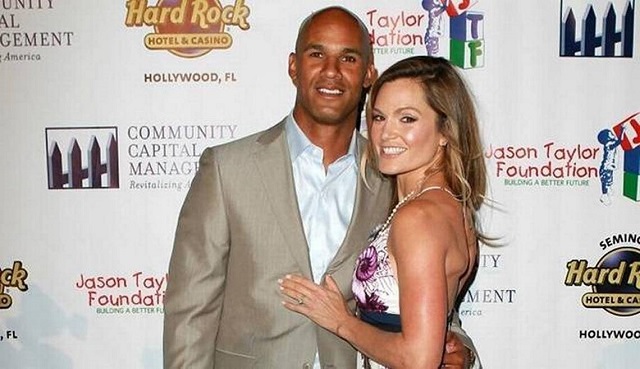 Six years after they got married, Katina Taylor filed for divorce twice in the same year, citing irreconcilable differences, but both of them worked through it and remained married. This is until 2015 when she filed for divorce again on the 25th of January.
The third time, which unfortunately was the charm, was as a result of allegations of infidelity by Jason Taylor, who was pictured with another woman on social media. Katina and her now ex-husband got divorced entirely on the 10th of February, 2015.
However, while many expected it to be a quiet and peaceful separation, drama ensued two years after when Taylor sued her ex-husband for failure to pay alimony to the tune of $3.4 million. According to the lawsuit, their 2015 divorce had required Jason to pay $8.67 million in spousal support as well as $4,000 per month in child support, and he failed to complete the payment.
Since the completion of the divorce and the ensuing lawsuit, not much has been learned about Katina Taylor's personal life. Her ex-husband, Jason, on the other hand, has gotten engaged to Monica Velasco.
Where Is She Now?
Despite her various connections to the spotlight, Katina Taylor has often preferred to maintain a quiet distance from it. However, she made headlines in October 2019 when it was announced she had made it onto the Final 17 as a model of the famous Sports Illustrated Swimsuit Issue.
Katina Taylor, as shown by her Instagram page @katinat2, has replaced her microphone as a reporter with a career as a fitness and swimsuit model. She has modeled for various swimsuit brands and fitness brands like Indah Clothing, and magazines like inWESTON magazine. You can catch up with more of Katina Taylor on her Instagram page, where she has more than 8,000 followers.
See Also: Pashence Marie: Everything About The Model, Ocean Lover & Freediver
Other Facts About Katina Taylor
She was an actress who appeared in some commercials and was an extra on shows like 90210, Baywatch, and Murder She Wrote.
She started modeling in 5th grade after she was signed to Diane Dick Modeling and Talent Agency. As a child and teenage model, she modeled across print, commercials, and runways.
Although she used to live in Key West, Florida, with Jason Taylor, Katina now lives in South Florida.