John Molner is a financier with ample experience in the banking industry. He became famous after he started dating popular journalist, writer and media mogul – Katie Couric. The couple got married in 2014. Asides their partnership in the home front, the couple have gone into business together. They co-founded a broadcast media company and run an online cooking show together.
Who is John Molner and How Old is He?
John Molner was born in Chicago, Illinois, on the 21st of January 1963. His parents raised him alongside his two brothers who have both grown to have successful lives like John.
John had his elementary and high school education in the United States. He proceeded to study at Trinity College, Harford, between 1981 and 1985 for his Bachelor's degree. He got his MBA from the University of Chicago Booth School of Business Executive Education in 1990.
Upon graduation, John began to work with 'Brown Brothers Harriman' – a private banking organization in New York. His whole working experience was with the firm in different capacities (as head of merger & Acquisition, Partner and then Limited Partner & Senior Advisor). He finally retired in December 2014 after working there for 25 years. Howbeit, he still serves the bank as a senior advisor despite his retirement.
John has been married twice and has 2 biological and 2 step children. He met his present wife (Katie Couric) in 2011 and Katie admits that it was love at first sight for her. Despite the failure of John's first marriage and the death of Katie's first husband, the two are determined to make the most of their present life and make their marriage work.
After retirement, John kept himself busy by starting a broadcasting company with his wife in 2018. He is a co-founder of Katie Couric Media. John also features on a cooking show with his wife titled "Full Plate with Katie & John". The show is filmed in their apartment and Katie reveals that cooking together is one of the things they enjoy doing together but never had the time. Now, they can do it together and share with viewers.
When it comes to his relationship with his present wife, John has handled things like a real champ. He hasn't shown any sign of being intimidated by Katie's wealth or their age difference (she is 6 years older than him).
Their relationship seems more about companionship and enjoying vacations, family time and living life together.
Katie once revealed that John has really good core values – he is loyal, honourable and has integrity. He is also really funny and makes her laugh. These are the things that endears him to her as she believes one of the best ways to get through life's challenges is to have a good sense of humour.
The couple is quite crazy about each other and won't stop sharing their memories on their different social media pages.
What is John Molner's Net Worth?
John is a very meticulous financier who has worked in finance for years. He must have made a series of good and wise investments as he is wealthy in his own right, even before he met and married Katie. His net worth has been estimated to be $20 million.
See Also: Cash Warren – Bio, Net Worth, Parents
Family, Parents, and Children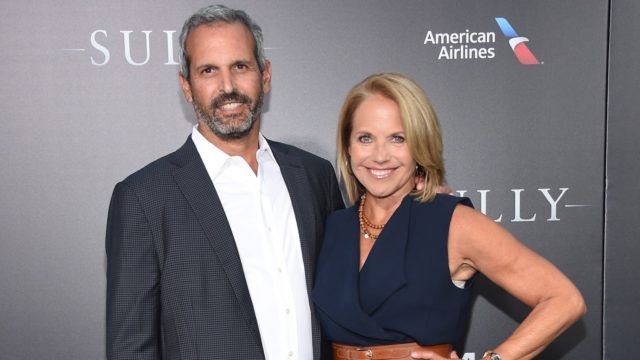 John's parents are Herbert and Paula Molner. He has two siblings – Tom Molner – who is now an attorney and David Molner – who is a financier like John but in film.
John Molner married his first wife (Jane Franke Molner) when they were young. They had two children – Henry and Allie before their marriage hit the rocks and ended in a divorce.
They both moved on with their lives with John dating fellow financier Jessica Hsu for a while before he met and fell in love with Katie Couric.
John met Katie who is a widow through a mutual friend in 2011. They dated for two years before John's romantic beach proposal in September 2013. Katie took her sweet time at giving her consent as she didn't want to ruin the good relationship they had going. The couple finally got married on the 21st of June 2014 in an intimate ceremony in her Hampton home in front of their close friends and family.
By marriage, John became a stepfather to Katie's daughters from her first marriage (Ellinor and Caroline).
They all seem to have integrated into one big family and the children were all present to see their parents take their vows.