Joel Osteen is an American preacher, televangelist, and author. His net worth is estimated at $40 million.
Joel Osteen Net Worth: How He Began
Joel Scott Osteen was born in Houston Texas on 5th March 1963. His father was John Osteen, a preacher who founded the Lakewood church in the back of an old feed store. Joel Osteen attended the Oral Roberts University, Oklahoma to study radio and television communications but did not graduate. He returned home to Texas and began televising his father's sermons through the Lakewood television program which he founded.
Joel had fear for public speaking and only worked behind the scenes of the televised program, however, he preached his first sermon on 17 January 1999 after receiving much encouragement from his father. Joel's dad died about a week later and on October 1999 Joel, was made the new Senior Pastor of Lakewood Church.
Joel Osteen Net Worth: Success In Ministry
He has since expanded the church and TV ministry. The church attendance which was 5,000 grew under his leadership to over 40,000 and is still growing. The church broadcast has grown and can be viewed in more than 100 countries. It receives over 7 million views every week. The podcasts and video messages available free online have been downloaded over a million times. Today, Lakewood Church is the largest protestant church in the whole of US.
In 2003, the Compaq Center originally called The Summit and formerly used frequently for multipurpose sports activity was leased out to the church. The church put it under a $105 million renovation to expand its capacity. In 2010, the church officially bought the entire building for $7.5 million.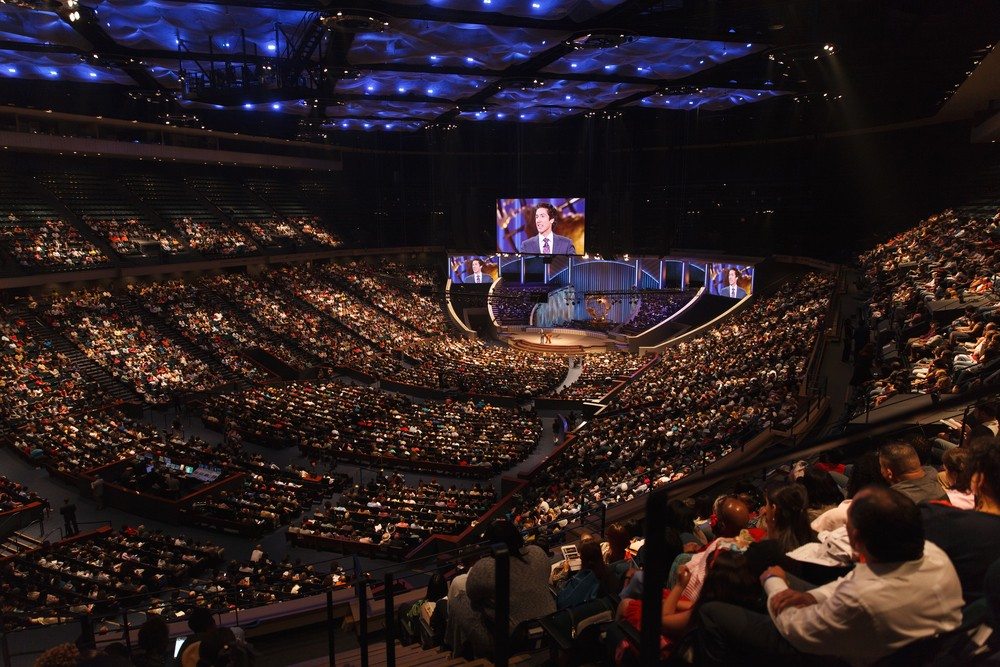 Joel Osteen Net Worth: Book Success
Joel Osteen has also penned over 10 books 5 of which are NYT bestsellers. The first "Your Best Life Is Now" (2004) quickly became a New York Times bestseller and remained on the list for over 200 weeks. Other bestsellers include "Become A Better You" and "I Declare".
Joel forfeited his $200,000 salary from the church since 2005, after his first book became a best seller. The televangelists lives off the sales of his books which have so far brought in over $55 million.
The Lakewood church which has an annual budget of $70 million is actively involved in philanthropy, they have donated millions to feed hungry people, supply medics and to cater for abandoned teens and children.
Joel has been described as one of the most fascinating people by Barbara Walters. His ministry has also been described as the most inspiring in the US. Republica John McCain described Joel as his favorite inspirational author.
Joel and his family live in a $10.5 million home in River Oaks. His former home is worth $2.9 million.
Joel Osteen has been criticized for his wealth and has been dubbed a "prosperity preacher". He has responded severally to correct the false notion; in 2013 interview with Christian Post the smiling preacher said;
"I get grouped into the prosperity gospel and I never think it's fair, but it's just what it is. I think prosperity, and I've said it 1,000 times, it's being healthy, it's having great children, it's having peace of mind. Money is part of it; and yes, I believe God wants us to excel … to be blessed so we can be a bigger blessing to others. I feel very rewarded. I wrote a book and sold millions of copies; and Victoria and I were able to help more people than we ever dreamed of. But when I hear the term prosperity gospel, I think people are sometimes saying, "well, he's just asking for money."