| Net Worth: | $50 million |
| --- | --- |
| Age/Date of Birth: | 82 years old (July 18, 1940) |
| Height: | 6 ft 3 in or 190.5 cm |
| Ethnicity/Race: | White |
| Nationality: | American |
| Wife or Girlfriend: | Jane Cameron Agee (m. 1966; div. 1984), Jan Smithers (m. 1986; div. 1995), Barbra Streisand (m. 1998) |
| Parents: | Henry Hurst Bruderlin and Helen Sue née Mansur Bruderlin |
Hollywood is filled with tales of stars who allowed the trappings of fame to derail their professional and personal lives. The industry, however, also boasts of individuals who have kept a calm head and gone on to enjoy a storied career in showbiz. One fellow who definitely falls into this latter category is James Brolin. Brolin is an American actor, director, and producer who is most recognized for his leading roles in hit movies such as The Amityville Horror, Capricorn One, High Risk, and many more. He has won several accolades and is now widely regarded as a Hollywood icon. Off the screen, Brolin leads a rich family life and is the father of some high-flying children.
Nonetheless, it hasn't been a smooth journey for the actor as he has had to live through two failed marriages. While he has been married for over two decades to his current wife, his first marriage lasted for roughly 18 years and his second, for only nine years. Even though it's been many years since the marriages packed up, questions about what led to their collapses persist. But the actor seems to have eventually found the best partner for himself with his third attempt in marriage, and for him, that's all that matters.
Jane Cameron Agee Was The First Wife of James Brolin
Date of Birth: October 19, 1939
Died on: February 13, 1995
Occupation: Actress
Duration of Marriage: 1966 – 1984
No. of Kids With James: Two (Josh Brolin and Jess Brolin)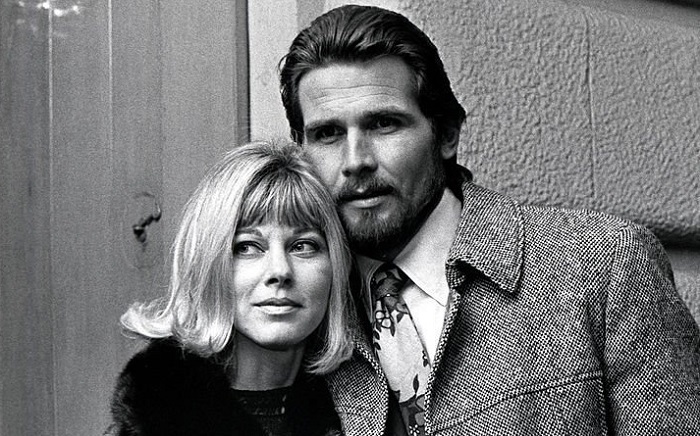 James Brolin has been married to three women and his first marriage was to a lady named Jane Cameron Agee, they got married in 1966. Jane died in a car crash in 1995 and is mostly remembers as the ex-wife of James and mother of Josh Brolin. She is regarded as an actress in some quarters and this is because of her appearances in TV series like "The Merv Griffin Show" (1971), "It's Your Bet" (1970 – 1971), and "Tattletales" (1974).
Brolin and Jane first met on the set of the TV series, "Batman"; she was a casting executive on the show while he was a guest actor. They fell for each other and started dating. They later tied the knot in 1966 but the union only lasted for about 18 years and produced two sons named Josh and Jess.
The couple then called it quits in 1984. It has been suggested that the marriage failed because of James' busy schedule but we can't confirm that. Also, Jane accused the actor of bigamy.
The Actor's Second Marriage Was With Jan Smithers
Full Name: Karin Jan Smithers
Date of Birth: July 3, 1949
Age: 73 Years Old
Occupation: Actress
Duration of Marriage: 1986 – 1995
No. of Kids With James: One Daughter (Molly Elizabeth Brolin)
Almost as soon as he parted ways with his first wife, James commenced a relationship with actress Jan Smithers in 1985. Jan is known for portraying Bailey Quarters in "WKRP in Cincinnati", a sitcom television series that aired on CBS from 1978 to 1982. It was a second attempt at marriage for the two as Jan had been married to Kipp Whitman from 1971 to 1972.
James Brolin and Jan Smithers took their vows in 1986 and welcomed a daughter named Molly in 1987. But as fate would have it, the marriage lasted for a total of nine years as the two drifted apart and divorced in 1995. Smithers would later reveal that the divorce was caused by James' busy schedule, as well as her desire to live a simple country life.
Meet His Current Wife, Barbra Streisand
Full Name: Barbara Joan "Barbra" Streisand
Date of Birth: April 24, 1942
Age: [age dob="19420424″] Years Old
Occupation: Singer and Actress
Duration of Marriage: 1998 – Present
No. of Kids With Jame: Nil
It is often said that all is well that ends well and this is certainly the case with Brolin's love life. The Emmy winner is now happily married to legendary actress and singer, Barbra Streisand. Brolin and Streisand first crossed paths at a dinner party in 1996 and subsequently went on a blind date; they have been together since then.
Barbra Streisand and James Brolin tied the knot in 1998 with the ceremony featuring the crème de la crème of Hollywood, including the likes of Tom Hanks, Quincy Jones, Marlon Brando, Kelly Preston, and John Travolta. Brolin and Streisand have remained together for more than two decades now and are one of Hollywood's golden couples.
They have revealed that the secret to their union is being compassionately truthful, keeping separate bank accounts, going for couples' counseling, as well as keeping the romance alive through small gestures such as loving notes. James also shared that they are good at negotiating which has helped their marriage a great deal.
James Brolin Had Three Children From His First and Second Marriages
The foregoing has made it obvious that the actor is a father of three: Josh and Jess Brolin, his children with his first wife, Jane Cameron Agee; and Molly Elizabeth Brolin, the only child he had with his second wife, Jan Smithers.
Josh Brolin
Birth Name: Joshua James Brolin
Date of Birth: February 12, 1968
Age: 55 Years Old
Mother: Jane Cameron Agee
Occupation: Actor
Out of all of his children, it is only Josh who has replicated his illustrious steps in Hollywood. Josh has featured in highly-acclaimed movies such as American Gangster, Deadpool 2, No Country for Old Men, Milk, Guardians of the Galaxy, and Avengers: Endgame. He has also received several accolades for his acting, including an Oscar nomination for the Best Supporting Actor in 2009.
Like his father, Josh has had a successful career and a troubled love life. He has been married to three women within the span of three decades. His first marriage was to Alice Adair, it began in 1988 and ended in 1994. After Alice came Diane Lane whom he married in 2004. The marriage ended in divorce in 2013 and he got married to his current wife Kathryn Boyd in 2016.
Jess Brolin
Date of Birth: February 7, 1972
Age: 51 Years Old
Mother: Jane Cameron Agee
Occupation: Former Actor
Jess is the second child of James Brolin and he had him with his late, first ex-wife, Jane Cameron Agee. Jess used to be an actor and a part of the movie industry. His popular projects include "Shadow Dancer" (1997), "Enemy Action" (1999), and "Black Scorpion" (2000). For years now, it is hard to tell what Jess Brolin is up to. But sometime in October 2014, it circulated that he is obese, homeless, and living on the streets of Ojai, California.
It has been reported in some quarters that his late mom left him a 6-figure inheritance which he squandered. If one must believe these reports, he moved into an $800 per month apartment in California after his mom passed but was evicted in 2011 as he could no longer afford to pay for it.
Molly Brolin
Full Name: Molly Elizabeth Brolin
Date of Birth: November 28, 1987
Age: 35 Years Old
Mother: Jan Smithers
Occupation: Producer and Director
Molly Brolin has also built a career in Hollywood but behind the cameras. She has worked as a production assistant in movies such as Royal Reunion and Men in Black. She also joined hands with her dad to co-direct his 2018 TV movie, Royal Hearts.
Asides from his biological kids, James Brolin is also a loving stepfather to Jason Gould, Barbra's son from her previous marriage. Gould is also artistically gifted. He has tried his hands at both acting and singing, and dropped a full-length album, Dangerous Man, in 2017.
The Actor Has a Net Worth Estimated at $50 Million
For someone who has been a part of the movie industry since 1960, it would have been outrageous if James Brolin doesn't have a robust wealth to show for his decades of work in Hollywood. It is estimated that the actor is worth $50 million and no one needs to be told that most of it came from his acting career.
Paychecks from Acting Made James Brolin a Multi-Millionaire
James Brolin was born Craig Kenneth Bruderlin on the 18th of July 1940 in Westwood Village, L. A., California. The oldest of two brothers and two sisters, he grew up with a keen interest in airplanes and animals and spent much of his childhood indulging in both pastimes. His passion however changed as a teenager and he fell in love with acting and the movie industry. He started idolizing the likes of James Dean and therefore wished to follow in such footsteps. The young boy, however, completed his high school diploma first and upon graduation, pursued an acting career with his parents' blessings. Brolin initiated his acting career in 1961 as he played a minor role in TV series while taking acting classes in school.
His career skyrocketed as he landed roles in other series such as American Style, The Long, Hot Summer, Valentine's Day, and Voyage to the Bottom of the Sea. He finally got his breakthrough with the series, Marcus Welby, M.D., which earned him an Emmy Award for Best Supporting Actor. James Brolin also made three guest appearances, alongside the likes of Adam West and Burt Ward, on the popular 1960s series.
Later, in the mid-70s, he became a leading actor in Hollywood who was highly sought after. This popularity gained him major roles in many hit movies, including High Risk, The Car, Gable and Lombard, and Night of the Juggler among others. Since then, James Brolin has been a part of more than forty movies and counting. Apart from his appearances in movies, the L.A. native has also appeared in major television series like Life in Pieces, Castle, and The Reagans.
Highest-grossing Movies of The Actor 
The Amityville Horro (1979)

Budget – $4.7 million
Box Office – $86.4 million

Traffic (2000)

Budget – $46 million
Box Office – $208.3 million

Catch Me if You Can (2002)

Budget – $52 million
Box Office – $355.6 million

Burlesque (2010)

Budget – $55 million
Box Office – 90.6 million

Sisters (2015)

Budget – $33 million
Box Office – $106.03 million
He Has Also Made Millions from Producing and Directing Small and Big Screen Projects
James Brolin owes this healthy bottom-line to his consistency in the movie business. Even though he commenced his career as far back as the 60s, Brolin has managed to remain relevant in the scheme of things and continues to land steady work. Some of his most recent roles came in movies such as Accidental Love (2015), The Stepsisters (2015), and Being Rose (2018). Asides from acting, James Brolin has also diversified his career to directing and producing.
His production and directorial credits include the TV movies, I'll Be Home for Christmas and Royal Hearts. He has also co-produced, directed, or served as the executive producer of small and big screen projects like "Hotel", "The Young Riders", "My Brother's War", "Pensacola: Wings of Gold", "Bad Girl Island", and "Standing Ovation". Although what he made from each of these projects is not known to the public, it wouldn't be out of place for one to assert that they fetched him considerable financial rewards which added to his net worth in no small manner.
Meanwhile, Brolin is not given to an extravagant life. The actor and his wife reside in a Malibu mansion they purchased for $16.5 million in 2009. The 10,485 square-foot estate has 8 bedrooms and 11 bathrooms. Other exquisite features include a swimming pool, a manmade pond, extensive gardens, a gym, a doll shop, an antique shop, a gift shop, as well as an elegant spiral staircase.
Is James Brolin Richer Than His Wife Barbra Streisand?
Given that James Brolin and his wife Barbra Streisand are both members of the entertainment industry, people are fond of comparing what the two have been able to achieve thereof, especially the awards they have won and their net worths.
James Brolin's $50 million net worth asserts the fact that his career has been successful and financially rewarding. But then, the amount begs for attention when compared to Barbra Streisand's net worth. With a wealth estimated at $400 million, Barbra is seven times richer than her husband.
It is not hard to see why Barbra is way too richer than James. While the actor acquired his wealth solely from his exploits in the movie industry, his wife has multiple streams of income. In addition to being a singer and actress, Barbra Streisand is a filmmaker and has embarked on several concert tours that have grossed over $358 million.
Profile Summary
First Name:
Craig
Last Name:
Bruderlin
Also Known As:

James M. Brolin, Craig J. Brolin
Sex/Gender:

Male
Profession:

Actor, producer, and director
Famous For:
His exploits in the movie industry
Colleges/Universities Attended:

Santa Monica City College, University of California in Los Angeles
Educational Qualifications:

Unknown
Religion:

Unknown
Birthday & Zodiac

Age/Date of Birth:

July 18, 1940
Zodiac Sign:
Cancer
Birth Place:

Westwood Village, Los Angeles, California, United States
Nationality:
American
Ethnicity/Race:

White
Country of Residence:

Malibu, California, United States
Physical Attributes

Height:

6 ft 3 in or 190.5 cm
Weight:

80 kg or 176.5 lbs
Eye Colour:

Green
Hair Color:

Gray
Other Body Measurements:

Not available
Relationships

Marital Status:

Married
Spouse/Partner:

Jane Cameron Agee (m. 1966; div. 1984), Jan Smithers (m. 1986; div. 1995), Barbra Streisand (m. 1998)
Family and Relatives

Father:

Henry Hurst Bruderlin
Mother:
Helen Sue née Mansur Bruderlin
Children:

Josh Brolin, Molly Elizabeth Brolin, and Jess Brolin
Siblings:
He has a younger brother and 2 younger sisters
Other Relatives:

Alice Adair (Daughter-In-Law) (Actress), Trevor Brolin (Grandson) (Actor, Producer), Eden Brolin (Granddaughter) (Actress)
Net Worth
Estimated Net Worth:

$50 million
Salary:
Unknown
Source of Wealth:

Acting, filmmaking