Though best recognized as the other half of a high profile political couple, Iris Weinshall has a stellar résumé and quite a long list of achievements as well. Professionally, she has a distinguished and successful public service career which establishes her as a proven leader. Weinshall is also considered very successful on the domestic front, as she has done a good job at balancing her career and family demands for nearly four decades. Discover interesting facts you never knew about Chuck Schumer's long-term wife.
Who is Iris Weinshall and How Old is She?
A New Yorker, Iris Weinshall was welcomed into the world on September 5, 1953. Besides the fact that she was also raised in her hometown of Brooklyn, there is little or no information readily available about her parents, childhood, family background, and basic education. But judging by Weinshall's tertiary academic records, it is safe to say she is erudite. She bagged her first degree from Brooklyn College before proceeding to top up her profile with a Master's degree from the Wagner Graduate School of Public Service at New York University.
Professional Accomplishments
From non-profit to private organizations and then to public service, Iris Weinshall's career profile is a testament to her strong leadership skills. More so, in the course of her professional endeavors which are mostly centered around her hometown, Iris has held various positions and served in different capacities.
Notably, she was once the senior vice president of the New York State Urban Development Corporation. She is also recognized for her work at Financial Services Corporation, a non-profit organization where she served as the president, not also forgetting her role as the regional vice president of Integrated Resources Inc.
For eight long years (between 1988 and 1996), Weinshall worked at the New York City Department of Environmental Protection as its deputy commissioner for management and budget. Thereafter, she moved on to Department of Citywide Administrative Services and served as its first deputy commissioner.
The year 2000 marked the beginning of yet another top and prestigious managerial role for Iris Weinshall after she was appointed to serve as the commissioner of the New York City Department of Transportation. During her seven-year-long stint with the DoT, Weinshall recorded remarkable feats before moving on to other interests in January 2007.
A few months later, Iris returned to the classrooms in an administrative capacity after she landed a job as the City University of New York's Vice-Chancellor where she was responsible for the institution's Facilities Planning, Construction, and Management. She remained with the university for seven years (from 2007 to 2014) and her records there also speak volumes for her.
Iris Weinshall is currently the Chief Operating Officer of The New York Public Library. She has been with the COO who oversees the operations at the NYPL since September 2014.
Iris Weinshall's Net Worth?
Iris Weinshall's exact salary and net worth have not been disclosed. But if her stellar career records are anything to go by, it is safe to say she is a very successful and accomplished woman in her own right. Weinshall is believed to have amassed a decent financial portfolio over the years and can afford a very comfortable lifestyle. More so, having been with her husband for nearly four decades, Iris also presumably enjoys from his success as a politician. New York Senator Chuck Schumer has a net worth that is currently pegged at about $700,000.
See Also: Franni Bryson – Bio, Family Life, Facts About Al Franken's Wife
Relationship with Chuck Schumer
Iris Weinshall and Chuck Schumer's romance goes way back. The long-time couple first crossed paths as young adults at a political event. While Iris was just 21 at the time, her future husband was 24 and already active in politics, serving as an assemblyman at the state level. The pair quickly established a romantic connection and dated for a while. They eventually tied the knot in 1980 at a beautiful ceremony that was held at the World Trade Center.
Weinshall and Schumer have remained inseparable for nearly four decades and still appears to be just as in love as ever. The family lives in Brooklyn and continue to wax strong together by the day.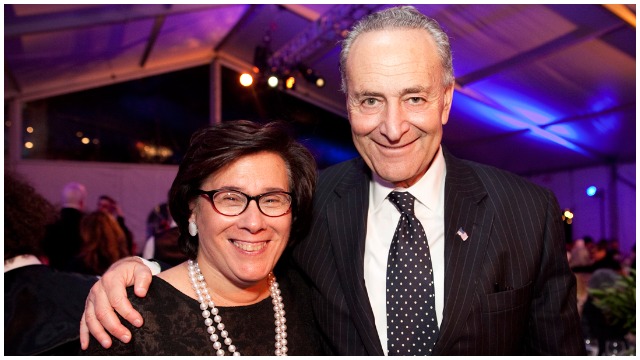 Her Daughters
Iris Weinshall and Chuck Schumer's union has produced two daughters Alison and Jessica. Like their parents, both ladies are also erudite, they are Harvard graduates just like their father and are doing well in society. Also a Law graduate from Yale, Jessica Schumer currently works as the chief of staff at The Robin Hood Foundation and is married to Michael Shapiro. On the other hand, Alison Schumer earns a living from the tech industry and currently serves in a managerial position at Airbnb.