| Age/Date of Birth: | October 26, 1947 (75 years old) |
| --- | --- |
| Height: | 5 ft 5 in or 165 cm (Peak Height). With advancing age, her current height is believed to be 5 ft 4 in or 162.5 cm. |
| Ethnicity/Race: | White |
| Nationality: | American |
| Husband: | Bill Clinton (m. 1975) |
| Parents: | Hugh Ellsworth Rodham and Dorothy Emma Howell |
| Net Worth: | $45 million |
Described as one of the most qualified people to ever run for President of the United States, Hillary Clinton is a former First Lady, diplomat, and politician best known for emerging as the Democratic Party nominee for the 2016 U.S. presidential elections which she lost to real estate billionaire Donald Trump.
A lawyer by profession, Hillary has been involved in politics since her high school days. Being the wife of Bill Clinton, she was the First Lady of Arkansas from 1979 to 1992 and First Lady of the United States from 1993 to 2001, before serving as a U.S. Senator from New York from 2001 to 2009. In 2008, she ran for the office of the president for the first time but was defeated in the Democratic primaries by eventual winner Barack Obama. She would, however, go on to serve as the 67th US Secretary of State under the Obama Administration from 2009 to 2013 before mounting another unsuccessful bid for president in 2016.
While her numerous political positions have contributed little to her wealth, Hillary, like her husband Bill Clinton, has successfully turned political influence to personal fortune via speaking and writing. For the Clintons, politics and business go hand in hand. The couple reportedly left the White House broke in 2001, due in part to the infamous Lewinsky scandal which left them in huge debt. Despite the troubles, the couple remained together and rapidly grew their wealth to unprecedented numbers.
Hillary Clinton is estimated to be worth between $40 million and $50 million. Together with her husband, however, they have a combined net worth that is estimated at over $115 million.
Hillary Clinton Came From Humble Beginnings
Hillary Clinton, whose birth name is Hillary Diane Rodham, was born on October 26, 1947, at Edgewater Medical Center in Chicago, Illinois. Her father, Hugh Rodham, owned a small but successful textile business while her mom, Dorothy Howell, was a housewife.
As a young girl, Hillary showed great brilliance and excelled in school. She was reportedly greatly admired by all her teachers at the public schools she attended. While she was a student at Maine East High School, she worked for the school newspaper and showed much interest in school politics, becoming an active member of the student council. Her leadership skills, as well as her academic performances, were so outstanding that she was selected for the National Honor Society. She would go on to be elected class vice president in her junior year.
For her senior year of high school, Hillary attended the then-new Maine South High School where she was a National Merit Finalist. She was voted by her peers as the "most likely to succeed" before she graduated among the best in her class in 1965.
Her Future Career in Politics Was Forged at a Very Young Age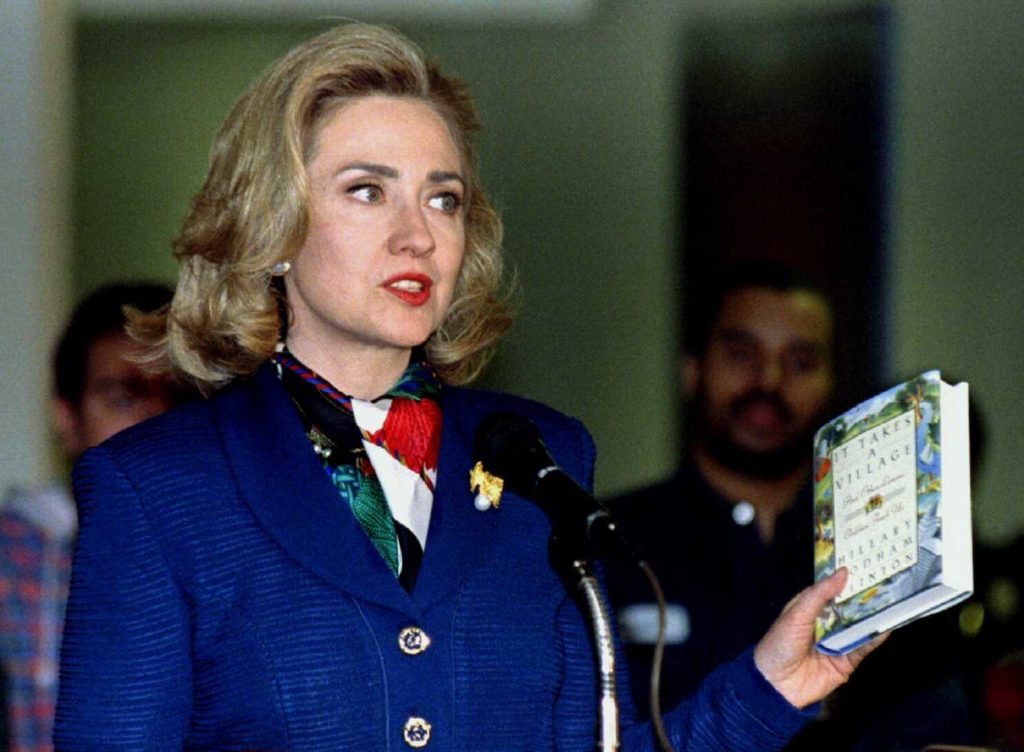 At the age of 13, Hillary Clinton campaigned for Republican candidate Richard Nixon against Democrat John F. Kennedy in the 1960 U.S. presidential elections. Amazingly, in her early foray into politics, she supported the Republican party. Her political affiliation was shaped by her being raised in a conservative household. She was also influenced by her high school history teacher who was a staunch anti-communist and also introduced her to Barry Goldwater's The Conscience of a Conservative. Subsequently, Hillary became a "Goldwater Girl", campaigning for the Republican candidate and Senator from Arizona in the 1964 U.S. presidential elections which he lost.
While staying active in politics, Hillary carried on with her excellence in school. In 1965, she enrolled at Wellesley College in Wellesley, Massachusetts where she majored in political science. In her first year in college, she emerged as the president of the Wellesley Young Republicans group. She would, however, later step down from this position as her political views began to change as a result of the Republican Party's views on issues like the Civil Rights Movement and Vietnam War.
Hillary Clinton, who famously began to describe herself at this time as "a mind conservative and a heart liberal", would end up leaving the Republican party as a whole after attending the 1968 Republican National Convention where she witnessed what she perceived was "veiled" racist messages.
In 1969, she graduated with a Bachelor of Arts degree in Political Science, receiving departmental honors. Before that, however, she was elected president of the Wellesley College Government Association, a position she held for about a year before graduating. She would go on to become the first student in Wellesley College history to speak at commencement.
Hillary subsequently enrolled at Yale Law School where she earned a Juris Doctor degree in 1973. During her time at Yale, she was on the editorial board of the Yale Review of Law and Social Action. It was also while she was here that she met fellow law student Bill Clinton whom she began dating in 1971.
Hillary and Bill Clinton's Love Story
Hillary met her future husband Bill Clinton while they were both students at Yale Law School. The pair were so much in love that Hillary stayed on an extra year to be with Clinton, thus receiving her J.D. in 1973. They also lived together in the later years of their time at Yale.
The year they graduated, Bill proposed to Hillary for the first of many times. She, however, repeatedly turned him down as she was not sure she wanted to tie her political future to his own. Hillary wanted to move and stay in Washington where her political career prospects were bright. Her stocks rose in 1974 as an advisor to the House Committee on the Judiciary during the Watergate scandal. She was also a member of the impeachment inquiry staff whose work eventually led to the resignation of President Richard Nixon in August 1974.
Hillary's decision to stay in Washington continued to look like the right one and so she kept on rejecting Bill's proposal. Things would, however, soon change in favor of Bill when Hillary failed the District of Columbia bar exam but passed the Arkansas exam. Bill had moved to his home state and became a law professor at the University of Arkansas. He was also running for a seat in the U.S. House of Representatives which he ended up losing.
In the summer of 1975, the couple bought a house in Fayetteville, Arkansas and she agreed to marry him. Their wedding took place in their living room on October 11, 1975. Hillary opted to retain her maiden name in order to keep her and her husband's professional lives separate, a move that reportedly upset both her mother and mother-in-law who were traditional.
About five years after they exchanged marital vows, on February 27, 1980, in Little Rock, Arkansas, Hillary Clinton gave birth to her only child, a daughter named Chelsea. Following Chelsea's marriage to investment banker Marc Mezvinsky in 2010, she became a grandmother for the first time in 2014. Her second grandchild was welcome in 2016 while the third one was born in 2019.
Hillary Remained Focused on Her Political Ambitions Despite Having to Play Second Fiddle to Her Husband
Despite marriage, having a daughter, and moving to Arkansas where her husband was a rising political figure, Hillary Clinton remained focused on her personal ambitions. In 1974, the year Bill lost an Arkansas congressional race, she taught classes in Criminal Law at the School of Law of the University of Arkansas, Fayetteville where she was notably one of only two female faculty members. She later became the first director of a new legal aid clinic at the school.
In 1976, Hillary took a job as a campaign organizer for the presidential campaign of Jimmy Carter in Indiana state and as a result had to temporarily relocate to Indianapolis. A few months later, she returned home and found herself having to move to the Arkansas state capital of Little Rock after Bill Clinton was elected Arkansas attorney general in November 1976.
In February 1977, Hillary Clinton joined the very reputable Rose Law Firm where she specialized in patent infringement and intellectual property law. She also worked pro bono in child advocacy. Her interest in children's law and family policy led her to publish numerous scholarly articles as she also co-founded Arkansas Advocates for Children and Families in 1977. Around this same time, President Jimmy Carter appointed her to the board of directors of the Legal Services Corporation. She later became the first woman to chair the board.
Hillary again also became the first woman to be made a full partner at Rose Law Firm in 1979. Her exemplary work as a lawyer further ensured that she was twice named one of the 100 most influential lawyers in America by The National Law Journal in 1988 and 1991. Between 1987 and 1991, she served as the first chair of the American Bar Association's Commission on Women in the Profession.
First Lady of Arkansas (1979-81, 1983-92)
Following Bill's successful run for governor of Arkansas in 1978, Hillary became the first lady of the state in January 1979 when her husband was sworn in. In the twelve nonconsecutive years that he served as governor, Bill appointed her to chair various committees, including the Rural Health Advisory Committee and the Arkansas Education Standards Committee where she performed outstanding work.
In 1990, Bill considered not running for governor again, prompting Hillary, who had begun to be identified as Hillary Rodham Clinton, to consider taking over the reins from him. However, following unfavorable polls and her husband's decision to have another go at the office, she stepped aside.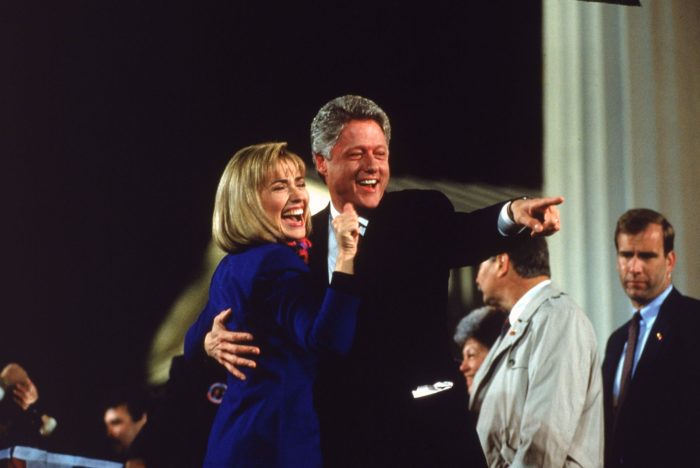 First Lady of the United States (1993-2001)
In 1992, Hillary Clinton's husband announced his candidacy for President of the United States. On the campaign trail, Bill famously told supporters that the country would be getting "two for the price of one" if he was elected. By his remarks, he was referring to the prominent role his wife would assume in his administration, unlike past first ladies. Following his election, she became the first first lady to have a professional career up until the time of entering the White House and the first with a postgraduate degree.
Hillary subsequently played a key role in vetting appointments to the new administration and had an office in the West Wing of the White House, in addition to the usual first lady offices in the East Wing. Her choices were reportedly appointed to at least eleven top-level positions and dozens of lower-level ones.
As was the case during her time as the first lady of Arkansas, Hillary Clinton continued to play a major role in the Clinton Administration. Bill appointed her to chair a number of committees and task forces and she was the host of various White House conferences, including ones on Child Care (1997), Early Childhood Development and Learning (1997), and the first-ever White House Conference on Philanthropy (1999), among others.
Hillary further helped in shaping policies, playing a key role in the passage of bills, and even initiating some herself. She was a key figure in the creation of the Office on Violence Against Women at the Department of Justice. She helped in the passage of the Foster Care Independence Act and initiated and guided the Adoption and Safe Families Act which she regards as her greatest accomplishment as the first lady.
United States Senate (2001-2009)
Despite having never lived in New York or having a connection to the area, Hillary Clinton ran for one of the state's seats in the Senate in 2000. She opted to do so after several prominent Democratic figures, including some from New York, urged her as long-serving U.S. senator Daniel Patrick Moynihan was retiring.
As a result of the campaign, she became the first wife of the president of the United States to be a candidate for elected office. Following her victory, and swearing-in which happened on January 3, 2001, more than two weeks before her husband's successor George W. Bush was to be inaugurated as president, she simultaneously held the titles of First Lady and Senator for 17 days.
In 2006, Hillary won re-election to the senate before announcing that she was going to be running for president in 2008. She faced competition from Illinois Senator Barack Obama and former North Carolina senator John Edwards, both of whom she led in opinion polls for the Democratic presidential nomination. Mrs. Clinton remained the front-runner for a long time before she was eventually beaten by Obama who went on to win the general elections.
During her time as a senator, Hillary sat on five Senate committees: Committee on Budget (2001–02), Committee on Armed Services (2003–09), Committee on Environment and Public Works (2001–09), Committee on Health, Education, Labor and Pensions (2001–09), and Special Committee on Aging.
Secretary of State (2009-2013)
After winning the general elections, President-elect Barack Obama offered Hillary the position of Secretary of State in his administration. The senator mulled over the decision for a while before accepting it as it provided her with a new challenge. She was subsequently confirmed by the senate, which she immediately resigned from, to become the first former first lady to be a member of the United States Cabinet.
During her tenure, Hillary visited places like Togo, East Timor, and the southeastern Asian nation of Burma where a U.S. secretary of state had not visited since 1955. In total, she travelled to 112 countries, becoming the most widely travelled secretary of state. Some of her achievements as secretary of state include improving cooperation between the US and Russia, intervening to save the signing of the historic Turkish–Armenian accord that established diplomatic relations and opened the border between the two long-hostile nations, and advancing the empowerment and welfare of women and girls worldwide.
The most notable question-mark of her time as secretary of state was the September 11, 2012 attack of the U.S. diplomatic mission in Benghazi, Libya which resulted in the death of U.S. Ambassador J. Christopher Stevens and three other Americans. Everything surrounding the attack; the security of the consulate and the killing of Americans caused political controversy in the United States. Hillary took responsibility for the question of security but noted that she had no direct role in specific discussions beforehand regarding consulate security.
Later on, a panel on the matter released a report that criticized State Department officials in Washington for not granting requests for more guards and safety upgrades for the consulate located in a deteriorating security environment. The House Intelligence Committee investigated and issued a report that concluded there was no wrongdoing in the administration's response to the attack. Another committee, The House Select Committee on Benghazi, conducted its own two-year investigation before releasing a report that offered no new evidence of culpability by Hillary Clinton.
Hillary Clinton's Failed Bid for President
After many months of speculation, Hillary Clinton formally announced her candidacy for the presidency in the 2016 election on April 12, 2015. She was widely viewed as the favorite to win the Democratic nomination but unexpectedly faced a strong challenge from Senator Bernie Sanders of Vermont. She ended up beating Bernie to become the first woman to be nominated for president by a major U.S. political party.
In the general election, Clinton held a significant lead in early national polls over Republican Donald Trump. However, following the well-publicized email scandal that revealed her use of personal email accounts on a non-government, privately maintained server instead of email accounts maintained on federal government servers when she was secretary of state, she and Trump were tied in major polls.
The FBI concluded its investigation into her emails and released a statement that said she had been "extremely careless" in handling classified government material but that there was "no persuasive evidence of systemic, deliberate mishandling of classified information". Following this, Trump for the first time gained a lead over her in major polls before going on to defeat her. Clinton captured only 232 electoral votes to Trump's 306 but, however, won the popular vote by a margin of about 2.8 million votes.
Recap of All The Notable Positions Held By Hillary Clinton
Criminal Law teacher at the School of Law of the University of Arkansas, Fayetteville
Associate and Partner at Rose Law Firm
First Lady of Arkansas
First Lady of the United States
U.S. Senator for New York
U.S. Secretary of State
Breakdown of How Hillary Clinton Has Made Money Over the Years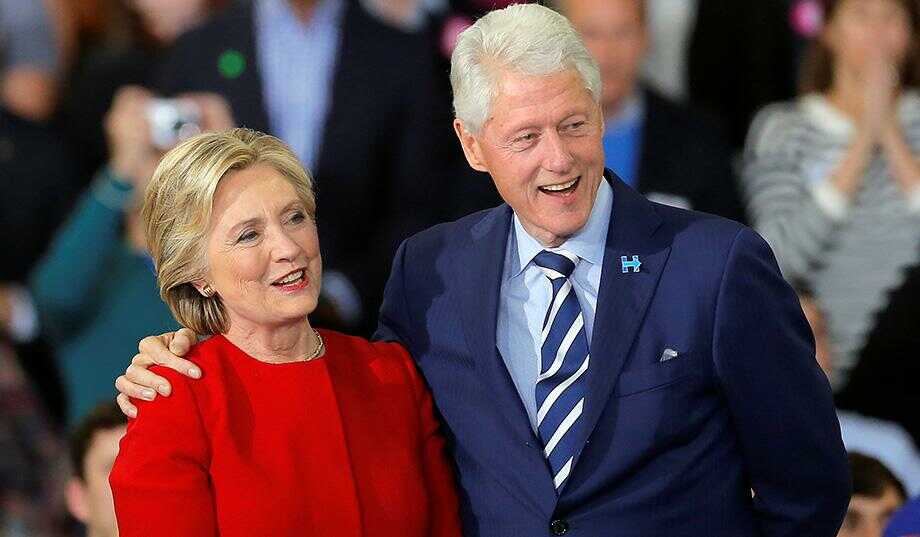 The Clintons were relatively rich before serving in the White House for two terms and leaving broke in 2001. Hillary confirmed their poor financial status in a statement in 2014 saying; "We came out of the White House not only dead broke but in debt. We had no money when we got there, and we struggled to, you know, piece together the resources for mortgages, for houses, for Chelsea's education. You know, it was not easy."
A bulk of the Clintons' debt was tied to legal bills involving the defense of Bill in the Lewinsky scandal. However, their "penury" was only to last for a short while as Bill was bound to bank substantially from his memoir, as typical of ex-presidents. He received a $15 million upfront paycheck for his autobiography My Life which was published in 2004. Additionally, Bill received 6 figure payments for rendering speeches around the world and in no time, their debt was completely settled.
Hilary also contributed to paying off all their debts through the roles she took-on after they left the White House and her earnings from speaking and writing books. Per Forbes, the Clintons made over $240 million in the 15 years between 2001 and 2016 when they left the White House.
Law Career
In Little Rock, Arkansas, Hillary Clinton first worked as a criminal law teacher at the University of Arkansas' School of Law in Fayetteville before becoming an associate, and then later the first female partner at Rose Law Firm. She was a star at the firm due to her ability to bring in big clients.
While working as a lawyer, Hillary took positions in both for-profit and non-profit organizations. She sat on the board of corporations like Walmart, TCBY, and LaFarge Corp which went a long way in increasing her income. Thanks to these numerous roles, she out-earned her public servant husband by a mammoth margin from 1978 to around the time he became president.
Bill earned just $35,000 from his job as Arkansas governor. This falls way short of Hillary's reported earnings in 1991. She is reported to have taken home $60,000 from her boardroom duties and $110,000 from her work with Rose Law Firm. Her earnings at the firm grew to over $200,000 in her last year there.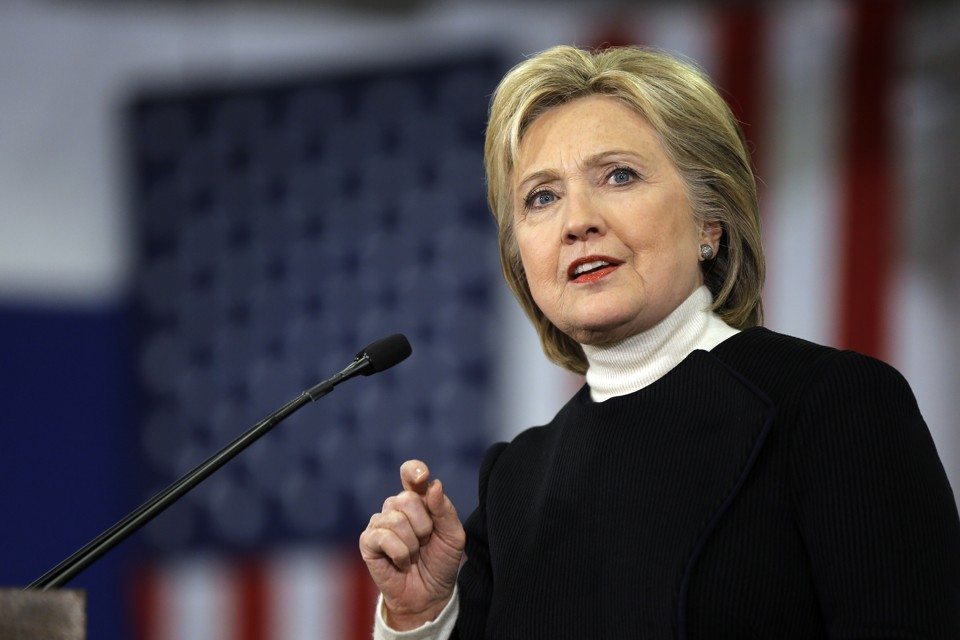 Investments
Hillary Clinton enjoyed mixed success as an investor. She lost all her investments to the Whitewater Development Corporation which looked to develop vacation properties on land along the White River near Flippin, Arkansas. She, however, proved her investing skills by being able to make $100,000 from an initial investment of $1,000 from trading cattle futures contracts. She did so within a period of ten months, between 1978 and 1979.
Both investments have since been a source of controversy for the couple, leading to investigations. Neither Hillary nor her husband Bill has, however, been prosecuted for any wrongdoing.
Writing and Book Publishing
In 2000, Publisher Simon & Schuster paid her a near-record advance fee of $8 million for her autobiography, Living History (2003). She received almost two-times that amount from the same publishers when she was given an advance of $14 million for her memoir Hard Choices (2014) where she spoke about her time as secretary of state.
Other books written by the former secretary of state include:
It Takes a Village: And Other Lessons Children Teach Us (1996)
Dear Socks, Dear Buddy: Kids' Letters to the First Pets (1998)
An Invitation to the White House: At Home with History (2000)
Stronger Together (2016) with Tim Kaine
What Happened (2017)
The Book of Gutsy Women: Favorite Stories of Courage and Resilience (2019) with Chelsea Clinton
Speaking Events
Hillary Clinton's public office duties availed her little time to pursue other money-making activities. However, after opting to not continue in her role as Secretary of State in 2013, she quickly joined her husband in the speaking business where he was raking in millions of dollars.
In 2013, she is believed to have earned $8.5 million for giving 36 speeches to the likes of Fidelity Investments and Goldman Sachs. Released tax return documents in 2014 reveal that the Clintons made a combined $28 million that year. These earnings are in huge contrast to that of what she took home as a public servant. As a Senator, Hillary earned a salary of $145,000 while as Secretary of State she earned $186,000 a year.
Highlights of All Her Income Sources
Law Career
Serving as a board member or director of both for-profit and non-profit organizations
Investments
Salary from political office
Writing and Book Publishing
Speaking at Events
What Does Hillary Clinton Spend Her Money On?
As you would expect from a public servant of such a high caliber, Hillary Clinton has not for one day lived lavishly even though she can afford to do so by just looking at her earnings. If she does, however, she has not done so in the eyes of the public and no suspicious or outlandish items have been seen in the tax returns that she has released to the public over the years.
One notable purchase that she and Bill have made is their New York home in Chappaqua which reportedly cost them $1.8 million. They are reports that they were only able to purchase the home while broke with some help. In 2008, when running against Obama for the Democratic nomination, Hillary borrowed her campaign $13 million of her own money which she later wrote off after the campaign ran into huge debt.
Being an advocate of helping the poor, Mrs. Clinton has further given a huge chunk of her earnings to charity. Between 2007 and 2014, she and her husband reportedly donated about $15 million to charity.
List of Honors, Awards, and Honorary Degrees Received by Hillary Clinton
For the outstanding work Hillary Clinton has done in public office or as the first lady of both Arkansas and the United States, she has received various awards, honors, and honorary degrees. Magazines like Time and Forbes have named her on their most influential and most powerful lists on a number of occasions. She has further been named three times as Barbara Walters' Most Fascinating Person of the year. Below is a select list of all her other recognitions.
The 1980s
Arkansas (Young) Mother of the Year by the Arkansas Association of American Mothers
Honorary doctorate by the University of Arkansas at Little Rock
National Law Journal list of the 100 most influential lawyers in America
The 1990s
Honorary doctorate at the University of Pennsylvania
Living Legacy Award from the Women's International Center
Honorary Doctor of Humane Letters from Mount Saint Vincent University
Grammy Award for Best Spoken Word Album for It Takes a Village
Lincoln Medal from the Ford's Theatre Society
United Arab Emirates Health Foundation Prize
Lifetime Achievement Award from the Children of Chernobyl Relief Fund
Mother Teresa Award, the highest honor given to civilians by Albania
Ellis Island Medal of Honor
The 2000s
Inaugural Nursing Health and Humanity Award from the University of Rochester School of Nursing
An honorary degree of Doctor of Laws, (LLD) by the University of Ulster
The American Medical Women's Association's President's Vision & Voice Award
Honorary doctorate from Agnes Scott College
Reserve Officers Association's National President's Award
Inducted into the National Women's Hall of Fame
Remembrance Award from the Northeastern New York Chapter of the Alzheimer's Association
Energy Leadership Award from the United States Energy Association's Energy Efficiency Forum
Honorary doctorate in medicine by the University of Gothenburg in Sweden
Person of the Year in 2007 by Irish America magazine
Salute to Greatness Award from the Martin Luther King Jr. Center for Nonviolent Social Change
Margaret Sanger Award from the Planned Parenthood Federation of America
Honorary Doctor of Laws degree from New York University
Honorary Doctor of Law degree from Yale University
The 2010s
George McGovern Leadership Award by the World Food Programme
The largest airport in Little Rock, Arkansas' renamed to Bill and Hillary Clinton National Airport/Adams Field
The Philippine Legion of Honor
Chatham House Prize
Liberty Medal from the National Constitution Center
Honorary Doctor of Law degree from the University of St Andrews
The Order of Lincoln, the highest award of the State of Illinois
Ripple of Hope Award from the Robert F. Kennedy Center for Justice and Human Rights
Inducted into the Irish America Hall of Fame
The Guardian's Person of the Year 2016
Honorary Doctor of Laws (LL.D) degree from Swansea University
Honorary doctorate from Trinity College Dublin
An honorary degree of Doctor of Laws from Queen's University Belfast
Profile Summary
First Name:
Hillary
Last Name:
Clinton
Also Known As:

Hrc, Unstable Hillary Clinton, Hillary "Rotten" Clinton, Crooked Hillary, Heartless Hillary, Hill
Sex/Gender:

Female
Profession:

Lawyer, Politician
Famous For:
Being United States First Lady (1993 – 2000)

Being US Senator from New York (2000 – 2009)

Being US Secretary of State (2009 – 2013)
Colleges/Universities Attended:

Wellesley College, Yale Law College
Educational Qualifications:

Bachelor of Arts with departmental honors in political science, Juris degree
Religion:

Methodism
Birthday & Zodiac

Age/Date of Birth:

October 26, 1947 (75 years old)
Zodiac Sign:
Scorpio
Birth Place:

Chicago, Illinois, United States
Nationality:
American
Ethnicity/Race:

White
Country of Residence:

Chappaqua, New York, U.S. Washington, D.C., U.S
Physical Attributes

Height:

5 ft 5 in or 165 cm (Peak Height). With advancing age, her current height is believed to be 5 ft 4 in or 162.5 cm.
Weight:

70 kg or 154.5 lbs
Eye Colour:

Blue
Hair Color:

Blonde
Other Body Measurements:

N/A
Relationships

Marital Status:

Married
Spouse/Partner:

Bill Clinton (m. 1975)
Family and Relatives

Father:

Hugh Ellsworth Rodham
Mother:
Dorothy Emma Howell
Children:

Chelsea Clinton
Siblings:
Hugh Edwin Rodham(Older Brother) (Lawyer and Democrat Politician), Anthony Dean Rodham (Younger Brother) (Consultant, Businessman)
Other Relatives:

Hugh Rodham (Paternal Grandfather) (First-generation immigrant), Hannah Jones Rodham (Paternal Grandmother), Edwin John Howell Jr. (Maternal Grandfather) (Chicago Firefighter), Della Murray (Maternal Grandmother) (Housewife), Isabelle Howell (Maternal Aunt)
Net Worth
Estimated Net Worth:

$45 million
Salary:
N/A
Source of Wealth:

Political career, public speaking, book sales