Haley Pullos has literally morphed from a child into a beautiful young woman in the public eye. On her scenes on General Hospital, the talented and beautiful actress has successfully brought the character Molly to life. Viewers have watched and loved Haley grow just as much as Molly has, and her scenes have been nothing short of amazing and fun. Wondering how Pullos has been able to live her dreams appearing on the long-standing soap opera while also nailing other roles on film and TV? Here are all the facts you should know!
Who Is Haley Pullos?
Haley Alexis Pullos is a native Californian born on the 10th of July, 1998. There isn't much information available about the actress' parents and family background but she is known to have four siblings – two sisters and two brothers. Pullos' aspirations for a Hollywood career can be traced back to her childhood and she kicked off by participating in her school plays.
Haley debuted in the industry as a child actor after landing a role in the 2002 movie Carney Tales. In 2017, she landed spots on From Straight A's to XXX and A Royal Christmas Ball. Her subsequent roles on the big screen include the 2008 flick Alien Raiders, as well as Dead Air, The Collector, and Dark House all released in 2009 and 2012's Montana Amazon.
Haley's first TV role came five years after her film debut. In 2007, she had spots in 'Til Death and Moonlight. The following year, she went on to appear in minor roles on Ghost Whisperer, The Cleaner, and The Middleman. Pullos' breakout role came in 2009 with the long-standing soap opera General Hospital, where she currently stars as Molly Lansing Davis. Between 2016 and 2018, Haley had another recurring role as Addison Pierce in Mr. Student Body President. Her other TV credits include DollHouse (2009), House (2011), Nickelodeon's Instant Mom (2013 – 2015), Growing Up Fisher (2014), The Mick (2018), and Scorpion (2018).
See Also: Ashleigh Cummings – What To Know About The AMC's NOS4A2 Actress
Is She In a Relationship or Married?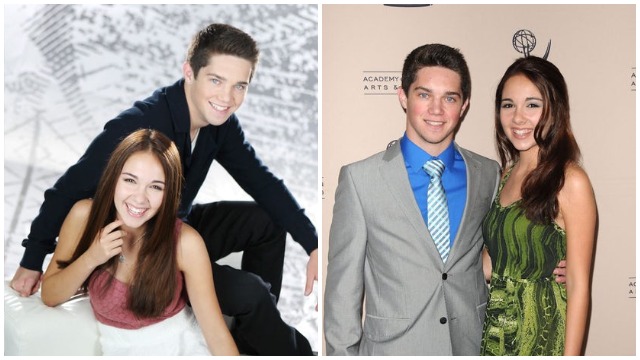 Haley Pullos is perhaps currently single as the actress has been quite private with details of her personal life. She was once romantically linked to her General Hospital co-star Jimmy Deshler but their romance was kept under the radar. Given how she has maintained a low profile with her relationship status, Pullos is presumed to be more focused on building her career.
Has She Won Any Awards?
Haley Pullos' talents have earned her some prestigious recognition. Out of seven Young Artist Awards nominations, she has taken home five of the awards, four of which were for her role in General Hospital and one for her role in House. Pullos' performance in GH has also earned her a Daytime Emmy Award nomination.
Has She Undergone Any Plastic Surgery?
At some point, it seemed like Haley Pullos wasn't seen as much as fans may have hoped for. But the young actress recently appeared on our screens again rocking a new look and has been on fire since then. With fuller cheekbones, she looked way different than the usual Molly on GH, raising insinuations among fans that there may have been some type of alteration on her face. The visible changes were also speculated in some quarters to be the effect of an allergy or illness.
Anyways, as many were eager to believe that she had cheek implants, the actress reacted to the speculations, specifying that she didn't go under the knife. While she has not admitted having any form of body alterations, Haley has also not offered any other explanation for her new looks.
Is She On Social Media?
The General Hospital star is quite popular on social media as evidenced by her strong fanbase on different networking platforms. Fans can connect with Haley Pullos on her Facebook, Twitter, and Instagram accounts to stay abreast on happenings in the young star's life.
What Is Haley Pullos' Net Worth?
Haley Pullos has been on the acting scene for more than two decades. The actress has come a long way since her debut as a child actor and her screen credits so far are believed to be rewarding. Though Pullos has not disclosed what her earnings and net worth are, she has presumably amassed a sizeable fortune from her acting career and can afford a good life.