From school teacher to acclaimed sports journalist, Colin Cowherd has built a career spanning over two decades as an award-winning sports media personality, anchor and author. Undoubtedly, he is one of the most famous and a regular face on TV whose career profile is a testament of nothing but immense skills and versatility. In addition to his accomplishments on TV, Colin has also established himself as a renowned author with several inspiring published works to his credit.
Let's tell you the story of his background, career and personal life especially his marriage and divorce story from his ex-wife Kimberly Ann Vadala.
Who Is Colin Cowherd?
Born on the 6th day of January 1964, in Aberdeen Washington, Cowherd whose father was an alcoholic, grew up with his sister in Grayland Washington. He spent much of his childhood with his not-so-rich divorced mother who left his father given his indulgence. As a result of his family background, Colin Cowherd found solace listening to sports shows on radio. Shortly, it became a passion which he also realized he could successfully pursue a career in sports broadcasting.
As for his education, records have it that he attended the Eastern Washington University and graduated in 1985. After graduation, he took up the job of a teacher for some time but discovered he wasn't really cut-out to be in the academic field as much as he wanted to be a broadcaster. Deciding to chase his true passion, Cowherd secured a job opportunity in San Diego Padres, a professional baseball team.
After some time, KVBC, an NBC affiliated channel employed him as sports director where he spent a brief time before working as a weekend sports anchor in WTVT. In 2013, lady luck smiled at him as he eventually joined ESPN radio where he started to wield some level of influence. By his second year in the radio station, Colin launched his show The Herd with Colin Cowherd, hosting the program from its inception. He also hosted other shows such as Colin's New Football Show. From 2013 to 2015, he stayed with ESPN radio but left due to a controversial statement he made about the academic qualifications of Dominican Republic baseball players who he thought came from a rough background.
After his exit, Cowherd revived again when he signed a contract with Fox Sports for the next four years and went on to host
The Herd
on the station. In 2018,
Kristine Leahy
joined the show amassing more audience and viewers. Recently, it was announced that
Joy Taylor
would be joining the show which keeps seeing its audience increase.
Thus far, Colin Cowherd's foray in journalism and his remarkable journey in the scene has been honored with several awards including Best Pundit of 2012 by Pundit Tracker for his ability in predicting sports results. He has also been honored as the Radio Personality of the year 2005 by Sports Illustrated. For five years, Colin was the National Sportscasters and Sportswriter Association's Nevada Sportscaster of the year.
What Is Colin Cowherd's Net Worth?
The sports reporter has reached the peak of his career and has successfully created a niche for himself in the already-crowded industry. On this note, his annual income and net worth have seen tremendous growth. Colin Cowherd's net worth has been estimated at $14 million while his yearly income is $2 million approximately.
His Wife And Daughter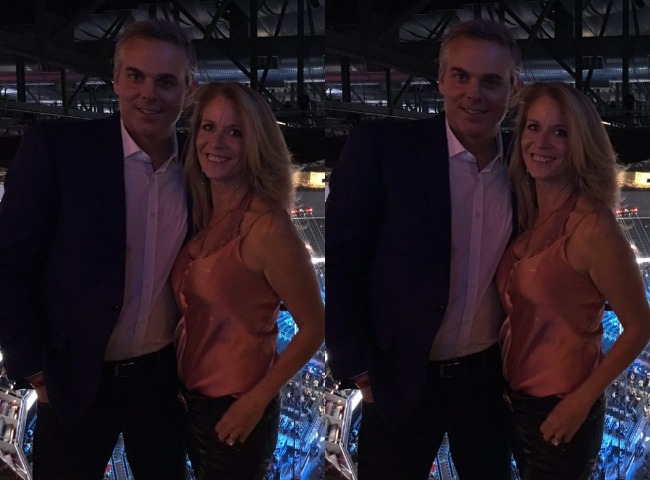 There is nothing more heartwarming as picking the pieces of your life after a heart-rending divorce as Colin Cowherd did after his much-publicized divorce from his first wife Kimberly Ann Vadala. The TV personality has stayed married to his second wife, Ann Cowherd whom he married in 2010. Though the two are understandably private about their relationship, they seem quite ready to hold onto each other forever as there are no indications of the marriage failing. For now, they have no child of their own but they play parents to six children, four from Ann's previous relationship and two from Colin's past relationship.
See Also: 15 Richest TV Hosts In America And Their Net Worth Revealed
Colin Cowherd's Divorce From Kimberly Ann Vadala
As commonly known, Colin was married to Kimberly Ann Vadala, a fitness enthusiast, and a part-time model with Caucasian roots. The pair met and hit it off almost immediately, legalizing their romance in 1996. The media icon spent 10 years married to Kimberly Ann Vadala and raising their two children; a son and a daughter in one roof. However, in 2007, the couple split for an unknown reason. Despite not stating the reason, Colin suggested that Kimberly exhibited a controlling and bad attitude which he could no longer condone.

Their children moved in with their mother who has custody of them but Colin still plays a father role in their lives through enormous child support that could allow for a luxury lifestyle.

Fact Check: We strive for accuracy and fairness. If you see something that needs updating,