From school teacher to acclaimed sports journalist, Colin Cowherd has managed to build an award-winning career that has spanned over two decades. The sports media personality, who has worked with various highly-rated sports media outfits over the years, is undoubtedly one of the most famous people in the business. He is best known as the host of the syndicated show, The Herd with Colin Cowherd which also simulcasts on Fox Sports 1 and Fox Sports Radio. He also operates a YouTube channel of the same name. In addition to his accomplishments on radio and TV, Colin is also a renowned author with several published works to his credit.
How Colin Cowherd Made the Switch from School Teacher to Sports Journalist
Colin Cowherd has described himself as a loner during his childhood. This is because the Aberdeen, Washington native spent most of his time listening to baseball games and different sports shows on the radio. Colin did not have his father with him during this time as his parents had divorced over his father's alcoholism while he was young. He was subsequently raised mainly by his mother alongside his older sister.
Following the completion of his education, Colin opted to pursue a career in sports broadcasting. The 1985 Eastern Washington University graduate, however, had to spend some time working as a teacher before he was able to get into broadcasting. The first job he was able to land in the field was the play-by-play voice for the Las Vegas Stars, the San Diego Padres Triple-A affiliate team.
After working with the Stars for some time, KVBC, an NBC affiliated channel in Las Vegas, Nevada, employed him as a sports director, signaling his arrival into the big-time sports broadcasting world.
The Highs and Lows of His Career
In 2003, lady luck smiled on Colin Cowherd as he landed a job with ESPN radio. Within a short while, he started wielding some level of influence at the radio station and by his second year, he launched his very own show, The Herd with Colin Cowherd. He also hosted other shows such as Colin's New Football Show.
Unfortunately in 2015, Cowherd found himself embroiled in a controversy that led to him leaving ESPN radio that year. It happened that the radio host made controversial statements about baseball players from the Dominican Republic.
Following his exit from ESPN, Cowherd signed a four-year contract with Fox Sports Radio. Among other responsibilities, he went on to host a show called The Herd on the station from September 2015. In 2018, famous radio presenter Joy Taylor replaced Kristine Leahy as co-host of the show, a move that is believed to have attracted a greater audience to the show, thus increasing its level of popularity. The same year, Cowherd had his four-year contract with Fox Sports renewed. He has since continued to go strong with his sports talk show on the network.
View this post on Instagram
With his work on Fox Sports, Colin Cowherd has grown to become one of America's most recognized sportscasters. He has been honored with several awards, including Sports Illustrated 2005 Radio Personality of the Year award. In 2012, Pundit Tracker honored him with the Best Pundit of the Year award for his ability in predicting sports results. Before all of this, Colin was a five-time recipient of the Nevada Sportscaster of the Year award from the National Sportscasters and Sportswriters Association.
Also to his credit are two published books, namely: You Herd Me! I'll Say It If Nobody Else Will (2013) and Raw: My 100%, Grade-A, Unfiltered, Inside Look at Sports (2015). All these endeavors have contributed to his estimated net worth of $14 million.
See Also: 15 Richest TV Hosts In America And Their Net Worth Revealed
Colin Cowherd's First Marriage was to Kimberly Ann Vadala
It is, in fact, no news that Colin Cowherd was once married to Kimberly Ann Vadala, a Caucasian fitness enthusiast, and part-time model. The pair had hit it off almost immediately after their first meeting before deciding to become man and wife in 1996.
Colin and Kimberly's marriage, however, lasted only for a little over a decade (1996-2007), a time during which they welcomed and raised two children; a son and a daughter. Following their separation, the children moved in with their mother who obtained sole custody of them. Regardless, Colin still plays a significant role in their lives.
Cowherd and Vadala's divorce received massive media publicity, however, exact details were never given as to what caused them to split up. Court documents only stated "irreconcilable differences." Rumors, on the other hand, had it that Colin cheated on Kimberly while it was also said that Kimberly developed a bad attitude that he could no longer condone.
He Did Not Give Up On Marriage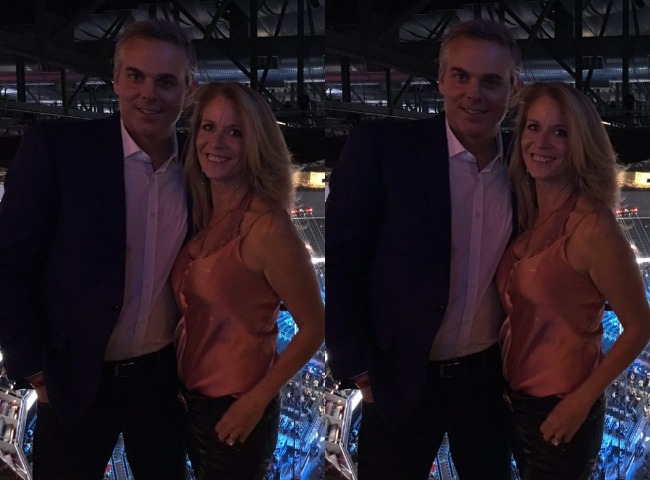 There is nothing more heartwarming than picking the pieces of your life after a heart-rending divorce. Following his much-publicized divorce from Kimberly Vadala, Colin Cowherd did just that by deciding to love again. The TV personality moved on with a new lady whose name is coincidentally Ann as well.
Colin and Ann met each other through their mutual friend, Trace Gallagher. Both coming from failed marriages, the pair didn't take too long to give definition to their relationship. They dated for just a few months before making their love official by tying the knot in 2010.
Colin Cowherd has made sure to keep details of his marriage private and it is apparently paying off as the union has witnessed no threats of failure. Despite not having any biological child together yet, Colin and Ann play parents to six children from their previous relationships – four from Ann's and two from Colin's.
Meet Colin's Daughter, Liv Cowherd
Of Colin Cowherd's two kids, his daughter Liv has taken to media popularity. She was born on September 12, 2000, and grew up in the spotlight. She is studying Business Management at Arizona State University.
The young lady who usually posts scantily clad photos of herself on social media has found herself making the news for it. In 2015, following a tweet by her father where he called the New Orleans Saints "undisciplined", Saints fans replied by posting photos of his daughter, suggesting that she was rather the undisciplined one. They also made numerous references to Liv's Halloween tweet in which she shared a photo of herself captioned "she belongs to the streets". Worthy of note, however, is the fact that Liv borrowed the caption from numerous social media trolls that had previously referred to her as such. She also took the joke to her IG account, sharing the same photo below.
https://www.instagram.com/p/B4SmshIF1Lz/?utm_source=ig_web_copy_link
Liv, who has since turned a social media sensation, has garnered thousands of followers across various social media platforms. On twitter, she boasts close to 140k followers while her Instagram has almost 70k. The radio host's daughter also runs a self-titled YouTube channel that has so far amassed 1.72k subscribers.