Acting is a universal creative form that defies background and race. All over the world, there have been millions of people who have dedicated themselves to this art form, and in Australia, one of them is Claudia Black, an actress who has been working professionally since 1992.
Claudia Black may not have the global recognition that some of her peers in Hollywood has but she committed a lifetime to the profession and has appeared in a number of internationally recognized projects like Farscape, Pitch Black, and Stargate SG-1.
In this article, we take a closer look at her background, career and everything else you need to know about the Australian actress.
Early Life and Career Beginnings
Claudia Black was born into a Jewish family on the 11th of October, 1972 in Sydney, New South Wales in Australia. She was born to Jules and Judy Black, who are academics and she began her own education at Anglican Kambala School.
Details of her education history are unknown, although the actress is known to have studied up to college level. Not much is known about what inspired her to become an actress but she eventually made her debut in 1992, when she was cast as Sandra in two episodes of the show, Home and Away.
Claudia Black was 20 years of age when she made her debut and she has not stopped working ever since. After she made her appearance in Home and Away, she appeared in a series of projects the following year, including appearances in shows like A Country Practice as Claire Bonacci. She began to appear in City Life as Angela Kostapas and was cast in other roles in shows like Water Rats, and Hercules: The Legendary Journeys. Claudia Black starred in her first feature-length movie in Amazon High as Karina in 1997.
As she racked up credits in various movies and TV shows, Claudia Black did not hit international recognition until 1999, when she began to appear as Officer Aeryn Sun in Farscape. Her appearance in the show, which spanned four years between 1999 and 2003 transformed Claudia Black into an internationally recognized actress, elevating her career.
Following the success of Farscape, her career continued its upward trajectory with her role as Vala Mal Doran in Stargate SG-1. Since her star was established, Claudia Black has gone on to appear in Rain from Stars, Haven, Containment, The Originals, Roswell, New Mexico, and a few more others.
Also, a talented voice actress, Claudia Black has also gotten an impressive list of voice roles that span both animations and video games, including appearances in Rango, Rick and Morty, and Stolen Life. In video games, Claudia Black has lent her voice and face to over 28 video games, including popular titles like Mass Effect 3, the Uncharted series, Final Fantasy XIV, God of War, and several others.
Over the course of her career, Claudia Black has been recognized for her work with a couple of awards and nominations, including the Saturn Award and The Constellation Awards.
Claudia Black's Children
Claudia Black has two children, both from her marriage to Jamie Oddie. The couple got married in 2004, three years after they began dating in 2001 and two years after they got engaged.
Over the course of their marriage, Claudia Black and Jamie Oddie gave birth to Odin Black and Viggo Black. Sadly, the love that brought both children into the world was not to last and after twelve years of being married to each other, Claudia and Jamie got separated and completed their divorce in 2016.
See Also: Cecilia Balagot – Bio, Age, Family, Facts About The Actress
Other Facts About The Australian Actress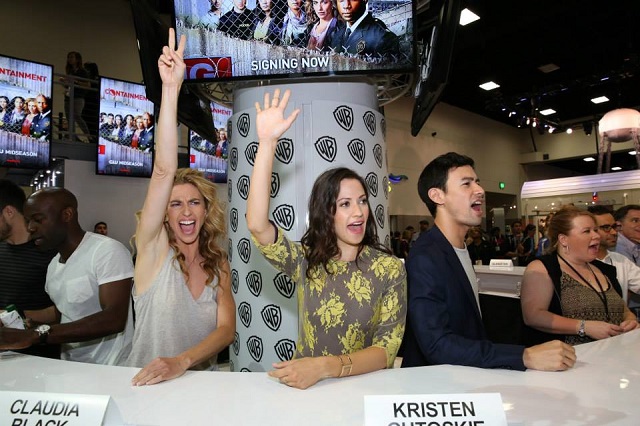 • Over the course of her career onscreen and as a voice actress, performing for video games and animation projects, Claudia Black has been able to accrue an estimated net worth between $1.2 and $2 million. Her filmography of over 70 movies and TV shows is considered a huge contributor to her net worth.
• Claudia Black has a height of 5 feet 7 inches and a body weight of 54kg. Her slim body profile is defined by a body measurement of 37, 25 and 36 inches for her bust, waist, and hips respectively. Additionally, Claudia has blonde curly hair and green eyes.
• She has appeared on the cover of at least thirteen magazines, which include TV Zone and The Official Stargate Magazine.
• Claudia Black once appeared in a commercial for Emerald Nuts.
• Claudia Black is also a decent guitar player and a singer, who has featured in an album by Paul Goddard.