You might know Charly Caruso for her work with the World Wrestling Entertainment but the woman is also a former stand up comedian, TV host, and independent journalist. She is well known for her extensive involvement in WWE backstage interviews where the US-based broadcaster gained widespread popularity serving as an anchor and reporter for WWE's brands like Monday Night Raw and SmackDown Live. Read on to find out more about Caruso's life and achievements.
Charly Caruso Bio & Age
Born as Charly Arnolt on July 14, 1987, in Indianapolis, Indiana to her parents; she was raised by her single mother named Charlene May Arnold who worked as a language pathologist. Sadly, there is no news about her father or siblings, although it has already been established through the images she shares on her social media pages that she does have siblings whose names are not known to the media.
Digging into her school life, we learned that she attended North Central High School in her teenage days. In a bid to further her education, she enrolled at the American University in Washington DC, where she attained a Bachelor's of Art's degree in Broadcast Journalism and a minor in Criminal Justice and Spanish in the year 2010.
While attending university, she was an intern at KRIV-TV, a subdivision of Fox Station, after having also interned at a CBS-affiliated station during her secondary school days. It is also said that she was an Intern-editor at One Sister 2 Sister publication.
In 2015, five years after her graduation from the university, Charly Caruso moved into the comic world as a stand-up comedian. She practiced comedy for a while before going ahead to practice journalism. After she stopped comedy, she worked as a broadcaster in various broadcasting stations such as WTTG, WDAF, and WSAZ.
Before working for WWE, she was a news journalist and sports broadcaster who worked with the National Basketball Association (NBA) and National Football League (NFL). She was also a freelance journalist who worked for stations on a contract basis.
Charly Caruso is currently one of the announcers on WWE and WWE's NXT whose job is to anchor wrestling matches, interview wrestlers backstage, and report on special WWE events at least four times in a week.
Recently, the TV anchor declared through her Instagram page that she was going to work as a TV presenter on one of ESPN's sports program called Sports Center. However, she has stated that she will remain an employee of WWE, stressing that she is not leaving the wrestling establishment.
Who Is Her Boyfriend?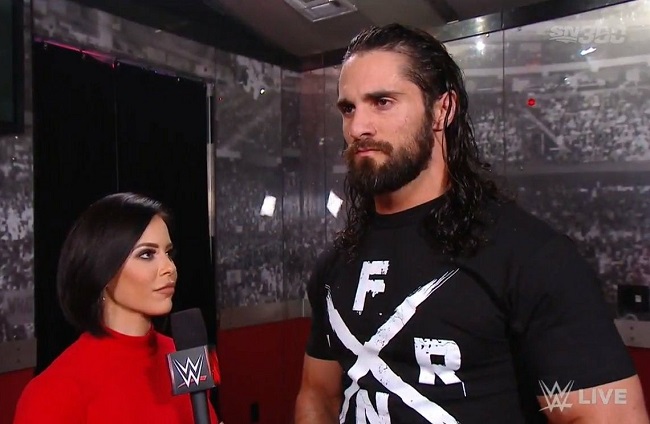 Charly Caruso is very much single and does not have any love interest in her life at the moment, or at least to the best of our knowledge. However, she was said to have once been in a romantic relationship with the Universal WWE Champion, Seth Rollins, who is known as the Beast Slayer.
See Also: Is Kelly Monaco Married To A Husband? Her Relationship With Billy Miller
Facts About The WWE Announcer
There are a handful of things that are worth knowing about this media personality. The following are a few of them.

1. Her Mum Is Her Mentor

Charly Caruso has stated on numerous occasions that her mum is the backbone behind her success and her role model. The media personality shared that she has a strong relationship with her mother and credited her for the person she is today.

2. Her Real Surname is Arnolt

Charly Caruso's birth name is Charly Arnolt. It is not clear why, but she opted to change her last name from Arnolt to Caruso when she started working as a professional journalist.

3. She is a fan of Johnny Depp and Jennifer Aniston

Caruso is one of the many fans of the Pirate of the Caribbean star Johnny Depp and the Friends actress Jennifer Aniston. She has stated on various occasions that Depp and Aniston are her favorite celebrities and she thinks that they are very talented.

4. Body Measurements

The WWE announcer is 5 feet 2 inches tall and weighs about 110 Ibs (50 kg). Her body measurements are 34-25-35 inches (breast-waist-hips). The journalist has a well-shaped body and hardly would anyone assert that she isn't good-looking.

5. Net Worth

Over the years, Charly Caruso has gathered a fortune estimated at $500,000. But, unfortunately, there is no information regarding what she earns from her endeavor with WWE.

Fact Check: We strive for accuracy and fairness. If you see something that needs updating,