Is Cake Boss canceled or is the reality show still on TV? This is one of the many questions being asked about this culinary show which has garnered quite some attention in the United States. There are many culinary TV shows currently vying for attention on television around the United States and all these shows individually have their attractions which pull viewers to their corners as they battle to stay relevant. Cake Boss, an American reality television series which airs on the cable television network TLC, is one of these shows.
Just like the name implies, Cake Boss is a show about cakes and how they are made. It features a group of cake bakers going about their business, showing off their skills at baking cakes and creating wonderful decorations to the huge admiration of fans. The show has caught serious attention since it began to air on TV, but is Cake Boss canceled or is the show still running? If it is still on the air, when will the new season be out? Let's take a look at some of the answers.
How Cake Boss Began
The interesting thing about the Cake Boss reality show is that it focuses on a family and the cake shop which they own together called Carlo's Bake Shop. The Carlo's Bake Shop happens to be an Italian-American family-owned business located in Hoboken, New Jersey and is managed by Buddy Valastro, the star of the Cake Boss show and other members of his family including his four sisters, his two brothers-in-law, and his cousins.
The Carlo's Bake Shop which the family works in was originally owned by Buddy Valastro's father, Bartolo Valastro, Sr., an Italian man who came to the USA as an immigrant at the age of 13. Having come from a long line of bakers, Bartolo Valastro, Sr. managed to acquire the Carlo's Bakery in 1964 and eventually got his son, Buddy Valastro to begin work in the cake shop. Buddy began working at Carlo's Bake Shop when he was at 11 years old and grew to fall in love with the job of making cakes. He started working as a dishwasher and grew through the ranks to become a baker himself. This was because his father reportedly wanted him to learn every aspect of the job from the bottom to the top.
When his father eventually died, Buddy was left with the task of making sure he kept his father's dream of turning Carlo's Bake Shop into a household name alive. Soon, he got his entire family involved in the business. His sisters and even his mother and his wife are all involved in the running of the cake shop. Over the years, they have expanded their business across different towns and now have many employees working for them.
As Carlo's Bake Shop kept witnessing huge success, the idea to take the family business to TV was birthed and it finally happened in 2009 when Cake Boss was born. The Cake Boss show first premiered on April 19, 2009, and hit the ground running because it caught a lot of attention. In fact, it quickly rose to become one of TLC's top-rated reality shows and has had several spin-offs already. Today, Cake Boss has shot Buddy Valastro and the family-owned Carlo's Bake Shop into international stardom. Also, many fans of Cake Boss are fascinated by the fact that the show is not just about baking cakes but also focuses on family relationships and values.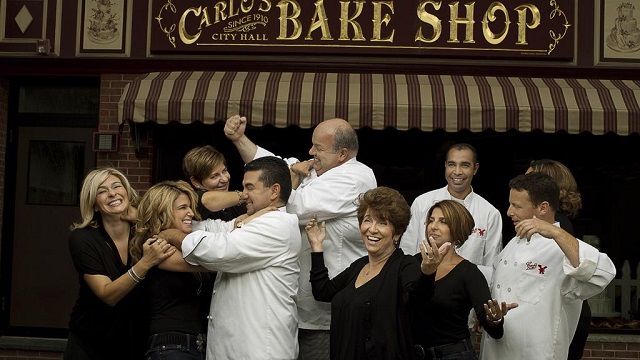 Is Cake Boss Canceled Or Is It Still On TV?
One of the frequently asked questions about the show has been 'is Cake Boss canceled'? Well, the answer to this question is a straightforward "no". Cake Boss has not been canceled and it is still showing on TV. As a matter of fact, Cake Boss is still increasing in popularity.
Talking about the growth of the show, Buddy Valastro has often opined that the support of everyone in the family is what has kept Cake Boss and Carlo's Bake Shop alive today. According to him, without everyone around him, as they now are, everything would have crumbled.
Read Also: 'The Chew': 5 Crazy Facts About The American Cooking Show
When Will A New Season Be Out?
The Cake Boss reality TV show premiered in April 2009 and has been running ever since. In September 2015, the 7th season of Cake Boss premiered live, sending fans into bouts of euphoria.
The show's 9th season premiered on the 18th of May 2019 on Discovery Family channel. Fans hope that after this season ends, the show would be renewed for more seasons to continue savoring all the adventures and spectacular creations that Cake Boss has to offer.