Movie stars have been ruling the world of entertainment and in the 90s to the early 2000s, Brendan Fraser was a delightful leader who appeared in major blockbusters like The Mummy series, George of the Jungle, and Journey to the Center of the Earth. Fraser was a legitimate movie star and he was expected to keep that up until a combination of health issues and a fallout from an allegation of sexual assault against a Hollywood bigwig, as believed, got him blacklisted in the industry. As he is finally seeing a resurgence in his career with roles like Cliff Steele in Doom Patrol, it is worth taking a look at his background and life in general, including his children.
Brendan Fraser's Background Details
He was born Brendan James Fraser on the 3rd of December 1968 in Indianapolis, Indiana. He is one of the four sons born to Carol Mary and Peter Fraser who are Canadians. He was born in America because his father, at the time, worked as a Canadian foreign service officer for the Government Office of Tourism.
Growing up, Brendan and his family moved and lived in multiple places across America and Europe, and he eventually graduated from Upper Canada College where he earned his basic education.
His first introduction to acting was in a play in London at West End and as a result of the passion he developed for it, he attended Seattle's Cornish College of the Arts where he earned his bachelor's degree.
Brendan Fraser began acting professionally in 1988 when he was in an acting college in New York City. Three years after in 1991, he made his onscreen debut in the TV movie, Child of Darkness, Child of Light. Like most young actors, he got minor roles in his early days, before he got his first leading role in the comedy film, Encino Man. This marked the beginning of a journey that saw him playing lead characters for the big screen. It was only a matter of time before he became a Hollywood superstar.
His first major blockbuster with the box office success to match came in 1997 when he starred as George in the film George of the Jungle. Two years after, he began to star in the movie series that established his superstar status, The Mummy. He starred in all three iterations of the franchise as well as appearances in other movies, which were a mixed bag of successes.
In television, Brendan Fraser has appeared in Scrubs, King of the Hill, The Fairly OddParents, The Affair, Texas Rising, and most recently, Doom Patrol.
A combination of injuries he sustained while filming the multi blockbusters he starred in at the peak of his career along with an allegation of sexual misconduct on the part of the president of Hollywood Foreign Press Association (HFPA), Phillip Berk, presumably caused a decline in his career.
Nonetheless, his appearance in The Affair in 2016 began a resurgence in his career, and he has since appeared in both films and TV shows. Over the course of his career, Brendan Fraser has been the recipient of over 10 award nominations and has won at least eight of them, including the Gold Derby and Screen Actors Guild.
Does He Have Children?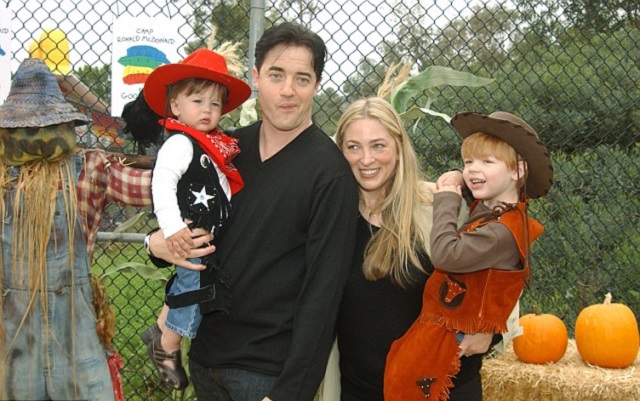 Brendan Fraser does have children, three in total, and they all came from his marriage to Afton Smith, whom he met at Winona Ryder's house in 1993. They got married on the 27th of September 1998 and gave birth to three sons.
His first son, Griffin Arthur Fraser was born on the 17th of September 2002. Holden Fletcher Fraser came next and was born on the 16th of August 2004 while the third, Leland Francis Fraser was born on the 2nd of May, 2006.
Just over a year after Brendan and Afton gave birth to their third child, they announced their divorce; this was in December 2007. The actor is yet to get married again since then.
See Also: Steve Bacic – Bio, Wife, Children, Facts About The TV Actor
Where Are Brendan Fraser's Children Now?
Despite the divorce, Brendan Fraser continues to have access to his three sons. His first son, Griffin Fraser suffers autism spectrum disorder and the actor maintains a close relationship with him. Brendan has been seen going on vacations with his sons and when they aren't, they live with him at his home in Bedford, New York.