It's hard on fans whenever their favorite celebrity lovebirds call it quits. A good example is the love story of a promising musician, Blake Anderson Hanley and his divorced wife, Emily Wickersham who gave us couple goal for years with many describing what they shared as nothing but "true love."
Owning to their love, their relationship didn't only serve as an inspiration to fans, it also pushed Blake Anderson Hanley to the limelight. However, rumors swirled in 2018 that the two were divorcing and it eventually turned out to be true, breaking the hearts of fans.
But the demise of the marriage didn't entirely blur Blake's image in the spotlight mostly because he has a flourishing music career. Though he hasn't gained massive mainstream success yet, Blake is working hard to be known not as the ex-husband of Emily but as a talented singer. Here's all you should know about him.
Who is Emily Wickersham's Ex-Husband?
The frontman of his musical band, Blake Anderson was born in Palm Beach, Florida into the household of Mr. and Mrs. Daniel Hanley. His father is allegedly an Australian who played Australian Rules Football in the Victorian Football League, Essendon. This means that Blake has Australian root. His nationality, however, is American. His educational qualification is not known as he doesn't talk much about his personal life, but apparently, he got schooled at some point before his musical career.
Blake Anderson Hanley forayed in the music industry as a member of a tropical post-punk indie pop/rock music band named Kin Cayo which he created with guitarist, Enrique Lara in August of 2016. Normally, at the inception of the band, it didn't get much traction but towards the end of that year, it began to draw reasonable attention. The likes of keyboardist, Christ Kapica, and bass guitarist, Mike Torres, quickly decided to reap from the band's growth by joining to form a four-piece band which they named Ghost Lion.
Their involvement in the band surely gave it more boost and by the end of 2016, the band released its first EP titled Dim Echo. Without wasting time, the band released several other singles in December 2016 including Way Up, Wolves, Broken Glass, among others. The singles got audience swoon for their polished sounds as well as their love and friendship messages. They were also praised for their positive vibes.
The following year, Blake Anderson Hanley and his bandmates dropped more musical works including the song Shot The Sun Down which was a hit. Ghost Lion's next project was an EP named Ballad of St. Panama which had 4 singles including Our Ship, Broken Glass, Wrong Guy and Ballad of St Ballad all of which impressed the audience and garnered the band more attention.
All You Should Know About Blake Anderson Hanley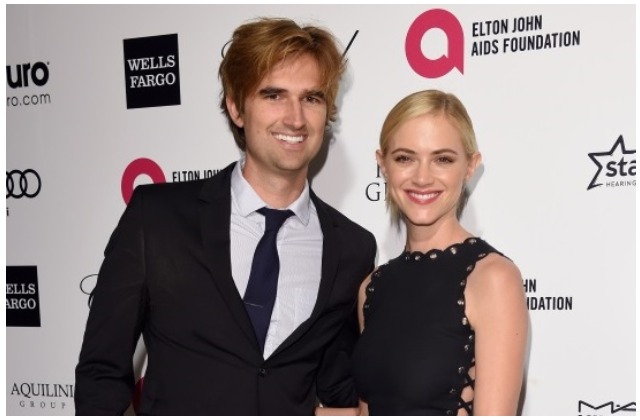 What Blake's Relationship With Emily Wickersham was Like
Blake and Emily were best friends before they fell in love with each other. They soon became inseparable and on realizing that they mix perfectly, they became more serious. On 23rd November 2010, they tied the knot in Little Palm Island in the Florida Keys in the presence of 150 guests consisting of their closest family and friends. While they were married everything looked alright between the couple and their marriage was an inspiration to many. However, they stayed married for 8 years before parting ways in 2018.
Emily Wickersham is an actress who came to international attention for her role in the famous TV police series NCIS as Eleanor Ellie Bishop in 2013.
Why did They Divorce?
It appears Emily and Blake don't dwell in the past as they've refused to talk about the possible reason for their split. Since going their separate ways, none of the two has consciously or unconsciously hinted on the reason for their split. Therefore, nobody seems to know the major cause of their divorce.
Read Also: Lexi Walker Biography – 6 Quick Facts You Need to Know
Did Blake Anderson Hanley and Emily Wickersham Have Children?
Well, considering Blake's long term marriage to his best friend and former wife Emily Wickersham, one would think they produced children. Nonetheless, the duo didn't have any child nor did they adopt one. As a result, the two didn't have to fight for child custody battles or supports.
What is Blake Anderson Hanley's Net Worth?
Although Blake's music career in the band Ghost Lion, started to flourish much later than his wife's acting career which made him mostly known for his marriage to her, the musician seems to make a lot of money from it. His net worth is not known for sure but has been pegged to be between $500,000 and $1 million – which isn't an amount his ex-wife who has a net worth estimated at $2 million would mock.
Height – How Tall is Blake Anderson?
Blake stands taller than his ex-wife who is 5 feet 5 inches tall. But like a lot of things about him, his exact height is a piece of information known to just him.
Social Media
Nearly everybody uses social media daily and Blake Anderson Hanley is not left out. You can follow up on his daily life on his Instagram page @blakehansolo.