Everybody knows Blac Chyna just gave the world the newest Kardashian to keep up with as her relationship with Rob Kardashian gears towards the next step. But, what more can we say about the businesswoman, model, rapper, socialite, and former stripper? Well, for starters, she had a life before she got netted into the controversial love affair with the Kardashian. The glamorous model we have all come to know, formerly had a normal job working in a salon until she burst into mainstream celebrity thanks to her multi-faceted careers. Here is everything there is to know about Blac Chyna before she became famous.
Blac Chyna Before Fame
Chyna was born Angela Renée White on May 11, 1988. Her parents Shalana Jones-Hunter, also known as Tokyo Toni and Eric Holland had her in Washington, D.C. She enrolled in Henry E. Lackey High School in Maryland and furthered at Johnson and Wales University in Miami after High School.
A Throwback Picture of the Models Shows that she Preferred the Natural Look Back in the Days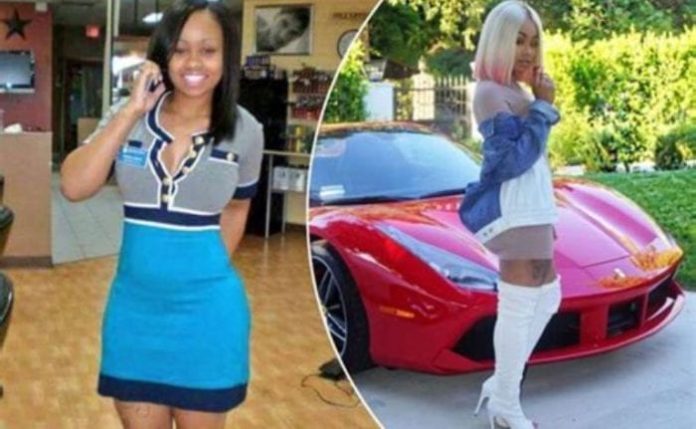 A fan shared a throwback photo of Blac Chyna before she tasted fame and it is only thanks to the caption "Angela before she became Blac Chyna, she even had a normal job" that one can connect the picture to the model. In fact, Chyna looked completely unrecognizable in the photo. The glamorous runway queen was your normal run-of-the-mill girl who worked in what seems to be a beauty parlor.
In the picture, she was seen in a tight multi-colored dress with some cleavage showing as she brandishes her name tag with pride. The pix triggered responses from fans who found it difficult to believe that she actually worked a normal job in her life. Besides, the photos show that she favored the natural back in the days as she barely wears makeup, but the wig was present.
Her Stripping Career Took off at 18
As a teenager (18), she began stripping and picked Blac Chyna as her professional name. She performed at Diamond club under the alias "Cream" as a college student. The former exotic dancer said she started dancing at the state-of-the-art, slightly expensive King of Diamond shortly after.  
Bagged the model of the year Award One Year After Modeling Career Began
Chyna started out her modeling career in September 2010 becoming as the CoverGirl on Dimepiece magazine. She also mugged for the camera for Straight Stuntin and Black Men magazines. The former stripper was given the model of the year Award at the 2011 Urban Model Awards. She went on to pile up infamy in spreads for Urban Ink, XXL, and Smooth Girl.
Read Also: The Real Reasons Selena Gomez Ended Up In Rehab
She Became A Music video vixen Collaborating with Some of The Best of the Industry
Blac Chyna upped her career portfolio and headed for musical video shooting. The doting mum of two appeared in the video for Kanye West's "Monster" as Nicki Minaj's body double in November 2010. She told XXL that good Nicki was rapping to the bad Nicki, so they needed an extra body. She also revealed that in the video, Nicki's head was placed on her body so it would look like she was rapping to herself. She wore a pink wig as they tied her up in a chair. She also featured in Tyga's music video "Rack City". This was how she met her first fiance and baby daddy. In October 2012, she featured in Minaj's "Come on a Cone" video.
Blac Chyna Became Famous In Rap, earning Several Mentions from Top Artists
Chyna became a common name in raps. Minaj mentioned her on the 2-Chainz track "I Luv Dem Strippers," spitting, "That's red on my wristband, SB, Mack Maine /Tell Tyga, lookin' for this b— called Blac Chyna. Former bae of her bestie, Kanye West also named her in his song "High Lights" in 2016, saying, "Blac Chyna f—in' Rob, help them with the weight." Drizzy joined the bandwagon and said, "Call the King of Diamonds and tell Chyna it'd be worth the flight." Rapper Drake also referenced her in his song "Miss Me," released in 2012.
Her Entrepreneurial Efforts are Quite Commendable
Chyna completed her program at JLS Professional Makeup Artist School in 2013. She then ushered in her 88 Fin clothing line and her own brand of false eyelashes, LASHED by Blac Chyna. She unveiled her LASHED Beauty Bar salon the following year which offers different cosmetic services, and also makeup lessons.
Her Relationship with Tyga lasted a Few Years
In 2011, Chyna and Tyga met at Chris Brown's after-party for F.A.M.E. Tour. They began dating officially during her appearance in the "Rack City" video in 2011. In 2012, the two announced that they were expecting a child, confirming the rumour. Tyga engaged her and son King Cairo was born in October 2012. Two years later, the pair separated amid reports that Tyga was cheating on her with Kylie Jenner. After a series of on and off in their relationship, the two moved on completely with their lives.
Blac Chyna's Flirtation with Future
There were speculations that Chyna was making out with rapper Future in 2015. The rumour went more viral when she tattooed "Future"on her hand. But it appeared Future wasn't ready to walk into the love triangle. Therefore, as the rumour became widespread, the rapper said (via the Daily Mail), "Single & focusing on what makes me happy…U kno I dnt f— wit no rumors [sic]." The former video vixen allegedly cleaned off the tattoo—and has become used to concealing her hand in public.
Her Love Purported Affair With PJ Tucker Grabbed the Headlines
It is believed that Chyna and basketball pro P.J. Tucker may have secretly hooked up after it was found that Tucker's tattoos matched up to those of a gentleman caught on Chyna's Snapchat. The discovery grabbed the headline as Tucker was married but neither Amber Rose's BFF nor the Pheonix Sun's player hinted on it. The rumour exploded so much that Tucker angrily deleted his Instagram account, and Chyna deleted all of her posts with "him"…however, trust some smart people to get a screenshot.
She has had Several Run-ins with the Authorities
Chyna has some notorious record linked to her birth name Angela Renée White. Reports say she has more than 20 driver's license suspensions in Maryland, and this got her arrested one time after being pulled over for speeding in 2008. In 2016, Chyna was in police custody for public intoxication after she got drunk at the airport in Austin, Texas. She was also charged with drug possession for having controlled substances. Authorities said the model acted in an unpredictable way, getting mad at one point, then insulting everyone before crying.
Relationship With Rob Proved a Bit Volatile
After the youngest of the Kardashians sisters, Kylie snatched her then-fiance Tyga, she began dating her half-brother Rob Kardashian. Their relationship has been a little volatile that Rob moved out of their apartment due to constant arguing. However, after the birth of their daughter Dream in November 2016, he moved back into his other half's Calabasas mansion to be close to her.
Rob took to Instagram in December 2016 to announce their separation, but a few days later they came back together only to split for good in February 2017. The following July, the Kardashian brother shared sexually explicit pictures of his ex on social media which led Chyna to obtain a temporary restraining order against him.
A Doting Mom with Two Kids
Blac Chyna has a son with rapper, Tyga. And, in case you don't keep up with the Kardashians, Tyga happens to be the boyfriend of Rob Kardashian's little sister, Kylie Jenner. She has two children and you could see she is doing great in her motherhood duties.
| Net Worth: | $1.6 million |
| --- | --- |
| Salary: | Over $700,000 annually |
| Income Sources: | Modeling, music, TV appearances |
| Age/Date of Birth: | May 11, 1988 |
| Height: | 5 ft 2 in or 157 cm |
| Nationality: | American |
| Last Updated: | 2020 |