In American football, quarterbacks are one of the most valuable players in a team, which is why they possess the bulk of the glamour and fame of playing the sport. From Tom Brady to Payton Manning, quarterbacks have always been the star name in football. One man who has joined that long line of celebrated QBs is Baker Mayfield, who, at a young age, has already become one of NFL's most popular players.
He joined the National Football League (NFL) in 2018 after he was drafted by the Cleveland Browns, and he has transformed the team from being NFL'S joke team to serious contenders.
Here is everything you need to know about Baker Mayfield's career from high school to the NFL, along with details about his height.
How Old is Baker Mayfield?
Baker Mayfield was born on the 14th of April 1995, in Austin, Texas. He was born to James Mayfield, a private equity consultant and Gina Mayfield, his mother, and was raised alongside a solitary brother, his older brother, Matt Mayfield.
He attended Lake Travis High School and was a part of the school's football team. He had developed a love for football from his childhood after switching to ESPN from Sunday cartoons.
For Lake Travis, Baker Mayfield was a starting quarterback, and he helped his team to the state championship at the age of 16, crowning a 25-2 record across two seasons. Despite ending his high school career with a record of 67 touchdowns, 6,255 passing yards, and eight interceptions, and ranked among the highly talented players in college sports scouts' reports, he barely got an offer from top ranking schools in the country.
Eventually, Baker Mayfield settled for Texas Tech, starting the 2013 college football season as the starting quarterback, the first walk-on true freshman quarterback to start the season in the position.
Although he delivered a serious of great performances for Texas Tech, earning a place among semifinalists for the Burlsworth Trophy and an award for the Freshman Offensive Player of the Year in the Big 12 Conference, he left the school for the University of Oklahoma.
At Oklahoma, Baker Mayfield continued the stellar performances that defined his time at Texas Tech. He was a contender for the Heisman Trophy and helped his team to the Orange Bowl in his first season.
He spent a total of three seasons playing for the University of Oklahoma, with achievements like winning the Sugar Bowl, the Big 12 Championship Game, winning the Heisman Trophy, and two MVP awards.
At the age of 22, Baker Mayfield finished his college career with a record of 48 games, 131 touchdowns, and 21 rushing TDs. He also had total passing yards of 14,607 and rushing yards of 1,083.
He signed up for the NFL Draft in 2018 and was the first pick overall after the Cleveland Browns selected him. He signed a four-year contract with the team, with a guaranteed salary of $32.68 million.
Baker Mayfield played his first game in the NFL for the Browns in the third week of the season, against the New York Jets. He helped the team fight back from 0-14 to win the game with 21-17, marking the team's first victory in more than two years.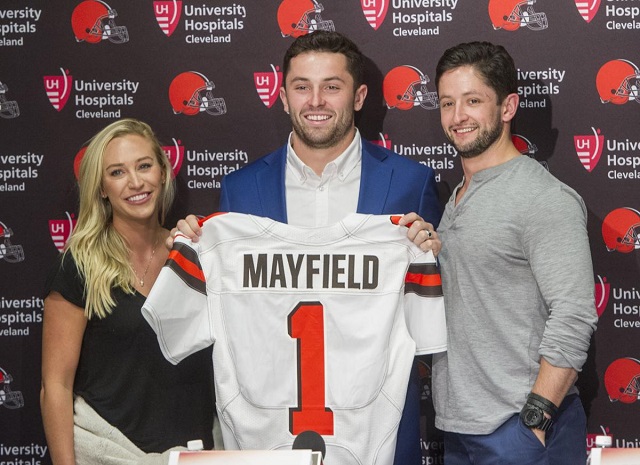 His performance in the game caused a surge in hope for Brown fans and his popularity. He went on to become a regular starter for the team and helped the Browns finish the 2018 season with a 7-8-1 record, their best in over four years, racking up several awards in a stellar rookie season.
So far, Baker Mayfield has scored more than 30 TDs in the NFL and has more than 5,000 yards to his name.
How Tall is The NFL Star?
When Baker Mayfield completed high school, at the age of 17, he had a height of 5 feet 10 inches and a listed weight of 200lb (91kg).
During his NFL combine, at the age of 23, he had a height of 6 feet 5/8 inches (1.84m) and a bodyweight of 215 pounds (98kg). He has an arm length of 30 inches, a hand size of 9 and a quarter inches, and a vertical jump height of 29 inches.
See Also: Domonique Foxworth Bio & Facts About The NFL Cornerback
Other body measurements include 40-32-35 for his chest, waist, and hip sizes, respectively. Additionally, he has a biceps size of 12 inches and has greyish blue colored eyes as well as brown hair.