Not many comedians have quickly risen in fame and prestige as Pete Davidson has done since he began appearing on the sketch comedy series, Saturday Night Live. His rapid rise has been a combination of his outrageous jokes and his personal life, which includes a string of relationships with some popular women in Hollywood. Via the former, his jokes have often involved his mom, Amy Waters Davidson.
As a feature of several of Pete's controversial and often lewd jokes, Amy Waters Davidson has quickly become an exciting figure to observers and fans of the comedian. With curiosity at the apex level, we compiled everything you need to know about Amy Waters, the mother giving her full support to her son, sex jokes, and all. Check it out.
Everything To Know About Pete Davidson's Mom
Who is Amy Waters Davidson?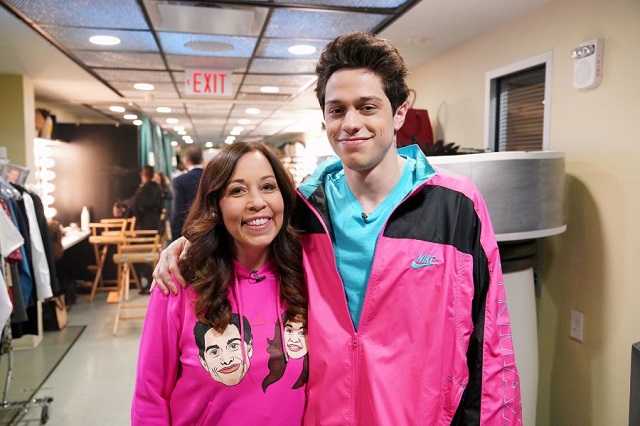 Not many men would be proud to say they still live with their mother, but as we have learned since he hit the limelight, Pete Davidson is not your quintessential man. As for his mother, despite her growing popularity, not much is known about her outside of her relationship with her son, particularly her background.
However, we do know that following years of experiencing life after she was born in 1969, including getting an education, she got married to Scott Davidson, Pete's father. Together, they gave birth to two children – Pete Michael Davidson, who was born on the 16th of November 1993 and a younger sister, who was born much later.
Professionally, Amy Waters trained as a nurse. She works as a school nurse at Xaverian High School, one of the high schools attended by her son, Pete.
The Davidsons, with Amy Waters Davidson as the beloved matriarch, seemed to live a happy American family life until the tragic events of September 11, 2001, took her husband's life. Scott Davidson, who is a firefighter, died while combating the fallout of the terrorist attack.
Following the tragic incident, she has become a rock to her two children and nurtured her son to become one of the most renowned modern comedians in America. Amy lives in Staten Island with her son, Pete, in a mansion that was bought for $4.5 million in 2018.
She Supports Her Son's Career
https://www.instagram.com/p/CAfl39JFzZ2/
A lot of parents, especially mothers, would comfortably say they support their children's professional pursuits. That support, often, is conditioned on the approval of the parent of said profession, one that isn't usually being a comedian. However, in the case of Pete Davidson and his mom, the support was all the way.
After Pete Davidson decided to become a comedian, Amy Waters Davidson became an unmovable pillar of support for her son. According to her in an interview with The New York Times, during Pete's developmental phase as a comedian, she would drive him from their home in Staten Island to Manhattan for stand gigs.
And while one would expect a line to be drawn at sex jokes about her, Amy has reiterated her support for her son even as he continues to roll out shocking jokes about his mother and her sex life.
Amy Waters Davidson Has Appeared on SNL
Regarding the flurry of lewd jokes by Pete Davidson, a lot of them have been made during his stand-up gigs, but as well on international television on Saturday Night Live.
While Amy would not be resented for choosing not to appear on a show where her son makes jokes about her, she has gone on to appear on the show. Not just once, but at least twice.
She first appeared in 2015, when Pete Davidson joined the cast of the show in apologizing for their youthful transgressions. She has made subsequent appearances in 2016 and 2018, during a Mother's Day episode of the sketch comedy series.
In 2018, she and her son closed out the show, showing the audience and the world the loving dynamic that has made her a growing popular personality in American media.
See Also: Pete Davidson Net Worth And How He Makes Money On SNL
She is still a Single Woman
Since losing her husband in 2001, Amy Waters Davidson has remained a single woman. According to information gathered through interviews and bits performed by Pete, she has focused her attention on raising her two children and hasn't had time for romantic relationships. A fact that Pete famously complained about in an episode of the Netflix show, Dressing Funny, where he propositioned men to get his mom laid.
However, while Amy Waters Davidson might not be focused on her own romantic life, she is focused on that of her son. She was said to have loved Ariana Grande back when she was engaged to Pete Davidson.