One of the eminently qualified television personalities in the United Staes, Amy Kaufeldt is a famous news anchor and journalist who has been at the forefront of news reporting in the country for over 2 decades and counting. Having worked for several news networks, it can be said that she possesses a rare talent and personality that speaks for her.
Notwithstanding the success she seems to be enjoying currently, Amy has been through several hurdles to get here. Her career and personal life challenges, however, made her stronger.
How It All Started In Ohio For Amy
Amy Kaufeldt was born in Ohio, USA. Although her exact date of birth is a well-kept secret, she is known to celebrate her birthday on the 6th day of April every year.
An inquiry into the personal life of Amy Kaufeldt and you would find zero information as regards her parents or siblings, mostly because she chooses to keep that part of her personal life private and away from the media. The only bit of information she is willing to divulge is the fact that she was born into a middle-class family and as a result, she had to struggle to become what she is today.
As regards her nationality, she is American and belongs to the white ethnic group. There is literally no information regarding her early educational background, owing to the fact that she rarely talks about it on record.
Nevertheless, it is known that right after completion of her high school education, she attended Miami University where she majored in Mass Communication/Media Studies. After four years of meticulous studies at the University, she eventually graduated with a Bachelor's degree in the aforementioned fields.
The Starting Point Of An Illustrious Career
Having received her bachelor's degree, Amy Kaufeldt ventured into broadcasting but started on the assignment desk at NBC in Dayton, Ohio. Shortly, her skills earned her first anchoring position in 1995 after being hired by KFBB TV.
At the ABC/Fox-affiliated television station, she was assigned the duties of a news anchor and she worked in that capacity until 1997 when she moved to Johnson City, East Tennessee, where she served as the lead news anchor in WJHL-TV. After several years at WJHL-TV, she relinquished her position and moved to Tulsa, Oklahoma, to take up a job as a News Anchor at the CBS station, KJRH. There, she spent three years before moving to WOFL-TV FOX 35.
Her Time At WOFL-TV FOX 35
In August 2013, she was on the move again, this time to Orlando where she currently works as a news anchor and journalist for WOFL-TV FOX 35.
At her current job, she hosts Good Day Orlando, delivering the latest local and national headlines, along with information on the business, entertainment, sports, weather, traffic, etc.
As a journalist, Amy is making herself very proud considering her achievements and the privileges she currently enjoys. Over the years she has had the pleasure of interviewing some of the brightest minds in world politics, music, and sports; most notably, Garth Brooks, Barack Obama, as well as Joe Montana, and Coach Lou among several others.
She has also presented news, including breaking the stories of the Pulse Massacre, George Zimmerman Trial, the Casey Anthony Trial, and others.
For all her achievements as an anchor, she was voted best local anchor team by Orlando magazine in 2017 alongside her astute co-anchor Bob Frier.
How Much Is Amy Kaufeldt Worth?
With over 24 Years of experience as an anchor, Amy Kaufeldt can sure be regarded as one of the very best in her line of work and as such, she is expected to be worth a substantial amount.
The annual salary of an anchor at WOFL-FOX35 as of 2019 is estimated to be around $85,000. If that amount is anything to go by, her net worth should be in thousands, but mind you, it's just speculation.
Whatever her pay actually is, what isn't a hidden secret is that Amy is a huge supporter of different local charities. Her interest is focused on helping families battling a pediatric cancer diagnosis.
Amy's First Love Is Her Family
Amazingly, an aspect of her life which Amy is so fond of talking about upon any chance she gets is that of her marital life with Brian Brown.
Although there is no information as regards his date of birth or profession, we can be content with the fact that they tied the knot on the 30th of June 2003 in a private wedding ceremony which was attended by family, close friends, and colleagues.
Ever since they got married, the two have not been involved in rumours of divorce or separation which goes a long way in proving how genuine their love is.
Juggling Motherhood and Career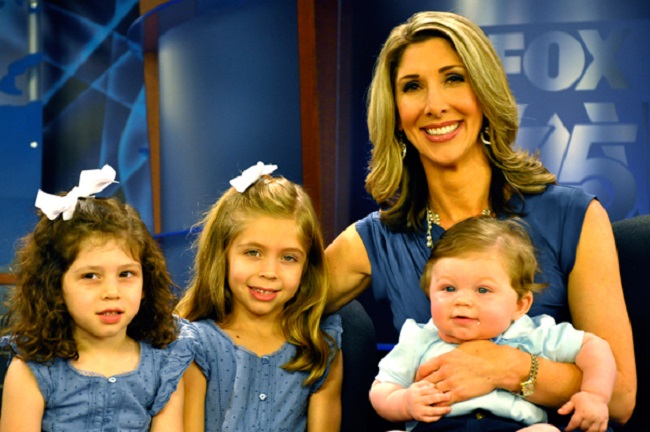 Amy's union with Brian is blessed with three beautiful kids – Kate Brown, Caroline, and Colton Brown. The famous news anchor is also the proud owner of a dog named Bogey Brown which she considers an important member of her family. This makes her a busy mom but thankfully, she seeks help. According to the notable journalist, her family is blessed to have a trusted hand that their children love and cherish and she comes to the house to help out when Amy and Brian are at work.
Read Also: Amy Holmes – Bio, Is She Married, Who is Her Husband or Ex-Husband?
Despite the fact that she and her husband have a very tight schedule, the two make deliberate efforts to raise their children to have healthy habits and lifestyles. They are very particular about what the kids consume, making sure that they are fed with mostly healthy organic produce, especially when it comes to fruits and vegetables. This is in an attempt to limit the possibility of consuming pesticides and other toxic chemicals that some products are exposed to.