There are numerous cases of different child actors who have not been able to carry on with their acting career as they get older. Fortunately, Allison Scagliotti does not fall into this category as the Drake & Josh actress is still striving hard to remain relevant in the competitive industry. She has also gone further to add director to her list of titles, a testament to the dedication which she puts in her work. Read on to find out more about her career, including the juicy details about her love life and other facts.
Who Is Allison Scagliotti?
Allison Scagliotti was born Allison Glenn Scagliotti on the 21st of September, 1990, in Monterey, California. While the identity of her father is not known to the public, her mother has been identified as Lauren Scagliotti. Her parents legally separated when she was 2 years old, prompting the little girl to be raised alone by her mother.
At around the age of 5, the family moved to Mandeville, Louisiana where she went on to receive her education. She attended Glendale Community School where she was a part of her school's talent and drama program. By the time she turned 11, her mother had reportedly taken note of her interest in acting, and helped set her up with an acting coach Chamber Stevens. Following a period of interaction between the pair, Stevens encouraged his student to move to Los Angeles during pilot season in order to launch her career.
As things would pan out, Allison Scagliotti and her mother moved to the Sunshine State where she found luck by landing a role in the pilot for the sitcom Chevy Chase. With her growing career being a hindrance to her school activities, her mother opted to homeschool her daughter as she went on to appear in made for television movies and series like America's Most Terrible Things (2002), Once Around the Park (2003), Grounded for Life (2004), and Back When We Were Grownups (2004).
In 2004, Scagliotti landed her first recurring role as Mindy Crenshaw on Drake & Josh (2004-2007). She further went on to land her first lead role in the short film Redemption Maddie (2005). Other roles in which she played at the time include that of Stacy in Zoey 101 (2005), Abby Brown in One Tree Hill (2006-2007), and Hera Theophilus in Gemini Division (2008).
While trying to build her acting career, Allison Scagliotti went on to enrol in New York University to study film. She tried for so long to balance the two but was never quite able to complete the requirements to be awarded a degree. A couple of roles that she had at the time that may have caused a huge distraction to her college education are that of Claudia Donovan in Warehouse 13 (2009-2014) and the lead role of Michelle in Darren Caulley's play, Unhealthy, at the HERE Arts Center in New York City.
In recent time, Scagliotti has been able to add director and writer to her resume. After playing the main role of Camille Engelson in Stitchers (2015-2017) and the recurring role of Georgina "Georgie" Dowling in The Vampire Diaries (2016), she wrote and directed the short film The Cards. She has also directed five episodes of the comedy series Henry Danger (2018-present).
Does She Have A Boyfriend?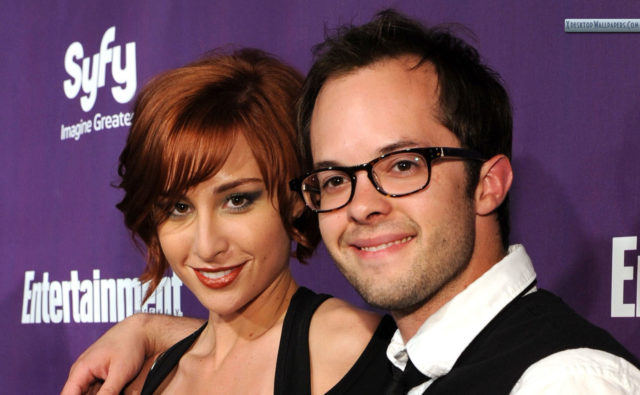 If there is any information about Allison Scagliotti that is not public knowledge, it is that of her relationship history. The actress has appeared to have done a very good job in keeping details about her love life away from the media. Some publications, however, indicate that the Monterey-native has not kept anything to herself, rather, she has not been involved in any relationship.
Read Also: Kim Matula – Who Is She? Facts You Need To Know About The Actress
Other Facts About The Actress
1. Allison Scagliotti reportedly stands at a height of 5 feet 7 inches (1.7 m) and weighs about 52kg. Her other body measurements (bust, waist, and hips) are 24-33-35 inches while her shoe size is 8.
2. According to various celebrity wealth calculating websites, Allison Scagliotti has an estimated net worth of $3 million. That figure is projected to go higher in the coming years as the actress continues to land more roles and also work as a director of different projects.
3. Scagliotti is not the only famous member of her family, her cousins Kevin Pfeffer and Alex Scagliotti have enjoyed relative fame. Pfeffer is the lead singer of Five Minutes to Freedom while Alex is the National Wakeboard Champion.