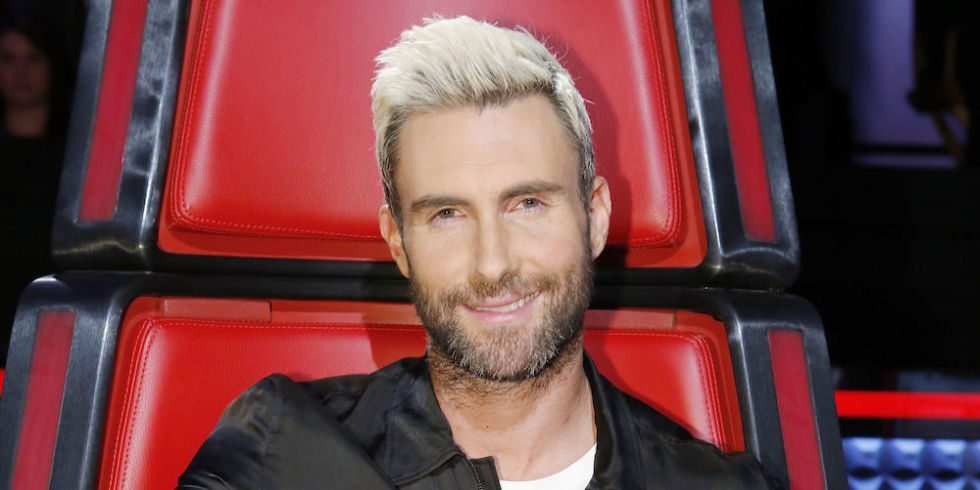 Adam Levine is an American singer, songwriter, multi-instrumentalist, TV host, actor and, is probably best known as Maroon 5 frontman.
In addition to singing with the Maroon 5 band, Adam Levine also sings as an individual artist in collaboration with other artists including Alicia Keys, Kanye West, Gym Class Heroes on Stereo Hearts, Eminem and more.
In between pursuing his first love and passion, Adam also takes up frequent TV and movie roles. He made his first TV appearance on Beverly Hills' "90210" in 1997 before he found fame with music. While Adam has also appeared on "30 Rock" and voiced a role in "Family Guy", he has made cameo appearances in movies including "Pitch Perfect 2" and "Known Forever".
He Started From A Humble Beginning
Adam Noah Levine was born on March 18, 1979, in Los Angeles where he also grew up. At the age of 7, his parents divorced. He lived with his father on weekdays and with his mother on weekends. The divorce affected Adam so much that he had to check into therapy to handle the situation. Adam has revealed in interviews that he got his love for music from his mother and has named his early influences to include Fleetwood Mac and The Beatles. Levine attended Brentwood High School in Los Angeles where his passion for music grew.
In high school, Adam met Mickey Madden, Jesse Carmichael, and Ryan Dusick and together they formed a garage band named Kara's Flowers in 1994. With Adam on the vocals and strings, Kara's Flowers began performing in nightclubs. Fast forward three years later in 1997, they were spotted by independent producer Tommy Allen while they were playing in a Malibu beach party. Allen had the band record an 11 track album titled "The Fourth World". The album was released via Reprise Records but failed to attain success selling a mere 5,000 copies in the US. As a result of the commercial failure, Reprise Records dropped the band which later disbanded.
Four years later the band members reunited and recorded a demo tape. After several failed attempts to distribute the demo, it finally caught the attention of Octone Records executives who added guitarist James Valentine to the group to form Maroon 5. In June 2002 Maroon 5 released their debut album "Songs About Jane" which comprised of lyrics Adam wrote about his ex-girlfriend, Jane. "Songs About Jane" slowly gained popularity and became a hit selling over 10 million copies with the hit single "This Love" which was a commercial success.
The album brought the band their first two Grammy Awards in quick succession. One was in 2005 for Best New Artist and the other in 2006 for Best Pop Performance by a Duo or Group with Vocals. The album as of August 2015 has made over $15 million worldwide from sales.
Maroon 5 released their follow up album "It Won't Be Soon Before Long" in 2007. The album produced 3 singles which all received Grammy nominations for Best Pop Performance by Duo with the lead "Makes Me Wonder" winning them the award. The album sales grossed over $2.3 million in the US alone.
Their third studio album "Hands All Over" released in 2010 saw a sluggish growth until the release of the fourth single "Moves Like Jagger" which became an instant hit worldwide. "Moves like Jagger" sold 8.5 million copies and according to Adam, the song totally revived the band. "Payphone" was another hit single which helped its succeeding 2012 album "Overexposed" win a Grammy Award. The album sales worldwide grossed about $5 million. The 2015 Maroon 5 World Tour Album to promote their 2014 album "V" grossed over $15 million in ticket sales as of August 2015.
Does Adam Levine Have A Girlfriend Or Wife And Does He Have Kids?
If you come across anyone wondering if Adam Levin is sexually attracted to his gender, it's probably because of his brother, Michael Levine. Although Adam supports same-sex marriage and advocates for the rights of lesbian, gay, bisexual and transgenders (LGBT), he is straight. Nonetheless, his brother isn't. The singer once talked about his brother being gay disclosing that his family gave him all the support he needed to be who he is.
It is a common knowledge that the Russian-American model, Anne Vyalitsyna was once Levine's girlfriend. They reportedly met in Sports Illustrated Las Vegas party, developed an interest in each other, and started a romantic affair. For reasons best known to Adam and Anne, they decided they've had enough of the relationship in 2012.
Following the separation, the singer found solace in a Namibian model the same year he parted with Anne. He dated the model, Bahati Prinsloo for over two years. As what they have for each other grew stronger, Adam proposed to the Victoria's Secret PINK model. Ultimately, they got married on 19th July 2014. The union was celebrated in Mexico.
Sometime in September 2016, the couple welcomed their first child, a daughter they named Dusty Rose Levine. A year later, it emerged that the couple is getting set to welcome their second child.
Career Earnings
Disregarding the earnings he bagged from activities with Maroon 5 as highlighted above, Adam has been individually pocketing enviable amounts here and there. For instance, he landed a berth as one of the judges and coaches on musical reality TV show "The Voice" since its debut in 2011. Adam reportedly earns $6 million every season for his role.
More to that, the musician has various ventures in his business portfolio. Among them are fashion line 222 founded in 2010 and record label 222 Records founded in 2012. He released his first self-named fragrance packaged in microphone-shaped bottles in 2013 in collaboration with ID Perfumes. Adam has been pitching for skin-care product Proactiv Solution since 2013. Per Forbes, Adam made $16 million in 2015 from all endeavours.
People's 2013 Sexiest Man alive have lived in some envious palatial mansions. In 2012, Adam bought a ranch-style mansion in the gated Beverly Hills enclave known as Wallingford Estates for roughly $5 million. In 2014 just prior his marriage to Victoria Secret beauty, Behati Prinsloo, Adam completely refurbished the entire house employing the services of L.A-based designer Mark Haddawy.

The 7,100-square-feet house which sits on over a 3-acre piece includes 5 bedrooms, 7 bathrooms, a media and screening room, spa facility and more. Adam listed the building in June 2016 at the asking price of $17.5 million. He stands to make a huge profit from the building should it sell anywhere close to that price. His net worth is estimated at $60 million.

Fact Check: We strive for accuracy and fairness. If you see something that needs updating,