Adalia Rose is a social media personality who has grown to be an overwhelming inspiration to many people with her story, struggles, and positivity. She gained the attention of many around the world as a result of a rare genetic condition she has, Hutchinson-Gilford Progeria Syndrome which makes her to age rapidly and how she has used it in passing on positive vibes to many on social media.
Adalia has a strong presence across various social media platforms including Facebook, Instagram, and YouTube. Here, we are going to tell you all that we know about her life.
Adalia Rose's Age and Biography
It was on December 10, 2006, that Adalia Rose Williams was born in Round Rock, Texas, United States. That is also where she was raised up in a loving family by her parents, Ryan Pallante and Natalia Amozurrutia. Shortly after her birth, it became obvious that she had a health challenge that was later found to be a genetic disorder that would leave her always in need of assistance.
There is no record to show that Adalia Rose has received any form of formal education. Instead, she has taken to social media to show the beauty of her life and also help others to have beautiful lives. Her Facebook page was first started on her behalf by her mother and she has grown it to over 13 million followers. She also has a YouTube channel which was started in 2012. By 2019 the channel which she says is on how adversity is conquered by love and happiness has grown to have more than 2.2 million subscribers. More so, it has got over two hundred million views. Apart from her love for vlogging, Adalia also loves singing and dancing as well as does makeup on her videos.
Although she has received encouragement from many around the world just as she has encouraged many, she has also received a lot of hate on social media but her strong mother has always been there to shield her.
Adalia Rose has a very close friend, Edith Henry, who heard her story and the two became BFF. Edith who is a stylist raised funds and got an iPad for Adalia.
Who are the Parents of Adalia Rose?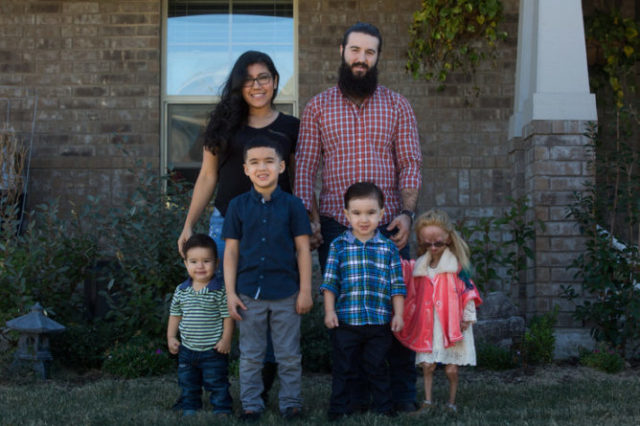 Adalia Rose is not only a strong little girl, but she also has parents who are very strong and supportive. Her mother Natalia Amozurrutia was born in 1988 and she had her daughter when she was 18. Although there is nothing in the public domain that is available on her biological father, her stepfather is Ryan Pallante.
Both her parents have appeared on her videos on the internet and have continued to love and protect their daughter from all the hate and bullying she has been receiving from trolls on the internet. According to her parents, they raise her like any normal kid and they do not put any fear in her. Adalia also has other siblings named Marcelo, Niko, and Emiliano.
See Also: Who Is Ricky Berwick, What Disease Does He Have?
What Disease Does She Suffer From?
As indicated, the beautiful Adalia Rose is suffering from a disease which is known as Hutchinson-Gilford Progeria Syndrome. The condition is a genetic disorder that she was born with. The condition prevents the sufferer from growing like other children, instead, he or she ages faster than their real age.
It is as a result of genetic mutation and not something that is inherited. It is characterized by symptoms such as hair loss, slow physical growth, rapid aging, stiffness, and high pitched voice. Also referred to as Progeria or Benjamin Button Disease, the disease affects less than a thousand kids each year and may first be diagnosed when a sufferer is only a few months old when some of the symptoms of the condition begin to show. By the age of two, more symptoms such as wrinkling and hair-loss start to appear.
Mostly, kids that suffer from the disease do not live beyond 13 years. They mostly lose their lives to sicknesses linked to old age or other things like kidney diseases and stroke.
For now, there is no treatment for the disease even though it is becoming more known as time progresses. At the moment, there are said to be less than 200 cases of progeria around the world.
In 2013, there was the wild hoax on social media that claimed Adalia Rose had died. There were even RIP Adalia pages that started. However, her mother was quick to dispel the claims by taking to social media and making it clear that her daughter was very much alive and sleeping peacefully.