Abby Wambach is an American soccer player, coach and two-time Olympic gold medalist. Born on June 2, 1980, as Mary Abigail 'Abby' Wambach, this professional woman soccer player is considered to be the finest ever player in American history.
Having played for the US Women's national team since 2001, Wambach has won two gold medals in Olympics even as she was also the 2012 FIFA World Player of the Year.
It was from her life as a soccer player and coach that Abigail Wambach made her money. Since from a very young age (4), she had already started playing football with her 6 siblings as she is from a very athletic family.
"They would put me in goal when we played street hockey because I was the smallest and I would have pucks flying at me," she revealed.
Her football prowess began to grow rather rapidly that by the age of five, she got transferred to a boys team in her youth club after scoring 27 goals in only 3 matches.
See Also: Tobin Heath's Profile & Salary
She continued being exceptional in the game, and it was this that many years later would grant her a full athletic scholarship to attend the University of Florida.
Having started collegiate soccer for University of Florida Gators, she took her side to the Division I championship while also putting herself on the All-American team. A striker by trade on the soccer pitch, she has played for Washington Freedom, magicJack, and Western New York flash while she currently is a player-coach for magicJack.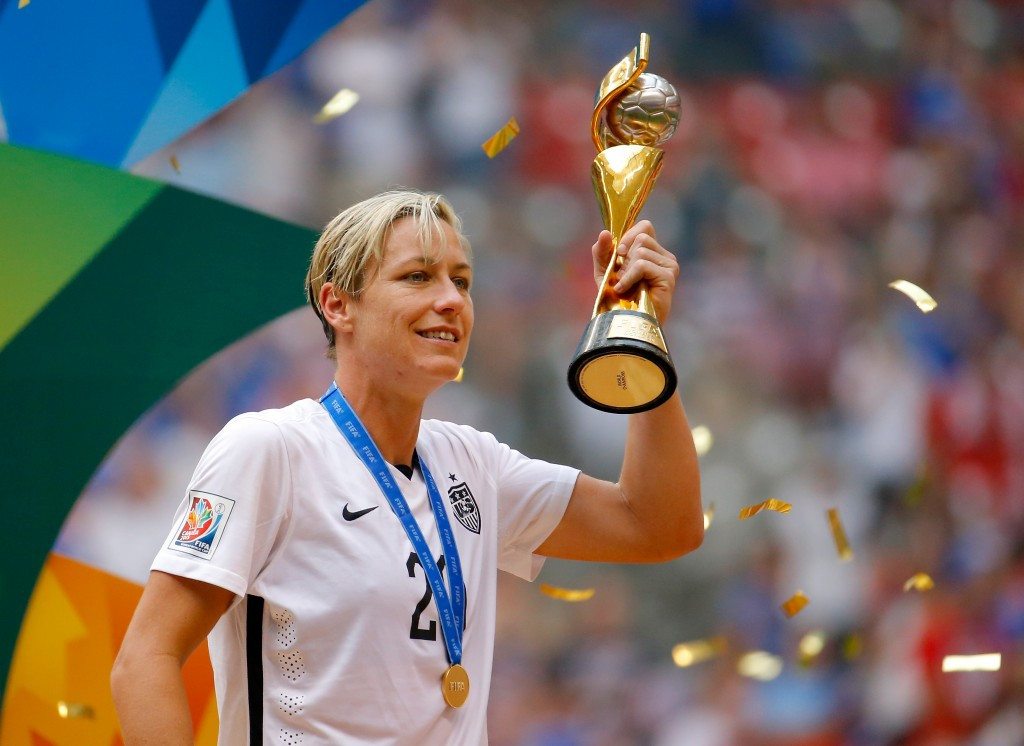 Wambach started playing for the national side in 2001 and became a team regular in 2003. The highest all-time goal scorer in the national team with 184 goals during her career, she is also the US Soccer Athlete of the Year for six times. With experiences of four world cup and two Olympic competitions, Wambach's side stood second in 2011 and won Olympics in 2004 and 2012.
Good with both feet and head, Wambach is one of the finest players in the world today known for her diving headers. Her header goal against Brazil in the 2011 FIFA Women's world cup in the 122nd minute is considered the best goal of her career.
See Also: Sydney Leroux Salary, Bio, and Husband
Also, one of the greatest American soccer players of all time, Abby was able to reach the 100 mark goals in fewer games than any other American soccer player who had reached there before her.
With all her achievements as a footballer, the woman has won many awards including the 2016 ESPY Icon Award, the 2012 FIFA World Player of the Year, 2011 Associated Press Female Athlete of the Year, and in the years 2003, 2004, 2007, 2010, 2011, and 2013, she won the U.S. Soccer Federation's U.S. Soccer Athlete of the Year. Abby Wambach has also been included in the list of the 100 most influential people in the world by TIME magazine in 2015.
Abby Wambach Divorce
She lived in Portland, Oregon with her longtime partner, Sarah Huffman who she married in 2013. However, the two later got divorced in September of 2016 and by May 2017, she married blogger and author, Glennon Doyle Melton.
The two tied the knot on May 14, 2017. That was after breaking up with her husband, Craig Melton in 2016. Speaking of the big decision that led to their marriage, Melton admitted that it was not an easy decision, but love won in the end.
Abby and Melton who has 3 children from her earlier marriage began dating in November 2016, and by February, they were already engaged and they confirmed this on Facebook.
Abby Wambach's Wife
Abby's wife Glennon Doyle Melton is accomplished in more ways than one. She is the founder of the Christian mommy blog Momastery. She made headlines when she divorced her then husband to be with Abby. Her sexuality is considered Bi, especially since she was married to a man before.
She is the author of books like Love Warrior, a #1 New York Times bestselling memoir and an Oprah Book Club Pick; and Carry On, Warrior which is also a New York Times Bestselling memoir.
Her Salary and Earnings
The leading female soccer player in the US sports history, Abby Wambach receives around $60,000 in salary and has a net worth of $3 million.
Her partner, Glennon Doyle Melton, is said to have be worth $4 million.
Another area that has increased her income is her endorsement deals. She has signed endorsement deals in the past with companies including deals with Gatorade, Nike, MVP Healthcare, Panasonic, New York Apple Association, and Cree.
Quick Facts about Abby
Full Name: Mary Abigail Wambach
Profession: Footballer (Soccer Player)
Playing position: Striker
Height: 5 ft 11 in (1.80 m)
Ethnicity: American
Nationality: American
Date of Birth: June 2, 1980
Place of Birth: Rochester, New York
Education: University of Florida
Current Club: magicJack
Salary: $60 thousand
Abby Wambach wealth: $3 million