| Age/Date of Birth: | December 21, 1948 |
| --- | --- |
| Height: | 6 ft 2½ in or 189 cm |
| Ethnicity/Race: | Black |
| Nationality: | American |
| Net Worth: | $250 million |
| Wife or Girlfriend: | LaTanya Richardson (1980-Present) |
| Parents: | Roy Henry Jackson and Elizabeth Jackson |
Samuel L Jackson is a prolific American actor, to say the least. He has appeared in over a hundred and fifty movies, a good number of which are blockbusters. The veteran actor is also a film producer and his outstanding contributions to Hollywood as well as other endeavours, bring his wealth to an enviable figure. As of 2020, Samuel L Jackson's net worth stands at an estimated $250 million.
Samuel L Jackson's Early Life and Career Beginnings
Samuel Leroy Jackson was born on December 21, 1948, in Washington, D.C to Elizabeth and Roy Henry Jackson. He however, grew up in Chattanooga, Tennessee where his mother and grandparents raised him. His mum, Elizabeth made a living from working in a factory and subsequently buying supplies for a mental institution. This was because his father, Roy was an alcoholic and lived separately in Kansas City, Missouri. Samuel only met him dad two times before he eventually died of alcoholism.
Born in the era when racial inequality was dominant, Jackson attended a number of segregated schools before graduating from Riverside High School in Chattanooga. In High school, Jackson was part of the school orchestra where he played the French horn. After high school, he enrolled at Morehouse College in Atlanta, Georgia where he initially majored in marine biology and then architecture before changing his mind yet again to drama.
Obviously, acting wasn't why he chose to attend college but Jackson developed a passion for theatre after joining a local acting group. He graduated from college in 1972.

Jackson began acting in stage plays right after college. In search of mainstream roles, he left Atlanta in 1976 and moved to New York where he began acting in off-Broadway productions including The Mighty Gents and Home. Over a couple of years, Jackson stood in for Bill Cosby on his tv program, The Bill Cosby Show.
While acting in A Soldier's Play in 1981, Jackson met Morgan Freeman who became his friend and mentor. He also, later met filmmaker Spike Lee who at the time was a film student at New York University. Jackson subsequently began starring in Spike Lee's early movies including School Daze (1988), and Do the Right Thing (1989).
Jackson hit career breakthrough with his portrayal of a drug addict in Lee's 1991 film, Jungle Fever. His role was rewarded with a Cannes Film Festival Award for Best "Supporting Actor", a category that was created solely for him thanks to the incredible portrayal of the role. He later landed his big break in 1994 when he starred in the 1994 movie, Pulp Fiction. His acting, as well as the success of the movie, earned Jackson much prominence and it has been success ever after.
A Breakdown of His Net Worth
Samuel L Jackson mainly built his net worth of $250 million from his acting career. As earlier mentioned, Samuel Jackson has starred in over 150 movies, a good number of which are blockbusters. For instance, 14 of the movies he has starred as the lead has grossed over $100 million domestically. Per the Guinness Book of World Records (2009 edition), 68 of Jackson's movies have grossed a combined $7.42 billion.
How Much Does Samuel L. Jackson Make per Movie?
According to Celebrity Net Worth, the legendary actor pockets between $10 and $20 for a starring role in every major film production. In 2003, Jackson reportedly earned $64 million and in June 2017, Forbes named him the 13th highest-paid actor with an annual earning of $30.5 million.

Although Samuel does not actually reveal the amount he receives for each of his movie roles, some of his movie salaries have managed to leak into the media knowledge. These include:
Unbreakable (2000) – $7,000,000
Shaft (2000) – $10,000,000
No Good Deed (2002) – $6,000,000
Marvel Films  – $4-$6 million each
Kong: Skull Island  (2017) – $5 million
Of all his movie roles, Jackson's most lucrative contract remains his 9-film deal with Marvel Cinematic Universe from which he reportedly earned between $4 and $$6 million each. Since making his Marvel debut in Iron Man (2008), he has played the role of Nick Fury, a character the franchise created in his likeness following his approval. The actor continues to receive millions in salary from Marvel anytime he reprised the Fury role.
Apart from the Marvel big screen movies, Jackson also played Nick Furry in Marvel's TV series, Agents of S.H.I.E.L.D. He has also played the role in a number of video games including Iron Man 2 and Disney Infinity.
What Is Jackson's Highest Grossing Movie?
As of 2020, Samuel L. Jackson is the highest-grossing actor of all-time with the films he has starred in having made a total worldwide gross revenue of $27 billion which amounts to an average of $89.9 million per movie. Some of his most commercially successful films include:
XXX (2002) – $277.4 million
The Incredibles (2004) – $633 million
"Star Wars: Episode III – Revenge of the Sith" (2005) – $848.8 million
Iron Man 2 (2010) – $623.9 million
The Other Guys (2010) – $170.4 million
Django Unchained (2012) – $425.4 million
The Avengers (2012) – $1.52 billion
Captain America: The Winter Soldier (2014) – $714.4 million
Kingsman: The Secret Service (2015) – $414.4 million
Avengers: Age of Ultron (2015) – $1.405 billion
Among the aforementioned, the highest grossing is The Avengers (2012) which brought in over $1.5 billion at the global box office. Following it is Avengers: Age of Ultron which grossed more than $1.4 billion.
His Earnings from Brand Endorsements
In addition to his movie role paychecks, Samuel Jackson has earned handsomely from endorsing product brands. Being such a successful actor makes you a highly sought-after candidate for product and brand endorsement and Jackson has landed his fair share. One of such and perhaps the most lucrative is an advertising gig for Capital One bank credit cards which first aired in 2013. Samuel reportedly earns an 8-digit annual salary from the endorsement deal.
Other popular brands he has endorsed include Brioni, Adidas, and Apple.
His Real Estate Assets
Forming part of Samuel Jackson's worth are his real estate properties. The actor owns a couple of jaw-dropping real estate properties. After selling his Los Angeles house in 2002 for an estimated $2 million, Jackson and his family moved into a 6 bedroom, 8 bathroom Beverly Hills mansion which he bought from comedian Roseanne Barr for $8.35 million. The 11,738-square-foot house which also includes a tennis court and a pool house is valued at around $20 million as of 2020.
Jackson also owns a 2-bedroom, 2-bathroom apartment in SoHo New York worth $4.35 million. With his wife, Jackson in 2005 acquired a $4.8 million Manhattan multi-unit condo which they later placed on the market in 2018 for $13 million. Per Celebrity Net Worth, Samuel and his wife's real estate properties in the US alone are worth up to $30 million.
Is Samuel Jackson a Billionaire – Is He the Richest Actor?
While Samuel Jackson's movies have grossed billions across the globe, the legendary actor is yet to become a billionaire. He is as well not the richest actor in the world. The title as of 2020, is held by Indian/Bollywood actor, Shah Rukh Khan who boasts an impressive net worth of $600 million. He is followed by American/Hollywood actor, Tom Cruise who is worth $570 million. Jackson is also yet to make it to the Top 20 Richest Actors list as he still trails behind the current 20th richest actor, Leonardo DiCarprio who has a net worth of $260 million.
But while Samuel may not be one of the richest or highest-paid actor, he remains the highest-grossing actor at the moment. Despite having passed the age of 70, Jackson is not slowing down at all. Among his recent commercially successful films are Glass and The Last Full Measure. The iconic actor is also set to star in several upcoming movies including The Asset and Spiral, among others. This means that his net worth still hold prospects of soaring in the future, all things being equal.
Read More: Highest-Paid Actors in the World and their Earnings
How Tall is Samuel L. Jackson?
Jackson is 6 feet 2 inches tall (189 cm). His height is the same or almost the same with actors like Bill Murray (6'2″), Jim Carrey (6'2″), Will Ferrel (6'3″), and Quentin Tarantino (6'1″).
The prominent actor has an athletic body build that weighs around 94kg (207 pounds). His waist measures 33 inches/84cm and he wears shoe size 11 (US). His other prominent physical features include brown eyes and black hair, though one may never catch him with a strand of hair on his head. The actor's decision to go bald is not because he wanted it but because he started losing his hair and soon had a big hole in the middle of his afro. Consequently, he had to quickly figure out what the haircut should be for him – bald! He subsequently played first bald role in the 1996 sports-comedy film, The Great White Hype.
A Look at the Actor's Over 4-Decade Marriage with LaTanya Richardson
Full Name: LaTanya Richardson Jackson
Date/Place of Birth: October 21, 1949 (in Atlanta, Georgia, U.S.A.)
Occupation: Actress (since 1976)
Spouse: Samuel L. Jackson (m. since 1980)
No. of Children: 1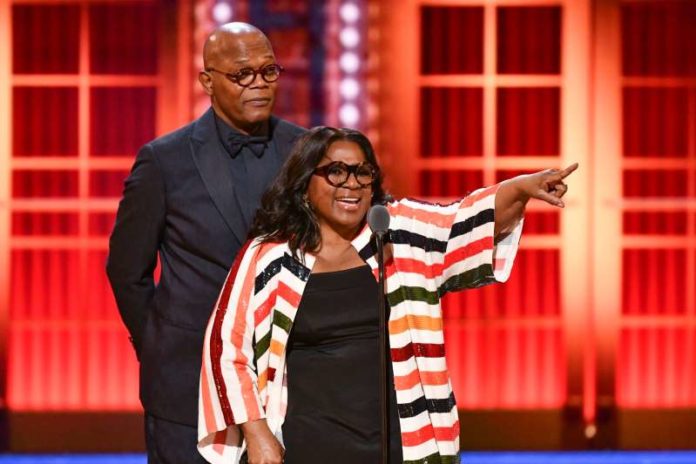 While most celebrities of his calibre are busy moving in and out of marriages, Samuel Jackson has been busy enjoying the wife of his youth. Sam met LaTanya way back in his days at Morehouse college and they later married in 1980 right before any of them made it to spotlight fame. Despite having struggled with alcohol and drug addiction in the early years of his career, Sam and Tanya has continued to stick to each other.
Jackson's wife, LaTanya Richardson is an actress and sports channel producer. She is notable for her roles in The Fighting Temptations (2003) and Blackout (2007). She has also appeared with her husband in a couple of films including Losing Isaiah (1995), Freedomland (2006), and Mother and Child (2009). LaTanya is exactly two months older than her husband, Samuel. While she was born on October 21, Sam was born on December 21, both in 1949.
With Richardson, Jackson has one child, a daughter named
Zoe Jackson
Full Name: Zoe Dove Jackson
Date of Birth: 1982
Occupation: TV Producer
Zoe is Samuel L. Jackson's only child. She was born to him in 1982 by his wife, LaTanya Richardson. Zoe earned a bachelor's degree in Psychology from Vassar College in 2004. She subsequently studied Culinary Arts for a year at the French Culinary Institute in New York City.
Zoe Jackson has since become a television producer and director. She has worked on several screen projects such as Bravo's Project Runway and Top Chef, and Netflix's Sugar Rush. One of her most recent works is her collaboration with her father and Ample Entertainment on the prep gang docuseries, Life On The Edge.
Zoe maintains a very close relationship with her dad, Samuel Jackson. As a child, the ghetto-raised prolific actor used uncensored profane speeches around her daughter and she (alongside her mum) once found him unconscious in their kitchen due to drug use. That was in 1991 before Jackson decided to do something about his addiction. He never wanted his daughter to be raised by her mum as was the case with himself. He therefore headed to rehab the next day!
Meanwhile, Zoe appears to prefer a lowkey lifestyle, and keeps her Instagram account private.
Other Interesting Facts About Samuel L. Jackson
When he was 19 years old, Samuel Jackson served as an usher at the funeral of Martin Luther King Jr in Atlanta.
During his days in the college, he was a co-founder of Atlanta's black-oriented Just Us Theater. Alongside other students, he fought for the reform of the school's curriculum and governance by holding the institution's board of trustees hostage on the campus. Although their extreme action yielded the result the students wanted, it earned Jackson a two-year suspension from the school.
At some point in his acting career, Jackson lost his roles in two plays when the productions moved on to the Broadway stage due to alcoholism and drug addiction. The actor has however, been clean since after his 1991 rehab. Some days after completing his rehab time, the actor starred in Jungle Fever (1991) as a crack-cocaine addict. For health reasons, the actor has also been a vegetarian since August 2013.
Samuel Jackson has won about 20 awards for his various roles in different movies and even though he is yet to grab an Oscar award, Jackson is not bothered because according to him, "I don't think an Oscar is gonna validate my career. You ask the average person, you know what they're probably gonna say? 'He already has one'!"
As a way of giving back to society, Jackson involves himself actively in several non-profit organizations. Among them is "One For The Boys" which aims at creating an awareness of cancer among men.
The legendary actor enjoys watching anime series like "Ninja Scroll" and "Black Lagoon". He also spends some of his spare time collecting the action figures of the characters he has portrayed in movies.
Profile Summary
First Name:
Samuel
Last Name:
Jackson
Also Known As:

Sam, King of Cool, Mr. Cool
Sex/Gender:

Male
Profession:

Actor and producer
Famous For:
Starring in the cult hit movies such as Pulp Fiction (1994), Django Unchained (2012) and Patriot Games (1992).
He is also popular for playing the role of Nick Fury in the movies set in the Marvel Cinematic Universe and above all, for being the highest-grossing actor of all time
Colleges/Universities Attended:

Morehouse College in Atlanta
Educational Qualifications:

BA in drama
Religion:

Christianity
Birthday & Zodiac

Age/Date of Birth:

December 21, 1948
Zodiac Sign:
Sagittarius
Birth Place:

Washington, D.C., United States
Nationality:
American
Ethnicity/Race:

Black
Country of Residence:

USA
Physical Attributes

Height:

6 ft 2½ in or 189 cm
Weight:

94 kg or 207 lbs
Eye Colour:

Dark Brown
Hair Color:

Bald
Other Body Measurements:

Unknown
Relationships

Marital Status:

Married
Spouse/Partner:

LaTanya Richardson (1980-Present)
Family and Relatives

Father:

Roy Henry Jackson
Mother:
Elizabeth Jackson
Children:

Zoe Jackson
Siblings:
Unknown
Other Relatives:

Unknown
Net Worth
Estimated Net Worth:

$250 million
Salary:
Unknown
Source of Wealth:

His highly successful acting career, brand endorsements