In Hollywood, the undisputed number one entertainment industry in the world, several movie stars have become extremely wealthy as a result of their career in it. As one of the superstars in the industry, Tom Cruise's net worth has benefitted from the success of franchises like Mission Impossible and in films like War of the Worlds and Jack Reacher.
Tom Cruise has been in the industry since 1981 when he played a supporting role as Billy in the film, Endless Love. Since then, he has cultivated a career that has not only made him one of the top 100 movie stars of all time but one of the wealthiest.
Scroll down below to read more about Tom Cruise's net worth and how much he makes per movie.
What Is Tom Cruise's Net Worth?
As far as filmographies go, Tom Cruise doesn't pack a lot in his filmography. The New York-born actor has appeared in just over 50 movies in his career but what he lacks in numbers, he makes up for in popularity and individual box office success, packing a lot of punch in a short filmography.
Tom Cruise has been able to amass a net worth of $550 million, which is over half a billion dollars since he began starring in movies.
His net worth has come primarily from starring in successful movies at the box office. In over 50 movies, Tom Cruise's movies have $10 billion at the global box office, with a sizeable chunk of it coming in movies where he has starred as the leading man, totaling over $8 billion at the box office.
In a supporting role and as a member of a leading ensemble, Tom's movies have returned over $1.8 billion at the box office, all of which points at the fact he is an extremely bankable actor.
Aside from his earnings as an actor, his net worth has also benefitted from his roles behind the scenes, such as his role as a producer. Films Tom Cruise has produced have made over $4 billion at the global box office.
Other than the money he has made through movies, Tom Cruise is also an investor who has invested in real estate and other economic sectors with considerable returns.
With all his wealth, Tom Cruise has been known to live extravagantly when he pleases and some of his biggest expenses include owning two private jets, a couple of luxury cars, one of which is the Bugatti Veyron and a condo apartment in New York City estimated at $3 million.
He also spends as much as $2 million per year for the security of his daughter Suri and his ex-wife, Katie Holmes while he spends $200 thousand per year on child support.
How Much Does Tom Cruise Make Per Movie?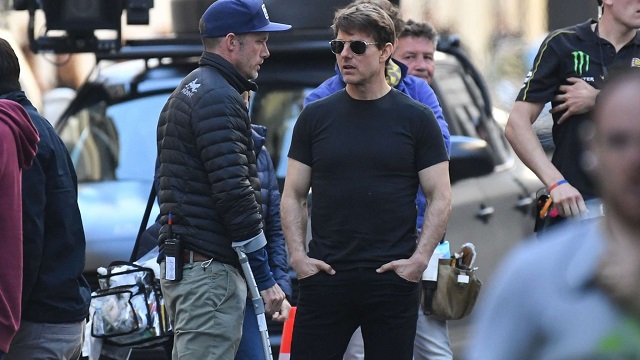 It would not be wild to say that over 60% of Tom Cruise's net worth has been earned through movies, which is why we want to take a look at how much the actor makes per movie.
How much an actor makes per movie depends on a variety of factors, some of which is the budget and scale of the film, the actor's profile, the actor's role in the film and a few others.
In his first film, Tom Cruise made $30 thousand for his first movie in Endless Love. It would be the least amount of money he would make in a movie. His performance in the movie gave him enough exposure that eventually led him to his first million-dollar film, Top Gun. He was paid $2 million for his role as Maverick in the cult classic.
Since the movie was released, Tom became a global star and has since been commanding a huge amount in salary and contract for movies. He made $100 million each for Mission Impossible II and War of the Worlds. In the first Mission Impossible movie, he made $70 million and he is believed to have earned over $300 million from the released Mission Impossible movies. Having announced two more movies in the franchise, he is expected to make a lot more.
See Also: Adam Sandler's Net Worth – Find Out How Rich He Has Become
Tom Cruise made $20 million for Oblivion, $7.5 million for Jack Reacher, $11 million for Knight and Day but made a lot more through negotiated percentage for the film's profits. He made $20 million for Vanilla Sky as well as 30% of the film's profits.
Industry estimate suggests Tom Cruise makes an average of $15-20 million per movie in guaranteed salary but often makes considerably more through a percentage of the film's profits.