Morgan Freeman is an American actor and narrator with a net worth $200 million.
Morgan Freeman -Bio/Wiki
Morgan Freeman was born on June 1, 1937, in Memphis, Tennessee to Afro-American parents – Mayme Edna and Morgan Porterfield Freeman. A DNA analysis revealed some of his ancestors were from Niger.
As a child, Freeman was sent off to live with his grandmother in  Charleston, Mississippi. So he grew up partly in Greenwood, Mississippi; Gary, Indiana; Chicago, Illinois. He has three older siblings. 
His Acting Career
He began acting at the age of 9. While in Broad Street High school, Freeman actively participated in stage plays often playing the lead role. After high school, Freeman had a four-year stint with the US Airforce serving as an Automatic Tracking Radar Repairman. He then took acting lessons at Pasadena Playhouse in LA, California and later dancing lessons in San Francisco. While in LA, Freeman worked as a transcript clerk at Los Angeles City College and often traveled to New York City to work as a dancer at the 1964 World's Fair. He was also part of the Opera musical group in San Francisco.
Freeman made his off-Broadway debut in The Nigger Lovers (1967) and his Broadway debut in an all-black version of "Hello, Dolly!" (1968). For his works in theater, Freeman won three Obie Awards.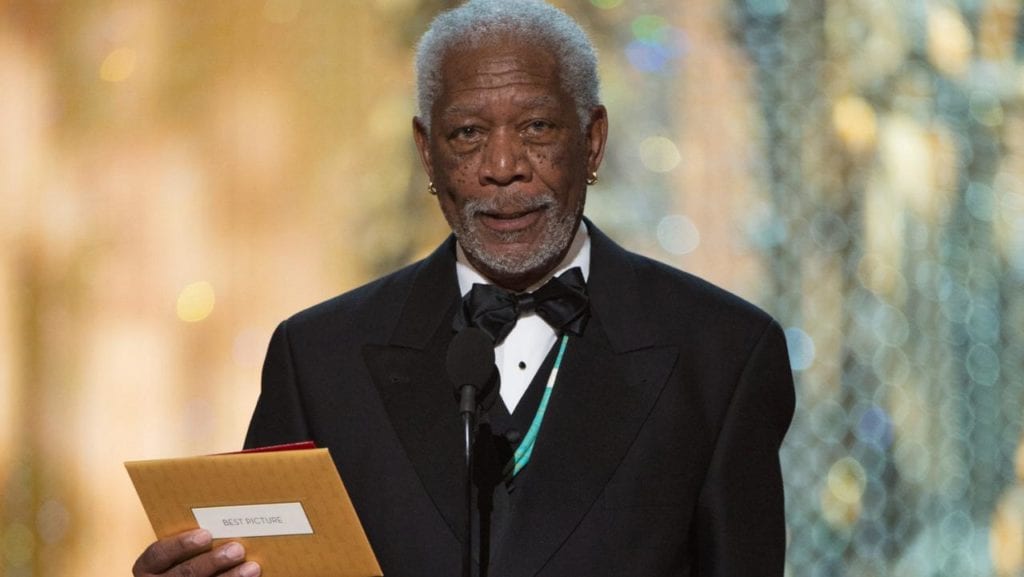 Morgan Freeman earned his break in the movie industry as part of the 1970's children's TV series "The Electric Company". However, Freeman himself, considers his role in Street Smart (1987) as his breakout role, for reasons that he was unhappy during his stay with The Electric Company. His role in "Street Smart" brought him an Oscar nomination for best-supporting actor.
Also See: Denzel Washington Son, Daughter, Wife, Net Worth, Wiki
His next movies were "Driving Mrs. Daisy" and "Glory" both in 1989. He received another Oscar nomination for the former while the latter was a box office hit. His prominent movies in the 1990's include; box office hit Robin Hood: Prince of Thieves (1991), and "The Shawshank Redemption" (1994) for which he received another Oscar nomination. Seven (1995), and  Deep Impact (1998) were also box office hits.
Morgan Freeman received an Academy Award in 2005 for his role in 2004 movie "Million Dollar Baby". In addition to his acting prowess, Freeman is also known for his distinctive deep smooth voice which has earned his numerous narrative roles including "March of the Penguins", an Academy-award winning movie.
His other prominent movies include Bruce Almighty and its sequel, The Dark Knight Trilogy, Olympus Has Fallen (2013), The Lego Movie (2014), and London Has Fallen (2016). Morgan Freeman's movies have grossed more than over $4.316 billion making him the third highest grossing movie star.
Is Morgan Freeman Dead or Alive?
In 2017, malicious reports from some online media began circulating that the octogenarian had passed away at his Mississippi home.
Following the widespread rumor, co-actor Rob Schneider, stepped forward to set the record straight on Twitter telling everyone not to believe anything from the 'fake media' as the veteran actor is still very much alive and doing great.
Morgan Freeman Net Worth
Morgan Freeman's net worth is an estimated $200 million. His many films contribute hugely to his current net worth. He reportedly charges between $5 million to $10 million per movie.
Aside his annual income which is put between $8 – 10 million, Freeman's personal investments is worth $43 million.
The Legendary actor has houses in different parts of the country like Greenwood, Mississippi, Indiana and even in New York But he still prefers to stay in his hacienda-style house in Charleston. His real estate properties are valued around  $4.8 Million.
He co-owns and manages a fine dining restaurant( Madidi) and a Ground Zero – a blues club, both located in Clarksdale, Mississippi. In 2008, he launched a second Ground Zero in Memphis, Tennessee.
Freeman has a penchant for driving, this accounts for his collection of different car brands like the BMW 745, a 1997 Nissan Maxima, a Toyota Tundra,  a GMC Denali (an eight-cylinder SUV), a Tesla, Lamborghini and a duallie Chevrolet Silverado. He has a private pilot's license.
Also See: Samuel L Jackson Wiki – Net Worth, Height, Wife, Family, Facts
Morgan Freeman – Wife And Family
Freeman has been married twice. He was first married to Jeanette Adair Bradshaw for 2 years (1967 – 1979), then to Myrna Colley-Lee from  1984 – 2007.  The couple first got separated in 2007 before getting officially divorced in 2010.
He has two sons from previous relationships before his first marriage in 1967. He adopted Bradshaw's daughter and they also had a child together.
After his divorce from Jeanette Adair Bradshaw, Freeman and Colley-Lee adopted his stepgranddaughter from his first marriage, E'dena Hines, and raised her together