Age/Date of Birth:

June 1, 1937
Height:

6feet, 2inches (1.88 m)
Ethnicity/Race:

African American
Nationality:
American
Wife or Girlfriend:
Previously married to: Myrna Colley-Lee (m. 1984–2010),
Jeanette Adair Bradshaw (m. 1967–1979)
Parents:
Morgan Porterfield Freeman and Mayme Edna Revere
Net Worth:
$250 million
Morgan Freeman is a popular and respected name in Hollywood and movie industries across the globe. The American actor is also admired for being a fantastic narrator.
Who Exactly is Morgan Freeman? 
Morgan Freeman was born on June 1, 1937, in Memphis, Tennessee to Afro-American parents – Mayme Edna and Morgan Porterfield Freeman. DNA analysis revealed some of his ancestors were from Niger.
As a child, Freeman was sent off to live with his grandmother in Charleston, Mississippi. So he grew up partly in Greenwood, Mississippi; Gary, Indiana, and Chicago, Illinois. He has three older siblings. 
The Beginning of His Acting Career
He began acting at the age of 9. While in Broad Street High school, Freeman actively participated in stage plays often playing the lead role. After high school, Freeman had a four-year stint with the US Airforce serving as an Automatic Tracking Radar Repairman. He then took acting lessons at Pasadena Playhouse in LA, California, and later, dancing lessons in San Francisco. While in LA, Freeman worked as a transcript clerk at Los Angeles City College and often traveled to New York City to work as a dancer at the 1964 World's Fair. He was also part of the Opera musical group in San Francisco.
Freeman made his off-Broadway debut in "The Nigger Lovers" (1967) and his Broadway debut in an all-black version of "Hello, Dolly!" (1968). For his works in theatre, Freeman won three Obie Awards.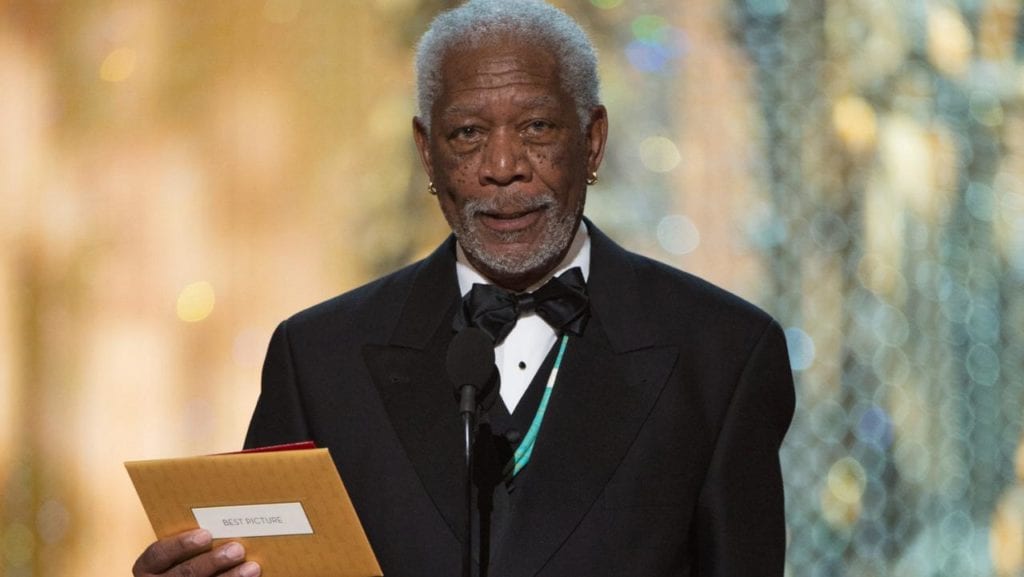 Morgan Freeman earned his break in the movie industry as part of the 1970's children's TV series "The Electric Company". However, Freeman considers his role in "Street Smart" (1987) as his breakout role because he was unhappy during his stay with The Electric Company. His role in "Street Smart" brought him an Oscar nomination for Best Supporting Actor.
His next movies were "Driving Mrs. Daisy" and "Glory" both in 1989. He received another Oscar nomination for the former while the latter was a box office hit. His prominent movies in the 1990's include; box office hit "Robin Hood: Prince of Thieves" (1991), and "The Shawshank Redemption" (1994) for which he received another Oscar nomination. "Seven (1995)", and "Deep Impact" (1998) were also box office hits.
Morgan Freeman received an Academy Award in 2005 for his role in 2004 movie "Million Dollar Baby". In addition to his acting prowess, Freeman is also known for his distinctive deep smooth voice which has earned him numerous narrative roles including "March of the Penguins", an Academy-award winning movie.
His other prominent movies include "Bruce Almighty" and its sequel, "The Dark Knight Trilogy", "Olympus Has Fallen" (2013), "The Lego Movie" (2014), and "London Has Fallen" (2016). Morgan Freeman's movies have grossed more than over $4.316 billion making him the third highest-grossing movie star.
Fact Check: Is Morgan Freeman Dead or Alive?
In 2017, malicious reports from some online media platform started circulating that the octogenarian passed away at his Mississippi home. This began spreading on Facebook and Twitter after Twitter user @originalcjizzle tweeted, "RT @CNN: Breaking News: actor Morgan Freeman has passed away in his Burbank home. This incident was exposed as hoax after a simple Google search revealed that no credible news organization backed up the story.
Following the widespread rumor, co-actor Rob Schneider, stepped forward to set the record straight on Twitter. Rob asked everyone not to believe anything from "fake media" as the veteran actor is very much alive and doing great.
Meet Morgan Freeman's Wife And Children
Freeman has been married and divorced twice. He was first married to Jeanette Adair Bradshaw for 12 years (1967 – 1979), then to Myrna Colley-Lee for 23 years (1984 – 2007). From his past relationship and marriages, Morgan raised four children altogether.
Jeanette Adair Bradshaw, Morgan's First Wife
Full Name: Jeanette Adair Bradshaw
Spouse: ex, Morgan Freeman (married October 22, 1967, divorced on November 18, 1987)
Number of Children: 4 (Saifoulaye Freeman, Morgana Freeman, Alfonso Freeman, and Deena Adair Freeman)
He met Jeanette sometime in 1962, a time when his career was still taking off. They dated for 5 years before getting married on the 22nd of October 1967. While they were married, Jeanette bore a daughter they named Morgana, while they accepted into their home, three other children they had from their different past relationships.
However, their marriage lasted a decade and two more years before the couple parted ways. Since their divorce (18th November 1979) no official statement has been made regarding what led to the collapse of their once blossoming marriage, apparently, it doesn't matter now. But rumors had it that Morgan was seeing another lady. Nonetheless, the couple's only biological child has grown into a woman and is currently pursuing a career that brings her close to her dad especially when he's at work.
Many years have passed since Jeanette and Morgan divorced and they have both moved on with their lives and attained different levels of career successes. While Morgan went on to re-marry, not much has been heard or seen of Jeanette.
They are Parents to 4 Children
Between them, the couple had a total of 4 children: Saifoulaye Freeman, Morgana Freeman, Alfonso Freeman, and Deena Adair Freeman. Alfonso and Saifoulaye were born to Morgan in his past relationships while Jeanette also had Deena in a past relationship. Their only biological child together is Morgana Freeman who was born in the year 1971.
Of all Morgan's children, not much is known about Saifoulaye Freeman (born in 1960) and Morgan's only biological daughter Morgana Freeman (born in 1971). For the former, some reports have it that he works as a flight instructor while for the latter, she once made an appearance with her famous dad in 2013 at LA premiere for his film Oblivion. Since then, she has gone out of public sight. For the others: Afonso and Deena, their careers in the entertainment industry have kept them in focus whenever and wherever their famous dad is being discussed.
Alfonso Freeman is an Actor like His Father
Full Name: Alfonso Rene Freeman
Date of Birth: September 13, 1959
Occupation: Actor
Years Active: 1985 to present
Spouse: ex, Cynthia Gafford (20 March 1982 – 1989) and Larcenia Letice (20 August 1994 – present)
Number of Children: 3 (Donovan Lee Freeman, Joshua Caleb Freeman, and Alfonso Rene Freeman II)
Alfonso was born to Morgan by his then mistress Loletha Polk-Adkins in 1959. He grew up in Compton, California where he attended Southern California's Compton High School. Despite his striking resemblance to Morgan, Rene grew up without knowing his father till his mid-twenties. Obviously, he was raised by his mom who not much is known about.
Morgan obviously passed his acting genes to Alfonso as he is also pursuing a career as an actor. In other to achieve his dreams of becoming an actor, he enrolled in Cal State University-Long Beach as an art major but dropped out along the way. Rene in search of greener pastures relocated to Los Angeles in the year 1984 to film the mini television series Atlanta Child Murders (1985). It was at this point that he met his father for the first time in person. However, they had previously spoken on phone sometime in 1979.
As his acting career progressed, he has played various roles in acting productions like The Shawshank Redemption (1994) alongside his father, Se7en (1995), Nurse Betty (2000), The Bucket List (2007), The Retrieval (2013), Manhood (2019) and many others.
On the marriage front, Alfonso is a married man with three sons. He got married to Cynthia Gafford on 20th March 1982 and in the course of their marriage, she bore: Donovan Lee Freeman, Joshua Caleb Freeman, and Alfonso Rene Freeman II. Sadly, the couple divorced in 1989. By 1994, precisely on 20th August, Alfonso got married for the second time to Larencia Letice and they have remained married to date. There's no news if Larencia has a child with Alfonso.
Deena Adair Freeman is a Stylist and Makeup Artist
Full Name: Deena Adair Freeman
Date of Birth: 1961
Occupation: Stylist and makeup artist
Spouse: Unkown
Number of Children: 1 (late E'dena Hines)
Though not Morgan's biological child, Dana is a prominent name whenever Freeman's family comes into the discussion. As mentioned earlier, Freeman adopted her following his marriage to Jeanette. Careerwise, she is a makeup artist and stylist in Hollywood and in fact was her dad's personal stylist for the comedy film Just Getting Started (2017) and also The Story of God with Morgan Freeman (2016).
 Meet Myrna Colley-Lee, Morgan's Second Ex-wife
Full Name: Myrna Colley-Lee
Date of Birth: June 16, 1984
Occupation: Theater and film costume designer
Spouse: ex, Morgan Freeman (married June 16, 1984, divorced on September 15, 2010)
Number of Children: 1 (late E' Dina Hines, morgan's step-granddaughter)
Morgan married his second wife Myrna Colley-Lee on June 16, 1984, which is 3 years after his first divorce. Myrna with her BA in fine arts (from Women's College of the University of North Carolina) and an MA in scenic and costume design (from Temple University, Philadelphia, Pennsylvania) worked as a costume designer, art director, set designer for various television shows, theatres and on movie sets.
Between she and Morgan, they didn't have any biological child but adopted E' Dina Hines; Freeman's step-granddaughter born by Deena, the daughter of Jeanette Adair Bradshaw.
The duo stayed married longer than Morgan was in his first marriage but ultimately, after over 2 decades of living as husband and wife, tragedy struck Morgan's union with Myrna. What happened? Freeman was notoriously having extramarital affairs especially with a certain Mary Joyce Hays who worked as a school teacher at the time and another lady named Demaris Meyer. There was also the rumor that Freeman had an illicit sexual affair with his step-granddaughter E' Dina Hines; Freeman's step-granddaughter born by Deena.
Having been fed up, Myrna separated from the actor in December 2007 and ultimately divorced him on September 15, 2010. It was Morgan's friend and business partner Bill Luckett who made it known that the duo is no more together. Though the details of their divorce was initially withheld from the public, it was later reported that Myrna got an amount between $100 – $200 million in the divorce settlement.
After her divorce from Morgan, Myrna has gone on to have a successful career in arts as a theatre and costume designer. Her creations have been featured in works like Wedding Band: A Love/Hate Story in Black and White and also Relativity. Aside from this, she works as a commissioner at the Mississippi Arts Commission. She has equally reached out to art organizations like the Gertrude C. Ford Center for the Performing Arts at the University of Mississippi, Charleston Arts and Revitalization Effort, Inc.; the Mississippi State University Department of Art and the Rock River Foundation.
E'Dena, Morgan's Child with Myrna is now Late
Full Name: E'Dena Hines
Date of Birth: 4 March 1982
Occupation: Actress
Years Active: 1996 to 2015
Spouse/Fiance: Lamar Davenport
Number of Children: None
Morgan and his second wife Myrna adopted E'Dena, the daughter of Deena (who got pregnant when she was 19). Following E'Dena's birth in 1984, she was raised up by her grandparents and grew to be recognized as their own child.
True to the family profession, E'dena Hines began building a career as an actress. She acted in Moll Flanders (1996), worked as a production assistant on Thick As Thieves (2009), and was last seen on Landing Up as Cece which was released in 2018. Sadly, she died in 2015 after being stabbed 15 times by her boyfriend – Lamar Davenport – who has since been convicted of manslaughter.
A Breakdown of His Career Earnings, Net Worth, Investments, and some major Expenditures
Morgan Freeman has over a hundred film credits many of which had successful box office outings. From his numerous works, the actor has been well paid and has also put his earnings to good use as you will find out below.
His net worth is reportedly $250 million which makes him one of the richest black American actors alongside other screen stars like Will Smith (worth $350 million), Samuel L. Jackson (worth $220 million), Denzel Washington (worth $220 million) and others. Currently, he charges between $5 million to $10 million per movie. Aside from his annual income which is put between $8 – 10 million, Freeman's personal investments are worth $43 million.
His net worth could have been more than what it is today if not for the alimony between $100 to $200 million which he paid Myrna Colley-Lee following their divorce. It was reported that Myrna had asked for an even bigger amount but had to settle for what the court ordered Morgan to pay her.
How did His Earnings rise over the Years?
Morgan didn't have it all rosy at the start of his career. He got off as a child stage actor, then had roles in a few movies from the 60s through the 70s before his career progression slowed in the late 80s. In the 90s, he resurfaced again and has been a fan favorite since then.
The veteran began receiving up to $5 million per movie in the 90s before his annual income rose to $12 million in the new millennium. In the first decade of the new millennium, Morgan's net worth was $75 million before it quickly rose to $100 million in 2013. Two years later, he was worth $150 million and continued on the winning path to attain his current net worth of $250 million. Interestingly, the actor has not depended on acting as his means of livelihood.
Aside from acting, Morgan Freeman has other sources of income like:
He has used his voice to endorse a couple of American businesses some of which include Visa Debit, a version of the Waze app targeted at American users as well as some old cigarette brands. He's also a big fan of pot and was among those who championed its legalization.
Morgan co-owns (with Bill Luckett, Howard Stovall, and Eric Meier) and manages a fine dining restaurant (Madidi) and Ground Zero Blues Club, both located in Clarksdale, Mississippi. In 2008, he launched a second Ground Zero Blues Club in Memphis, Tennessee.
Morgan, alongside Lori McCreary, set up a movie production company in 1996 he named Revelations Entertainment. This company produced some thought-provoking films such as Under Suspicion (2000), 10 Items or Less (2006), The Story of God with Morgan Freeman (2016), The Killing of Kenneth Chamberlain (2019), and many others.
Still in the line of entertainment, Morgan, and Lori established ClickStar, a broadband movie distribution company in 2006. The same year the company was launched, it made history as the first company to offer video download of a film (10 Items or Less) while it was still playing in theatres. However, the company is later folded up.
His Millionaire Lifestyle: Here's What He Spends His Money On
The Legendary actor has houses in different parts of the country like Greenwood, Mississippi, Indiana, and even in New York. But he still prefers to stay in his hacienda-style house in Charleston. His real estate properties are valued at around $4.8 Million.
He owns a 124-acre ranch in Mississippi which is now a bee sanctuary, a condo in New York, three private planes. His planes are an SJ30 which his, is the fastest light jet in the world, a Cessna Citation 501, and a Cessna 414.
Freeman has a penchant for driving, this accounts for his collection of different car brands like the BMW 745, a 1997 Nissan Maxima, a Toyota Tundra, a GMC Denali (an eight-cylinder SUV), a Tesla, Lamborghini, and a Chevrolet Silverado. The man has a private pilot's license.
Profile Summary
First Name:
Morgan
Last Name:
Freeman
Also Known As:

Morgan
Sex/Gender:

Male
Profession:

Actor, Film Narrator
Famous For:
"Driving Miss Daisy", "Lean on Me, Glory", "Million Dollar Baby"
Colleges/Universities Attended:

LACC Theater Academy
Educational Qualifications:

N/A
Religion:

Zoroastrianism
Birthday & Zodiac

Age/Date of Birth:

June 1, 1937
Zodiac Sign:
Gemini
Birth Place:

Memphis, Tennessee
Nationality:
American
Ethnicity/Race:

African American
Country of Residence:

The United States of America (USA)
Physical Attributes

Height:

6 feet, 2inches (1.88 m)
Weight:

79kg ( 174 lbs)
Eye Colour:

Hazel
Hair Color:

Grey
Other Body Measurements:

N/A
Relationships

Marital Status:

Single
Spouse/Partner:

Previously married to:
Myrna Colley-Lee (m. 1984–2010),
Jeanette Adair Bradshaw (m. 1967–1979)
Family and Relatives

Father:

Morgan Porterfield Freeman
Mother:
Mayme Edna Revere
Children:

4 children:
Alfonso Freeman, Saifoulaye Freeman, Deena Freeman, Morgana Freeman
Siblings:
N/A
Other Relatives:

Grandchildren - E'Dena Hines, Donovan Lee Freeman,
Alfonso Rene Freeman II,
Joshua Caleb Freeman)

Net Worth
Estimated Net Worth:

$250 million
Salary:
$8-10 million
Source of Wealth:

Acting, investments