Even among A-list actors and actresses, there is a certain prestige that distinguishes them. If there is an upper and lower tier of A-list celebrities, Leonardo exists in the upper tier due to his class, the quality of his movies and his public persona. He is one of Hollywood's greatest leading men and it a truth that reflects in Leonardo DiCaprio's net worth.
His filmography is a list of modern classics and he is one of Hollywood's most bankable actors, with several of his movies making double and even triple of their budget.
We explore Leonardo DiCaprio's net worth as well as how much he makes from his movies, particularly one of his most popular films, Titanic. Read on to learn more.
Leonardo DiCaprio's Net Worth
After three decades as an actor – a career he began as a child – Leonardo DiCaprio has built and amassed a net worth of $245 million.
His net worth is a testament to one of the rare stories in Hollywood – a child actor who grows up to become a superstar. Having grown up primarily under his mother's care after his parents divorced when he was a year old, he began his career at the age of five, when he began appearing in commercials and educational films.
His first known credit came in 1989 when he appeared in two episodes of The New Lassie as Glen. He went to appear in several TV shows and films through his teenage career, including major appearances in Parenthood and Growing Pains. DiCaprio's breakthrough began in the early 90s when he appeared in films like This Boy's Life and What's Eating Gilbert Grape.
Eventually, after about a decade of hits and misses, he attained international fame when he starred in the film, Titanic. Playing Jack Dawson, the film went on to become a global box office behemoth, which transformed DiCaprio into a commercial movie star.
Since then, he has gone to star in various movies such as Catch Me If You Can, The Aviator, Blood Diamond, Shutter Island, Inception, Body of Lies, J. Edgar, The Wolf of Wall Street, The Great Gatsby, Once Upon a Time in…Hollywood and several others.
Although he doesn't boast of a very long filmography (he has only appeared in just over 40 movies & TV shows), the commercial successes of his movies have made it possible for him to command high figures for his movie appearances, enough for him to build a personal net worth of $245 million.
With a box office total of over $6.5 billion whenever he plays a leading role, it is no wonder that Leonardo DiCaprio averages over $20 million in basic salary for his films and has made lists like being one of the highest-paid actors in the world in 2015.
How Much Did He Make From The Titanic?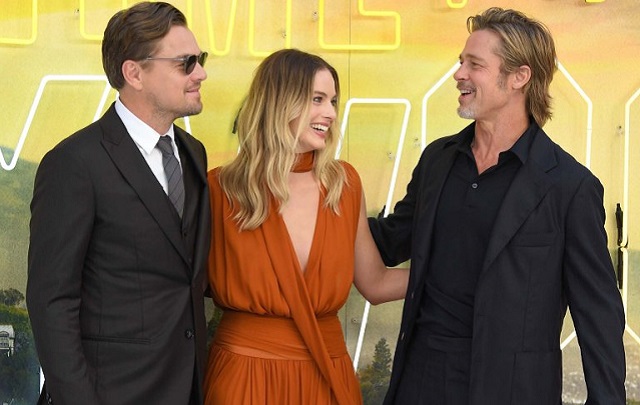 When Leonardo DiCaprio was initially offered the role of Jack Dawson, he turned it down believing he was incapable of playing the role but after he was persuaded by the director, James Cameron himself, he eventually agreed to it. Although the film was released in 1997, it has remained the highest-grossing film of Leonardo's career to date and has been the foundation of his humongous net worth.
The film made $1.84 billion at the global box office during its original run but has made over $2.1 billion through DVD sales and syndication. Leonardo made $2.5 million in base salary for the film but negotiated for 1.8% of the overall revenue of the film i.e. backend points.
As a result, Leonardo DiCaprio's net worth has a mammoth contribution of $40 million from the film alone. In other films, Leo has earned $20 million for his role in The Beach, Catch Me If You Can, The Aviator, The Departed and Blood Diamond and $18 million for Gangs of New York.
Other the huge money he has made from the film, Leo has his hand in a few other pies, such as real estate and product endorsements. His endorsement portfolio includes brands like Jim Beam, Armani, Tag Heuer, BYD and Appian Way Products. According to industry reports, product endorsements have contributed an estimated $77 million to Leonardo DiCaprio's net worth.
See Also: What Is Tom Cruise's Net Worth, How Much Does He Make Per Movie?
As for business investments, he has stakes in Mobli, MindMaze, Aspiration, Beyond Meat, Rubicon Global, Casper and a few others. In real estate, he has a portfolio worth over $50 million across ten known properties.
Leonardo is an environmentalist and he is not known for lavish spending but he does have two cars – Fisher Karma Hybrid and Tesla Roadster which are valued at $1 million each.