There are endless human celebrations, where men, women, and children gather around to merry and cheer but none of them match the joy and importance of weddings. The importance and joy derived from a wedding ceremony are unmatched, which is why a lot of people spare no cost to ensure it is a perfect day. And when you are royalty, a billionaire or a celebrity, as we will see in some of the most expensive wedding parties ever, sparing no cost usually means several millions of dollars.
From custom wedding dresses to elaborate cakes to special venues, there is no limit to the luxury and extravagance the wealthy is willing to spend on a wedding party. Check out ten of the most expensive wedding parties ever thrown below.
All-Time Most Expensive Wedding Parties
1. Prince Charles & Diana – $110 million
Everyone knows when it comes to royalty, extravagance is a responsibility, not a luxury and as we will see in two of the top ten most expensive wedding parties ever, that is a responsibility the British monarchy takes very seriously, starting with arguably the most popular and important wedding of the '80s, the wedding of Prince Charles and Princess Diana.
Their wedding cost $48 million in nominal value in the '80s, which was already an outstanding record, but through inflation, cost $110 million today, a figure that puts it well ahead of the pack. It featured all manners of luxury, from high-level security to 27 wedding cakes that took 14 weeks to make. Princess Diana's wedding gown was covered in 10,000 pearls and she was driven to the wedding cathedral in a glass coach.
Some of the money also went to food, as the wedding was attended by 3,500 people, which we believe as got to be some record for the number of people to witness a wedding. Aside from the 3,500 people, a total of 750 million people all over the world also got to witness this landmark wedding. The marriage may not have lasted, but the wedding is still the one to beat when it comes to cost.
2. Vanisha Mittal & Amit Bhatia – $66 million
Sandwiched in between two Royal weddings is the wedding of a billionaire's daughter, the wedding of Vanisha Mittal to Amit Bhatia. Vanisha is the daughter of Lakshmi Mittal, an Indian billionaire who is one of the richest people in the world.
The 2004 wedding was held at one of the most exclusive and special venues in the world, at the 17th century Chateau Veaux le Vicomte in France, and before the wedding party itself, an engagement ceremony had been held in another special location, the Palace of Versailles.
While a significant amount of money also went to dresses and jewelry, another notable expense for this $66 million wedding party was a $330,000 payment to Kylie Minogue for a 30 minutes performance. The invitations for the wedding were mailed in silver boxes, with plane tickets and booked rooms in five-star Paris hotel included.
Combine all of that with firework display launched from the Eiffel Tower and the fact the wedding party lasted five days and you start to see why this is one of the most expensive wedding parties ever thrown.
3. Prince William & Kate Middleton – $34 million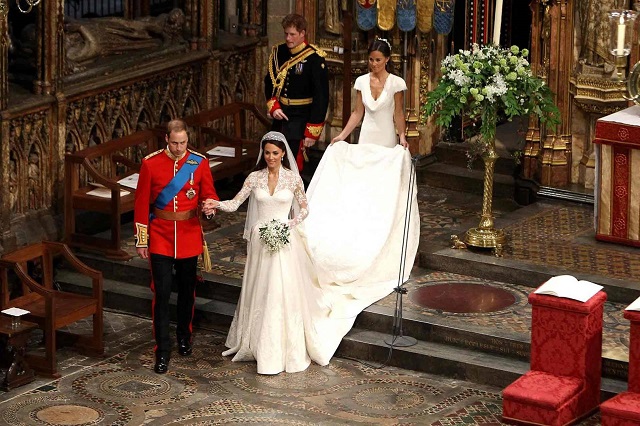 At number three among the most expensive wedding parties ever is the second major Royal wedding in recent years, the wedding of Prince William and Kate Middleton, which cost a total of $34 million. However, unlike the other weddings on this list, over 90% of the budget ($32 million) went to security alone.
The rest went to catering to luxury expenses like the $434,000 Sarah Burton for Alexander McQueen wedding gown she wore, $800,000 spent on flowers, and $80,000 spent on the wedding cake. Considering how much the British Royals are willing to throw at a wedding; it is no wonder that plenty of people want to be married into the royal family. Also, it is worthy to note that the couple is still very much together. Safe to say it hasn't been a bad investment so far.
4. Angelababy and Huang Xiaoming – $31 million
Angelababy is often referred to as the Kim Kardashian of China and while Kim Kardashian herself doesn't make this list, Angelababy's $31 million is in the spirit of the American socialite. The wedding of $31 million featured a wedding dress that is also one of the most expensive wedding dresses of all time, estimated to have cost over $1 million. The custom dress was signed by Dior. It featured a 10-foot train and 100 hand-cut Chantilly lace roses. Whew!
Some of the extravagant expenses of the wedding include a venue that was completely covered in roses, a 10-foot tall cake and a goodie bag for guests that consisted of cellphones and other luxurious offerings. This wedding party cost $31 million to become the fourth most expensive wedding party ever thrown.
5. Eldar Osmanov and Gaspar Avdolyan – $10 million
There is a saying that when you are rich, do not be afraid to flaunt it and this Russian energy bigwig wasn't afraid to flaunt his wealth when his daughter was getting married to a son of a millionaire. The $10 million wedding party was held at the Dolby Theatre in Los Angeles, which is more primarily known to host the most important event in Hollywood, The Academy Awards.
It also featured music from Jason Derulo and Lady Gaga, which reportedly cost a total of $2 million and it featured $500,000 worth of flowers and a gold aisle. Their 'modest' extravagance wraps up our top five of the most expensive wedding parties ever thrown.
6. Michael Jordan & Yvette Prieto – $10 million
Michael Jordan had gone through a very expensive divorce prior that set him back over $100 million and it would have been understandable if he chose to keep his wedding to Yvette Prieto lowkey. But when you are the greatest basketball player to ever play and you are worth over a billion dollars, dropping $10 million on a wedding is chomp change.
Their 2013 wedding was held at the Bear's Club in Jupiter, Florida with the crème de la crème of the entertainment and sports world in attendance. They were treated to the finest meals, as well as live performances from music acts like Robin Thicke, K'Jon and Usher.
Although the exact price of their wedding cake is unknown, it is believed to be one of the most expensive wedding cakes ever while Prieto rolled out to the wedding party in J'Aton Couture wedding dress that cost several thousand dollars.
7. Wayne Rooney and Coleen McLoughlin – $8 million
In the United Kingdom, not everyone would get the chance to marry a Royal, but marrying a soccer player, especially a talented one that plays for one of the most valuable teams in the world, Manchester United can be a close compromise, as shown by this $8 million wedding party.
Wayne Rooney got married to Coleen McLoughlin in 2008 and the party was an extravagant celebration of a love that had existed since they were teenagers. The classy wedding included chartered flight for 65 guests to fly to Genoa where the wedding was held at the Abbey of Cervara, on a $120 million yacht. Guests of the multiple days wedding party spent time between the yacht and a five-star hotel.
In addition to the luxurious accommodations, the music for the wedding was provided by Westlife, at a cost of $670,000. When you get one of the best boy bands of the '90s to sing at your wedding, on a yacht, you are featuring among the most expensive wedding parties ever.
8. Chelsea Clinton & Marc Mezvinsky – $5 million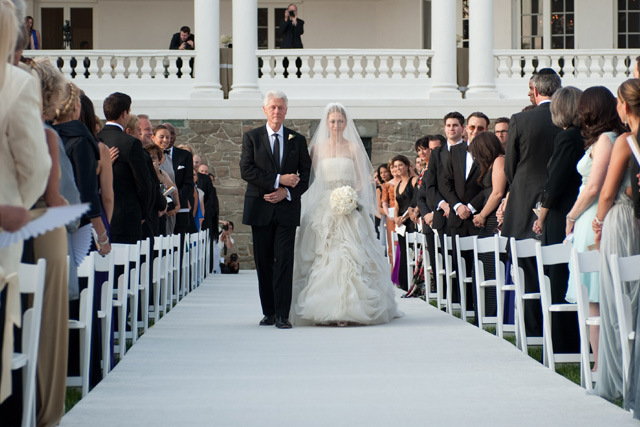 America does not have a royal family and cannot have royal weddings, but it does have legacy families, through politics and business and one of them, in the person of the Clinton family, stamped their name among the most expensive wedding parties ever thrown with this $5 million wedding of their daughter, Chelsea Clinton, and March Mezvinsky.
The exceedingly grand wedding was held at Astor Courts in 2010, a location that overlooked the Hudson River. Some of the expenses included in the $5 million-wedding were $600,000 air-conditioned tents, an $11,000 cake, which is one of the most expensive celebrity wedding cakes ever, a Vera Wang wedding dress along with feeding and accommodations to cater to 500 guests, including Oprah.
9. Liza Minnelli and David Gest – $4.2 million
In 2002, Liza Minnelli and David Gest threw one of the most expensive wedding parties ever in celebration of their love. The wedding, which was attended by any major name you can think of in Hollywood, including Michael Jackson who was the best man, was held at New York's Fifth Avenue.
While it does not compare to a Royal wedding in cost, it is considered the biggest celebrity wedding ever, with expenses such as a 60-piece orchestra, music performances from Natalie Cole, Tony Bennett, and Stevie Wonder. The wedding also featured an estimated $700,000 spent on flowers and a $40,000 cake that is most certainly one of the most expensive celebrity wedding cakes ever.
Unfortunately, the marriage the wedding party ushered did not last, with the couple getting divorced after a year, but the memory of the wedding lives on.
See Also: From Dubai To London: Here Are 10 Most Expensive Royal Weddings In History
10. Elizabeth Taylor and Larry Fortensky – $4 million
If Liza Minnelli's wedding to David Gest is the biggest celebrity wedding ever, then a close second is Elizabeth Taylor's wedding to Larry Fortensky in 1991, which cost $4 million, coming in at number ten for the most expensive wedding parties ever thrown.
The wedding between the movie star and the construction worker was held at the famous Neverland Ranch and it featured Michael Jackson, who on the day, served as the father of the bride. It also had several high-profile celebrities in attendance, all of whom were treated to high-class meals and goodie bags.