In recent years, interest in the Pokémon Trading Card Game (PTCG) has grown immensely as multiple cards have been sold for jaw-dropping prices at auctions, establishing new records in the process. Unlike the days when kids trade the Pokémon cards as if they were candy, collectors, as well as fans of the game, riffle through their collection to see if they have one of the rarest Pokémon cards, as they now worth a good sum of money.
Demands are mostly high for the first edition cards, the first version to be printed before the other versions. The explosive rise in the value of the cards in recent years has ignited the interest of collectors and investors who are inquisitive to find out the value of their Pokémon cards.
Which Pokémon Cards are the Most Valuable?
With the limited supply of the first edition base set, as many collectors are so attached to their cards and are unwilling to sell, the prices for the first edition cards have escalated due to their rarity, thus becoming more valuable. Other most sought after Pokémon cards were mostly given out as prizes some decades ago at some tournaments and events.
It's noteworthy that the prices of these cards are bound to change depending on what the buyer has to offer. Below is the price range of some of these rarest cards.
Base Set Cards
Price: $5-$200,000+
Set: Base
Year: 1999
These were $300 less than 6 months ago. pic.twitter.com/Gb543JyHaT

— Artol0gy (@Artol0gy) August 5, 2020
These Pokémon cards were first published in Japan by the Media Factory before Wizards of the Coast began publishing the cards in the United States. Recently, The Pokemon Company has taken over the publishing of Pokémon cards in the US. The first set of cards published by the Wizards of the Coast are known as the Base Set. Following high demands for the cards after the first printing, additional prints were made available but with slight changes to the cards.
As a result, the first print run known as the first edition is limited in number and thus, became the most valuable. It can be easily spotted by the "Edition 1" logo on the card along with its feature of not having a drop shadow behind the Pokémon artwork. The later print runs include the Shadowless and the Unlimited. Shadowless does not have the "Edition 1" logo but shares the same feature of not having a drop shadow behind the Pokémon artwork with the first edition.
The Unlimited cards, on the other hand, do not have the "Edition 1" logo but have a drop shadow behind the Pokémon artwork. These later print runs are not the most valuable because they were printed in a larger number compared to the first edition cards.
Pikachu Trainer Trophy Cards
Price: $10,000-$100,000
Set: Prize Card
Year: 1997-Present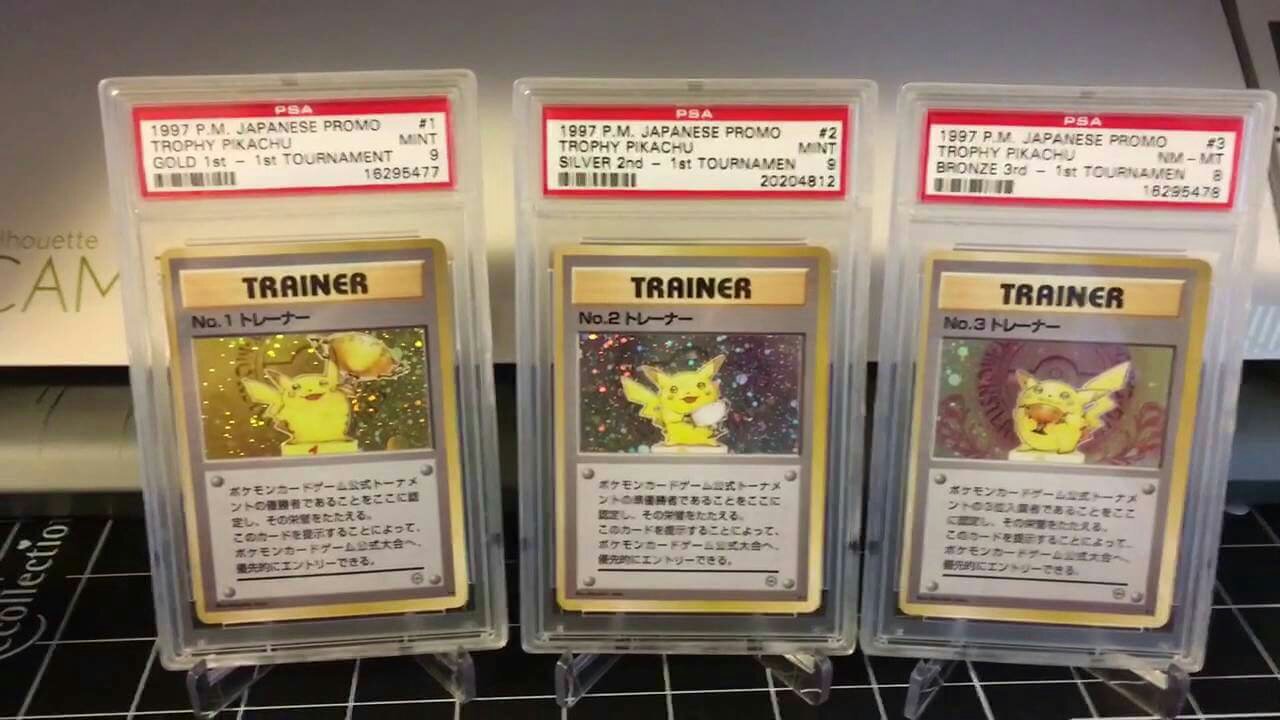 The Pikachu trophy trainer cards are holographic promotional cards handed out to the winners of the Pokémon World Championships. They are in three different types; No. 1 Trainer card, No. 2 Trainer card, and No. 3 Trainer card and are given to those that finish in the 1st, 2nd, and third place respectively in each year tournament. This gives the winners direct entry into the following year's world championship, making the card valuable and rare to find.
Surprisingly, the Pikachu trophy trainer cards have been sighted for sale online on very few occasions. In July 2020, a No. 1 Trainer card that was in perfect shape, having been graded by the Professional Sports Authenticator (PSA) as Gem Mint 10, was auctioned by the Heritage Auctions for $90,000.
Raichu Pre-release 
Price: $10,500+
Set: Base
Year: 1999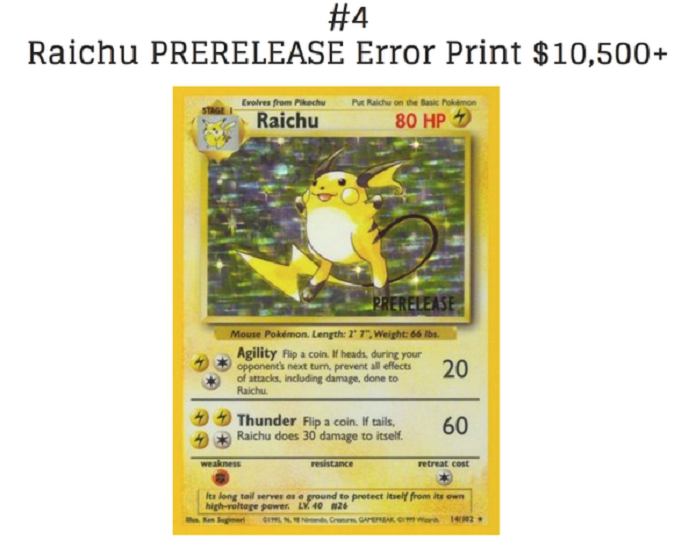 Considered as the rarest Pokémon card in existence, Raichu Pre-release is distinguished from the normal Raichu base set card with a 'PRERELEASE' stamp at the bottom right corner of the card artwork. It was said to have been printed by mistake in 1999 when the Pokémon Trading Card Game's Jungle set (English) was released. Although Wizards of the Coast denied the existence of these rare cards which are reportedly 10 or fewer in number, a member of their staff attested to its existence by releasing a picture of it.
With these cards being extremely rare, they are deemed the most valuable. Aside from Raichu, there are other 'PRERELEASE' stamped Pokémon cards and they include Clefable 1/64, Dark Gyarados 8/82, Misty's Seadra 9/132, and Aerodactyl 1/62.
Master's Key
Price: $21,000
Set: Prize Card
Year: 2010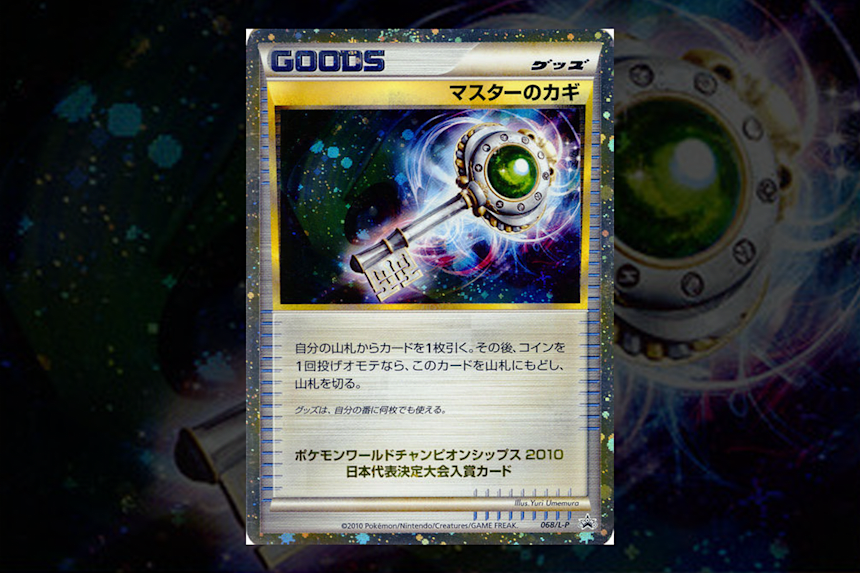 The Master's Key are Pokémon cards received by the thirty-six finalists of the World Championship tournament held in 2010. What makes these cards rare and valuable is that they were handed to the finalists in a protective case. Eighteen winners of the Trading Card Game event received theirs in a red protective case along with the Pokémon Trading Card Game logo.
Then winners of the video game, Nintendo DS, that were equally eighteen in number, obtained the Master's Key in a blue protective case alongside Pokémon HeartGold & SoulSilver logos. These cards have more price value when they show up for sale online in their original case but the graded copies don't normally come with the protective trophy case.
Neo Destiny Cards
Price: $2-$3,000
Set: Neo Destiny
Year: 2002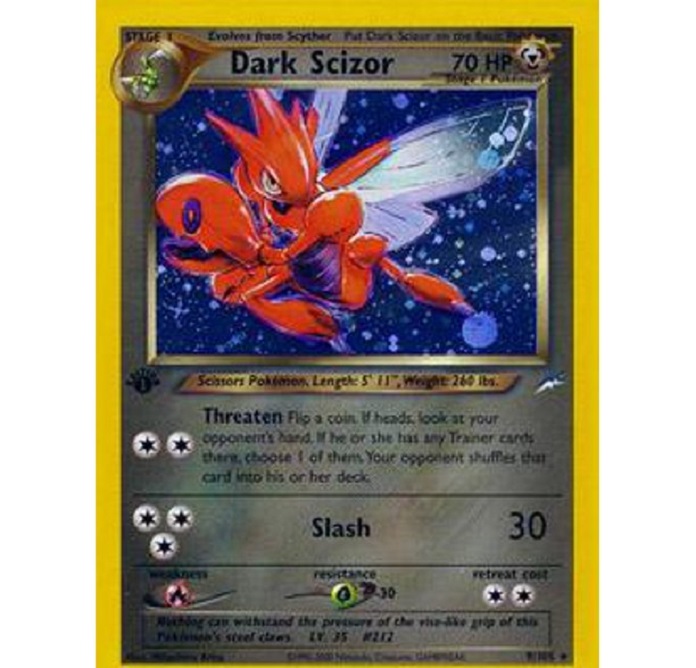 The Neo Destiny set cards are valuable due to their limited number. The set contains a good number of valuable cards, as the first 16 cards have a unique feature of being rare holographic cards which worth good money. Also, the last eight which are known as the secret rare cards have higher price value as they have a Shiny foil effect and are termed the Shining Pokémon.
These valuable cards have a holographic metallic look and their number exceeds the actual card number in the base set (105). They include Shining Celebi 106/105 and Shining Charizard 107/105.
Southern Islands Cards
Price: $5-$50
Set: Southern Islands
Year: 2001 (English)
The Southern Islands set contains only 18 Pokémon cards which are sold in a bundle that features postcards, booster packs, and a decorated folder. The English version was released in 2001 and is centered around the Tropical Island and Rainbow Island. None of the eighteen cards has a rarity symbol but they still worth a penny. They become more valuable when sold in a complete set along with the postcards and decorated folder.
Distributor Meeting Cards
Price: $700-$2,000+
Set: Special
Year: 2007, 2008, 2009
Distributor Meeting cards are rare Pokémon cards distinguished with a gold stamp accompanied by a globe, meeting location, and year. They were handed out during the International distributors meeting held in 2007, 2008, and 2009. For the 2007 meeting held in San Diego, Piplup valued at $690.86 was printed. Then Turtwig which was sold for $2,165 in 2018 and $721 in 2019 was printed for the annual meeting held in New York in 2008. The most valuable of the cards, Munchlax, was printed for the 2009 meeting held in Chicago.
Crystal Type Cards
Price: $50-$2,000
Set: Aquapolis, Skyridge
Year: 2003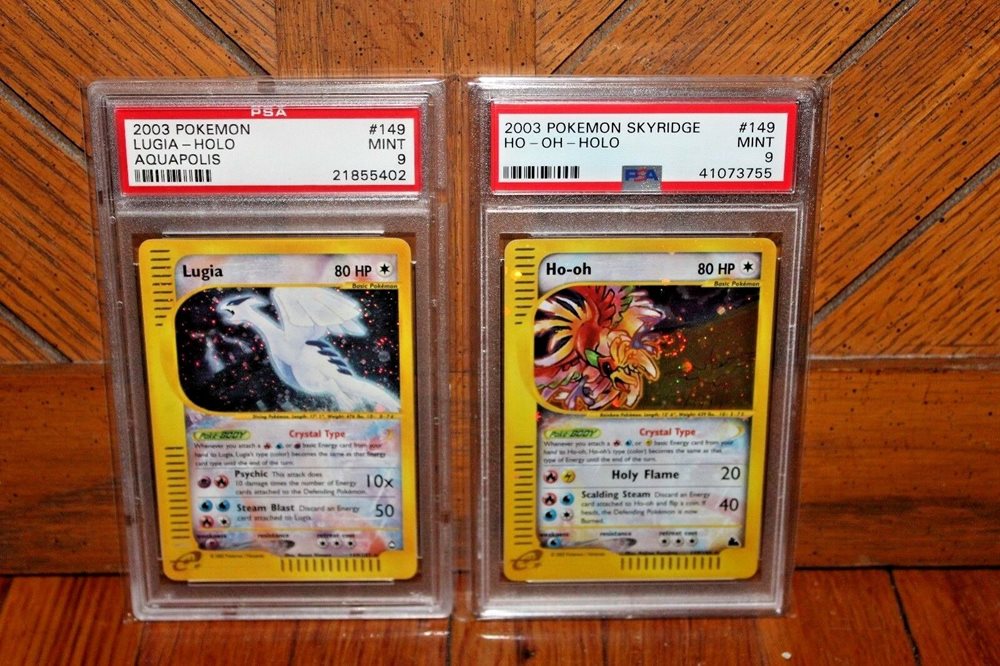 The Aquapolis set has three Crystal Pokémon cards which are rare. These Crystal type cards are also printed in the Skyridge set and are six in number. In addition to having a significant feature of bearing the text "Crystal Type" in bold red on the card artwork, these Crystal cards have secret rare card numbers. They serve as a replacement to the Shiny Pokémon in the Aquapolis set.
They include Kingdra 148/174 and Lugia 149/147 for Aquapolis. The Skyridge set contains Celebi 145/144, Charizard 146/144, Crobat 147/144, among others. The Charizard is said to be the most sought after of the Crystal Pokémon cards.
Japanese Topsun Cards
Price: $5-$1,000
Set: Topsun
Year: 1997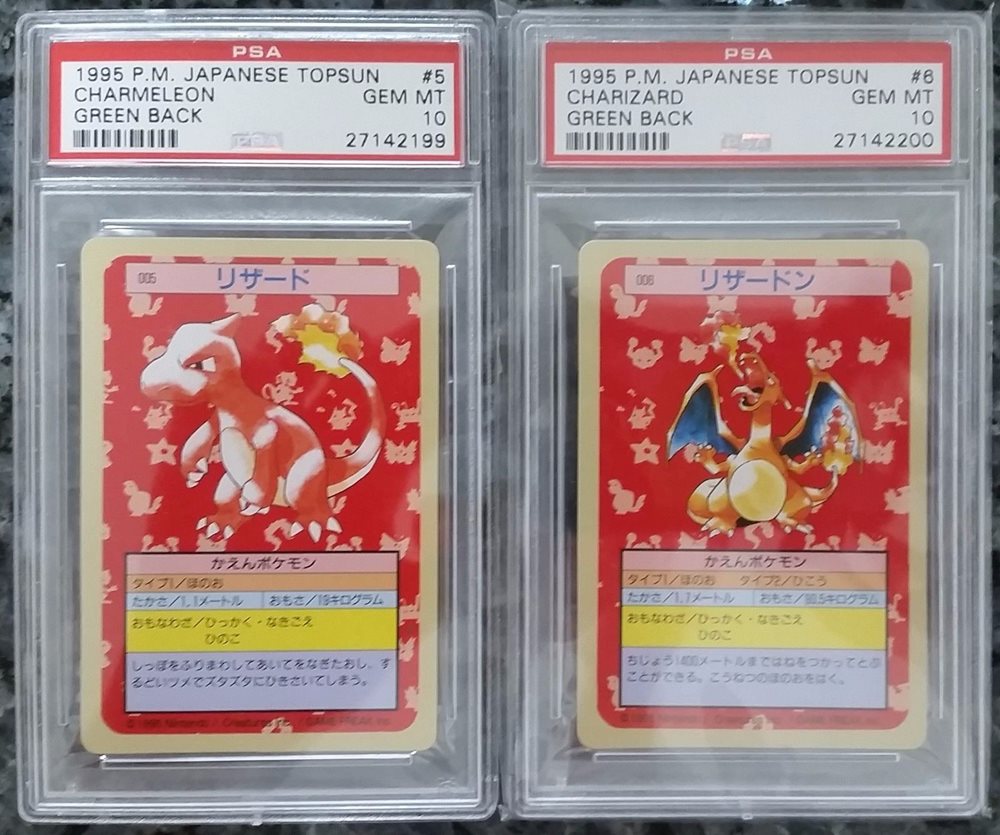 These are Japanese cards that were printed in 1997 by Top-Seika in packs of two cards and two sticks of gum. The early prints of the Japanese Topsun cards which had blue back are considered more valuable than the subsequent print runs with green back because they have missing card numbers. A set of these Pokémon cards are 150 in number and contains 16 rare prism holofoil cards.
These holofoil cards can only be found one in forty packs, as such, they have a higher price value than the non-holofoil cards in the Topsun set. The Charizard is considered the most valuable among the holofoil cards as it was in this set that it got printed for the first time on a Pokémon card. Although these cards copyright reads 1995, Media Factory first printed Pokémon cards in Japan in 1996.
Tropical Mega Battle Cards
Price: $5,000-$60,000
Set: Prize Card
Year: 1999, 2000, 2001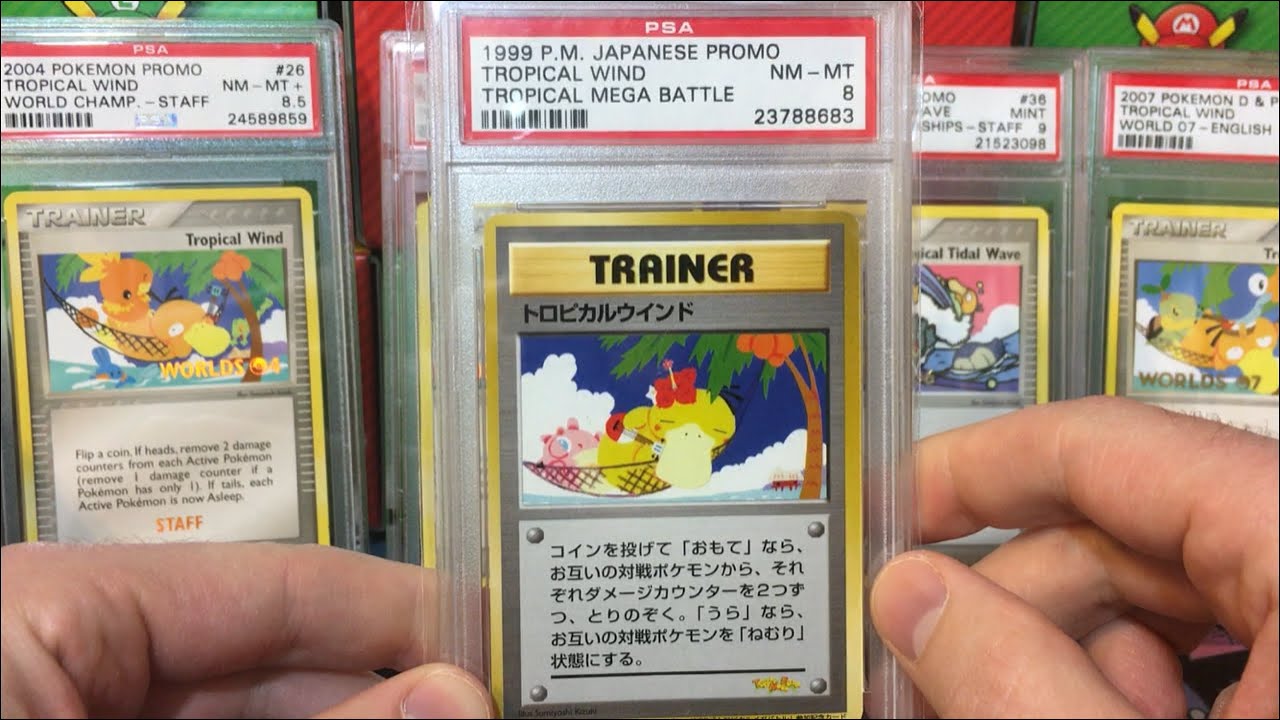 In 1999, 2000, and 2001, the Tropical Mega Battle was held in Honolulu, Hawaii. About fifty winners of the regional tournaments were invited to contest in the Mega Battle. The finalists were given some valuable items including individual cards and decks customized in their native languages. One which is regarded as a highly valuable card amongst the Pokémon cards is the Lucky Stadium.
This card was handed to the finalists to use in the mega battle in the year 2000. Since 2002, Tropical Mega Battle has been replaced by the annual World Championships.
Shining Cards
Price: $50-$3,000
Set: Neo Destiny, Neo Revelation
Year: 2001-2002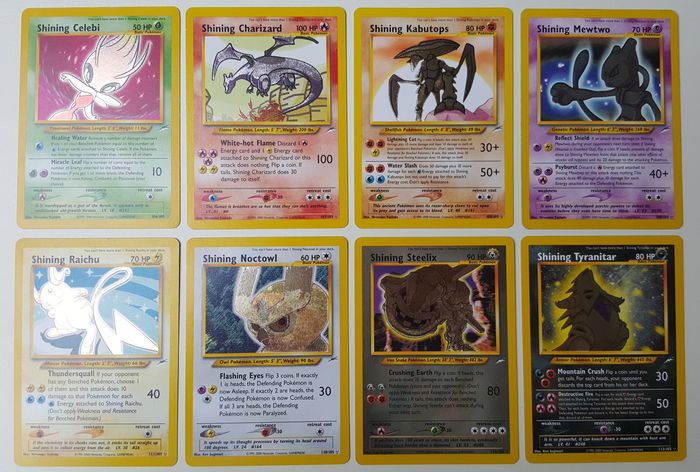 In the year 2001, Shining Pokémon cards, Shining Magikarp and Shining Gyarados, were released as secret rare cards in the Neo Revelation set. Then in the next year, Neo Destiny set was released and it contained 8 Shining cards. For the next fifteen years, no Shining Pokémon card was released until the Sun & Moon series, when the Black Star and Shining Legends promos were printed.
Gold Star Cards
Price: $100-$5,000
Set: EX Series, POP Series 5
Year: 2004-2007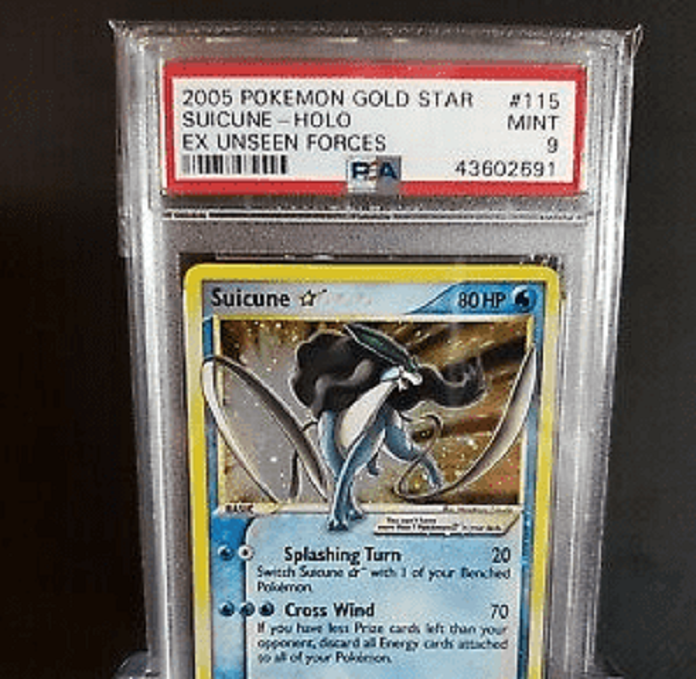 The Gold Star Pokémon cards are considered valuable due to their unique features. The cards have a gold star stamped next to the name of the Pokémon which has color variations, as some of the artworks appear shiny or holographic while extending over the character window. With Gold Star card appearing 1 in 72 packs, it's extremely difficult to find it in a pack of cards.
They were first printed in the EX Team Rocket Returns set and later had print runs in the EX series. Two Gold Star cards, Umbreon and Espeon, were also printed in the POP Series 5 set. These cards are highly collectible and valuable.
University Magikarp
Price: $4,000
Set: Prize Card
Year: 1998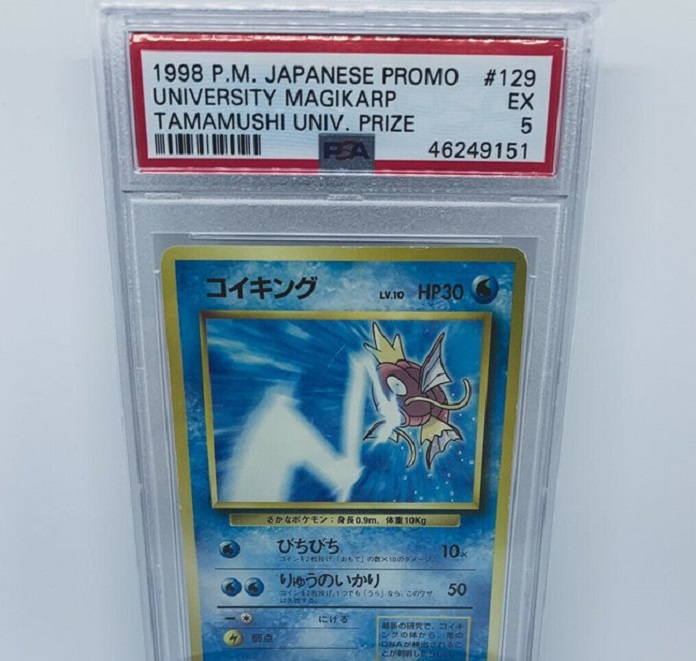 Following the publication of the Tamamushi University Hyper Test in Shogakukan's Magazines, primary school students who took interest in the contest had a series of tests. Those that emerged victoriously were handed an invitation to contest in the Tamamushi University Hyper Test held for two days in Osaka, Japan in 1998.
On the second day of the competition, kids that emerged winners were given a rare Pokémon promo card, University Magikarp, which were printed in a limited number.
What Is the Value of Old Pokémon Cards?
Pokémon cards have different values. Some are regarded as rare while others are classified as common or uncommon depending on the identification of a tiny symbol at the bottom right corner of the cards. Those with a star, such as the hologram cards that always have stars at the bottom right corner, are valued as rare cards. The rare cards are found once in a while in a booster pack and considered valuable.
On the other hand, cards that have a circle at the bottom right corner are classified as common while those with diamonds are valued as uncommon. There are greater chances of getting common or uncommon cards in a pack than finding a rare card. These highly treasured rare cards worth tens of thousands and sometimes, hundreds of thousands at auctions, if they are graded as mint by the PSA.
It's worth noting that the value of an old Pokémon card can be greatly reduced by the condition of the card even if it's a rare one, as collectors are not interested in buying ripped or stained cards. Other factors that can add to the value of old Pokémon cards include full card artwork, reverse holographic artwork or holographic artwork, shining features, shadow underneath the card artwork, and possession of higher printed number than the number of cards contained by a set; examples include Shining Mewtwo 109/105 and Charizard 146/144.
The Value of Old Pokémon Cards Graded PSA Mint 10 and 9
   Pokémon Cards                                Prices/PSA Grading
Blastoise Holo 1st Edition                       PSA 10; $38,609     PSA 9; $9367
Venusaur Holo 1st Edition                       PSA 10; $28,961     PSA 9; $9000
Pikachu Red Cheeks                               PSA 10; $10,100     PSA 9; $3000
Mewtwo Holo 1st Edition                         PSA 10; $10,000     PSA 9; $4450
Bulbasaur 1st Edition                              PSA 10; $5,500       PSA 9; $1200
Pikachu Yellow Cheeks                            PSA 10; $4,000       PSA 9; $1600
Charmander 1st Edition                          PSA 10; $3,000       PSA 9; $1500
Squirtle 1st Edition                                 PSA 10; $3,000      PSA 9; $1500
Which Pokémon Cards are Worth Good Money?
Although some Pokémon cards are not worth more than $1, some worth tens and hundreds of dollars due to their rarity and are regarded as the holy grail, especially the first edition cards. If you are lucky to have a few in your deck of cards, then you could be set up for hefty cash in. Those that have established new records in recent years include:
1999 First Edition Shadowless Holographic Charizard
Price: $220,574
A PSA 10 Base Set 1st Edition Charizard just sold at auction with an ending bid of $183,812.00 via @IconicAuctions.

Including the 20% buyer's premium, the total transaction value exceeds $220k.

As of now, this is the highest known sale of the card. pic.twitter.com/2mwkoopTvL

— Artol0gy (@Artol0gy) October 10, 2020
This card is often referred to as one of the most sought after cards, having been printed in the Pokémon Trading Card Game's early days. They have been in existence for over twenty years and are limited in number. It's distinguished by a printing error as it doesn't have a shadow underneath the fire breathing dragon Pokémon.
As such, it stands out as one of the most valuable cards of all time, with the error being corrected in most of the subsequent print runs. This shadowless iconic card was purchased by former rapper, Logic, for a staggering $220,574 at an auction held in October 2020, thus, setting a new record as the most valuable Pokémon card.
Pikachu Illustrator Card
Price: $195,000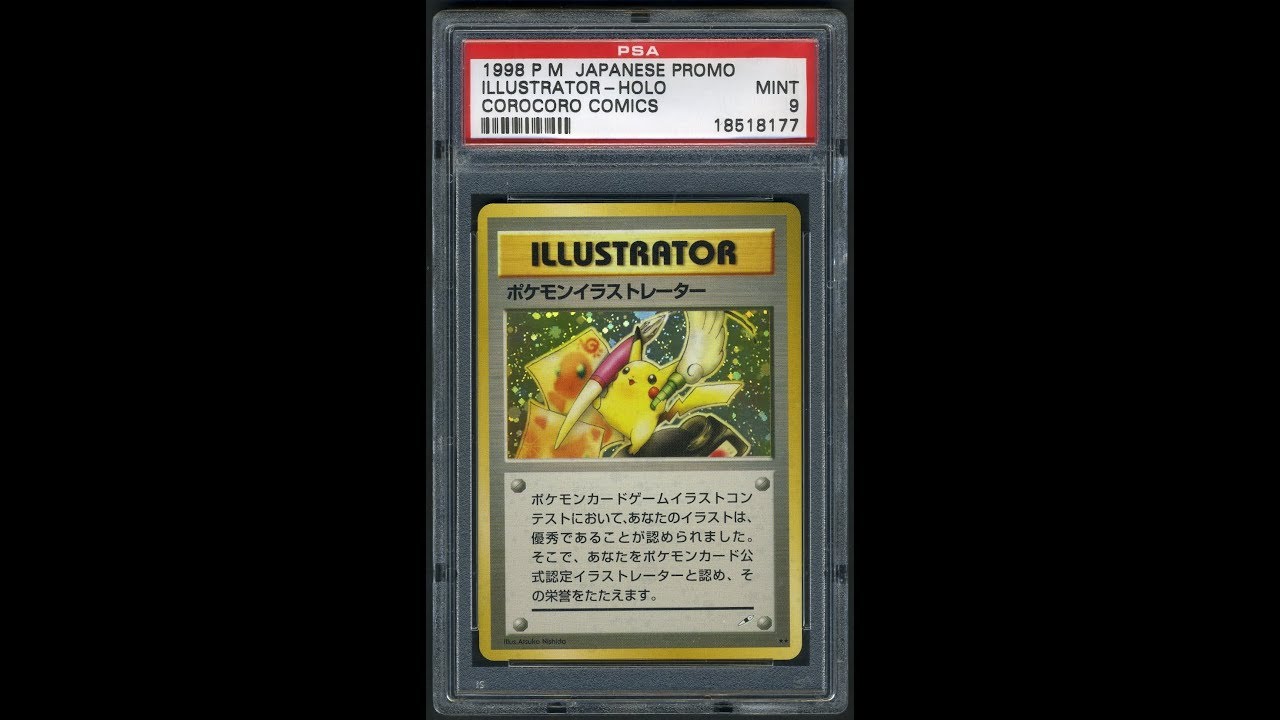 With less than 40 of the Pikachu Illustrator cards in existence, they are considered highly collectible Pokémon cards. They are awarded to the winners of the CoroCoro Comic Illustration Contest held in 1997. These valuable cards were obtained by the readers of the CoroCoro Comic magazine who submitted their self-designed Pokémon artwork and luckily, their artworks won a publication spot in the Japanese magazine in the January 1998 issue.
Pikachu Illustrator has a unique double star rarity symbol and illustrator written at the top of the card, instead of a trainer. A PSA graded Mint 9, Pikachu Illustrator card was auctioned for $195,000 in the year 2019.
1998 Kangaskhan Parent/Child Mega Battle Card
Price: $133,000
Very happy to have added this Trophy Kangaskhan to my collection! These were awarded to the winners of the parent/child tournament in Japan in 1998. Definitely the new centerpiece of my collection#TrophyKangaskhan #PokemonTrophyCard pic.twitter.com/fUzeqhCT51

— PokeCollect87 (@PCollect87) December 17, 2018
During the Parent/Child Mega Battle tournament organized in Japan in 1998, these Pokémon cards were awarded to teams that attained a certain number of wins. The card has a set symbol, the Pokeball symbol inscribed below the card artwork. It's also among the few Pokémon cards that have at their backs, the logo of Pocket Monsters Card Game.
Having been retired immediately after the competition, these cards become very rare. They are highly valuable to collectors and reportedly worth about $133,000.
Why Are Pokémon Cards Worth Collecting?
Pokémon cards are regarded as the safest cards because they can stay for decades without reducing in value once they are in perfect shape.
There has been a surge in the value of Pokémon cards in recent times.
As of March 2020, the Pokémon Trading Card Game has recorded sales of over 30.4 billion cards.
There has been astronomical demand for the First Edition Base set due to the limited supply of the graded ones.
Owning an original sealed box (English) can be considered a great achievement, as 1999 Base English First Edition was sold for over $370,000 at auction in October 2020.