Some of the most expensive royal weddings in history has gone a long way to prove that the statement "love doesn't come cheap" couldn't be truer. Weddings are some of the most wonderful moments in the lives of people all over the world. It takes a lot of planning and eats up a giant hole in your bank account. However, the most expensive wedding that the average person throws is nothing compared to how much royal families splurge on their wedding ceremonies. There is no end to the pomp and pageantry that comes with these events, as royals tend to go all out with everything from their outfits to flowers and even food.
The amount of money that has been spent on royal weddings are more than what most of us hope to possess in a lifetime. But for these stately families, spending lavishly on a wedding ceremony is a norm they don't even have to think twice about. Regardless of where in the world their kingdoms are located, what royal families have in common is their extravagant way of life. Here are 10 of the most expensive royal weddings in history to help you put royal spending in perspective.
10. Prince Al-Muhtadee Billah of Brunei and Sarah Salleh – $6 Million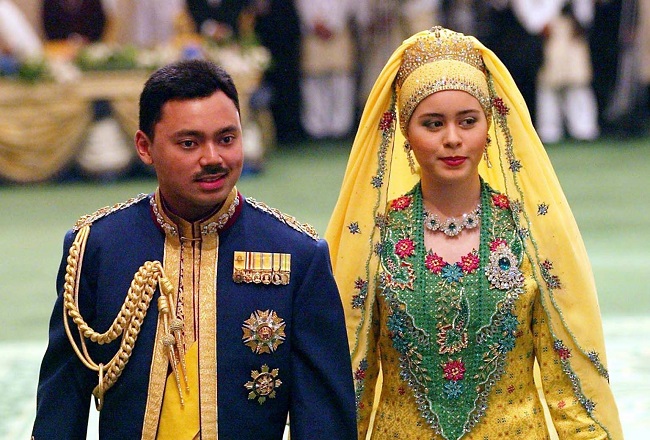 As the heir to the Brunei Sultanate, it's not surprising that Prince Al-Muhtadee Billah spent such a large sum of money on his nuptials. The 2004 wedding was exquisitely lavish and was attended by dignitaries from all over the world, including the Duke of Gloucester and Prince Naruhito from Japan. The ceremony was held at the Sultan's palace in Bandar Seri Begawan, Brunei.
After the marriage ceremony was concluded, the 30-year old prince and his 17-year old bride went on a parade around town in a spanking new golden Rolls-Royce stretch limousine. They were accompanied by a procession that consisted of an additional 103 limousines. A magical display of fireworks consumed the sky for upwards of 15 minutes in celebration of their union.
9. Prince Pavlos of Greece and Marie-Chantal Miller – $7 Million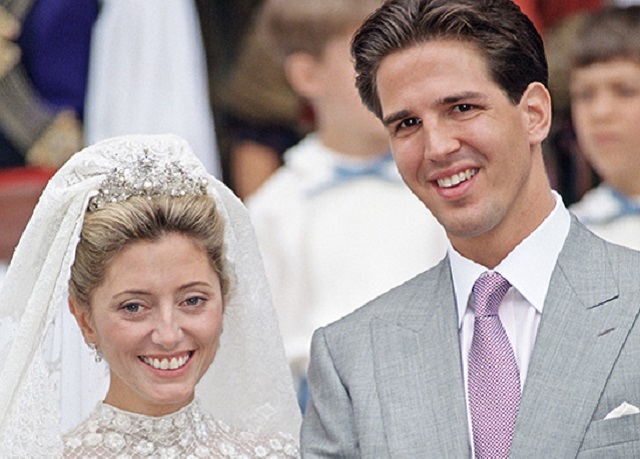 Despite the fact that this wedding took place as far back as 1995, it is still one of the most expensive royal weddings in history. Marie-Chantal was absolutely stunning in her $225,000 pearl-encrusted wedding dress created specifically for her by Valentini Garavani. Twelve different kinds of lace were used to make the gown over a period of four months.
The guests in attendance numbered 1,200. The ceremony took place at St. Sophia's Cathedral in London, while the reception was held at Hampton Court Palace, with 30,000 and 70,000 flowers imported from Ecuador used to decorate the respective venues. Even though the wedding cake consisted of eight layers, another 300 cakes were provided for guests.
8. Princess Hajah Hafizah Sururul Bolkiah of Brunei and Pengiran Haji Muhammad Ruzaini – $20 Million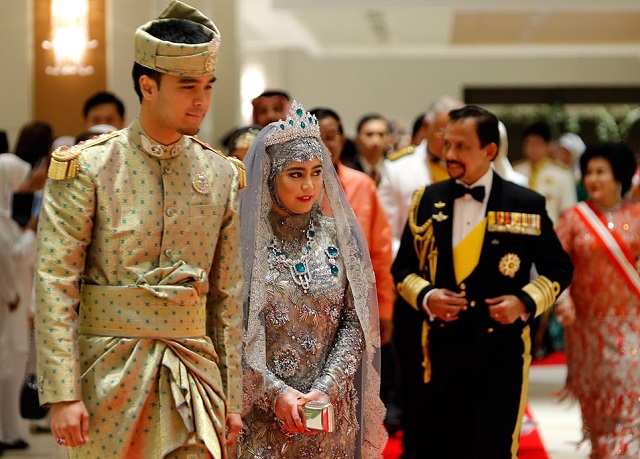 Princess Hajah is the Sultan of Brunei's fifth daughter, and no expense was spared when she got hitched. Her wedding ceremony actually took place on September 20, 2012, followed by a lavish celebration three days later. The million-dollar event held at the Nurul Iman Palace in Bandar Seri Bagawan. There were about 2,000 guests in attendance.
The beautiful princess rocked a silver and beige dress that was bedecked with crystals, while her husband also looked stunning in the same colors. Experts have estimated that the wedding cost over $1,000 for each guest.
7. Prince Felipe of Asturias, Spain and Letizia Ortiz Rocasolano – $29 Million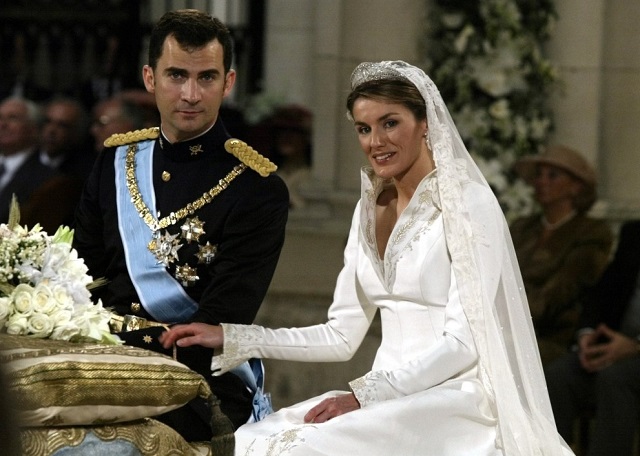 The Crown Prince of Asturias announced his engagement to the former journalist, Letizia Ortiz in November 2003, and on May 22, 2004, the lovebirds walked down the altar at the Almudena Cathedral in Madrid. The church was lined with over a million flowers and the ceremony was attended by 1500 guests including Crown Princess Victoria, Princess Madeleine of Sweden, King Constantine and Queen Anne-Marie of Greece, Prince Charles, Princess Caroline of Monaco, and Prince Carl Philip.
This expensive royal wedding went heavy on security with over 20,000 police on ground to offer protection. The reason for the excessive security was the terrorist bomb that had rocked Madrid only two months earlier. Champagne and all kinds of delicacies flowed at the wedding feast. Letizia was breathtaking in her Manuel Pertagaz gown and shoes designed for the occasion by Pura Lopez.
6. Prince Abdul Malik of Brunei and Dayangku Raabi'atul 'Adawiyyah Pengiran Haji Bolkiah – $30 Million
Yes, this is the third lavish wedding hosted by the Brunei Royal family, so that should give you an idea of how much money they have to throw around. Prince Abdul is the Sultan's youngest son. His wedding was celebrated over the course of 11 days beginning on April 5, 2015, and the festivities took place at the prestigious Nurul Iman Palace, known for being the largest residential palace anywhere in the world.
The beautiful bride was covered in prized jewels from head to toe. She wore a tiara that had six emeralds, a diamond brooch encrusted with two emeralds, anklets made of pure gold, a diamond necklace with three emeralds in the pendant, a diamond ring and bracelets, and Swarovski crystal-encrusted Louboutin heels. Instead of flowers, she held a bouquet of dazzling gems. It's obvious this wedding set out to put other expensive royal weddings to shame.
5. Prince William and Kate Middleton – $34 Million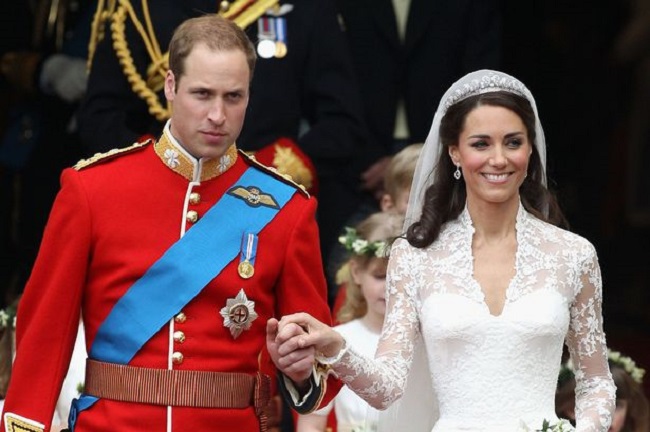 The British royals are incredibly skilled at throwing expensive royal weddings. Prince William and Kate Middleton's 2011 marriage is no exception. The televised ceremony held at Westminster Abbey and was accompanied by a parade of the newly wedded couple around the streets of London in a carriage drawn by horses.
Ever the fashion icon, Kate looked dazzling in her custom Sarah Burton gown that cost over $300,000. Extravagant as it might have been, their wedding was one of the most beautiful ceremonies witnessed by many in a long time. The wedding cake alone cost about $80,000, while flowers swallowed another $800,000. A huge chunk of the royal wedding expenses went towards providing adequate security for the celebrations.
4. Prince Harry and Meghan Markle – $39 Million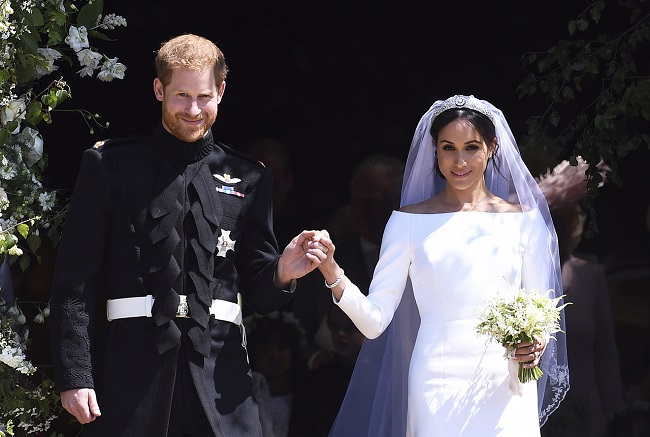 The actress became a member of the British monarchy when she married Prince Harry in May 2018 in one of the most expensive royal weddings in history. As usual, the ceremony was broadcast live around the world. It has been compared with the wedding of Kate and Prince William which held years prior.
Meghan Markle looked regal in her $478,000 dress designed by Clare Waight Keller for Givenchy. She donned a tiara worth over $2 million, which was taken out of the Queen's vault and given to her to wear for her special occasion. The cake and floral decorations cost more than $500,000. Once again, the bulk of the expenses went to footing the bill for security. Their wedding will always be one of the very best in history as far as the public is concerned.
3. Prince Albert II of Monaco and Charlene Wittstock – $65 Million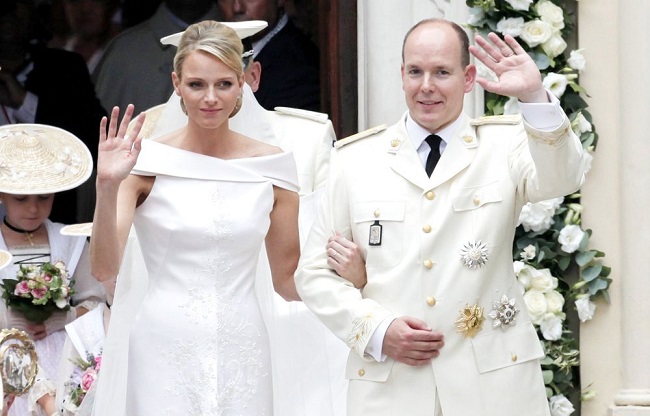 Prince Albert's wedding to the former South African Olympic swimmer, Charlene Wittstock was the talk of the town for a long time. It took place on July 1 and 2, 2011. The civil ceremony took place on the first day while the religious ceremony held on the second. Unlike most royal weddings, only 450 guests were in attendance, amongst which were renowned personalities like Giorgio Armani, Karl Lagerfeld, and Nicolas Sarkozy.
Charlene's wore a silk dress embellished with pearls and 40,000 Swarovski crystals by Giorgio Armani. The food served at the event was prepared by the famous chef Alain Ducasse.
2. Prince Charles and Diana Spencer – $70 Million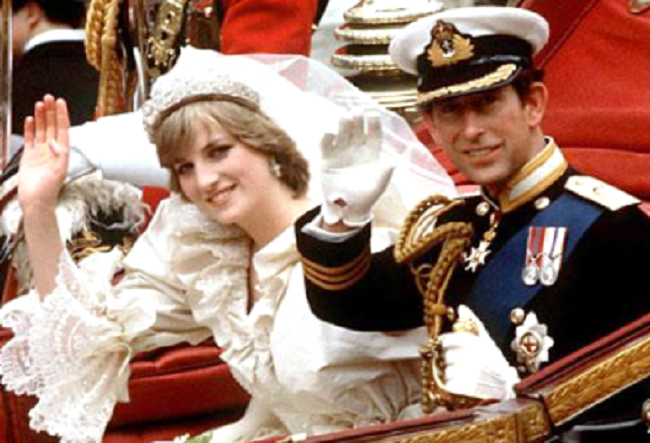 Take a minute to think about the fact that this wedding took place in 1981 and is still at the top of the list of most expensive royal weddings in history. The lavish ceremony held at St. Paul's Cathedral in London and was attended by hundreds of dignitaries from all over. The wedding cake was five feet tall and was accompanied by a backup up and 27 other cakes for the guests.
The magnificent Lady Diana looked like an angel sent to spend a little time with us mere mortals in her 25-foot train puffed up meringue gown made of taffeta and antique lace and embellished with 10,000 pearls. Her dress was created by David and Elizabeth Manuel. The wedding was watched by over 750 million people around the world, while 2 million people lined the streets to observe the event first hand.
See Also: Is The House of Saud The Richest Royal in The World, How Much Are They Worth?
1. Sheikh Mohammed bin Zayed Al Nahyan and Princess Salama – $100 Million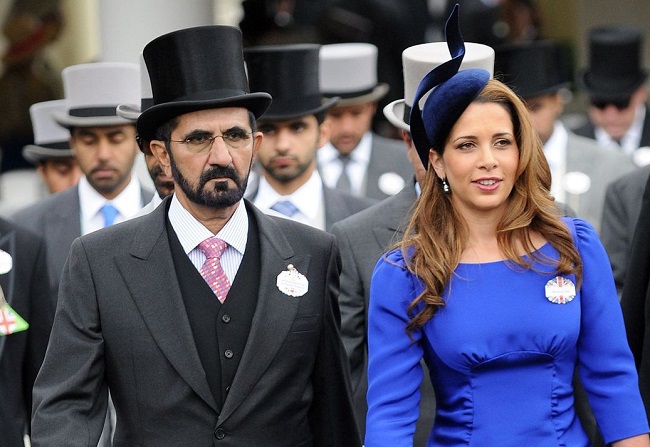 The most expensive royal wedding of modern times goes to the Crown Prince Sheikh of Abu Dhabi and Princess Salama of Dubai. The ceremony held in 1981, nearly 40 years ago, and it still remains unrivaled. The ceremony lasted 7 days; royals and other dignitaries were flown in to attend the wedding with 34 private jets. A new 20,000 seater stadium was specially built for the event and a five-day holiday was declared throughout Dubai. Now that's how you throw a royal wedding.