For a long time in human history, monarchy used to be the default style of government, and across the world, the system recorded varying degree of results. Although today, democracy is the leading form of government, there are still a few pockets of monarchy sprinkled across various countries in the world, either as primary or adjunct leaders. One of the defining traits of a monarchy is the level of wealth available to its members and with Saudi Arabia being one of the richest kingdoms in the world, people have wondered, is the House of Saud the richest royal in the world?
In this article, we examine the net worth of the royal family as well as determine if they are really, the richest royal in the world.
Is the House of Saud the Richest Royal in the World?
When it comes to royal families in the world, it goes without saying that the British Royal family is arguably the most popular in the world, with several of its members being one of the most influential personalities in the world. However, when it comes to wealth, the British Royal Family is a few several hundreds of million dollars away from the top of the ladder, all thanks to the magnanimous wealth of the Kingdom of Saudi Arabia.
The net worth of the entire House of Saud, which comprises of over 15,000 people is estimated to be over $1.7 trillion, which places them well above any other royal family in the world. Some of its family members, such as Prince Al-Waleed bin Talal, is one of the top 50 richest people in the world, with over $15 billion in net worth.
The House of Saud achieved its status as the richest royal in the world by beating out other major royal families such as the Kuwait royal family, which has a net worth of $360 billion, Qatar family with $335 billion, Abu Dhabi family with over $150 billion and the British royal family with $88 billion with the most adored Queen Elizabeth owning most of the family's wealth with over $480 million in personal net worth.
Other notable mentions among the richest royal in the world include Thailand's royal family which has a net worth of $60 billion, Brunei's royal family that has a net worth of $30 billion, Morocco's royal family with $20 billion in net worth and finally, the Dubai royal family which has a net worth of $19 billion.
Noticeably, among the top ten richest royal families in the world, only two of them are European, with the other (besides the British) being the Liechtenstein royal family with a net worth of $4.4 billion. The other families on the list have benefited greatly from its vast amount of oil reserves, including the House of Saud.
How Much Are They Worth?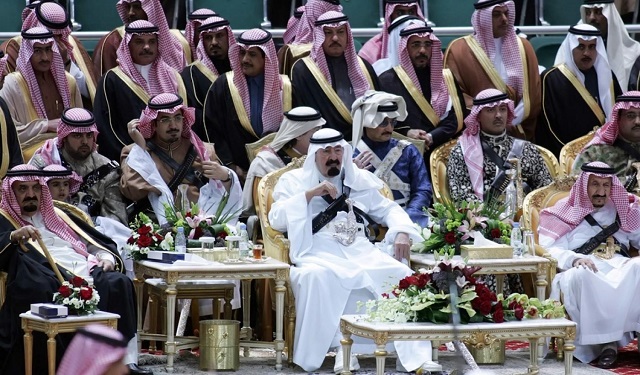 Having established that the House of Saud is the richest royal in the world, here is a look at how much they are worth and how they make their money.

As mentioned earlier, the House of Saud owns the largest royal family wealth in the world with a net worth of $1.7 trillion. The richest family member of the family is Al-Waleed bin Talal, who is the grandson of the first King of Saudi, Ibn Saud.

Although the entire family's wealth was born out of its vast oil and natural gas reserves, Al-Waheed bin Talal has grown and maintained his wealth through investments in tourism and hospitality, entertainment, retail, agriculture, financial services, aviation, technology, and real-estate sectors.

He is a prominent investor in Citigroup, 21st Century Fox, Four Seasons Hotel and he is the Chairman and CEO of Kingdom Holding Company, which has earned him a personal net worth of $15.2 billion.

Among the richest royal in the world are other notable members like Waleed Bin Ibrahim Al Ibrahim who has a net worth of $10.9 billion made through his role as the Chairman of Middle East Broadcasting Company, a business venture that made him the first commercially successful TV channel owner in the Middle East. Also, Saleh Abdullah Kamel, who is the chairman and founder of the Dallah al Baraka Group is worth an estimated $2.3 billion.

See Also: Top 15 Richest Royals In The World

One of the leaders of House of Saud, the deputy prime minister and Crown Prince of Saudi Arabia, Mohammad bin Salman is worth an estimated $1 billion.

Along with other prominent members of the family, which is believed to comprise of 15 thousand people but with the wealth shared among 2,000 of them, the House of Saud holds a firm grasp on the title of the richest royal of the world.

Fact Check: We strive for accuracy and fairness. If you see something that needs updating,