The British royal family has a combined net worth estimated at $88 billion, including the approximated value of their estates; Buckingham Palace and Royal Collection of art and the family's collection of Crown Jewels
Being a monarch comes with some serious financial benefits and when you are from one of the most famous and influential monarchial dynasties in the world like the British royal family, you live nothing but a regal lifestyle. Not only is the family influential, but they are also one of the strongest and richest authorities in the world.
The world at large has witnessed the majestic lifestyle of the British royal clan and it takes a huge fund to sustain it. But how do they make their money? Although taxpayers contribute to the British royal family's expenses, other sources have made their monarchy rich.
How Is The British Royal Family Financed?
It is reported that the family has a well-cushioned income from different sources including the UK parliament and the House of Windsor inform of a sovereign grant which is one percent of yearly profits of the Crown Estate. The Crown Estate produces an estimated $400 million every year, including income from 263,000 acres of land that is farmed and structured in central London. The Estate which is known to be the biggest property owners in the UK also holds $14 billion worth of property in the United Kingdom. The Royal Family's official financial expenses such as attending world's events, salaries of employees, public engagements, official entertainment, the cost of caring for various royal residences, among others are covered by the Sovereign Grant. According to reliable sources, the Sovereign Grant amounted to $104.8 million approximately in 2019, which is an estimated 65 pence annually for each taxpayer.
Beyond the Royal Sovereign Grant, another significant source of income for the British Royal family is the revenue from the two royal Duchies of Lancaster (basically funding the Queen) and Cornwall (private estates of British Monarchy which exist as an independent entity from the crown estate which currently belongs to Prince Charles). For the 2014-2015 financial year, the Duchy of Lancaster was valued at £472 million, providing the royals with £16 million in revenue. Similarly, for 2011 to 2012 financial year, Duchy of Cornwall generated £728 million with a yearly profit of £18.3 million paid to the Prince. In addition, the British royal family earns from a parliamentary annuity which reportedly pays the Duke of Edinburgh £359, 000 annually and gets income from private investments. With all these sources in mind, the British royal family has a combined net worth estimated at $88 billion, including the approximated value of their estates; Buckingham Palace and Royal Collection of art and the family's collection of Crown Jewels
Read Also: Get To Know The 10 Richest Billionaire Royals In The World Right Now
What Is The Net Worth of Queen of England and How Does She Make Her Money?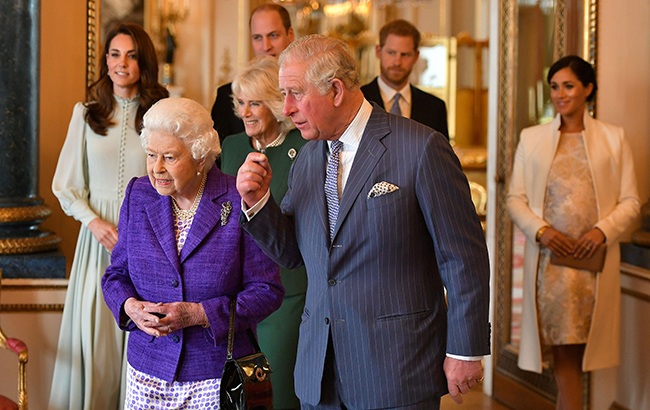 The Queen of England had a net worth of $530 million as of 2016, according to Forbes which primarily comes from her private investments, the Privy Purse and Sovereign Grant. Her majesty's personal wealth also takes into account her inheritance, an estate from her mother believed to be worth £70 million in 2002. She is also the owner of Sandringham House said to worth $65 million where the family enjoys Christmas and Balmoral Castle (worth $140 million) where she usually stays every summer. In addition, the Queen receives 15 percent of the crown estate annually which is around £60 million. Normally, the Queen received a 15 percent grant from Crown Estate approved by the UK government but this has been increased to 25 percent due to the renovation of Buckingham Palace expected to last up until 2027. For this reason, the Queen received £76.1m, including for the first time, the amount for the remodeling of the palace between 2017 and 2018.
How Much Is Each Of The British Royal Family Members Worth?
Prince Philip was not a British royal by blood but through his marriage to Elizabeth II, he was able to make his way into the family. He was allegedly worth around $30 million. Prince Charles is the next in line to the British throne and while he would become the king someday, he already plays a very significant role in the royal family. This means that he reaps from the benefits the royal family receives annually. However, much of his income comes from the property named the Duchy of Cornwall, comprising of nearly 131,000 acres of land in almost 24 countries.
The estate houses many structures for different purposes such as commercial and residential, which generates yearly income for Prince Charles. While revenue from Duchy of Cornwall is his main source of income, his tours are covered by Sovereign Grant which means they're paid for by British taxpayers. His actual net worth is estimated at $400 million – over 100 million less compared to his mother's net worth. This amount is bound to increase, knowing that for sure, he will inherit from his parents when they eventually leave the earth.
For Prince Charles' children; Prince William and Harry, they're also royal blood and as such, enjoy money from British taxpayers, investments, and inheritances. Prince Willam has a net worth of $40 million, including his inheritance from his mother Diana and a share of over $4 million he and his brother Harry receives from their father to cover royal expenses. This excludes his annual salary of about $62,000 as a helicopter pilot in the Royal Air force where he worked for the East Anglian Air Ambulance.
Prince Harry also got $10 million inheritance when he clocked 30 and receives the same allowance as his brother from their father. He also earned $45,000 annually for serving as an officer in the Army Air Corps and had scooped about $53,000 annually as a helicopter pilot for the Army Air Corps.
The wives of the Princes are not doing bad financially, either. Kate Middleton's financial value is pegged at $10 million from United Kingdom clothing sales and visits to other countries. As we all know, Meghan Markle had a flourishing career in Hollywood before her marriage. She allegedly earned $80,000 annually from endorsements and $50,000 for performing in each episode of Suits. She also made money from her lifestyle blogging and entrepreneurship, all of which brings her total annual income to $450,000. Now that she is married to a Prince, her actual net worth is pegged at $5 million.