There are various forms of human celebrations but weddings happen to be among the most popular and beloved celebrations across cultures and races. Many things define a wedding, but a cake is one of the most important, which is why celebrities whose weddings make major magazines across the globe spare no expense on it, as shown by some of the most expensive celebrity wedding cakes in the world.
From the Royal weddings to Hollywood weddings, bakers are put to task to create masterpieces that would be spoken about long after the marriage ends, if it ends. In this iteration of our top ten list, we examine just how much the most expensive celebrity wedding cakes in the world cost. Check them out below.
Most Expensive Celebrity Wedding Cakes
1. Prince William and Kate Middleton's Royal Wedding Cake
Cost: $80,000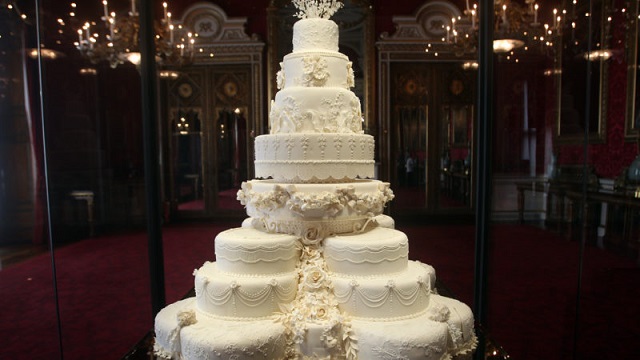 Ask yourself, if you imagined who would have the most expensive celebrity wedding cake, wouldn't your answer be a member of the royal family?
It is established that cakes are a big affair when it comes to celebrity weddings, but in a royal wedding where having everything grandly is the standard, run-of-the-mill celebrity cakes would not do and that is why Prince William and Kate Middleton's Royal Wedding tops our list with a cake worth $80,000. The winning cake is an eight-tiered fruit cake with white icing and 900 sugar paste flowers, created out of the mind of celebrity cake designer, Fiona Cairns.
Aside from its already impressive height and design, it also spotted 17 different symbolic flowers. The seventh tier bore flowers that represented the countries under the United Kingdom while the tier just below it bore the initials of the couple circled by sugar lily of the valley flowers. While it is safe to say it was a delicious cake, it wouldn't have mattered if it wasn't. It was enough to be in the presence of this wonderful ceremony.
2. Donald Trump and Melania Knauss Wedding Cake
Cost: $50,000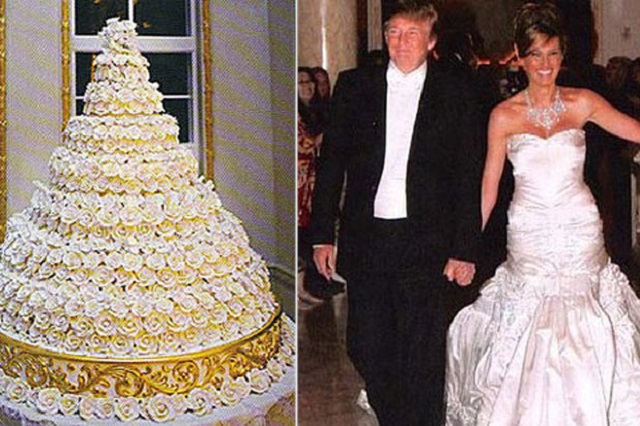 Even before he became president, President Donald Trump has always had an eye for ostentatious display of his wealth, you only need to take a look at his Trump Tower penthouse to see it and when it comes to marrying his third wife, First Lady Melania Knauss, he made sure to spare no expense.
The wedding cake was an extravagant take with the shape of a ball gown from a Disney movie. It was five feet high, weighed 200 pounds and had a base diameter of 32 inches. The seven-tiered cake was draped in 3000 white icing roses whose insides were filled with Grand Marnier buttercream.
This was the cake for a billionaire and its designer, pastry chef Cedric Barbaret made sure it was evident by spending two months to engineer this beautiful piece of pastry. And if you happen to be wondering if guests ate out of the cake? The answer is no. Every guest was treated to their own individual cake filled with the chocolate truffle with a single rose on top.
3. Princess Diana and Prince Charles's Flowered Wedding Cake
Cost: $40,000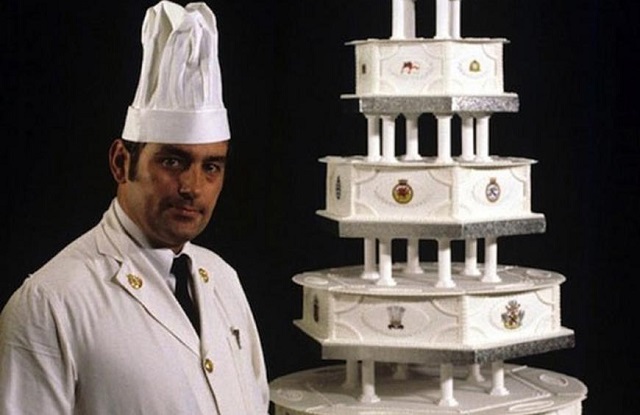 Sandwiched between the second most expensive celebrity wedding cakes in the world and the fourth is no other than another Royal cake. The $40,000 cake was made in celebration of the wedding of Prince Charles and Princess Diana, who is arguably the most popular and beloved royal in the world, even more than the Queen.
The $40,000 cake made for their wedding in 1981 was made by David Avery of the Royal Naval Cookery School and it took over 14 weeks to prepare i.e the five-foot-tall masterpiece and 27 wedding cakes that were attached to it. As one would expect in a major wedding such as this, a duplicate of the entire lineup was made and it only set the Royal family back $40,000.
Some of the beauty of the cake include decorating it with roses, lilies of the valley, and orchids. It also bore the royal coat of arms of the Prince's family. Of course, if you factor in inflation, the cake would be worth $100,000 today. Yet, at that figure, it was not the most jaw-dropping thing about their marriage.
4. Liza Minnelli and David Gest's Red Accent Wedding Cake
Cost: $40,000
American actress, Liza Minnelli was married to David Gest, an American producer and TV personality between 2002 and 2007. The wedding was David's first and Liza's fourth and it was special as one would expect from two people who are Hollywood royalty. It was a luxurious affair and the cake was there to prove it.
Their wedding cake was a colorful 12 tiers high cake with black and white colors. The cake also featured sterling silver-leafed stripes and layering of red and purple sugar roses. This gorgeous work of art was made by Palermo Bakery and it only cost $40,000, tying with Princess Diana's wedding cake in price.
Aside from the cake, the wedding was significant in other ways for both parties, because it was the last wedding either of them ever had.
5. Eddie Murphy and Nicole Mitchell's Floral Wedding Cake
Cost: $25,000
Eddie Murphy was and remains a formidable name in comedy and movies in American and along with such high status came a degree of attention that made his wedding a similar affair to a Royal wedding. However, while he did not cough out as much as the Royals did for two weddings, he and his bride, Nicole Mitchell did just enough to make the most expensive celebrity wedding cakes list with their $25,000 floral cake.
The cake, like many on this list, was multi-tiered and it consisted of several hundred flowers. The rest of the luxury that went into this cake remains unknown but from looking at the pictures, it is safe to say guests had their fill of it.
6. Elvis and Priscilla Presley Wedding Cake
Cost: $22,000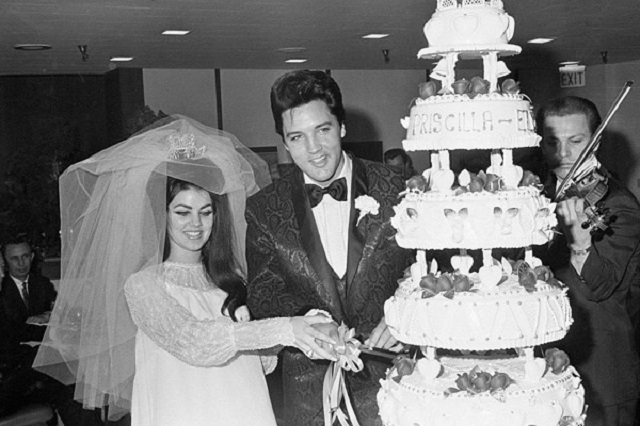 You cannot speak of music royalty or celebrity history in the United States without speaking of Elvis Presley and according to records of his wedding to Priscilla Ann Beaulieu, it would appear he set records in places other than music.
The rock and roll singer got married to Priscilla in Las Vegas, with a lavish reception that featured a five-foot cake with six tiers that cost $22,000. It was a sponge cake that was filled with apricot marmalade and Bavarian cream, which was then topped with over 1,500 marzipan roses. By describing it, we can tell it was as much a delicious meal as it was a gorgeous looking work of art.
7. Kris Humphries and Kim Kardashian Black and White Marble Cake
Cost: $20,000
The marriage of Kris Humphries to Kim Kardashian is popular for many reasons, the biggest being that it lasted 72 days. However, before it went sideways, another major milestone was the $20,000 cake that graced the reception of their televised wedding.
It was an eight-foot-tall cake that weighed 600 pounds with tiers that alternated in color between black and white. It was a chocolate-chip marble cake that was decorated with buttercream frosting.
Compared to their respective personalities, the cake paled in comparison in grandiose but it still cost more than enough to feature among the top ten expensive celebrity wedding cakes in the world.
8. Chelsea Clinton and Marc Mezvinsky's Gluten-Free Cake
Cost: $11,000
Before gluten-free meals became all the craze, the daughter of the former First Lady of the United States, Chelsea Clinton was already setting records with her $11,000 gluten-free cake from her wedding to Marc Mezvinsky.
The 2010 wedding cake was made out of vanilla sponge cake created with gluten-free flour blend. It also had layers of chocolate mousse and was covered in vanilla fondant. As for size, it is not the tallest cake ever created but it had considerable height at four feet from its nine tiers.
The cake was quite the heavy work of art too because it weighed almost 500 pounds, from over 1000 sugar flowers in the shape of calla lilies, roses, and orchids that adorned it. For $11,000, it is the eighth most expensive celebrity wedding cake in the world.
See Also: Top 30 Most Expensive Celebrity Weddings Till Date
9. Michael Douglas and Catherine Zeta-Jones Vanilla Cake
Cost: $7000
As far as average cake prices go, $7000 might be too steep for the average couple but it was only enough to earn Michael Douglas and Catherine Zeta-Jones the 9th position among the most expensive celebrity wedding cakes in the world. The wedding of the two Hollywood royalties featured a cake made by Sylvia Weinstock, who created the ten-tier vanilla and buttercream cake.
What it lacked in price, it made up for in size and this ten-tier cake was so big, that parts of it had to be removed to get into the wedding reception. Michael and Catherine remain together, and so does our memory of their $7000 vanilla cake.
10. Kim Kardashian and Kanye West's All White Wedding Cake 
Cost: $6,685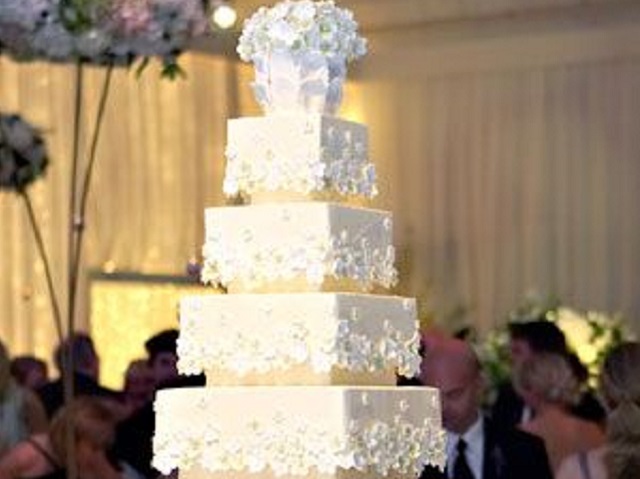 Kim Kardashian makes this list for the second time with her subsequent marriage to Kanye West after she divorced Kris Humphries. Their wedding, which was held in Florence, Italy was befitting of the socialite and her megastar husband. And in a lavish affair such as this, a cake worthy of the occasion is expected and KimYe did not disappoint.
The wedding had a seven-tier all-white cake with fruit layers that were all wrapped in the deliciousness of white frosting. To protect the elegance of the cake, it took three people to carry it to its position, where it adorned the beauty of their wedding. At a cost of $6,685, it wraps up our top ten list of the most expensive celebrity wedding cakes in the world.