| Net Worth: | $110 Million |
| --- | --- |
| Age/Date of Birth: | (73 years old) May 13, 1950 |
| Height: | 6 ft or 183 cm |
| Ethnicity/Race: | African American |
| Nationality: | American |
| Wife or Girlfriend: | Tomeeka Bracy (2017-Present). He was previously married to Syreeta Wright (m. 1970; div. 1972), Kai Millard (m. 2001; div. 2012) |
| Parents: | Calvin Judkins and Lula Mae Hardaway |
Stevie Wonder is an American singer, songwriter, multi-instrumentalist, and record producer who has a net worth of $110 million.
After birth complications left him blind, Wonder went on to beat all odds to become one of the most talented musicians the world has ever seen. He has sold over 110 million records worldwide with over 30 Top 10 hits under his belt. Stevie Wonder has won 25 Grammy Awards making him the most awarded solo artist of all time. Here is everything about his rise to fame and wealth.
His Early Life
Stevland Hardaway Morris was born on May 13, 1950, in Saginaw, Michigan. Born as a premature baby, Stevie had to spend some days in the incubator. Unfortunately, excess oxygen in the incubator led to complications that left him permanently blind. With no sight, Stevie developed an increased sensitivity towards the sound which fueled his interest in music. At an early age, he began playing the piano, harmonica, and drums. Stevie quickly became a child prodigy showcasing his talents in his Detroit church, on the streets, and at parties.
At the age of 11, Stevie Wonder grabbed the attention of Motown CEO Berry Gordy who signed him to his first-ever record deal. According to the contract, Wonder's royalties were to be held in a trust until he turned 21. Stevie worked with Motown producer Clarance Paul who named him "Little Stevie Wonder," birthing his lifelong stage name. With that contract, Wonder received a weekly stipend of $2.5 from Motown.
What We Know About Stevie Wonder's Family
Stevie comes from a broken home with his mom divorcing his dad when he was only four. His mother relocated to Detroit with Stevie and his siblings. She changed her name back to Lula Hardway and later changed her son's surname to Morris. Stevie has retained Morris as his legal name. Wonder's mother Lula Mae Hardway passed on in May 2006 at the age of 76. Due to the Loss, Stevie started touring to deal with all the pain that came with the loss. 
Meet His Wife and Children
Stevie Wonder has married thrice and divorced twice. He has fathered 9 children with 5 women. Remarkably, he has been able to maintain a great bond with all of his kids.
Syreeta Wright Was His First Wife
Date of Birth: August 3, 1946
Occupation: Singer-songwriter
Duration of Marriage: 1970 – 1972
No of Kids with Stevie: Nil
Stevie Wonder's first marriage was in 1970 to fellow Motown artist Syreeta Wright. The pair amicably called it quits in 1972, after only 18 months of marriage. Syreeta is remembered for her exploits in the music industry between the early 1970s and early 1980s. She collaborated a great deal with Stevie and died of congestive heart failure in 2004.
Kai Millard Was the Second Wife of the Famous Singer
Date of Birth: May 13, 1957
Occupation: Fashion Designer and Style Influencer
Duration of Marriage: 2001 – 2012
No of Kids with Stevie: 2 Sons (

Kailand Morris, Mandla Kadjay Carl Stevland Morris)
Following the end of his first marriage, Stevie Wonder pursued a romantic relationship with Yolanda Simmons, an actress with whom he had his first two kids, Aisha and Keita Morris. Thereafter, he dated Melody McCulley and had his son Mumtaz with her. The singer would go on to date other women with whom he had Sophia and Kwame Morris before his relationship and subsequent marriage to Kai Millard happened.
Wonder's second marriage was in 2001, he remained married to the fashion designer for 11 years until he filed for divorce citing irreconcilable difference. They had separated in 2009 and officially divorced in 2012. Wonder was ordered to pay her $25,000 per month for the support of their two sons Kailand and Mandla. Millard also received a slice of his wealth.
Stevie Wonder Is Currently Married to Tomeeka Robyn Bracy
Date of Birth: Sometime in 1975
Occupation: Undetermined
Duration of Marriage: 2017 – Present
No of Kids with Stevie: 2 Daughters (Zaiah and Nia Morris)
After separating from his second wife, Wonder began dating Tomeeka Robyn Bracy whom he married in 2017. Nonetheless, their relationship dates back to 2012 when they reportedly started living together. Theirs was a lavish and memorable wedding.
The event took place at Hot Bel-Air in Los Angeles and was witnessed by prominent figures like Pharrell Williams and John Legend, amongst others. The couple shares two children, one of who was born before they got married.
Aisha Morris
Date of Birth: February 2, 1975
Occupation: Singer-songwriter
Mother: Yolanda Simmons
Yolanda Simmon gave birth to Stevie Wonder's first child Aisha Morris. Young Aisha inspired the legend's hit single" Isn't She Lovely". She is also a singer and has been seen on stage with her dad on several occasions. Among other things, Aisha is known for projects that revolve around her father like Stevie Wonder: Live at Last (2009), The 25th Anniversary Rock and Roll Hall of Fame Concert (2009), and BBC Stevie Wonder 1981 Documentary.
Keita Morris
Date of Birth: Sometime in 1977
Occupation: Singer and DJ
Mother: Yolanda Simmons
Keita Morris is the younger brother of Aisha Morris and the second child Stevie Wonder had with Yolanda Simmons. Also a part of the entertainment industry, Keita is best known as a DJ Jersey Wonder. As a singer, he has several songs on his Soundcloud account. Keita has at least two children; a son and a daughter respectively named Asmar and Lula Mae.
Mumtaz Morris
Date of Birth: Sometime in 1983
Occupation: Singer
Mother: Melody McCulley
Mumtaz is the son the popular singer had with Melody McCulley in 1983. While much hasn't been heard from him in recent times, we can tell that he had been pursuing a career as an R&B singer. He has a Mixcloud account with a single titled The Gift and The Curse. It's a song that expresses his feelings about what it means to be the son of a legendary musical icon.
Sophia Morris
Date of Birth: Undetermined
Occupation: Undetermined
Mother: Unknown
Stevie has another daughter named Sophia but much isn't known about her, not even the identity of her mother. Nevertheless, we can tell she shares a great bond with her father and spends most of her time working with blind young people. She once created a piece of jewellery to honour her father and celebrate the bond she has with him. The necklace spells "love" in braille.
Kwame Morris
Date of Birth: August 6, 1988
Occupation: Model and Entrepreneur
Mother: Unknown
Kwame's mother is only known as one of the unidentified women Stevie wonder had a relationship with. Kwame is a model signed to Storm Management based in Los Angeles. He graduated from Morehouse College where he obtained a degree in Sociology and is the founder of Yagan Stone Eyewear. According to his Linkedin page, his professional experience extends beyond the entertainment industry to include marketing, start-ups, and venture capital.
Kailand Morris
Date of Birth: September 1, 2001
Occupation: Model and Musician
Mother: Kai Millard Morris
Kailand Morris is one of the two sons Stevie had with his second wife, Kai Millard Morris. Known as Wonderboy, Kailand got the name after he started performing with his father on stage as a drummer. While much hasn't been heard from him music-wise, he has been making strides as a model. It is known that Kailand has modelled for popular brands like Comme des Garcons, Dolce & Gabbana, and Pyre Moss.
Mandla Kadjay Carl Stevland Morris
Date of Birth: May 13, 2005
Occupation: Fashion Designer, Actor, and Singer
Mother: Kai Millard Morris
Mandla is the second song the famous singer had with his second wife. Mandla is also pursuing a career in showbiz. While he is aspiring to become a fashion designer like his mother, he is famous as a TV personality who participated in Dancing with the Stars: junior. Mandla had a cameo in 2018's "A Star Is Born" and has been working towards releasing some songs.
Zaiah Morris
Date of Birth:
Occupation: Undetermined
Mother: Tomeek Robyn Bracy
Zaiah is the eighth child of the singer and the first child he had with his current wife, Tomeeka Robyn Bracy. For reasons that are not clear, she is the least known child of the singer, almost nothing is known about Zaiah.
Nia Morris
Date of Birth: December 17, 2014
Occupation: Undetermined
Mother: Tomeeka Robyn Bracy
The singer had a daughter with Tomeeka Robyn Bracy named Nia, which means purpose. Nia is the youngest child of Stevie wonder and given her age, it is impossible to tell at the moment what the future holds for her.
Analysis of His Net Worth: How Much Is He Really Worth?
Wonder's music career may seem blissful from afar but it wasn't without hiccups. His success was not immediate. Wonder had to persevere through the mild success of his first, two albums. His first major hit came at the age of 13 with the single "Fingertips" which reached No. 1 on the Billboard Hot 100, making Wonder the youngest artist in history to top the charts.
However, it was as though Stevie would become one of those one-hit wonders when he struggled to match his initial success. Even Motown considered releasing him from the contract. However, they decided to take a chance on him. At this point, Stevie honed his singing, songwriting, and piano skills.
After dropping Little from his name, Stevie regained glory with hits like "Uptight (Everything's Alright)" and "Blowin' in the Wind." With minor bumps in the road, Wonder ended the 1960s with a strong foot and ultimately became a multi-millionaire.
Stevie Wonder Has Sold Over 100 Million Records Across the Globe
Wonder's career witnessed continuous success, taking the world by storm from the early 70s. After his initial contract expired in 1971, Wonder worked independently before resigning to Motown on an unprecedented 120-page contract that gave him total control of his works and greatly increased his royalty rate. 1n 1971, Wonder earned $21 million from the deal.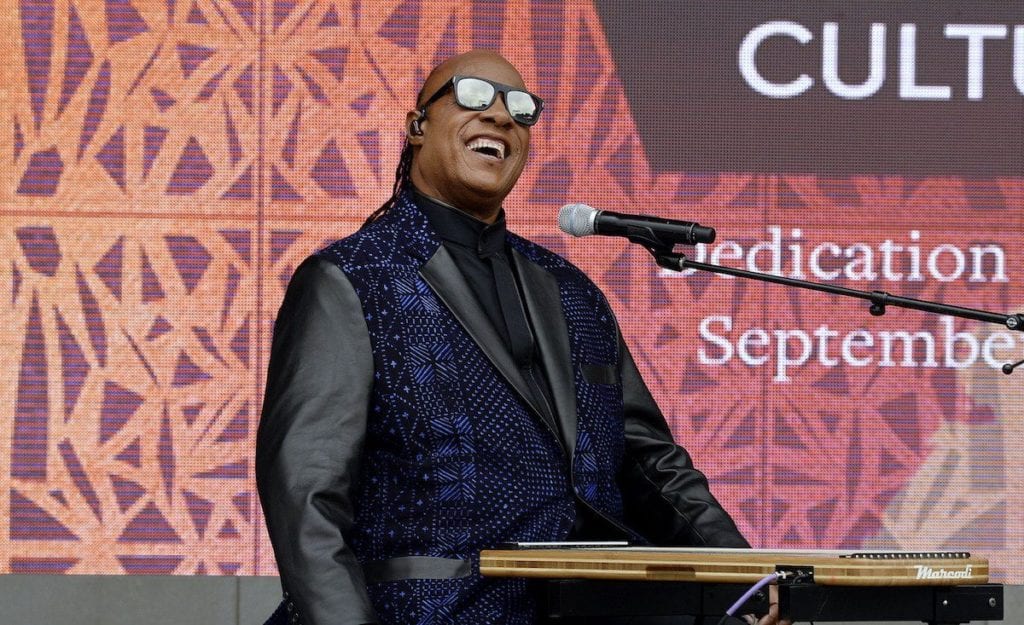 Throughout the 70s, Wonder enjoyed the most consistent success of his career. His 1972 album "Talking Book" was tremendously successful. It spawned the hit songs "Superstition" and "You Are the Sunshine of My Life" which both brought him 3 Grammy Awards. Stevie toured alongside the Rolling Stones in support of the album, exposing him to a wider audience.
His next album "Innervision"s (1973) won 3 Grammy Awards including album of the year. In the midst of paradise, tragedy struck when Wonder was involved in a ghastly car accident. Like all other hurdles in his life, he overcame and returned stronger with "Fulfillingness' First Finale" (1974) and "Songs in the Key of Life" (1976).
Both albums each garnered 3 Grammy Awards. The latter contained some of Wonder's most evergreen hits. After going on a 3-year hiatus, Wonder made a comeback in the 80s with even more commercial success. His studio album Hotter than July (1980) became his first platinum-selling album. The album's single "Happy Birthday" helped Wonder successfully campaign for Dr. Martin Luther King's birthday to become a national holiday.
As years passed, Wonder became less prolific. However, he continued to collaborate with a wide array of artists. His body of work includes 23 studio albums, three soundtrack albums, and four live albums. He has sold over 100 million records across the globe.
List of Stevie Wonder's Highest-selling Albums
Fulfillingness' First Finale (1974)
Songs in the Key of Life (1976)
Hotter than July (1980)
The Woman in Red (1984)
In Square Circle (1985)
Characters (1987)
Song Review: A Greatest Hits Collection (1996)
The Definitive Collection (2002)
A Significant Portion of His $110 Million Net Worth Came from His Concert Tours
Wonder has also been successful on the road. He is known to have performed sold-out concerts in every country he has toured. For instance, his Songs in the Key of Life Tour which kicked off on the 6th of November 2014 and ended on the 24th of November 2015 grossed $41.7 million from 46 shows.
The singer has had at least 500 concerts in his career. Considering that, it is not difficult to see that earnings from concerts and tours have contributed in no small manner to Stevie's fortune.
The Singer Spends His Money on Charity and Real Estate
His hometown is Detroit but Stevie has lived in several places over the years. Way back in 1979, the singer bought a property in Los Feliz, Los Angeles for $435,000. He would later list the 4,511 square foot home built in 1928, asking for over $3.2 million.
The singer currently lives in Bel-Air Crest, Los Angeles and reports have it that he owns another property in Alpine, New Jersey.
Wonder is very public-spirited and has supported various charitable causes over the years. His humanitarian efforts have been traced to establishments like the United Negro College Fund, Global Poverty Projects, Children's Health Fund, Children in Need, American Foundation for AIDS Research, Habitat for Humanity, and so much more.
A Summary of His Career Achievements
He has sold over 100 million records
Nominated for 74 Grammy Awards and won 25
Received Grammy Lifetime Achievement Award in 1996
Has won one Academy Award
Bagged a Lifetime Achievement Award from the National Civil Rights Museum
Received a Presidential Medal of Freedom from President Barack Obama in 2014
Stevie Wonder is one of the United Nations Messengers of Peace
The City of Detroit renamed his childhood street, Milwaukee Avenue West, to Stevie Wonder Avenue
Doctor of Music honorary degree from the University of Alabama at Birmingham
Doctor of Music honorary degree from Yale University
Profile Summary
First Name:
Stevland
Last Name:
Judkins
Also Known As:

Stevie Wonder, Little Stevie
Sex/Gender:

Male
Profession:

Singer, songwriter, musician and record producer
Famous For:
Being one of the most commercially successful music artists and being a very highly acclaimed musical performer with more than 24 Grammy Awards to his name
Colleges/Universities Attended:

Michigan School for the Blind in Lansing
Educational Qualifications:

Not available
Religion:

Christian
Birthday & Zodiac

Age/Date of Birth:

(73 years old) May 13, 1950
Zodiac Sign:
Taurus
Birth Place:

Saginaw, Michigan, United States
Nationality:
American
Ethnicity/Race:

African American
Country of Residence:

USA
Physical Attributes

Height:

6 ft or 183 cm
Weight:

90 kg or 198.5 lbs
Eye Colour:

Black
Hair Color:

Black
Other Body Measurements:

Not available
Relationships

Marital Status:

Married
Spouse/Partner:

Tomeeka Bracy (2017-Present). He was previously married to Syreeta Wright (m. 1970; div. 1972), Kai Millard (m. 2001; div. 2012)
Family and Relatives

Father:

Calvin Judkins
Mother:
Lula Mae Hardaway
Children:

Aisha Morris, Keita, Mumtaz Morris, Kwame, Sophia, Kailand, Mandla Kadjay Carl Stevland Morris, Nia, and a son whose name is not known
Siblings:
Stevie has two older and three younger siblings
Other Relatives:

Calvin Judkins (Paternal Grandfather), Emma Batch (Paternal Grandmother), Noble Hardway (Maternal Grandfather), Mary Ella Tilman (Maternal Grandmother)
Net Worth
Estimated Net Worth:

$110 Million
Salary:
Not available
Source of Wealth:

His music career