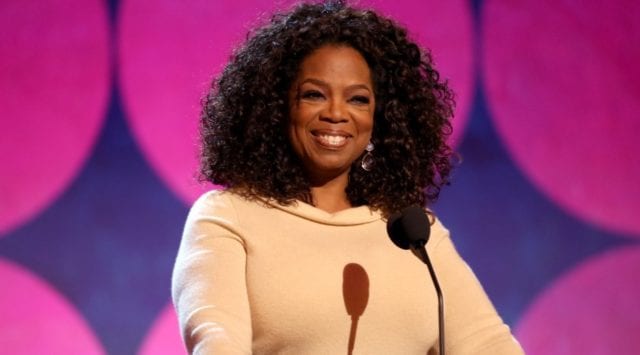 Oprah is a media mogul, an actress, philanthropist, television host, and producer. In 2018, Oprah Winfrey won the Cecil B. DeMille award at the Golden Globes and gave a speech that reignited calls for an Oprah 2020. It was just another signpost of how far Oprah has come from a less than rosy childhood to a future where she is considered one of the richest black women in the world.
Oprah Winfrey Age & Career Success
Oprah Winfrey was born on January 29, 1954, in Kosciusko, Mississippi. She grew up in the harsh environment of poverty and abuse – she was abused sexually by male relatives and some friends of her mother – but by 1976 she had moved to Baltimore to host a hit television chat show. Before that, however, she went to the Tennesse State University in 1971 and her grades were exemplary.
After her stint in Baltimore, Oprah was recruited by a Chicago TV station to host a morning show. With the nationwide fame garnered from the success of the show, Oprah Winfrey had a role in Steven Spielberg's 1985 film The Color Purple. She was nominated for an Academy Award for Best Supporting Actress. It was after this that The Oprah Winfrey Show would come to life and go on to air for 25 seasons from 1986 to 2011. It drew in an audience of 10 million viewers around the world and was aired on 120 channels. Oprah Winfrey soon gained ownership of the show from ABC and it came under the direction of her new production company – Harpo Productions. After the show rounded up, Oprah launched her own TV network, the Oprah Winfrey Network (OWN).
See Also: Diana Ross Daughter, Children, Husband, Family, Net Worth, Wiki
Oprah Winfrey had other projects with Harpo including the highly rated 1989 TV miniseries, The Women of Brewster Place, which she also starred in. In 1999, she co-founded Oxygen Media a company dedicated to producing cable and Internet programming for women. Her Oprah's Book Club launched during an episode of her talk show is dedicated to promoting unknown authors and expose them to the world. Her Oprah Winfrey Leadership Academy for Girls established in South Africa is dedicated to the girls that are less fortunate. Oprah has donated over half a billion of her personal wealth to philanthropy.
Oprah Winfrey Net Worth
Oprah Winfrey made a fortune from her many years in TV. She has been named severally among the richest people in the world. According to the Forbes billionaires in 2015, Oprah ranks at number 803 and though that might seem too far from the top, it is also believed that she is the richest black woman in America. She might as well be the richest black woman in the world. Oprah Winfrey's net worth is estimated at $3 billion.
The high ratings for the Oprah Winfrey show were mostly due to Oprah's choice of discussion topics, which included spirituality, humanitarian issues, and health. She also included interviews with high profile individuals and celebrities and even ordinary people. The show which ran until May 25, 2011, is to date the highest-rated show in the history of America TV. Oprah is still active in the TV business; her currently running reality shows include Oprah's Master Class, Oprah's Lifeclass, Super Soul Sunday, Oprah Prime, and Oprah: Where Are They Now?

Oprah's establishment of the production company, Harpo, which is the reverse of her name, Oprah added immensely to her fortune. Harpo helped to establish and promote some of the well-known TV personalities like Dr. Phil, Dr. Oz, and Rachael Ray. The production company has produced films like Beloved (1998) and Selma (2014). The company also helped to launch Broadway shows and her satellite radio channel.
At the start of 2011, Oprah launched her new network, the Oprah Winfrey Network. The channel did not pick up very well in its early years. Nonetheless, its rating and earnings picked after she partnered with renowned director/producer, Tyler Perry. The network produced popular TV series "The Haves and Haves Not", whose viewers amount to millions worldwide. OWN has the dealership with Comcast and boasts over 83 million subscribers.
In addition to the reality shows and her production company, Oprah also launched a career as an actress. She made her debut acting role in Steven Spielberg's "The Color Purple" as Sofia. Her other popular movies include The Butler (2013), and Selma (2014).
Though her Harpo Production and OWN are the major contributors to her wealth, Oprah also banks as a shareholder in top companies, one of such is Weight Watchers for which she is also an adviser. Oprah reportedly made $12 million via a single tweet she made promoting the company.
House
Oprah owns a number of enviable real estate properties. Her primary residence is The Promise Land, Montecito, California, a 42-acre abode ranked among the most expensive houses in the world. She owns a $14 million ski estate in Telluride, Colorado, estates in Florida, Antigua, Hawaii and an apartment in Chicago.
Is Oprah Married?
Oprah Winfrey is not married but she does have a longtime partner – Stedman Graham. The couple has been together for over 30 years now but no plans for marriage seem to be on the horizon.

Fact Check: We strive for accuracy and fairness. If you see something that needs updating,