| Age/Date of Birth: | September 28, 1977 (45 years old) |
| --- | --- |
| Height: | 5 ft 9 in or 175 cm |
| Ethnicity/Race: | Black |
| Nationality: | American |
| Net Worth: | $15 million |
| Wife or Girlfriend: | Jeannie Mai |
| Parents: | N/A |
Young Jeezy, who now goes by the stage name Jeezy, is an American rapper, actor, and entrepreneur. But there's so much to learn about the great rapper.
Jeezy was born Jay Wayne Jenkins on September 28, 1977, in Columbia, South Carolina, and raised in Atalanta, Georgia. he is 45 years old.
He was one of those people who grew up rough. As a result of his parents' separation, he had to move frequently from one family member to the other. Based on that, he claimed to have had a lonely childhood.
As common with hood breeds, Jay ventured into the world of hip-hop music and started off by promoting the genre through a label he established before launching out as a rapper in 2001.
A Breakdown of Young Jeezy's Net Worth
Young Jeezy has received not less than 4 Grammy nominations for his work in music. He has also won one BET Award and another BET Hip Hop Award for his musical endeavors. From the time he began making music professionally in 1997, he has made millions of dollars which contributed to his being featured on the Forbes list of Cash Kings 2013: The World's 20 Highest-Paid Hip-Hop Artists. Thanks to his various endeavors, Jeezy's net worth is currently estimated at $15 million.
His Earnings From Record Sales
Following Jeezy's solo success, he left the Boyz n da Hood group to focus more on his personal efforts. However, he founded another group U.S.D.A. (United Street Dopeboyz of America). In 2007 their album "Cold Summer" was released and it sold over 95,000 copies in the first week.
His sophomore album, "The Inspiration", released in 2006 and was even more successful than his first solo work with Def Jam. It debuted atop the Billboard 200 and sold over 352,000 copies in week 1. The Inspiration featured artists like R Kelly and Keisha Cole. Next up was "The Recession" released in 2008. Again it made it to the top of the Billboard 200 and sold over 260,000 copies (earning about $268,000) in its first week. Later certified Gold by the RIAA, it featured top acts like Kanye West and Nas.
His fourth studio album, "Thug Motivation 103" after much delay was released on December 20, 2011, selling 233,000 copies in its first week. It debuted at #3 on the Billboard 200 and received Gold certification. Jeezy ended 2012 with the release of the mixtape "It's Tha World" which featured Trey Songz, Birdman, 2 Chainz, and more. He went on to release his fifth studio album titled "Seen It All: The Autobiography" on September 2, 2014. It peaked at number two on the US Billboard 200, selling 121,000 copies in the United States within its first week of sales and 342,000 copies as of October 2016.
Jeezy's 2015 album, "Church in These Streets" reached #4 on the Billboard 200 and sold 107,000 units worldwide in its first week. His next one, "Trap or Die 3", enjoyed positive reviews from critics, debuting at number one on the Billboard 200 with 89,000 album-equivalent units, 73,000 of which were pure album sales.
Even though the rapper released nine other albums and many songs after his major label debut album, "Let's Get It: Thug Motivation 101" none of them have measured up to it commercially.  The album took the second spot on the US Billboard 200 upon its release and sold 172,000 copies in the first week. By October 2009, it had recorded sales of 1,933,000 copies in the United States. Subsequently, it recorded combined sales and album-equivalent units of more than two million units in America. As a result, the Recording Industry Association of America (RIAA) certified the album double platinum on July 2, 2020.
Features and Tours/Concerts
Apart from his personal music projects, Young Jeezy has featured in not less than 40 singles and four albums of other artists. Some of the most popular ones include; Usher's "Love In This Club", and Akon's "I'm So Paid". The latter reached #1 on the Billboard Hot 100.
Jeezy has also performed in numerous concerts and embarked on several tours, including The Blueprint 3 Tour (2010), Under The Influence Tour (2014), Seen It All Tour (2014), Formation World Tour (2016), Trap or Die 3 Tour (2017). Additionally, the rapper also performed at the 2009 Wireless Festival 2009, One Music Fest 2018, and State of Emergency 3. In all, he has performed in 169 concerts thus far.
The star continues his work in music and is undoubtedly one of the most consistent rappers of this age in terms of album sales.
Record Label
In addition to releasing new songs and touring, Young Jeezy also runs his own record label. With an intention to promote hip-hop rather than become an artist, Jay, 21, founded Corporate Thugz Entertainment (Now CTE World or simply Corporate Thugz). That was in 1998. Under his label imprint, he began promoting music from Cash Money. Soon, he became a boss in the business. In December 2012, Jeezy signed a distribution partnership between his company and Atlantic Records.
Corporate Thugz, which has one of its label members, Boo Rossini, as president has since signed and released several musical works by various artists, including Jeezy himself, Blood Raw, Freddie Gibbs, U.S.D.A., YG, among others.
Business Ventures
Brand Partnerships
Apart from his endeavors in the music industry, Jeezy is also active in the world of other businesses as he's strengthened his off business portfolio by building a connection to a number of business brands some of which are Gourmet Footwear, Tequila Avion and Defiance Fuel.
Tequila Avion
He became a stakeholder in the Tequila brand named Tequila Avion in 2013 when Ken Austin, the founder of Avion, named him his Multicultural Advisor. This was after Jeezy spit the tequila brand name in one of his songs, describing his love for the brand, which received the highest honor in the spirits industry when it was named "World's Best Tasting Tequila" at the San Francisco World Spirits Competition in 2012.
However, after five years of partnering with the brand, Jeezy sold his stake to global spirits company Pernod Ricard just likewise his partner, Ken Austin, in a deal that was reportedly valued at almost $100 million. "When I first became involved with Tequila Avión in 2013, I knew it had enormous potential on a global scale," Jeezy says in a statement. He also added that "This next step with Pernod Ricard USA and continued partnership with Founder and Chairman, Ken Austin, will allow us to continue to grow the brand on the worldwide stage."
Although he no longer has a stake in the company, it was said that Jeezy will continue to be involved with the business until 2020 and will keep lending his support to the brand.
Gourmet Footwear
On the 13th of June 2013, Jeezy hosted a series of events to mark his partnership with the luxury lifestyle brand, Gourmet Footwear. Launched in 2005, the brand tapped Jeezy as the first-ever celebrity to partner with it. The partnership probably has something to do with the fact that Jeezy has been a fan of Gourmet Footwear since it was launched. He has been seen sporting the label's footwear since he released his first album in 2005.
Speaking to The Urban Daily, James Gorecki, Gourmet's marketing director, described the partnership as a natural one. "From a brand perspective, we're not the type to just send [product] to every entertainer, every musician. We seed certain people, but we're very selective about who we put our stuff on. This is the first one where we're like, this is a legit, official brand partnership," he added.
In a statement that announced the partnership, the rapper also echoed the brand's sentiment saying, "Partnering with Gourmet just felt like a natural fit for me. I've been building my own clothing line for the past few years, so it's only right that I collaborate with a top-tier footwear brand like Gourmet."
Defiance Fuel
In 2017, the multi-platinum music mogul announced a new partnership with Defiance Fuel Inc. for the company's flagship product, Defiance Fuel (an ultra-purified water). Based in Nashville, Tennesee, the company specializes in the making of products that enhance athletic performance using completely natural ingredients.
Speaking on the partnership, the Grammy-nominated rapper expressed high hopes for his future with the brand adding that he was excited to go into partnership with a brand "whose motto 'defy limitations' is one I believe in professionally, physically, and mentally. The water is an essential part of my lifestyle as I look forward to propelling my career another 10 years."
Clothing Line
Aside from music, the entrepreneur also has a clothing line called 8732. Previously named USDA clothing, the United States government stopped Jeezy from using the U.S.D.A. acronym, which also represents the United States Department of Agriculture. He then abandoned it and changed the name of the brand to 8732, which are the same numbers on the USDA alphabets on a phone's dial pads.
The rapper first ventured into the clothing business in 2005-2006 with his frowning "snowman" promotional T-shirt-shirt. Although it was successful, the shirt was banned by many schools due to its alleged drug references.
Speaking of his 8732 brand, which features a variety of urban wears such as jackets, sweat tops, Bronze jeans, etc, Jeezy said, "The jeans run anywhere from $120, tops at $120, but you know it's some nice s*** man. I mean it's all snowman." In January 2007, the online shop for 8732 was launched and in 2011, the rapper told Billboard.com that he would be expanding the line to London, China and Japan. "It's basically the code of the streets," Jeezy said. "We're the new Ralph Lauren, so tell him I'm coming."
A Highlight Of Jeezy's Income Sources
Earnings From Record Sales
Features and Tours/Concerts
Record Label
Business Ventures
-Brand Partnerships (Tequila Avion, Gourmet Footwear, Defiance Fuel)
-Clothing Line
He Is Currently Engaged To Jeannie Mai 
Full Name: Jeannie Camtu Mai
Date of Birth: January 4, 1979
Occupation: Television Host and Stylist
Former Spouse: Freddy Harteis ​(m. 2007; div. 2018)
Partner: Jeezy (2018-present; engaged)
Number of Children: None
Born and raised in San Jose, California, Jeannie Mai is the daughter of a Vietnamese mother and a Chinese father. She kicked off her makeup career at MAC Cosmetics and grew from a trainer to a sought-after celebrity makeup artist. She eventually began her quest to become a television host in 2003 and landed her first major opportunity the following year when she was hired to serve as host of the Asian American television show, Stir, which aired for two seasons on the International Channel from December 2004-2005.
She has since grown to become one of the popular faces on television and is most recognized for her work on Style Network's makeover show, How Do I Look? as well as the syndicated talk show, The Real. As a fashion guru, she often features on TV programs such as Insider, Today, Entertainment Tonight, and Extra TV. Additionally, Mai has also appeared on E! as a host and has also hosted the Miss Universe pageant. Currently, she works on American Broadcasting Company's sports reality competition series, Holey Moley, as a sideline reporter.
According to People, Mai and Jeezy met on the set of her daytime talk show, The Real, and started dating in November 2018 but their relationship was successfully kept away from the public, until August 2019 when they appeared arm in arm on the red carpet for Jeezy's inaugural SnoBall Gala in Atlanta (an event organized to raise money for the rapper's local non-profit Street Dreamz).
Shortly after they unofficially announced their romance at the Street Dreamz gala, Mai opened up about their relationship, to her Real co-hosts telling them that she found her "equal" in Jeezy. By November 2019, Jeezy took Mai home to meet his family in his hometown of Atlanta, Georgia, where they spent their first Thanksgiving together. "It was an unforgettable, surreal moment," Mai said during an episode of The Real. "It was so wonderful to meet his family and be able to spend time together. "It was special," she added.
Their Engagement
On April 06, 2020, People reported that the rapper/philanthropist proposed to Jeannie Mai on the 27th of March. According to the report, the rapper initially planned to pop the question in April when they would be on a trip they had planned to make to Vietnam. However, they had to cancel as a result of the coronavirus pandemic, which caused a restriction on traveling around the world. Consequently, the rapper was forced to change his proposal plans. Jeezy hosted Mai to a special date night at his Los Angeles home and gave her a shocking surprise by proposing to her.
Speaking to People about the proposal, Mai's representative said, "Jeannie and Jay were set for a trip to Vietnam this April. What Jeannie didn't know is that Jay was planning to propose. Instead, Jay decided to bring Vietnam to Jeannie with a surprise quarantine date night in his home filled with Vietnamese food and decor."
If this eventually leads to marriage, which we sincerely hope it does soon, it will be Mai's second marriage as she was formerly married to Freddy Harteis. The television personality has opened up in the past about how positively different her relationship with Jeezy is from that of her and her ex-husband. Speaking of her failed marriage, Mai said, "My own standards were low. We can go into a whole counseling session on why I only gave myself the bare minimum."
Nevertheless, that has changed now as she went on to say that she was able to take time to know herself after her divorce and that helped open her eyes to recognize something truly great when it came her way. "For me, being alone in that time that I took to myself was my upgrade," she stated. "That was my upgrade."
Jeezy Was Previously Engaged To A Lady Known As Mahlet
Full Name: Mahlet "Mahi" Gebremedhin
Nationality: Ethiopian
Date of Birth: Unknown
Occupation: Unknown
Number of Children: One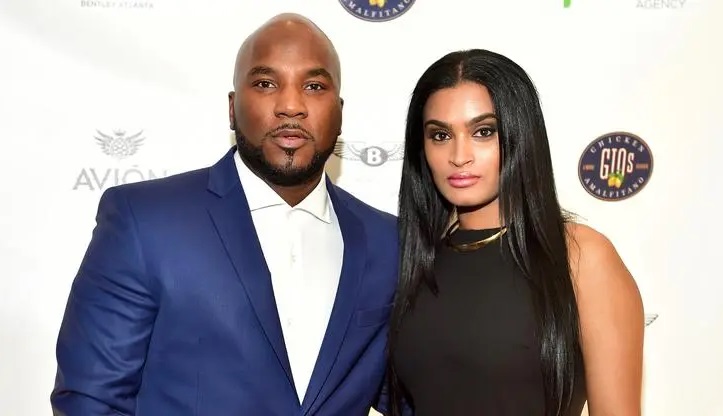 Before the "Soul Survivor" star, went public with his relationship with Mai, he was reportedly dating another lady named Mahi with whom he had his third child. According to News Nation, their relationship was so serious that the rapper proposed to her on Christmas Day in 2016 during a special dinner. And not only did he pop the question with a diamond ring, but he also presented her with the keys to a white Range Rover, which had her name stitched into the car seat headrests, the outlet reported. Unfortunately, the couple could not make it to the alter as they broke off their engagement in early 2019.
A few days later, the first picture of Jeezy and Jeannie Mai together surfaced online, leading to speculations they were having an affair even while the rapper was still with Mahi. Speaking to  Ace Show Biz, a disgruntled friend to Mahi, who believes the rumors to be true said, "Jeezy broke up with [Mahi], and a couple of weeks later that hoe is on TV talking about how 'special' Jeezy is to her. When did he become 'special' to that b***h, was it while he was engaged?"
Bitter After Split
Following his split from Mahi, Young Jeezy battled her in court over custody and his child support. The custody case, which was filed by the rapper in April 2019, was eventually settled with both parties agreeing that Jeezy would be paying a monthly child support of $7,500 in addition to $30,000 for school tuition every year.
Although it seemed the former couple had resolved their issues, Mahi, in June 2020, accused Jeezy of failing to pay the required child support, according to court documents obtained by Bossip. Following the violation, which had happened for three months as of the time of the filing, the rapper was to pay to $10,057 with interest. She also accused him of not getting enrolled in an agreed co-parenting class and failing to obtain life insurance for their daughter.
Consequently, Mahi asked the court to get him jailed until he not only paid what he owed but also obtained health insurance for their daughter, and got into the co-parenting class to help them have better communication.
In reaction, the "My President" rapper fired back, describing Mahi's filing as "a vindictive and malevolent response" aimed at distressing him after she got to know that he had gotten engaged to Jeannie Mai. He went on to say that she was bitter because he quit their relationship and filed motions for contempt against him as a way of harassing him.
According to Jeezy, he was not supposed to pay child support for the month of April 2020 and he maintains that he has not fallen short on the judge's ruling. In his court docs. he also alleged that Mahi had previously suffered "manic fits" during which she has threatened his life, which has made him fear for her mental state. However, Mahi denied the allegation.
Meet The Rapper's Kids
Though he is yet to get married for the first time, Young Jeezy has already fathered three kids in total – two sons and a daughter- from different women.
Jadarius Jenkins
Date of Birth: July 1996
Occupation: Rapper
Mother: Tenesha Dykes
Jadarius Jenkins, the oldest son of rap tycoon Jeezy whom he shares with his baby mama, Tynesha Nicole Dykes is probably the most well known due to his aspiration and his constant presence in the spotlight. Taking up Lil Jeezy as his stage name, he aspires to be a rapper as well. However, for now, the young rapper recently finished from Georgia's Riverwood Academy and is working to obtain his Bachelor's Degree to establish his own fashion line.
In July 2014, Jeezy returned from The Under The Influence Tour to celebrate Jadarius' 18th birthday. The celebration which took place at Gio's Chicken Amalfitano's in Atlanta was attended by both family and friends of the young adult, including his father's friends  T.I. and Tameka "Tiny" Harris. After dinner, Jeezy gave his son a surprise birthday gift – a brand new customized Jeep Wrangler Sahara Limited Edition!
Shyheim Jenkins 
Although we are certain that Young Jeezy has another son named Shyheim Jenkins, he is the exact opposite of Jadarius in terms of being out there. There is practically no information about Shyheim and it is not known whether he shares the same mother with Jadarius, as some sources claim, or has a different mother. However, we presume the young man, just like his father, will have big dreams for the future.
Amra Nor Jenkins
Date of Birth: February 2014
The rapper's last child so far, a girl named Amra Nor, is a product of his relationship with Mahlet "Mahi" Gebremedhin. Little Amra is having a normal childhood as she is growing up away from the spotlight. Though we do not know how close the rapper and his daughter currently are considering the bad blood between him and the child's mother, he was very fond of her before his split from Mahi.
Celebrating Amra's first birthday on Instagram, the proud father posted her picture with a caption that reads, "Since the 1st day you where born, I've been a better man, individual and father. You are my light, my motivation, and my inspiration. Happy Born Day my Angel". He didn't stop there. Jeezy also threw his little princess a royal-themed birthday that was attended by celebrities and their kids, including Ryan Glover and his son, Atlanta Mayor Kasim Reed and his daughter, Kandi and her husband Todd, and Ludacris and his daughter Kai.
Other Interesting Facts About The American Rapper
"Thuggin' Under the Influence (T.U.I.)" was Lil J's debut album released under his independent label, Corporate Thugz Entertainment.
In 2003, he independently released another album titled "Come Shop wit

Me". The 2-CD set sold over 50,000 copies.

In 2004, he joined

Diddy

's Bad Boy Record rap group Boyz n da Hood in 2004 and in 2005, they released an eponymous album which peaked at #1 at the U.S. Billboard Top R&B/Hip-Hop Albums. 

The album also climbed to 

#5 on the US Billboard 200 

Top Rap Albums charts and sold over 400,000 copies.

Already making

waves

as a rapper under his own label, Jenkins became a highly sought-after artist by top labels including the likes of Interscope, Warner, and Def Jam.

 In 2004, he settled for the latter and in 2005, released "Get It: Thug Motivation 101".

Get It: Thug Motivation 101 became 

his debut studio album with a major label. It peaked at #2 on the Billboard 200, selling over 172,000 units in its first week.

Its debut single, "And Then What" featuring Mannie Fresh peaked at #67 on the Billboard Hot 100.

The most successful single from the album (as well as Jeezy's highest-peaking single to date) was "Soul Survivor" featuring Akon which peaked at #4 on the Billboard Hot 100.

The album later received platinum certification from the RIAA, thereby grossing over $1 million.
Profile Summary
First Name:
Jay
Last Name:
Jenkins
Also Known As:

Lil J, Jeezy, Young Jeezy, The Snowman
Sex/Gender:

Male
Profession:

Rapper, singer, songwriter, and actor
Famous For:
being the leader of USDA (United Streets Dopeboyz of America) rap group and for being a member of BMF (Black Mafia Family) and Boyz n da Hood. He is also known for his album Let's Get It: Thug Motivation 101
Colleges/Universities Attended:

Not available
Educational Qualifications:

Not available
Religion:

Christian
Birthday & Zodiac

Age/Date of Birth:

September 28, 1977 (45 years old)
Zodiac Sign:
Libra
Birth Place:

Columbia, South Carolina, United States
Nationality:
American
Ethnicity/Race:

Black
Country of Residence:

USA
Physical Attributes

Height:

5 ft 9 in or 175 cm
Weight:

174 lbs or 79 kg
Eye Colour:

Dark Brown
Hair Color:

Bald
Other Body Measurements:

Not available
Relationships

Marital Status:

Engaged
Spouse/Partner:

Jeannie Mai
Family and Relatives

Father:

Unknown
Mother:
Unknown
Children:

Jadarius Jenkins, Amra Nor Jenkins, Shyheim Jenkins
Siblings:
Katrina Wright (Sister)
Other Relatives:

Yung Joc (Cousin)
Net Worth
Estimated Net Worth:

$15 million
Salary:
Not available
Source of Wealth:

His successful music career