Nasir bin Olu Dara Jones, popularly known as Nas, is an award-winning American songwriter and rapper. The widely acclaimed rapper is the biological son of veteran jazz musician and guitarist Olu Dara Jones. Nas' rise to fame can be traced back to the early nineties when he began his musical career. So far, in his career of almost three decades, the songwriter has garnered both international and critical acclaim alongside a large haul of accolades and honors. Nas's 11th studio album titled 'Life Is Good' was nominated in the Best Rap Album category at the 2013 edition of the Grammy Awards. Top music websites and channels have gone to rank the American rapper as one of the greatest MCs and Lyricists of all time. Billboard ranked Nas on its list of The 10 Best Rappers of All Time released in 2015. Nas is also two-time recipient of the glamorous BET Hip Hop Awards and a one-time winner of the Sports Emmy Award.
Nas' Rapid Career Growth And Fame
Nas took an interest in hip hop at a tender age. His interest in the rap genre was influenced by his Queensbridge House neighbor, Willy Graham, who owned a large collection of hip hop albums. Nasir started out as a rapper using the alias Kid Wave and enlisted Graham as his DJ. Nas began recording in the late 1980s at Large Professor's studio whenever the recording studio was free, although he never released any of the songs he recorded at the studio.
Nas was later featured by the popular hip hop group, Main Source at their Live at the Barbeque concert in 1991. The show officially marked the beginning of Nas' musical career. The following year, he made his solo debut; MC Serch who was his manager at the time helped him secure a record deal with Columbia Records. Nas also released his debut single titled Halftime in 1992 which received a lot of attention and widespread praise.
The talented songwriter released his debut studio album titled, 'Illmatic' in 1994. The album, to date, is widely acclaimed as one of the greatest hip hop albums of all time. Few years after the release of his debut album, Nas dropped a follow-up album, 'It Was Written' which became an instant hit topping the Billboard 200 chart for four consecutive weeks. 'It Was Written' earned the rapper international acclaim after it was certified double platinum two months after its release.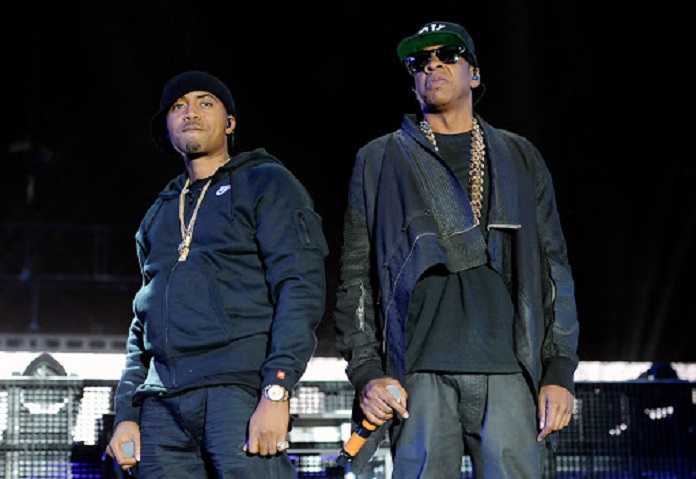 The famous PR myth, 'No Publicity is Bad Publicity' is attributed to be one of the reasons Nas remained in the spotlight after all these years. In 2001, Nas and popular rapper, Jay Z were locked in a feud that lasted till 2005. Jay Z reportedly released a diss track directed towards Nas titled Takeover. Nas responded with his own diss track Ether which was released in 2001.
The widely acclaimed rapper later joined Def Jam Recordings, a subsidiary of Universal Music Group, in 2006. Def Jam boasts of an array of highly-rated musicians signed unto the label. Some of the label's current artists include Big Sean, Justin Bieber, Kanye West, 2 Chains, Pusha T, Logic, Teyana Taylor, Desiigner, Dave East and Jeezy.
Nas has also gained a lot of popularity as a philanthropist, which remains unwavering as he has continued to support charitable causes all over the world. In 2010, the rapper turned businessman collaborated with Damian Marley and produced an album titled Distant Relatives. The duo donated all of the royalties accrued from the album to charities active in Africa.
How Much Money Has Nas Made From His Music Career?
Nas has amassed quite a fortune from his musical career making him one of the richest rappers in the United States of America. He became a business executive after he founded his own record label. The talented rapper alongside Peter Bittenbender founded Mass Appeal Records. The record label has on its payroll artists like DJ Shadow, Dave East, Keyon Harrold, Fashawn, Mannie Fresh, and Black Milk.
The rapper also serves as an associate publisher for Mass Appeal magazine and he owns a store exclusively for sneakers which he opened in June 2013. More so, Nasir has invested heavily in several startups and business ventures through his investment company, Queensbridge Venture Partners. He has invested in Proven, ViralGains, Koru, LANDR, Dropbox, Robinhood, Lyft, Sweet Chick restaurant, and HSTRY clothing.
After several years, many of his investments have paid off; for instance, in 2018 when Amazon acquired the doorbell company – Ring, in which the rapper had interests in, Nas was paid $40 million. The talented rapper's interest in many companies all over the globe also earns him substantial dividends and all of his wealth put together is valued at a whopping $70 million.
See Also: Jay Z Biography, Albums, Songs, Discography, Son, House
The Musician's Love Life Has Not Been As Successful As His Career
Like most celebrities, Nas has had his fair share of relationships. His first ever publicized relationship was with Carmen Bryan. The relationship attracted a lot of attention after Carmen confessed to cheating on Nas with fellow rap star, Jay Z. Despite the fact that they shared a daughter together, the couple decided to go their separate ways following the ugly incident.
However, that was not the only popular relationship Nas has been in, as he has been romantically linked to several female celebrities. The business executive was rumored to have dated Mary J. Blige in the past for a short while in 1997, although they still remain great friends to date. It was also gathered that the star rapper began dating Kelis Rogers, a popular singer and songwriter, sometime in 2003. The couple, after dating for two years, decided to walk down the aisle together. The marriage, which took place in Atlanta in 2005, was witnessed by close friends and family members.
However, the marriage took a sad twist in 2009 following several disagreements between the couple. Kelis, in an announcement on April 30, 2009, made it known to the public that she had filed for a divorce. The announcement came a few months to her due date as she was pregnant at the time. The estranged couple celebrated the birth of their son, Knight, on July 21, 2009, and the next year, the marriage was officially annulled on May 21, 2010. A couple of years later, Kelis accused the rapper of physically abusing her during their marriage in 2018. Nas countered the allegations by accusing her of abusing Destiny- his daughter from his relationship with Carmen Bryan.