There is no gainsaying the fact that Adam Lambert is one of the most successful products in the annals of American Idol. Since he emerged as a runner-up on the eighth season of the show in 2009, the young man has gone on to establish himself as a bona fide musician, accumulating a net worth of $25 million in the process.
Buoyed by a vocal range described as jaw-dropping, Lambert has dropped several hit singles and albums including Trespassing, For Your Entertainment, and Whataya Want from Me. He has also sold-out concert venues across Europe, North America, and South Africa; thanks to his theatrical performance as well as signature flamboyance.
As if such achievements were not impressive enough, Lambert scored another career victory in 2011 when he was asked to step in as the lead singer of the legendary British rock band, Queen. Together with the two remaining members, Roger Taylor and Brian May, Lambert has resurrected the band's fortunes and made much wealth in the process.
Breaking Down How He Earned His $25 Million Net Worth
Adam Lambert Has Sold 3 Million Albums and 5 Million Singles
The singer spent the first several years of his career singing and performing in various theatrical productions and musicals. He also took to singing back up for other musicians during their recording sessions. Whilst doing this, the young man was on the lookout for an opportunity to show his stuff and it finally arrived in the form of the 2009 season of American Idol. Lambert blew away the judges and audiences during the series and ended up in second place.
This gave him the needed platform to establish his music career and so he dropped his debut studio album, For Your Entertainment, in November 2009. It spurned the hit single, Whataya Want from Me, and reached No. 3 on the Billboard 200. It also went on to sell 863,000 copies in the U.S. alone. Since then, Lambert has dropped three additional studio albums as well as a host of singles. It is now estimated that his albums have sold more than 3 million copies and his singles, more than 5 million copies, leading to much revenue for both him and his record label.
His Career Has Seen Him Headline Several Tours
Adam Lambert also owes his growing net worth to touring. The American Idol alum staged his first headlining tour in the year 2010. Tagged The Glam Nation Tour, it saw the singer play over 113 shows in North America, Europe, Asia, and Australia. He was assisted by fellow Idol alums, Orianthi and Allison Iraheta, and the show was well-received by fans.
The exact revenue generated by the Glam Nation Tour is not available but it is known that it contributed the greater majority of the $6 million which Lambert earned that very year.
It has been about a decade since that time and in the intervening years, the energetic Lambert has continued hitting the road with several more tours. They include the We Are Glamily Tour (2013), The Original High Tour (2016), The Velvet Tour (2020), and they have all been profitable as well.
He Has Earned Tens of Millions Since He Joined Queen
Adam Lambert now holds sway as the lead singer of the legendary British rock band, Queen. Queen dominated the rock scene in the 70s and 80s with hits such as "We Are the Champions" and "We Will Rock You". They however suffered a big hit after their legendary frontman, Freddie Mercury, passed away in 1991. Since then, the band has been performing as a group of two made up of Brian May and Roger Taylor. This changed in 2009 when the duo encountered Lambert at American Idol. They loved what they heard and two years later, made him an offer to join them as Queen + Adam Lambert (Q + AL).
Q + AL subsists to date and the partnership has been profitable for all the parties involved. This is due to the several tours and concerts they have staged. For instance, from 2014 to 2015, the group embarked on a worldwide eponymous tour that saw them play 67 shows across the globe. The tour generated $68.7 million; making it one of the top 50 tours of both 2014 and 2015. Lambert's cut of the revenue was not revealed but it is known that it was the tour that contributed the lion's share of the $10 million he earned that year.
Also in 2019, Q + AL embarked on the Rhapsody Tour covering 23 cities in the United States and Canada. The shows were attended by 372,462 fans and it grossed about $1.8 million.
The Singer Has Featured in TV Campaigns for Oreo and Macy
Another source of Adam Lambert's net worth is endorsement deals. The award-winning singer boasts of a significant fan base, including on social media, and several brands have flocked to him in a bid to reap the benefits of such popularity. One of them is the cookie brand, Oreo.
In 2016, Lambert sang in their Open Up TV campaign which is aimed at fostering inclusivity and diversity in the world. Also in 2016, he served as the face of Macy's exclusive lifestyle brand, I.N.C. It is not known how much these deals paid him but it could have been about a million dollars each.
Adam Earned $1.25 Million as a Judge on X-Factor Australia
Lambert is a product of reality TV competition series and he has remained faithful to his roots over the years. The Whataya Want from Me singer has appeared on multiple seasons of American Idols including in 2010, 2014, and 2015. He has also served as a guest judge on shows such as RuPaul's Drag Race and Project Runway, and guest-starred on TV series such as Glee and Pretty Little Liars.
Lambert was also appointed to serve as a judge on season 8 of X-Factor Australia in 2016. He spent several weeks in this role and one of his mentees, Isaiah Firebrace, ended up winning the competition. The exact salary that the singer received for his time on X-Factor was not made public but it is known that other judges on the show received between $1.25 million to $2 million, meaning that the Idol alum would have earned something in that region.
Sources of Adam Lambert's Net Worth
Album Sales – N/A
Tours – $3-$6 Million est.
Earnings as a member of Queen – $10 million est.
Endorsement deals – $2 million+
X-Factor judge – $1.25 million est.
Is Adam Lambert the Richest American Idol Contestant?
With a net worth of $25 million, Adam Lambert ranks amongst the most successful American Idol products ever, as well as one of the richest. He is however not the richest American Idol as that honor belongs to Carrie Underwood. Winner of season 4 in 2005, Underwood has gone on to establish herself as the new queen of country music with about seven Grammy awards and tens of millions of records sold.
This has helped her achieve a net worth of $140 million. Other former Idols that are doing well for themselves are Kelly Clarkson – $45 million, Jennifer Hudson – $25 million, Katharine McPhee – $14 million, and Chris Daughtry – $10 million.
He Bought a $6.5 Million Home in September 2018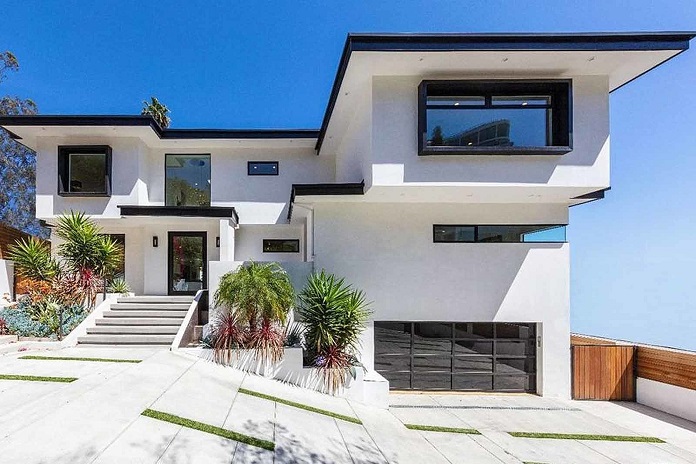 Lambert is a bonafide rock star and he is not afraid to live like one. The singer-songwriter presently makes his home in a 14-room house located in Hollywood Hills. He bought the home for $6.5 million in 2018 and it measures about 5,028 square feet.
His home boasts of a wine closet, home theatre, fire pits, hot tub, barbecue, and an infinity-edged pool. There is also an exquisite master bedroom with massive bathrooms and closets for Lambert to relax in.
When the singer wants to access the best restaurants and nightlife on offer, he hops into his Aston Martin 2019 DB11 Valonte sports car valued at $400,000. Lambert is surely living the good life but he is not one for ostentatiousness. One of his guilty expensive purchase was in 2019 when he bought a Givenchy jacket worth $12,000.
Some of Adam Lambert's Bestselling Songs and Albums
Albums
For your entertainment
Year of release – 2009
Chart – No. 3 on Billboard 200
Sales – 1 million+
Trespassing
Year of release – 2012
Chart – No. 3
Sales – 200k
Songs
Ghost town
Year of release – 2015
Chart – No.64 on Billboard Hot 100
Sales – 500k+
If I had you
Year of release – 2010
Chart – No. 30 on Billboard Hot 100
Sales – 100k+
Whataya Want from Me
Year of release – 2009
Chart No. 10 on Billboard Hot 100
Sales – 270K