If we need to take a headcount of world-famous entertainers that have written their names on the sands of time, that list will not be deemed complete without paying homage to Jennifer Hudson. She is an American singer, actress, and spokesperson. The songbird rose to fame in 2004 as one of the finalists on American Idol. She is regarded as the third greatest American Idol alum behind Kelly Clarkson and Carrie Underwood. Like her fellow mentioned alums, Hudson has gone on to establish herself as an international star with an Oscar, Golden Globe and Grammy Awards under her belt.
Jennifer Hudson's Early Career and the Controversy that Marred her Path
Born in Chicago Illinois and raised as a Baptist, Hudson began singing in her church choir at the age of seven. While growing up, she also participated in community theatre. Two years after graduating from high school, Hudson landed a 5-year recording contract with a Chicago-based independent label, Righteous Records. In 2003, she began singing on a Disney Cruise Ship.
A few months later, Hudson was released from her record label to audition for the 3rd season of American Idol. She auditioned successfully for the show and made it to the Top 9 with the highest number of votes. However, she was eliminated at 7th place to the surprise of most fans who saw her as a potential winner of the competition. Hudson's elimination was met with much controversy. Five years later, MTV named her elimination as the most shocking of all time.
Her Determination to Succeed As An Entertainer Later Paid Off
Undeterred by the American Idol elimination, Jennifer was set to make the best out of her fame. She began appearing on numerous talk shows, including The Oprah Winfrey Show and Tyra Banks Show. While she signed a record deal with Arista Records in November 2006, Hudson was also focused on debuting a movie career.
She successfully auditioned for the supporting role of Effie White in the adaptation of Broadway musical Dreamgirls, beating top-tier acts to the role, including American Idol third season winner Fantasia. Dreamgirls, released in 2006, also starred Beyonce, Jamie Foxx, and Eddie Murphy.
It Has Been Success All The Way For Her Singing And Acting Career
On Dreamgirls, Hudson left critics awed by her rendition of the hit song "And I Am Telling You I'm Not Going". Her role amassed a whopping 29 awards, including a BAFTA, Oscar, and Golden Globe Award for Best Supporting Actress. The movie was also a box office hit, grossing $154.8 million on an $80 million budget. With such incredible success, Hudson was no doubt catapulted into the millionaire's club. Within the next two years, she starred in two more films; "Sex and the City" (2008) and "The Secret Life of Bees" (2008).
Hudson's stardom with Dreamgirls created more anticipation for her debut studio album. Her debut single "Spotlight" released in January 2008 peaked at #24 on the Billboard Hot 100 and made it to the top 20 in the UK charts. Her debut studio album "Jennifer Hudson" was released in 2008. It debuted at #2 on the Billboard 200 and sold 217,000 copies in its first week. The album has since sold over 1 million copies, receiving platinum certification from the RIAA. The album also spawned the hit single "If This Isn't Love". Hudson won a Grammy Award for Best R&B Album of The Year.
Hudson's sophomore album "I Remember Me" (2011) debuted at #2 on the Billboard 200 and produced the lead single "Where You At" written by R. Kelly. Like her maiden endeavour, it received a gold certification from the RIAA from selling about 660,000 copies. However, she experienced less success with her third studio work JHUD (2014).
Hudson appears to be more focused on her acting career. She portrayed the titular role in a biopic of South African activist Winnie Mandela. Her other movies include; "The Three Stooges" (2012), Black Nativity (2013), and Chi-Raq (2015). She has also made notable appearances in TV series like Smash and Empire. Hudson continues to star in movies and make new music.
Jennifer Hudson's Net Worth And Cash Flow
Unlike many celebrities that would prefer to keep the details of their wealth and earnings from the public view, Jennifer Hudson's net worth has always been made public. It was pegged at $20 million in 2019 but a recent update has upgraded it to $25 million for 2020.
Despite her not emerging winner at the American Idol show, the versatile entertainer has managed to rise above the standards, recording more hit songs than any of her fellow finalists. Her cash flow gained momentum following the release of her first album in 2008. The album which is self-titled was a momentous success, recording sales in excess of one million in the United States alone.
She has since created other sources of income like her role as a coach in The Voice (British and American version). Jennifer Hudson is equally doing great with her acting career and we are yet to factor in what she earns from the sales of her publication "I Got This: How I Changed My Ways and Lost What Weighed Me Down". The celeb singer is also boosting her income with earnings from her clothing line.
Is Jennifer Hudson Married?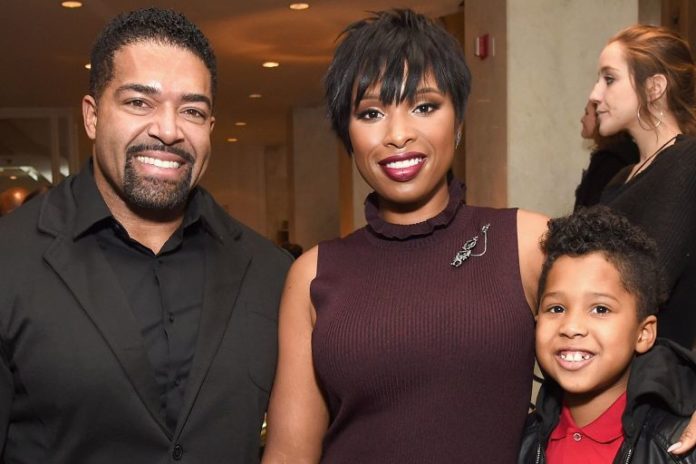 Ms. Hudson got engaged to former WWE star David Otunga in 2008. The duo remained together for almost 10 years without tying the knots, but they eventually called it quits in 2017, due to irreconcilable differences.
Jennifer and David, share a son named David Daniel Otunga Jr. who was born in August 2009. The couple was involved in a protracted custody battle for the boy, but it would appear that the odds were against Jennifer because, in November 2017, David was granted custody of their son – this came after Ms. Hudson dropped a protective order against him.
Also See: Whitney Houston, Daughter, Death, Biography, Husband, Gay
Members Of Her Immediate Family
Jennifer's immediate family comprised of her son David Daniel Otunga Jr., deceased mother Darnell Donerson, late brother Jason Hudson and her only surviving sibling Julie Hudson. She also had her nephew Julian King who was also a victim in her brother in-law's murder spree. We don't have information on the identity of her father as he has never been mentioned in their family affairs.
After the gruesome tragedy, Jennifer Hudson went into collaboration with her sister Julia to launch The Julian D. King Gift Foundation – the charity was created in Julian's honor with the aim of providing kids with support, stability, and positive experiences. Also as a tribute to the deceased Julian, the foundation hosts an annual 'Hatch Day'.
Also See: Ciara  Height, Son, Married, Husband, Parents, Wiki, Biography
The Gory Tragedy That Almost Wiped Her Family Away
After her debut single "Spotlight" was released in the first month of 2008, peaking at #24 on the Billboard Hot 100, an unbelievable tragedy struck the same year. Three members of her family, including her brother Jason Hudson, mum Darnell Donerson, and her then 7-year-old nephew Julian King met their death at the hands of her brother-in-law, William Balfour.
It all started on the 24th of October 2008 when Balfour murdered both Jennifer Hudson's brother and mother in cold blood. According to reports from CNN, he shot them inside their Chicago home after he allegedly became infuriated by the knowledge that the singer's sister Julia who was also his estranged wife had decided to leave him and was already seeing another man.
In the meantime, reports from ABC7 confirmed that after he killed Jennifer's mum and brother, Balfour proceeded to abduct Julian his stepson who was later found lifeless in a stolen SUV three days later. The 7-year-old was equally shot. The local news outlet revealed that Balfour was later found in possession of the keys to the SUV. The tragedy led to Jennifer Hudson's brief hiatus which she took to mourn her loss. Balfour is presently serving three life sentences with no parole.