| Age/Date of Birth: | April 24, 1982 |
| --- | --- |
| Height: | 5 ft 3½ in or 161 cm |
| Ethnicity/Race: | White |
| Nationality: | American |
| Husband or Boyfriend: | Brandon Blackstock (2012-2020) |
| Parents: | Stephen Michael Clarkson and Jeanne Ann (née Rose) |
| Net Worth: | $45 Million |
Kelly Clarkson is an American singer, songwriter, and author. She was thrust into the limelight in 2002 after she won the first season of American Idol. Clarkson has since maintained steady success with millions of records sold worldwide. She is the second highest-selling American Idol alum behind Carrie Underwood with over 25 million records sold worldwide. She is also the only American Idol alum with a number 1 hit in the UK.
The American singer-songwriter, actress, author, and television personality Kelly Clarkson has a net worth of $45 million
Who Exactly is Kelly Clarkson?
Kelly Brianne Clarkson was born on April 24, 1982, in Fort Worth, Texas. She attended Burleson High School where she sang in the school choir and performed in numerous musicals. She decided to take her music professionally after winning a high school talent show. Thanks to her singing prowess, Kelly was offered a full scholarship to three colleges, one of which was Berklee College of Music. She, however, declined the offer, choosing instead to go professional with her music.
Things, however, didn't really go as she had hoped. After working a series of jobs to finance her demo, no recording deal was forthcoming. With hopes of finding better opportunities, Kelly moved to Los Angeles where she recorded several demo tracks with musician Gerry Goffin but all efforts turned futile. Frustrated by her overly slow start to a music career, she returned to Texas and began working as a telemarketer and waitress among other jobs.
While still in Texas, Kelly Clarkson was informed about the upcoming Fox show that would be known as American Idol. Kelly auditioned alongside thousands of contestants and the rest as we know it is history. Winning the inaugural season of American Idol on September 4, 2002, came with a million-dollar recording contract with RCA Records, setting Kelly in line for more fame and success.
Her debut single titled "A Moment Like This" became the best-selling single of 2002 after making the biggest leap of rising from no. 52 on the charts to no. 1, breaking a 38-year-old record set by British band The Beatles.
Interesting Details About Her Net Worth and Music Success 
The Original American Idol, as she is fondly called, has an estimated net worth of $45 million. Kelly Clarkson has been able to be worth so much thanks mostly to her very successful musical career that has seen her sell over 25 million albums and 45 million singles worldwide. Her work as an actress, author, and television personality has also gone a long way in making sure that she is financially secure for the rest of her life.
As a result of wealth, Kelly has been able to afford herself and her family a luxurious lifestyle with properties in different cities across the United States. Her net worth today is, however, a far cry from what it was in the early years of her career. In 2009, she was estimated to have a net worth of $5 million. Three years later in 2012, she was reported to be worth $10 million. That figure has since grown to $18 million in the mid-2010s, $30 million in 2017, and $45 million in 2020.
2009 – $5 Million
2012 – $10 Million
2015 – $18 Million
2020 – $45 Million
Kelly Clarkson's Earnings as a Musician
Clarkson's debut album Thankful (2003) debuted atop the Billboard 200 and has sold about 4.5 million copies. The album spawned "Miss Independent" as a single and it reached the top ten on 5 national charts to establish her as an international act. In support of the album, she co-headlined her first tour titled Independent Tour which grossed over $10 million from 31 shows.
Her sophomore album Breakaway (2004) was a bigger success, selling over 15 million units worldwide to become her best-selling album. It received platinum certification from several nations to become the 7th best-selling album of 2005. It further produced international hit singles like "Since U Been Gone", "Because of You", and "Breakaway". "Breakaway" received sextuple platinum certification from the RIAA.
Despite the label-artist controversy surrounding her third studio album My December (2007), the album still managed to sell over 2.5 million copies. Her next endeavor, All I Ever Wanted (2009) debuted at no. 1 on the Billboard 200 chart to become her second no. 1 record. The album's lead single, "My Life Would Suck Without You" became an international hit after rising from the 97th spot to the top spot on the Billboard Hot 100. The leap became the biggest ever on the charts, a record she still holds to date.
Kelly Clarkson's fifth studio album Stronger (2011) spawned her third Hot 100 chart-topper, "Stronger (What Doesn't Kill You)". Her sixth studio album and first Christmas album, Wrapped in Red (2013), became the best-selling holiday album in the US and the second-best-selling in Canada. It has been certified platinum by the RIAA.
Her 7th studio album Piece By Piece (2015) became her third album to debut at number 1 on the Billboard 200. It sold over 100,000 copies in its opening weekend. Her corresponding tour in support of the album grossed $9.7 million from 32 shows. Two years later in 2017, she released her latest effort titled Meaning of Life which debuted at number two on the Billboard 200 chart.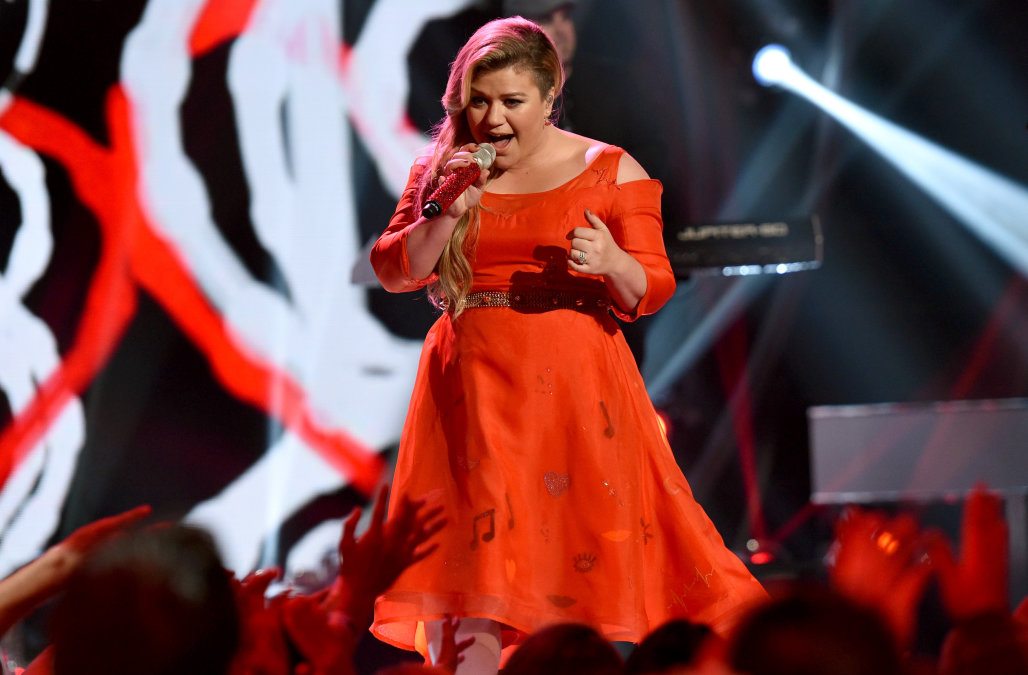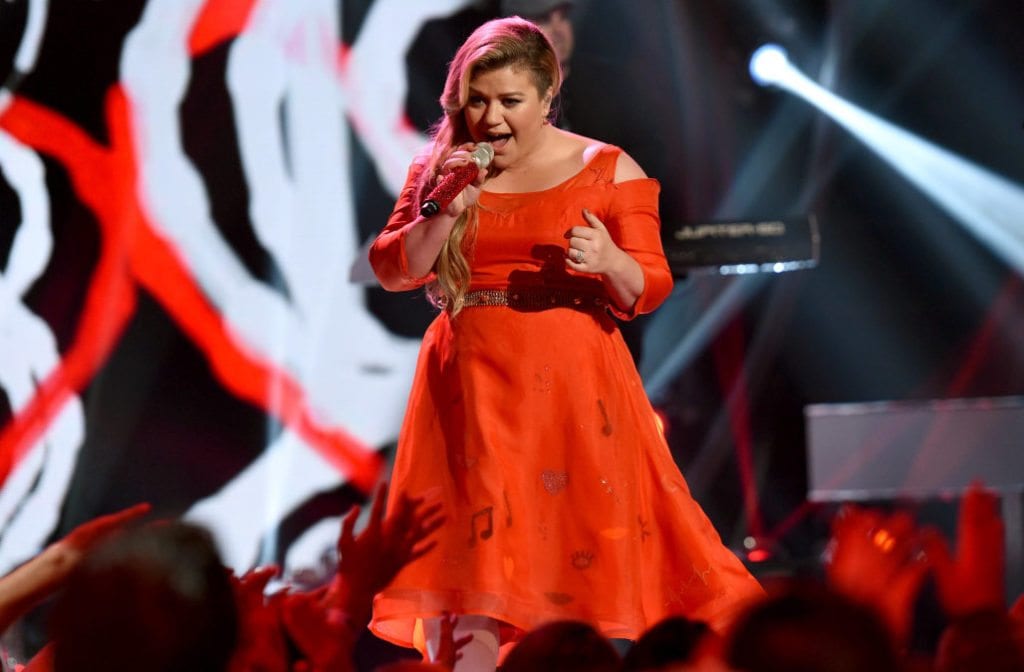 Kelly's accolades include but are not limited to 2 Academy of Country Music Awards, 3 Grammy Awards, 3 MTV Video Music Awards, 4 American Music Awards, and 12 Billboard Music Awards.
Her Work as an Actress and Television Personality
Prior to her winning American Idol and gaining fame almost immediately after that in September 2002, Kelly Clarkson tried her hand at acting. She first appeared as an extra in television series like That '80s Show and Sabrina the Teenage Witch before making her film acting debut in From Justin to Kelly (2003) where she played a lead role.
In subsequent years, Kelly made fewer appearances in scripted films and TV series although she has been quite successful as a voice actor, featuring in animated projects like The Star and Trolls World Tour. She has, however, appeared more on TV shows like American Idol, Canadian Idol, X-Factor, and The Voice where she was previously an adviser before landing a role as a coach on the fourteenth season in 2018. Kelly is reportedly being paid around $15 million per season of the show.
In 2019, the singer began hosting her own daytime talk show called The Kelly Clarkson Show.
Clarkson Has Written Multiple Children Books
In addition to churning out record-breaking singles, bestselling records, and appearing on TV as a host or coach, Clarkson is also an author. She inked a deal with HarperCollins in February 2016 and has so far released two children's books. Her first book released in 2016 was titled River Rose and the Magical Lullaby. Her second book was released in 2017 and was titled River Rose and the Magical Christmas. Clarkson has stated that she intends to create more children's books in the future.
Recap of Kelly Clarkson's Different Sources of Income
Her illustrious musical career
Early acting career and subsequent voice acting roles
Appearances on TV shows like The Voice
Hosting her very own daytime TV variety talk show
Writing children's books
How Does Kelly Clarkson Spend Her Money?
Kelly Clarkson has invested a huge chunk of her money in real estate. Her first recorded major purchase was in 2012 when she paid $3 million for a 20,000-square-foot house in Henderson, Tennessee that is located on a lake and has 7 bedrooms. The property was reportedly listed for sale in 2018 for $8.75 million but has since dropped to $7.5 million in 2020.
In 2015, the singer and her husband spent $2 million on a remote 275-acre ranch that features a rustic log cabin. A few years later in 2018, after having been renting a home in Los Angeles, California, Clarkson moved her family's primary residence to the Encino neighbourhood where she bought a 10,000-square-foot mansion for $8.5 million. In 2020, the property was listed in the market for just under $10 million.
Clarkson's Net Worth Compared to Other American Idol Winners and Contestants
Year
Name (Place Finish)
Estimated Net Worth
1st Season (2002)
Kelly Clarkson (winner)
Justin Guarini (runner-up)
$45 Million
$700 Thousand
2nd Season (2003)
Ruben Studdard (winner)
Clay Aiken (runner-up)
$3 Million
$6 Million
3rd Season (2004)
Fantasia Barrino (winner)
Diana DeGarmo (runner-up)
Jennifer Hudson (seventh place)
$3 Million
$1.5 Million
$25 Million
4th Season (2005)
Carrie Underwood (winner)
Bo Bice (runner-up)
$140 Million
$1.5 Million
5th Season (2006)
Taylor Hicks (winner)
Katharine McPhee (runner-up)
Chris Daughtry (fourth place)
Kellie Pickler (sixth place)
$2 Million
$14 Million
$10 Million
$7 Million
6th Season (2007)
Jordin Sparks (winner)
Blake Lewis (runner-up)
$8 Million
$600 Thousand
7th Season (2008)
David Cook (winner)
David Archuleta (runner-up)
$5 Million
$5 Million
8th Season (2009)
Kris Allen (winner)
Adam Lambert (runner-up)
$3.5 Million
$30 Million
9th Season (2010)
Lee DeWyze (winner)
Crystal Bowersox (runner-up)
$500 Thousand
$600 Thousand
10th Season (2011)
Scotty McCreery (winner)
Lauren Alaina (runner-up)
$4 Million
$800 Thousand
11th Season (2012)
Phillip Phillips (winner)
Jessica Sanchez (runner-up)
$3.5 Million
$2 Million
12th Season (2013)
Candice Glover (winner)
Kree Harrison (runner-up)
$1 Million
N/A
13th Season (2014)
Caleb Johnson (winner)
Jena Irene (runner-up)
$1 Million
N/A
14th Season (2015)
Nick Fradiani (winner)
Clark Beckham (runner-up)
$1 Million
N/A
15th Season (2016)
Trent Harmon (winner)
La'Porsha Renae (runner-up)
N/A
N/A
16th Season (2017)
Maddie Poppe (winner)
Caleb Lee Hutchinson (runner-up)
N/A
N/A
17th Season (2018)
Laine Hardy (winner)
Alejandro Aranda (runner-up)
N/A
N/A
18th Season (2019)
Just Sam (winner)
Arthur Gunn (runner-up)
N/A
N/A
What We Know About Kelly Clarkson's Father
Full Name: Stephen Micheal Clarkson
Date of Birth: N/A
Occupation: Former Engineer
Following the release of the song "Piece by Piece", the third single from her seventh studio album of the same name which peaked at number eight on the Hot 100 chart and was performed on the American Idol stage in 2016, fans wondered if the lyrics of the song were personal for the artist. It turns out that it indeed was as it was a recount of how much her father's absence had affected her. This was not the first time Kelly had performed a song about her father not being present as another of her hit songs, "Because Of You" was also written about her experience with her parent's divorce.
Kelly Clarkson is the daughter of Jeanne Ann (née Rose) and Stephen Michael Clarkson. When she turned six, her parents went through a nasty divorce that ultimately resulted in her being estranged from her father.
Kelly has said that while she was growing up, she made several attempts to get in touch with her father but her efforts went in vain. She reiterated that she tried over and over again until she realized that trying to build a relationship with him was doing more harm than good to her. The two have since then had a rocky relationship as they were never able to build any kind of relationship. Kelly admits that she has as a result developed "major abandonment issues."
In 2019, Stephen Michael Clarkson passed away. According to his son Erik, Kelly's half-brother, Stephen's last wish was to have all of his kids by his side. Kelly, however, did not honor his wish and also reportedly did not attend his funeral.
Clarkson Has Two Older Siblings, Two Younger Half Brothers, and Multiple Step Siblings
Kelly Clarkson is the youngest of three children born to her parents. She has an older brother named Jason and an older sister named Alyssa. Following her parents' divorce and her father's subsequent marriage to another woman, she gained two half brothers, one of whom is named Erik. Kelly's mother on the other hand also remarried. She married a man named Jimmy Taylor through which Kelly has five stepbrothers and sisters.
Kelly Clarkson's was Married to Her Manager
Full Name: Brandon Blackstock
Date of Birth: 16 December 1976
Occupation: Talent Manager
Kelly Clarkson is married to Brandon Blackstock, the son of her former manager Narvel Blackstock. He is also the former stepson of her mentor and friend, country singer Reba McEntire. The duo first met each other in 2006 while Kelly was rehearsing for the American Country Music Awards. According to the singer, she immediately took a liking to him because of how he made everybody laugh. Unfortunately, she could not acct on her feelings because Brandon was at the time still married to his first wife, Melissa Ashworth.
A few years later in 2012, after Brandon and his first wife had gotten a divorce, the pair reconnected. Kelly and her new man went on to kick off a relationship that saw them moving in together after nine months. Rumors almost immediately began to speculate that the pair had gotten engaged. Kelly denied the rumors during her appearance on Ellen in November 2012 but confirmed that she was very much in love with her man and did not see herself being with anyone else.
The following month, Brandon Blackstock proposed to her. Kelly Clarkson took to social media to share the good news that was received with great joy by her fans and family. On October 20, 2013, at Blackberry Farm, a luxury resort in Tennessee's Smoky Mountains, the two exchanged marital vows in a secret ceremony. Kelly subsequently became a stepmom to Brandon's two kids from his first marriage; daughter Savannah and son Seth.
I'm officially Mrs. Blackstock 🙂 We got married yesterday at Blackberry Farms in TN, the most beautiful place ever! pic.twitter.com/vYYqopBAcr

— Kelly Clarkson (@kellyclarkson) October 21, 2013
Following their nuptials, Brandon took over the task of managing his wife from his father. Kelly had nothing but good to say about her husband. She pays several compliments to him in the song "Piece by Piece" where she stated that he "restored her faith that a man can be kind and a father could stay".
Things appeared to be going on very smoothly in the Blackstock household until June 2020 when word got out that Clarkson had filed for divorce from her husband of about seven years, citing irreconcilable differences. It has been further reported that the singer also filed a claim with the California Labor Commissioner's Office, saying that her soon to be ex-husband and his management company, Starstruck Management, operated in a "fraudulent" and "illegal" fashion.
Among the several claims Clarkson made against Brandon and his father Narvel, she says that Starstruck Management acted as her agent in the state of California despite not being licensed to do so and without her written approval. Her filing was made in response to a lawsuit put forward by Clarkson's former father-in-law for Starstruck Management which demands her to pay the company over $5 million that they say she owes.
Clarkson and Blackstock Welcomed Two Kids During Their Time Together
River Rose Blackstock
Date of Birth: 12 June 2014
Kelly Clarkson became a stepmom to Brandon's kids from his first marriage following their wedding. A year later, however, on the 12th of June, 2014, the singer welcomed a child of her own. She took to Twitter to announce the birth of her and Brandon's first child, a daughter named River Rose.
Remington Alexander Blackstock
Date of Birth: 12 April 2016
Two years after the couple welcomed their first child, they made another addition to the family with the birth of a son named Remington Alexander Blackstock. Eight months prior to Remington's birth, Kelly had told fans while performing at a concert in August 2015 that she was expecting. "I was not planning on announcing this but … I'm totally pregnant".
Kelly Clarkson is intent on falling as far from the tree as possible and being nothing like her father. She has shown this through the type of relationship she has with her kids and the type of relationship she wants them to have with their father. Despite all the evident bad blood between the couple as they go through a divorce, Kelly made a point not to try to deny her husband his rights to see their kids. Court documents reveal that the couple will share joint and physical custody, but Kelly will have primary custody of their children.
What We Know About Her Weight and Measurements
Kelly Clarkson may have put on some weight lately as is expected after giving birth to two kids, but the singer seems pretty confident about her body image and ignores most online jabs made about her weight.
Profile Summary
First Name:
Kelly
Last Name:
Clarkson
Also Known As:

Kellbelle


Sex/Gender:

Female
Profession:

Singer-songwriter, actress, author and television personality
Famous For:
Winning the first season of American Idol in 2002. She is described as "The Original American Idol".
Colleges/Universities Attended:

Burleson High School in Burleson, Texas
Educational Qualifications:

N/A
Religion:

Southern Baptist
Birthday & Zodiac

Age/Date of Birth:

April 24, 1982
Zodiac Sign:
Taurus
Birth Place:

Taurus
Nationality:
American
Ethnicity/Race:

White
Country of Residence:

USA
Physical Attributes

Height:

5 ft 3½ in or 161 cm
Weight:

79 kg or 174 pounds
Eye Colour:

Hazel
Hair Color:

She dyes her hair blonde but is naturally a brunette.
Other Body Measurements:

37-31-37 in or 94-78-94 cm (bust, waist, & hips respectively)
Relationships

Marital Status:

Married
Spouse/Partner:

Brandon Blackstock (2012-2020)
Family and Relatives

Father:

Stephen Michael Clarkson
Mother:
Jeanne Ann (née Rose)
Children:

A daughter, River Rose (b. June 12, 2014) and a son, Remington Alexander (b. April 12, 2016), She also has two step children- daughter, Savannah, and son, Seth
Siblings:
Jason Clarkson (Older Brother), Alyssa Clarkson (Older Sister)
Other Relatives:

Jimmy Taylor (Stepfather), Singer and Actress Reba McEntire (Step-Mother-In-Law)
Net Worth
Estimated Net Worth:

$45 Million
Salary:
N/A
Source of Wealth:

Singing, Acting, TV Shows, especially her appearance as judge on 'The Voice', Book Sales, Real Estate Investments