Net Worth:
$30 million
Age/Date of Birth:

July 4, 1995 (28 years old)
Height:

6 feet (1.84 m)
Ethnicity/Race:

White
Nationality:
American
Wife or Girlfriend:
Ashlen Diaz (Girlfriend, 2015-2018)
Parents:
Father: Rich Post
Mother: Jodie Post
Born on the 4th of July, 1995 in Syracuse, New York, Post Malone's music journey officially kickstarted at the age of 15 when he unsuccessfully auditioned to join the American metalcore band, Crown the Empire. Undeterred by the rejection, Malone continued to pursue his passion, penning lyrics and teaching himself to produce with the popular DAW software, FL Studio. The rapper-singer's perseverance eventually paid off in 2015 when his independently-released "White Iverson" became a sleeper hit. The success of the basketball-themed song inspired partly by retired basketballer Allen Iverson, helped Malone secure a major label contract with Republic Records joining the likes of Drake, The Weeknd and Nicki Minaj.
Despite speculations that he'd end up a one-hit-wonder, Post Malone has done more than prove the world wrong. His debut album Stoney dropped in December 2016, scoring more first-week sales than any other hip-hop album, ultimately receiving RIAA's 3x platinum certification and shooting Post to international stardom and massive wealth. Within a space of barely five years, Malone's net worth has grown to an estimated $30 million. Here's all you need to know about his rise to fame and wealth.
A Breakdown of How Post Malone Built His Net Worth
Looking at how quickly Post Malone amassed his currently enviable worth, one may be tempted to think that he's never tasted poverty. But that's completely far from the fact. The now successful rapper once revealed to Forbes that he could not afford a pack of cigarettes for himself the time he began making music. That was around 2013 after he dropped out of Tarrant County College and moved to Los Angeles to pursue music full time.
Career Breakthrough with 'White Iverson'
In LA, Post Malone began recording at Stevie B's studios. Shortly after, he met with 1st and Rich of the ace Atlanta production team, FKi. The guys moved in together and began making music. Malone soon wrote and recorded "White Iverson" and with zero expectations, casually posted it on his SoundCloud account in February 2015. Fortunately and much to his surprise, the song slowly garnered plays, reaching 7,000 within days, 1 million in a week and over 10 million plays within a few months. Post Malone had become a STAR!
With the success of "White Iverson", Malone began attracting a number of record labels and in August 2015, he signed with Republic Records. The label subsequently  re-released "White Iverson", further surging its success and earning it a RIAA platinum. The song's video has so far garnered over 300 million views on YouTube.
Capitalizing on the buzz White Iverson created, Post released follow-up hits like "Too Young", "What's Up", "Patient", and "Tear$". He then scored features with some established rap acts like Kanye West, 50 Cent, and Gucci Mane. In May 2016, Malone released his debut mixtape August 26th.
More Commercial Success with Stoney and Subsequent Albums
By December 2016, Post Malone dished out his debut album, Stoney which peaked at #6 on the Billboard 200 and sold 58,000 units in its first week. The album went on to beat other debut releases to become the highest selling debut album of the week. Stoney went platinum by the next three months and subsequently stayed a jaw-dropping consecutive one and half years (77 weeks) on Billboard 200. Among the album's most successful singles are "Go Flex", "Deja Vu" (featuring Justin Bieber), "Congratulations" (featuring Quavo) and "Too Young". Stoney has so far, sold over 3 million copies, earning itself RIAA's platinum three times.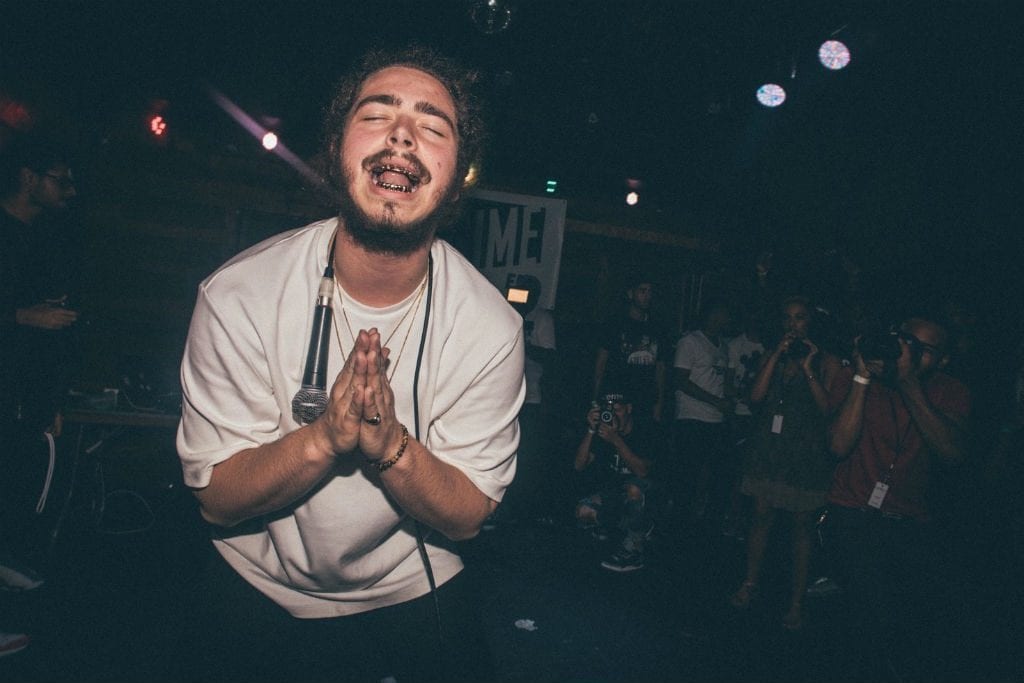 Following Stoney's massive success was that of Malone's second studio album, Beerbongs & Bentleys which he released in April 2018. The album peaked at #1 on over ten charts including Billboard 200, Rap, and R&B/Hip Hop. It also went 3x platinum in the US and several other countries. That same year, Malone had nine of his songs simultaneously making it to the top 20 on Billboard's Hot 100 chart, surpassing the record of J. Cole and The Beatles who both had six.
Post Malone's latest studio release is his 2019 album, Hollywood's Bleeding. The album debuted at #1 on Billboard 200 with several of its singles making it to the top five of Billboard Hot 100. As of 2021, he has one mixtape and three studio albums to his credit, all of which received significant commercial patronage. Below are his best-selling studio albums and singles with their individual RIAA certifications:
Stoney – 3x platinum
Beerbongs & Bentleys – 3x platinum
"Rockstar" (from Beerbongs & Bentleys) – 8x platinum
"Sunflower" (from Hollywood's Bleeding) – 8x platinum
"White Iverson" (from SoundCloud single) – 5x platinum
"I Fall Apart" (from Stoney) – 5x platinum
"Psycho" (from Beerbongs & Bentleys) – 5x platinum
"Better Now" (from Beerbongs & Bentleys) – 4x platinum
"Circles" (from Hollywood's Bleeding) – 4x platinum
"Go Flex" (from Stoney) – 3x platinum
"Candy Paint" (from Beerbongs & Bentleys) – 2x platinum
Note: RIAA certifies an album platinum after it sells up to 1 million units while a single receives RIAA's platinum after selling up to 2 million units.
His Earnings from Tours, Endorsements and other Businesses
In addition to the money he makes from selling his records, Post Malone garners good cash from touring. In 2016, he opened for Bieber during his Purpose Tour. Following that, Malone the same year, headlined his own tour, making over $1 million from 41 dates; that is an average of $243,000 per show.
The singer also boosts his worth with income from endorsement contracts. Some of the prominent American brands he has closed lucrative deals with include True Religion clothing, Bud Light beer and HyperX tech. In 2019, Malone collaborated with eyewear brand, Arnette to release a collection of bold and unconventional eyeglasses customized with some of his tattoos.
As common with hip-hop acts, Post Malone has also launched an entrepreneurial career. Among other lucrative enterprises, Malone is the CEO of Shaboink, a cannabis producing enterprise and Posty Co, a line of clothing and a variety of other merchandise that he markets online. The rapper also hinted in a 2017 email interview with Forbes that he's on the verge of opening a tattoo shop in LA and as well as his own record label.
Post Malone's earnings from these income sources contributed in bringing his net worth to its current estimated figure of $30 million.
Who is the Rapper Dating Now? 
Post Malone is no different from the average entertainment celebrity guy. The rapper has dated a number of ladies and his relationship with his latest girlfriend has been receiving some media attention. Malone's girlfriend popularly goes by the nickname, MLMA which is an acronym from "Me Love Me A Lot".
MLMA is a Korean rapper and social media star born in Seoul around the early 1990s. She is most popular on Instagram and TikTok where she boasts over one million followers each. MLMA is also a fashion designer and visual artist who is notable for her usually grotesque style of imagery and weird makeup sense.
Post first appeared in MLMA's IG feed in August 2020 and it is believed that it was around that period that the duo began seeing each other. However, none of the two have confirmed their relationship as of the time of filing this report.
Here's Why Malone Is Covered in Tattoos!
If Post Malone isn't yet the artist with the most tattoos in the globe, then he must be ranking high on the list of most tattooed guys in the entertainment industry. With 77 tattoos and still counting, Post has left fans and even foes curious over why he should go for so much inking.
Well, speaking in an interview with GQ, the "Rockstar" singer opened up about what prompted him to cover himself in body arts. Per Malone, he believes he's such an ugly dude and so, needed to mask his bad looks with drawings. The rapper also mentioned Justin Bieber as his initial tattoo inspiration. That was in fact, how Malone started his journey of tattoos to which he has obviously become glued! He has since moved from face tattoos to make up for his hideous looks, to full body inking to pay tribute to whoever or whatever he has regard for.
Even more surprising is how fast Post has gotten these number of body arts considering the fact that when he first hit the music stage in 2015, he was tattoo-free. For want of space sometimes, the rapper even appears to ink new tats on old ones! Here's a look at some of his most conspicuous tattoos, their position and meanings:
Face and Neck Tattoos
Barbed Wires: Across the forehead
Stay Away: Above right brow – lyrics from a song
Ace of Spades: Above his "Stay Away" tat – symbolizes good luck/fortune
Always Tired: Under his two eyes – To piss off his mum
Sword: Right cheek – In memory of his love for medieval swords called Claymore some of which he had as a kid.
Small smiley face: Under the edge of the right eye
Playboy logo: Under the small smiley face – in recognition of his playboy nature
Small heart: Under the playboy logo – symbolizes love
Gauntlet: by the side of right cheek – symbol of power and authority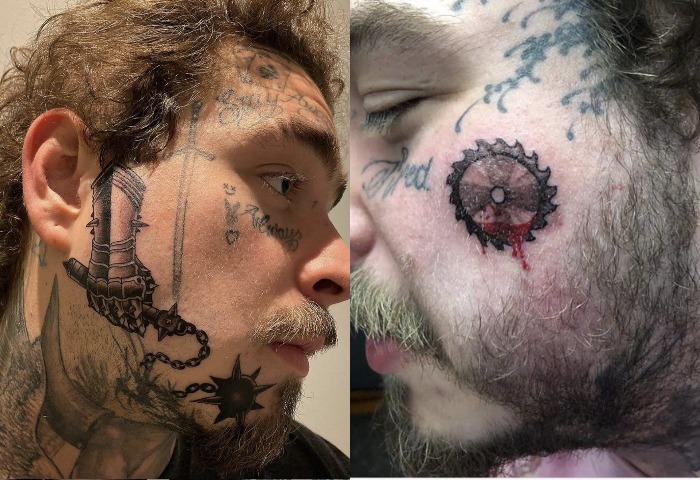 Wavy etching: left temple
Dripping Buzzsaw: left cheekbone
White and Blacks Eagles: right and left side of neck respectively- symbols of courage and power
Bison skull: Throat – symbolizes courage and resilience
Hand Tattoos
Finger Portraits: Each of Elvis Presley, Kurt Kobain, Dimebag Darrel, John Lennon, Stevie Ray Vaughan, George Harrison, and Bankroll Fresh's portraits on a finger between the base and middle knuckle as tribute to the artists who inspired him to settle for music as a career.
Barbed wires: Across the base knuckles
REST EASY: Between the top and middle knuckles of with each letter on each finger
Cartier Love Bangle: Top of index finger of the left hand
Growling bear: Back of right palm
John F Kennedy portrait: Back of left palm – tribute to JFK as role model of Americanism
St. Jude and his inward demon: Back of left forearm
Johnny Cash portrait: left upper arm – tribute to the late American singer
Lil Peep portrait: Below Johnny Cash portrait tribute to the late singer
SO FAR, SO GOOD… SO WHAT: By the side of left forearm
Skull with Texas flag: inner left upper arm
Playboy Logo: outer left upper arm – in recognition of men's playboy nature
Gadsden Snake: left forearm
Praying hands with a gun in between: upper right arm
Snake wrapped around a gun: left upper arm – in recognition of the US' Second Amendment gun rights
Gallenson's Gun Logo: right upper arm
World War I Soldier: outer lower right arm – Tribute to World War I fighters
Warring knight on a horse: outer lower right arm
Leg Tattoos
Fallout Vault Boy: in front of left leg – Tribute to Vault-Tec
Skull wearing a Cherokee Headdress: in front of right leg
Beauty and the Beast portrait in a heart: by the side of left leg – symbolises love and passion
Other major tats on Malone's body which are usually concealed under his clothes include a thorn-crowned Jesus portrait on his right chest and a skull with crossbones on his left ribcage, among many others. He also has various drawings on his scalp which only come bare once in a while when the artist shaves his head bald.
A Peep into Post Malone's Family – Who are His Parents and Does He Really Have A Daughter?
Post Malone was born to Rich Post and his wife, Nicole Frazier Lake. The rapper is Caucasian with Polish, English and Scottish roots from his father's side. Many have speculated that Malone is Puerto Rican or "trans-racial" but he has debunked the clams in an interview.
Unfortunately, Malone's parents broke up just few years after his birth and he subsequently raised him with the aid of his second wife, Jodie Post who became Malone's stepmother. This explains why scarcely anything is known about his biological mom, Nicole. Records however, say that Post has always maintained regular contact with her. This is substantiated by the fact that when Post's father moved his family from New York to Texas, Nicole also moved in other to remain close to him.
Malone's dad, Rich Post was a DJ from his youth and holds the credit for his choice of career. He exposed Post to a variety of music genre right from childhood, causing the latter to develop passion for the art from an early stage. Coupled with his love for the famous Guitar Hero video game, Malone taught himself to play the guitar with the help of YouTube DIY videos. He played his beats to school friends at Grapevine High. They loved it and so did his dad, whom he calls his biggest fan.
The "Sunflower" singer has two siblings – younger half-brother Jordan whom his mother Nicole had from another relationship, and younger stepbrother Mitchell whom his stepmother Jodie had before marrying his father, Rich.
There have been speculations about Post Malone having a daughter but these claims remain unconfirmed as at the time of writing this article.
Other Fun Facts About Post Malone
His birth name is Austin Richard Post. He formed his moniker "Post Malone" upon arriving LA. He took the first part from his surname while the second is in tribute to NBA All-Star Karl Malone.
Malone's love for basketball developed when he was a kid. He loved watching sports as a whole. His father was the assistant director of food and beverage for NFL franchise, Dallas Cowboys and as a result, he earned free food and tickets to their games.
Rap is not his only genre of interest. Malone says fans should expect pop and country hits from him. In an interview with Fader Magazine, the Dallas brought-up said he'd be doing country music when he turns 40.
The uncertainty surrounding his preferred genre saw him being excluded from XXL's 2016 Freshman list which ranks upcoming hip-hop acts to watch. XXL editor-in-chief Vanessa Satten said she was told by his camp that he wasn't paying attention to hip hop so much but that he was rather going in more for rock/pop/country. However, Malone however, debunked the claims, saying that his love for music should never be questioned no matter whichever way he decides to portray. He also made it clear that he never said he won't be doing hip-hop any more.
Profile Summary
First Name:
Austin
Last Name:
Post
Also Known As:

Post Malone
Sex/Gender:

Male
Profession:

Singer-songwriter, rapper and record producer
Famous For:
His debut single "White Iverson"
Colleges/Universities Attended:

Tarrant County College District Office
Educational Qualifications:

N/A
Religion:

Christianity
Birthday & Zodiac

Age/Date of Birth:

July 4, 1995 (28 years old)
Zodiac Sign:
Cancer
Birth Place:

Syracuse, New York, U.S.
Nationality:
American
Ethnicity/Race:

White
Country of Residence:

United States of America (USA)
Physical Attributes

Height:

6 feet (1.84 m)
Weight:

88 kg (194 lbs)
Eye Colour:

Blue
Hair Color:

Brown
Other Body Measurements:

Chest – 42 in (107 cm) Arms / Biceps – 14 in (35.5 cm)
Waist: 35 in (89 cm)
Relationships

Marital Status:

Single
Spouse/Partner:

Ashlen Diaz (Girlfriend, 2015-2018)
Family and Relatives

Father:

Rich Post
Mother:
Jodie Post
Children:

N/A
Siblings:
N/A
Other Relatives:

N/A
Net Worth
Estimated Net Worth:

$30 million
Salary:
N/A
Source of Wealth:

Album Sales, tours