Texas rapper-singer Post Malone got his big break in 2015 after his independently-released "White Iverson" became a sleeper hit. The success of the basketball-themed song inspired partly by retired basketballer Allen Iverson, helped Malone secure a major label contract with Republic Records joining the likes of Drake, The Weeknd and Nicki Minaj.
The success of "White Iverson" attracted him a handful of celebrity fans including Justin Bieber who invited him open for his Purpose World Tour. Malone also headlined his own 41-date tour which grossed over $1 million in 2016. Despite speculations that he'd end up a one-hit wonder, Post, Malone has done more than prove the world wrong. His debut album Stoney dropped in December 2016, scoring more first week sales than any other hip-hop album and ultimately receiving an RIAA platinum certification. We dare to say he is one to watch. Here is all you need to know about his rise to fame and wealth.
Post Malone's Ethnicity and Childhood
Post Malone is a caucasian rapper and has been asked if he was Puerto Rican or "trans-racial" in an interview which he denied. Malone's love for music began to develop when he was a kid, thanks to his dad who exposed him early to different genres. At the age of 10, Post who was born on July 4, 1995, in Syracuse, New York relocated with his family to Grapevine, Texas where he spent the rest of his childhood. A lover of the famous Guitar Hero video game, Malone taught himself to play the guitar with the help of YouTube DIY videos. At the age of 15, he unsuccessfully auditioned to join the band Crown the Empire.
Undeterred by the rejection, Malone continued to pursue his passion, penning lyrics and teaching himself to produce with FL Studio. He played his beats to school friends at Grapevine High. They loved it and so did his dad, who he calls his biggest fan. After high school graduation, Malone enrolled at Tarrant County College. However, 6 months later, he dropped out and relocated to LA to pursue his music career with his father's blessings. That was in 2013.
In LA, Malone began recording at Stevie B's studios. Shortly after, he met with 1st and Rich of the ace Atlanta production team, FKi. The guys moved in together and began making music. According his interview with Forbes, Malone couldn't even afford to buy a pack of cigarettes at the time. He wrote the lyrics for "White Iverson" and had it recorded two days later. With zero expectations, he casually posted it on his SoundCloud account in February 2015. Fortunately and much to his surprise, the song slowly garnered plays, reaching 7,000 within days, 1 million in a week and over 10 million plays within a few months. Post Malone had become a STAR!
Who Is Post Malone's Girlfriend
Post Malone, a talented musician who has been quite popular lately does not broadcast his relationships however, he was involved with a lady called Ashlen, whom Malone said they were dating during one of Justin Bieber's world tour.
https://www.instagram.com/p/BphycEwFpoQ/
However, there has been an absence of Ashlen's photos on Post Malone's Instagram page of late which is fueling the speculation that the two may no longer be together, but only time will tell.
Who Is His Dad and Does He Have A Daughter?
Post lived with his father, Rich Post who raised him with the help of his stepmother, Jodie Post. Post Malone's father, Rich had experience as a disc jockey and ended up introducing his son to various music genres such as hip-hop, country music, and rock.
There has been speculations about Post Malone having a daughter but this has not been confirmed as at the time of writing this article.
See Also: All About Lil Yachty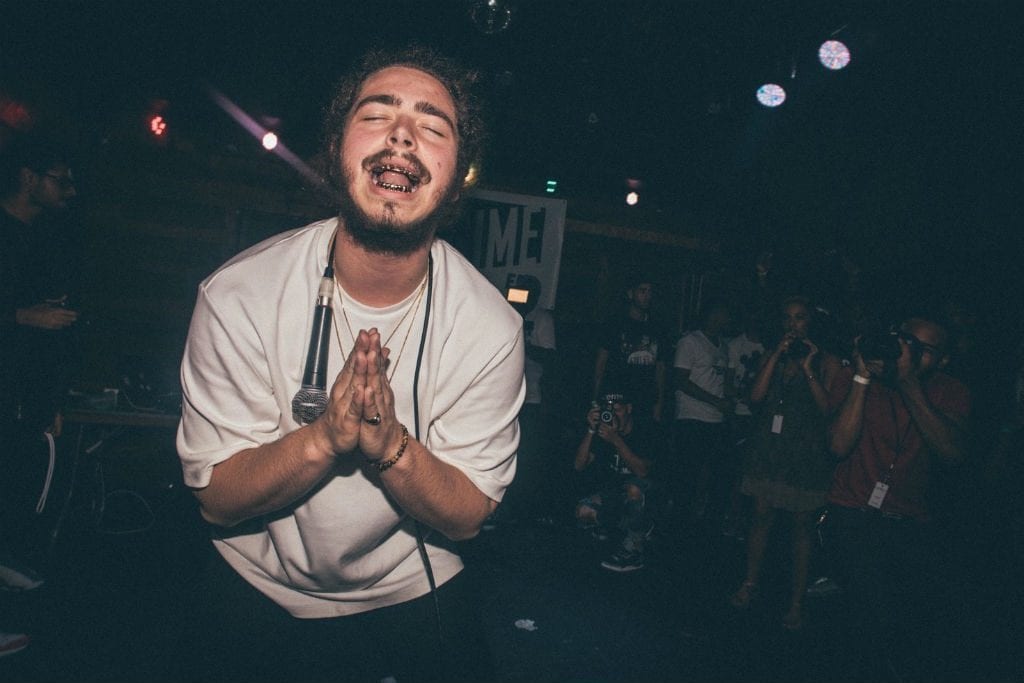 His Net Worth, Record Sales, and Show Earnings
With the success of White Iverson, Malone began attracting a number of record labels. In August 2015, it was confirmed that he signed with Republic Records. White Iverson was re-released via the label, further surging its success and earning it the RIAA platinum certification. The video for White Iverson has garnered over 300 million views on YouTube and has contributed to Post's total net worth of $8 million.
Despite his incredible breakthrough, Malone was speculated to end up as a one-hit wonder. But on the contrary, he capitalized on the buzz White Iverson created, releasing follow-up hits like "Too Young", "What's Up" "Patient" and "Tear$". He then scored features with some established rap acts like Kanye West, 50 Cent, and Gucci Mane.
Malone released his debut mixtape "August 26th" in May 2016. By December 2016 his debut album Stoney was released. Stoney peaked at #6 on the Billboard 200, selling 58,000 units in its first week, beating other debut releases to become the highest selling debut album of the week. The album included singles like "Go Flex" which he performed on his national TV debut on Jimmy Kimmel Live! Others are "Deja Vu" (featuring Justin Bieber), "Congratulations" (featuring Quavo) and "Too Young". Within 3 months of release, Stoney had gone platinum!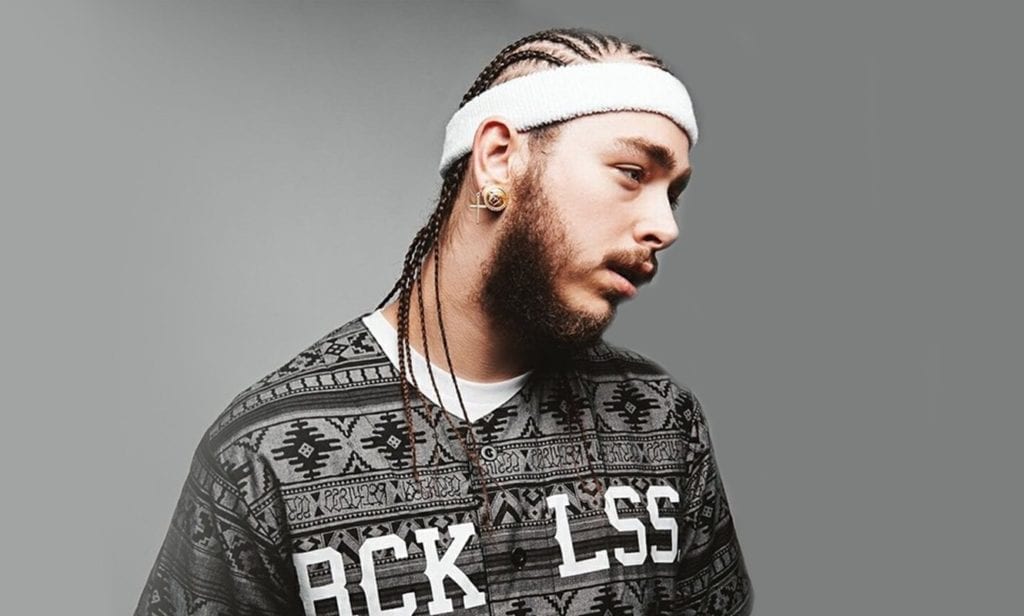 In addition to being the opening act for Bieber's Purpose Tour which kicked off in March 2016. Malone headlined his own tour in 2016, making over $1 million from 41 dates, that is an average of $243,000 earned per show.
See Also: Migos Net Biography
As common with hip-hop acts, Post Malone has begun plans to launch an entrepreneurial career. He hinted in a 2017 email interview with Forbes that he's on the verge of opening a tattoo shop in LA and also plans to start his own record label and sign some artists in 2018.
House
In a recent Rolling Stone's interview with Post Malone, he confirmed that he bought a house in Northern part of Utah sitting in a 13,000 square foot which cost him about $3 million
Fun Facts About The Musician
His birth name is Austin Richard Post. He formed his monker "Post Malone" upon arriving LA. The first part from his surname while the second is in tribute to NBA All-Star Karl Malone.
Malone's love for basketball developed when he was a kid. He loved watching sports as a whole. His father was the assistant director of food and beverage for NFL franchise, Dallas Cowboys, as a result, he earned freee food and tickets to their games.
Rap is not his only genre of interest. Malone says fans should expect pop and country hits from him. In an interview with Fader Magazine, the Dallas brought-up said he'd be doing country music when he turns 40.
The uncertainty surrounding his preferred genre saw him being excluded from XXL's 2016 Freshman list which ranks upcoming hip-hop acts to watch. XXL editor-in-chief Vanessa Satten said she was "told by his camp that he wasn't paying attention to hip hop so much. He was going in more of a rock/pop/country direction." However, Malone responded, saying "My love of music should never be questioned. I shouldn't be chastised in whichever way I see fit. That being said, I never have once said that, 'I'm not going to make hip hop anymore.'" XXL has the full gist.