As of today, Drake's net worth is $250 million. The Canadian-born rapper stands out as one of the greatest rappers not only in Canada and the US but the world over. In addition to being a rapper, Drake is also a singer, songwriter, record producer, and actor. He has enjoyed a steady rise in his career since entering the scene in 2001 and in 2017, he made his debut in the 2017 Forbes Five list as the 5th wealthiest hip-hop artist that year.
What is Drake's net worth?
Net Worth:

$250 million
Height:

In feet: 5 ft 11½ in
In Centimeters: 182 cm
Age/Date of Birth:

36 years old (October 24, 1986)
Salary:
Not Available
Income Sources:
Music production, acting, endorsement deals, business such as his record label, clothing line, radio station, and real estate investments.
Nationality:
Canadian-American
A Quick Look at His Early Life
Born Aubrey Drake Graham, the rap artist who also goes by the name Aubrey, Aub, as well as Aubrey Graham, was born in Toronto, Ontario, on October 24, 1986. Drake began his music career in 2001 and it wasn't long before the world took notice of his prowess in rap music. This led to him being signed by renowned music producers who played a vital role in making him rise to fame in a short time.
It was at the age of 5 that his African American father and his Jewish Canadian mother decided to part ways and he remained with his mother. While growing up, he seemed to be moving towards being an athlete before he decided to tow the path of music in line with his family. His father, Dennis Graham and his uncle, Larry Graham, played musical instruments for Jerry Lee Lewis and Sly and the Family Stone respectively. His mother's side of the family was also not left out in the music thing.
Before his amazing career, Drake started off acting in a local Canadian show known as Degrassi: The Next Generation. This was after being introduced to an agent who was a father to one of his high school classmates. After a couple of shows, the young and budding actor started to branch out into music.
Analysis of Drake's Net Worth: Music Success and Tour Earnings
Working with already-established music producers such as Jas Prince, the founder of Rap-A-Lot Records, was key to his success. At 20 years old, Drake released a mixtape via MySpace as well as on his website. It wasn't long before already-established and popular rap artists such as Lil Wayne came calling. In 2008, Lil Wayne, who was already a household name invited Drake to join him on a music tour. This led to him signing a recording deal with Lil Wayne's music stable, Young Money Entertainment, in 2009. By 2011, Aub's net worth was estimated to be $20 million
At the age of 23, Drake was quoted saying that he would be making $25 million before he turned 25, a dream that seemed too big for one who just entered the music scene. Well, by the time he was 27, he already had a net worth of $40 million. His net worth as of today is $250 million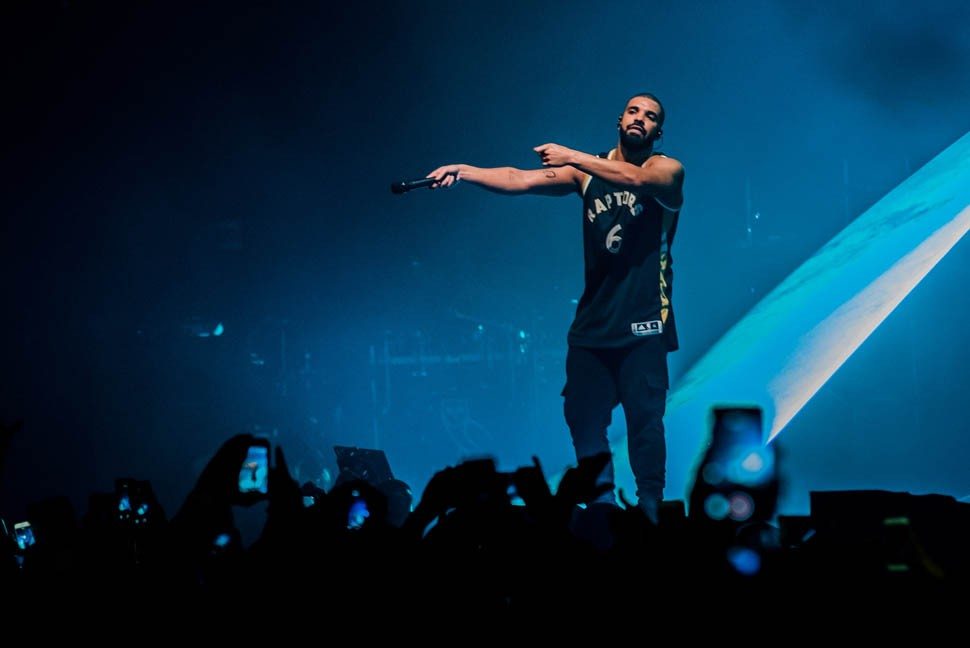 Drake has worked with other famous musicians including Jay-Z, Rick Ross, Nicki Minaj, Eminem, Kanye West, Birdman, Rihanna, among many others, and working with such great artists paved way for his rapid rise to success in less than 3 years.
The entertainer has performed in sold-out concerts; his songs have topped the Billboard's, R&B, Hip-Hop charts and many others. In 2010, he was among the star performers at the 2010 Grammy Awards and also won the Best New Artist BET award in the same year.
The year 2016 was a massive year for Drake. His 4th studio album "Views" broke numerous records. The album became the first ever to score 1 billion streams on Apple Music. It featured multi-platinum singles like One Dance and "Hotline Bling". The latter won him his second and third Grammy Award. Thanks to the incredible success of the album, Drake was able to earn $1 million per night on tour. The London shows for his "Boy Meets World Tour" grossed almost $14 million.
Drake has featured in a handful of movies, taking up a cameo role or portraying a different character. Some of his acts include; Beyond the Break, Anchorman 2: The Legend Continues, Breakaway, Ice Age 4: Continental Drift (voice), Think Like a Man Too and many others.
Income From Endorsements and Businesses
Drake's large fan base has earned him endorsement deals and sponsorship from top brands. In 2013, he signed a deal with Jordan brand from Nike as part of creating his own footwear line. This came at a time when Kanye West had been endorsed by Adidas after leaving the Nike stable.
Other companies that have endorsed the rapper include Apple, Kodak, Virgin America, and Sprite (Coca-Cola). He is an ambassador for the NBA franchise Toronto Raptors. Drake makes an estimated $3 million from his endorsement deals.
Drake owns a clothing line OVO (October's Very Own) and a record label OVO Sound.
Drake's Career Earnings From 2010 Till Date:
2010: $10 million
2011: $11 million
2012: $21 million
2013: $11 million
2014: $33 million
2015: $40 million
2016: $40 million
2017: $95 million
2018: $47 million
2019: $75 million
2020: $50 million
Total Earnings as of 2021: $433 million
Drake's highest-selling songs
1. Take Care: 2,338,000
2. Thank Me Later: 1,830,000
3. Nothing Was The Same: 1,783,000
4. Views: 1,607,000
5. If You're Reading This It's Too Late: 1,233,000
6. What a Time to Be Alive: 564,000
Major Highlights of His Career
Drake has won several major awards from 2009 till date, here are just some of them
BET Hip-Hop Awards – Rookie of the Year (2009)
BET Hip-Hop Awards – MVP of the Year (2010)
Juno Awards – New Artist of the Year (2010)
Songwriter's Hall of Fame – Hal David Starlight Award (2011)
BET Awards – Best Male Hip-Hop Artist (2010, 2012, 2014, 2016)
Grammy Awards – Best Rap Album (Take Care, 2013)
American Music Awards – Favorite Rap/Hip-Hop Artist (2016)
American Music Awards – Favorite Rap/Hip-Hop Album (Views, 2016)
MOBO Awards – Best International Act (2016)
BRIT Awards – International Male Solo Artist (2017)
Details of Drake's Girlfriends and Past Relationships: A Look at All The Women The Rapper Dated
You may be able to count the number of men that have dated more women than Drake. It has gotten so not surprising that any woman he is seen with, no matter the age, is considered as either his girlfriend or the next in line. Drake has dated more women in less than 10 years than many other men would get to date even if they are unlucky to return to this earth for a second and third time.
What makes his dating history very interesting is that his real and rumoured list has almost every woman from almost every field and age bracket. Drake's relationship menu has people like Keshia Chanté, Tyra Banks, Nicki Minaj, Blac Chyna and even others like Rita Ora, Serena Williams, and Jennifer Lopez. Even though some of these relationships have generated media interest, it was his relationship with Rihanna that somehow stood out. To find out more about not only the rapper's relationship with Rihanna but also some of his other ex-girlfriends/rumoured exes keep reading.
Imaan Hammam
Occupation: Model
In February 2020 there were reports that Drake was in a romantic relationship with a Dutch Moroccan Victoria's Secret model named Imaan Hammam. The star was seen arm in arm with the supermodel, who is an Amsterdam native, during New York's Fashion Week that February. On Wednesday, 5th of the same month, he was sighted leaving the model's apartment in New York City carrying two bags not long after Imaan had left her home alone. This stirred up relationship rumors
The following Friday, Imaan launched her capsule collection named Imaan x Frame with the luxury lifestyle apparel brand Frame, and at the launch dinner party, Drake was present, sitting with Imaan. The duo was beyond excited to be pictured together as Drake held the model's waist lovingly while giving his best smiles for photos. Later on, they attended the Nike fashion show as a pair prior to reportedly being seen sharing a kiss at Fleur Room.
Apart from attending events together and spending time at Imaan's house, Drake also likes her posts on Instagram.
Bella Harris
Occupation: Model
The latest of Drake's ex-girlfriends is allegedly Bella Harris, a young model who recently graduated from high school, according to a photo she posted on her Instagram on the 12th of June 2018 with the caption, "peace out high school…here's to new beginnings and new adventures." Bella signed a modelling deal with Elite New York City agency in 2018 and in addition to being known for her work as a model, she is also known for her family's connection to some top Hollywood celebrities.
The young model is the daughter of James Samuel "Jimmy Jam" Harris III, a music legend of the 1980's popular for his R&B/pop songwriting and record production career with Terry Steven Lewis. One of the most famous artists they worked with was Janet Jackson, who eventually became Bella's godmother. Miss Harris has two brothers- a twin brother named Max and an older brother named Tyler. While the young lady and her big brother are working in the modelling industry, her twin is currently trying to build a career in the music industry.
Probably because the Harris family is involved in the music industry, Bella has known Drake since 2016 or even earlier. Following the musician's wins at the American Music Awards in 2016, the model posted a picture on social media, with a congratulatory message to him. Also in the same year, she shared a photo of herself and Drake during his 2016 Summer Sixteen tour with Future.
However, Bella was not romantically connected to Drake, who is 13 years her senior, until 2018 when she posted a picture of them getting cozy backstage at Drake's concert at Madison Square Garden and captioned it, "No place I'd rather be," adding a blue heart emoji. The rapper, who follows Harris, liked the post. Sadly, they eventually parted ways shortly after.
Malaika Terry
Occupation: Model
Drake was also said to be dating model Malaika Terry in 2018. According to the model's social media accounts, she was born in March 1996 and is of Jamaican and Irish descent. Popular for showing off her bikini pictures to her fans, the beauty is followed by more than 154,000 on Instagram.
Malaika and Drake were both spotted in Toronto, Drake's hometown, in May 2018 when they visited Cafe Nervosa accompanied by bodyguards. According to a publication by MTO News, a source close to the singer revealed that he planned on settling down with Malaika and that he had even shown her to his mom. However, the relationship drowned like the others before it.
Sophie Brussaux
Occupation: Retired Adult Film Actress
The former porn actress was seen having dinner with Drake at a Japanese restaurant in January 2017 while on a trip to Amsterdam. Seemingly dining with a group of friends, they were pictured chatting as they enjoyed their Japanese meal. Subsequently, four months later, Sophie told TMZ that she was pregnant with the rapper's child and he wanted her to get an abortion.
On contacting Drake's reps. TMZ was told that Sophie's background was questionable, adding that she had agreed to having multiple relationships. "We understand she may have problems getting into the United States. She's one of many women claiming he got them pregnant," the rep further said. Continuing, the rep stated that if the child was truly Drake's, which he doubted was the case, he would do the right thing b the child.
Sophie later delivered a son nine months after being spotted with Drake, precisely on the 24th of October 2018, which coincidentally, is also the rapper birthday. Following a paternity test after the child's birth, the hip-hop star eventually confirmed that he fathered him on June 29, 2018. The confirmation was made via his a track titled Emotionless, featuring Mariah Carey on his album 'Scorpion'.
Lateysha Grace
Occupation: TV Personality, Business Woman, and Model
The Canadian singer was linked to Lateysha Naomi Henry, known professionally as Lateysha Grace, in 2018. Miss Grace kicked off her TV career in 2012 with her appearance on the MTV reality show, The Valleys, which ran from 25 September 2012 until its cancellation was announced on 1st June 2014. Since then, she has appeared in other television series and films, including the 17th series of Big Brother in 2016, the 2018 film Million Dollar Baby, as well as Celebrity Ex on the Beach (2020).
In April 2018, an exclusive report by The Sun Online revealed that Drake had been wooing Lateysha Grace. He reportedly traveled to Britain just to go on a date with The Valleys star and according to a source who spoke to the aforementioned media house, the celebrity artist took Lateysha to a fancy restaurant where they spent time hanging out and talking all night. "He's certainly been enjoying playing the field during his time in the UK. He's a charmer", the source added.
On her own part the source continued, Lateysha had fallen for Drake's charm and "… has been telling her friends she's planning on visiting Drake in Los Angeles soon when he heads back home."
Raye
Occupation: Singer
Rachel Agatha Keen, who is called Rye in the professional circle, is a British pop and R&B singer and songwriter from London. Born on the 24th of October 1997, she made her professional music debut with her EP titled Welcome To The Winter, which was released on December 11, 2014. The beautiful singer also featured on You Don't Know Me, a single by Jax Jones, in 2016.
Just a few days before it was reported that Drake was wooing Lateysha, news emerged that he was dating the British singer, Rye. A music insider reportedly told the The Sun Online that Rye, who is a very big fan of Drake's, reached out to him on Twitter concerning one of her songs and amazed at her songwriting talent, he decided to record with her. However, while working with her, it soon became glaring that Drake was interested in having something more with Rye, not just music.
Making further disclosures, the insider said, "It's early days but the pair have already been out on a string of dates, with Drake taking her to his favourite restaurant, Nobo Berkeley in Central London. He even turned up to watch her peform for a fashion bash at London's new venue Lost Rivers Leake Street on Friday…"
Jennifer Lopez
Occupation: Actress, singer, dancer, fashion designer, producer, and businesswoman
Also widely known by her nickname J.Lo, Jennifer Lynn Lopez started appearing on In Living Color as a Fly Girl dancer and remained a regular cast on the show until 1993 when she decided to pursue a career in acting. In 1997, she landed her first leading role in Selena biopic of the same name, earning a pay of more than US$1 million for her role. She went on to star in other blockbuster movies through which she earned enough money that established her as the Latin actress with the highest pay in Hollywood.
Having inked her name among the big shots in America's acting industry, J.Lo moved into the music industry, releasing her debut album On the 6 in 1999 and following it up with the release of other albums. Thanks to her continued success in the entertainment business, Lopez amassed enough money to establish various businesses, including fragrances, clothing lines, and the production company known as Nuyorican Productions, among others.
Being a celebrity, it is nothing strange for the actress to mingle with other A-list celebrities like her. The list of J.Lo's boyfriends is an endless one but among the men she has been linked to, her relationship with Drake was one that got people talking. The duo allegedly became an item around Christmas 2016 and Jennifer was present to support Drake at his New Year's Eve show in Las Vegas. The female singer subsequently confirmed their speculated romance, sort of, by sharing a photo of them cuddling on her Instagram page. Unfortunately, the couple was not together for to long as they parted ways in February 2017 as a result of their tight schedules.
Serena Williams
 Occupation: Tennis Player
Our favorite Toronto-born rapper was spotted on different occasions watching Serena Williams play tennis. He was seen the first time in 2011 and then at several other times through 2015. Serena also made an appearance in Trey's Songz' video of Bottom's Up, which was shot in Drake's condo, according to reports, while Drake casually mentioned the athlete's name in the lyrics of his song, Worst Behaviour. In all these, neither of the pair ever confirmed their relationship but a proof that they were an item eventually surfaced when TMZ released pictures of them kissing at a restaurant in Cincinnati.
Rihanna
Occupation: Singer-songwriter
Drake and Rihanna were first said to be a pair in 2009. Even though Drake was clear about what he felt for Rihanna, she never appeared to be on the same page with him. In the years that followed, the two left fans confused as to the nature of their relationship. They would be spotted flirting with one another, Drake would confess his love her and rumors will start swirling that they were romantically involved, but Riri would promptly shut it down by saying that they were nothing but friends. They would be caught up being flirtatious once again and the cycle kept ongoing.
Although Rihanna has never agreed to being in a relationship with Drake, a source told E! News in 2016 that the stars were dating at the time. That was probably when they reportedly got matching tattoos. Their relationship, however, was short-lived as the female singer went back to acting single a few months later. Whatever the case, the rapper has pledged to always love and support her.
Profile Summary
First Name:
Aubrey
Last Name:
Graham
Estimated Net Worth:

$250 million
Salary:
Not Available
Source of Wealth:
Music production, acting, endorsement deals, business such as his record label, clothing line, radio station, and real estate investments.
Also Known As:

Drake, Aub, Champagne Papi, 6 God, Drizzy
Sex/Gender:

Male
Profession:

Rapper, singer, songwriter, executive producer, actor, and entrepreneur
Famous For:
Being one of the world's best-selling music artists, with a world-wide sale of more than 170 million records and being the highest-certified digital singles artist in the world according to RIAA ranking. Drake is also a holder of a several Billboard chart records.
Colleges/Universities Attended:

Forest Hill Collegiate Institute, Vaughan Road Academy
Educational Qualifications:

Not available
Religion:

Jewish
Birthday & Zodiac

Age/Date of Birth:

36 years old (October 24, 1986)
Zodiac Sign:
Scorpio

Birth Place:

Toronto, Ontario, Canada
Nationality:
Canadian-American
Ethnicity/Race:

White
Country of Residence:

United States of America
Physical Attributes

Height:

In feet: 5 ft 11½ in
In Centimeters: 182 cm
Weight:

In Kilogram: 82 kg
In Pounds: 181 lbs
Eye Colour:

Dark Brown
Hair Color:

Black
Other Body Measurements:

Chest: 44 inches, waist: 34 inches, biceps: 16 inches
Relationships

Marital Status:

Single
Spouse/Partner:

Not available
Family and Relatives

Father:

Dennis Graham
Mother:
Sandi Graham
Children:

Adonis Graham (son)
Siblings:
Stephenie (Younger Half Sister)
Other Relatives:

Musicians Larry Graham and Teenie Hodges (uncles)
Common Questions Answered