What is Eminem's Net Worth?
Net Worth:
$230 million
Age/Date of Birth:

50 years old (October 17, 1972)
Height:

in feet: 5 feet 8 inches
in meters: 1.72 meters
in centimeters: 172.1 cm
Ethnicity/Race:

German, Scottish, and Swiss-German, ancestry
Nationality:
American
Wife or Girlfriend:
Kimberly Anne Scott- Ex-wife
Parents:
father: Marshall Bruce Mathers, Jr.
Mother: Deborah R. Nelson-Mathers
Eminem is an American rapper who has dominated the music genre for many years. He is also an actor, singer, songwriter, and accomplished record producer with a net worth estimated at $230 million.
Eminem stands out from other rap artists due to his uncanny, humorous, and most times offensive lyrics. His career is built around several controversies that arise from him dissing his mom, dad, ex-wife, and a long list of popular figures.
While more and more people have been angered by his songs, Eminem has been able to remain relevant in the entertainment industry; thanks to his multitude of devoted fans and his accomplishments in the business. Slim Shady is easily the most successful white rapper of all time and he's vastly considered to be one of the finest hip-hop artists. Marshall Mathers owes a large chunk of his wealth to his music career but as you would soon learn, he has also made money through other means.
Analysis of Eminem's Net Worth and How He Spends His Money
The hip-hop artist who has made a name for himself as one of the world's best-selling artists has a net worth of $230 million. Most of that amount came from the sale of his music as he is counted among the best-selling music artists of all time. Apart from that, the rapper has made money from concert tours, movies, books, his record label, endorsement deals, and what have you.
With his various sources of income, no one needs to be told that Eminem has strong earning power. And, given that he has been active since 1988, it is remarkable that Eminem is still counted among the big earners in the industry. In 2019, Forbes reported that he earned a massive $50 million. Before this, it was been widely estimated that he makes as much as 20 million yearly.
Below is a look at his career earnings over the years.
2012 – $15 Million
2013 – $10 Million
2014 – $18 Million
2015 – $31 Million
2016 – $11 Million
2019 – 50 Million
Slim Shady Has Sold Over 220 Million Records Across The Globe
Eminem is considered to be the best-selling artist of the 2000s and is probably the best-selling hip-hop artist of all-time. He dropped his debut album, Infinite, in 1996 and his body of work now includes eleven studio albums, two soundtrack albums, two collaborative albums, one compilation album, and one extended play. In all, it is estimated that he has sold more than 220 million records worldwide. The rapper has earned no fewer than 50 platinum certifications and has thus far attained ten number-one albums on the Billboard 200.
One of the most remarkable facts about the rapper is how songs he made many years ago continue to make him money. A good example is his 2002 monster hit, "Lose Yourself". The song attained 1 billion streams on Spotify in February 2021. Now, one has to pull off about 250 streams to make $1 on the platform. Going by that, Eminem has made about $4 million from people streaming Lose Yourself on Spotify.
You can do anything you set your mind to, man… #LoseYourself is over 1 billion on @Spotify pic.twitter.com/KtSOzbJK8q

— Marshall Mathers (@Eminem) February 24, 2021
Needless to say, it is only one of the rapper's most-streamed songs, others like "Till I Collapse" have also attained the 1 billion mark; and "Without Me" and "Love the Way You Lie" will soon follow suit. As of December 2020, it was reported that his songs had been streamed over 4.1 billion times by more than 139.8 million people across 92 countries. He pulls as much as 10 million streams a day.
His Best Selling Albums and How Much They Made
The Slim Shady LP (1999)

Copies Sold: 10,410,000
Amount Generated: $191,439,900

The Marshall Mathers LP (2000)

Copies Sold: 21 Million
Amount Generated: $386.4 Million

The Eminem Show (2002)

Copies Sold: 27 Million
Amount Generated: $496.8 Million

Encore (2004)

Copies Sold: 11 Million
Amount Generated: $202,620,000

Relapse (2009)

Copies Sold: 4,480,000
Amount Generated: $67,065,600

Recovery (2010)

Copies Sold: 10 Million
Amount Generated: $145 Million

The Marshall Mathers LP 2 (2013)

Copies Sold: 4,770,000
Amount Generated: $57.24 Million

NB: Album prices were determined by the average price of an album from 1974 – 2014.
The Lose Yourself Rapper Has Made Millions from Concert Tours
Like every other artist, Marshall Mathers has embarked on multiple concert tours to promote his albums. Considering the clout he commands in pop, it is easy to see why almost all of his concert tours have been a massive success story. The first he headlined was The Slim Shady LP Tour of 1999. It lasted from April to December and spewed at least 54 concerts across the United States, Canada, and the United Kindom.
After that came The Recovery Tour which lasted from July 2010 to August 2013. It had the rapper perform a series of concerts in European and Asian countries. Slim Shady headlined his third tour the following year. The Rapture Tour lasted from February to July 2014 and the rapper performed in a total of eight shows in England, South Africa, Australia, and New Zealand. The next time he would headline a concert tour was in 2018 when he had his Revival Tour and then the Rapture 2019 tour.
Eminem has also co-headlined tours with other popular artists like Jay Z, Ice Cube, Rihanna, and of course Dr. Dre. He was a part of the Up in Smoke Tour in 2000 and the Anger management Tour that lasted from 2002 to 2005. The most popular tours he has co-headlined include The Home & Home Tour with Jay Z in 2010 and the Monster Tour with Rihanna in 2014. The former had the famous rappers perform two shows in the United States: first at the Comerica Park in Detroit and then at the Yankee Stadium in New York City. Eminem's tour with Rihanna ranked among the highest-grossing tours of 2014 in North America. It reportedly grossed $36 million in six shows.
Endorsement Deals Have Also Contributed a Significant Amount to Eminem's Fortune
Given the status Eminem has attained as an entertainer, it is only natural that he attracts some of the most popular brands who want to have him promote their products and services. Even though his controversial personality has probably left some brands skeptical about forming a partnership with the rapper, Slim Shady has landed some notable endorsement gigs over the course of his career.
For instance, he was the face of Chrysler 200 when it was introduced to the public for the first time in 2011 during the Super Bowl XLV. Earlier in his career, he partnered with Nike and the Jordan Brand for a while. It is hard to tell what Eminem has been able to make from his endorsement deals but there is no doubt it has been a significant source of income for the rap star.
Paychecks from Acting and Proceeds from His Books
The rapper is also a bit of an actor and his exploits in the industry have added to his wealth. His most popular acting project remains the 2002 musical drama film, "8 Miles". The rapper portrays a fictionalized version of himself in the movie directed by Curtis Hanson and would go on to win Oscars for Best Original Song: this was for "Lose Yourself", one of the soundtracks of the film written by Scott Silver. 8 Miles is widely considered Eminem's acting debut but earlier in 2001, he pulled off a cameo role in the comedy film, "The Wash". He also featured in the same capacity in "Funny People" (2009), "Entourage" (2010), and "The Interview" (2014)
Marshall Mathers has also made good money from providing the soundtrack of multiple small and big-screen projects. In fact, he is credited as the soundtrack artist of no fewer than 163 productions. What he makes from this is best known to him but it must have contributed to his net worth.
Eminem has also been able to add to his wealth through the proceeds from his books. His first was a non-fiction book published in 2000. Titled "Angry Blond", the book contains several pictures of the rapper that had not been seen by the public and the rap artist's commentary on his songs. Before that decade ran out, Marshall published his second book titled "The Way I Am". The book is an autobiography, a collection of the rapper's real-life stories, pictures, lyric sheets, and things of that sort.
His Exclusive Merch and Apparel Offerings Has Been a Cash Cow
For someone famed as the best-selling rapper of all time, it is not out of place that Eminem commands a massive number of fans and dedicated followers. As of February 2021, he has a total of 54.5 million followers on Instagram and Twitter. He has capitalized on his enormous fan base, selling exclusive merch and apparel that covers everything from t-shirts to long sleeves, hats, sweatshirts, and collectibles.
What he makes from this has never been disclosed to the public but considering his huge fan base, one can conclude that the rapper's merch and apparel offerings have been a huge cash cow for him.
He Co-owns a Record Label Called Shady Records
It was in 1999 that the rapper co-founded the record label with Paul Rosenberg, a music manager known for managing Eminem. The company has witnessed good and bad times but is largely successful as it has signed some popular names in hip-hop like 50 Cent, Yelawolf, and Obie Trice. The label has released no fewer than 30 albums thus far, most of attained gold and platinum certification.
Some of its most successful releases include Eminem's "The Marshall Mathers LP" (2000) and "The Eminem Show" (2002). Shady Records released both of the albums which were certified diamond with Aftermath. There are also 50 Cent's "Get Rich or Die Tryin'" (2003) and "The Massacre" (2005) which were respectively certified platinum 9 and 6 times. Based on these few projects, one can see that co-founding Shady Records is one of the smartest investments Eminem has made.
The Major Sources of Eminem's Wealth
Profits from his record label, Shady Records.
Income from his merch and apparel offerings.
Paychecks from acting.
Proceeds realized from the sale of his books.
Earnings from endorsement deals.
Revenue generated from concert tours.
Income grossed from record sales.
Eminem Is a Prudent Money Manager
Despite being one of the richest rappers in the world, Eminem isn't one to indulge in lavish and wasteful spending. He is known to be a prudent money manager who had to call his manager to ask if he can afford to purchase a $15,000 Rolex watch whereas he's worth millions. As the story goes, he was worried he would run out of money and not be able to see his daughter through college.
Eminem once lived in Rochester Hills on the northern outskirts of the Detroit suburbs. He bought the mansion many years ago (in 2003) for a whopping $4.75 million. It includes six bedrooms, nine and a half bathrooms, and stretches 17,000 square feet on nearly six acres of land. It also has other fine features like a tennis court, a waterfall pool and spa; an entertainment cabana, a guest house with its own game room, and a guardhouse.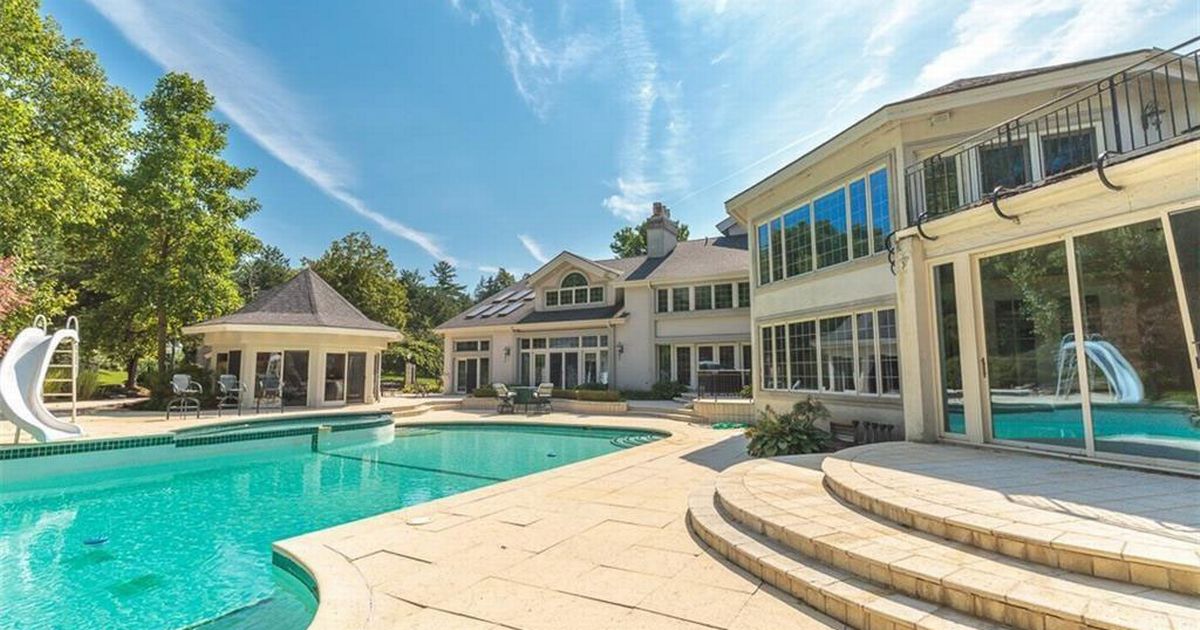 Sometime in August 2017, it was reported that he listed the home for sale asking for $2 million, and successfully sold it the following month. He also owns another home in Clinton Township, Michigan. From what we gathered, it is an 8,900 square-foot mansion built in 1996 and he purchased in 2000 for over $1.4 million
The rapper has also spent a fair portion of his wealth on cars. Reports have it that he owns some fine rides like Ferrari 599 GTO, Ferrari 430 Scuderia, Porsche 911 GT3 RS 4.0, Audi R8 Spyder, Porsche Carrera GT, and a Ford GT.
He Has Donated Millions to Charity Through His Marshall Mathers Foundation
Based on what people close to him have shared, Slim Shady is very public-spirited and has donated most of his career earnings to charity. In fact, it has been estimated in some quarters that he has given away as much as $180 million.
He makes most of these donations through his Marshall Mathers Foundation. The charitable organization strives to assist at-risk and disadvantaged youth in Detroit and the communities that surround it.
A Look At How His Net Worth Grew Over Time
Eminem is now super-rich and famous but it has not always been so for him. He grew up in poverty and struggled to become part of the music industry. When he released his first studio album "Infinite" in 1996, it only sold about 1000 copies.
Thankfully, his sophomore album "The Slim Shady LP" dropped in 1999 and it marked the beginning of his journey towards becoming a multi-millionaire. As stated above, the album sold over 10.4 million copies.
It is most likely that Eminem made his first million in 1999. Below is how his net worth has grown over the years.
2000 – $25 Million
2003 – $50 Million
2007 – $70 Million
2010 – $95 Million
2015 – $165 Million
2018 – $190 Million
2021 – $230 Million
Early Life and Struggle With Poverty
Eminem was born Marshall Bruce Mathers III on October 17, 1972, in Detroit, Michigan. He grew up in a black-dominated, middle-class neighborhood; raised by his mum who worked odd jobs to make a living. His surroundings exposed him to rap and hip hop at a very tender age and this influenced him to become a hip-hop artist as he constantly listened to tracks from Beastie Boys, Dr. Dre, Naz, AZ, and other rap artists.
Being white and growing up in a black community that viewed rap as black-oriented, Eminem found it quite difficult to penetrate the market. In fact, he was attacked by other artists who couldn't imagine a white boy doing rap music. Also, many record producers turned him down without even listening to his tracks.
This, however, did not kill his dream to one day make it into the limelight. And to nurture his talent, Eminem frequently took part in freestyle rap battles, open-mic sessions, and created his unique style of rap while still a teenager. Poor grades in high school saw him spend three years in the ninth grade which eventually prompted him to drop out when he was 17 years old.
In addition to being a solo artist, Eminem is known as a notable member of two hip-hop groups; D12 and Bad Meets Evil.
D12, an initialism for The Dirty Dozen, comprised of six Detriot rappers and their alter egos which made it a dozen. Members of the group included Eminem, Bizarre, Kuniva, Mr. Porter, Swifty, and Proof. Eminem's other group, Bad Meets Evil, comprised of him and another fellow Detriot rapper, Royce Da 5'9.
The Successes He Has Achieved In His Career
Eminem later signed up with Soul Intent (formerly known as Bassmint Productions) while still working as a dishwasher and cook at a local eatery. At this stage, Eminem was struggling to take care of not only himself but his mum as well. He, later on, moved onto FBT productions and Mashin Duck Records but still, nothing looked promising.
In 1996, he released his debut album titled "Infinite" under FBT productions' independent label, Under Web Entertainment. The album was a commercial failure as Eminem continued to struggle in his personal life, culminating in a suicide attempt. His major breakthrough came the following year in 1997 after he released "The Slim Shady EP" which caught the attention of famous Hip-Hop producer and NWA member, Dr. Dre. Working with Dr. Dre enabled him to release "The Slim Shady LP" which took the industry by storm.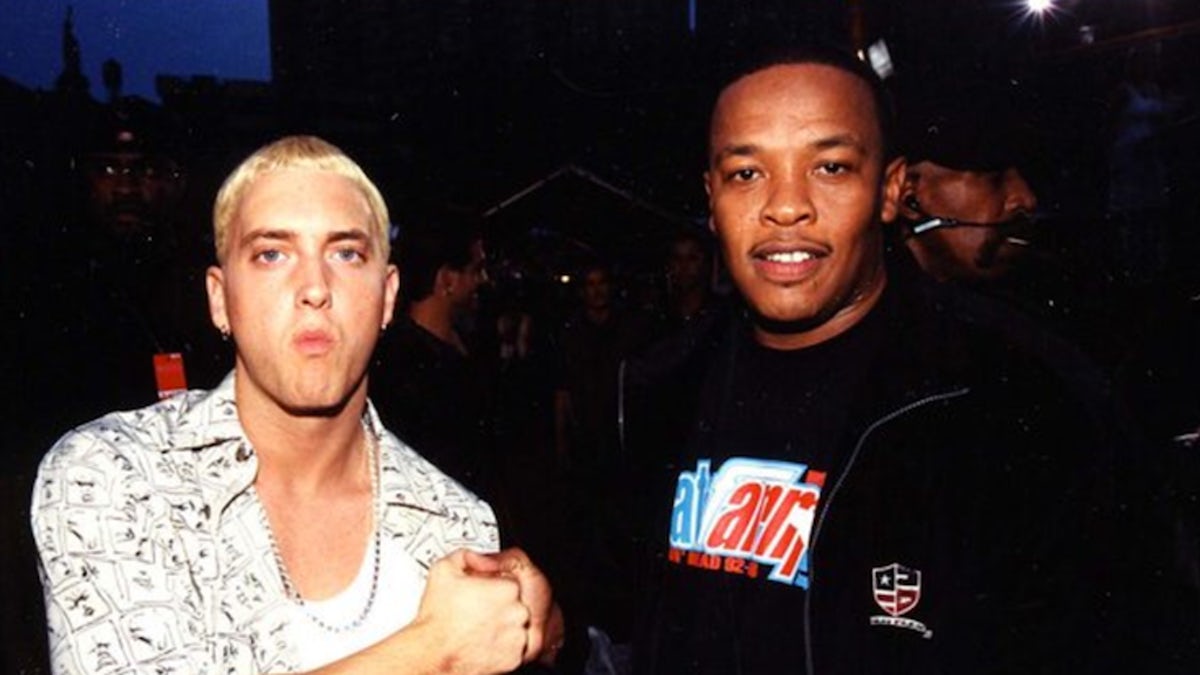 The Album brought Eminem his first Grammy Award for Best Rap Album of the Year. In the year 2000, Eminem dropped "The Marshall Mathers LP" which holds the record for being the fastest-selling hip-hop album ever. 2002 came and he followed it up with another critically and commercially acclaimed album, "The Eminem Show". With that, Slim Shady became the best-selling artist of the 2000s in the United States and as one would expect, he also became one of the best-selling artists in the world. He ranks second when it comes to being the bestselling male artist in the Nielsen SoundScan era.
Eminem has won the Best Original Song gong at the Academy Awards. He has had at least 12 singles top the charts worldwide, and ten albums top the Billboard 200. Billboard Magazine named him the Artist of the Year in 2009. In addition to declaring him as King of Hip Hop, Rolling Stone also ranked him at number-83 among the greatest 100 artists ever.
List of Some of The Prominent Awards Eminem Has Won
17 Billboard Music Awards
16 MTV Europe Music Awards
15 Grammy wins out of 44 nominations
12 MTV Video Music Awards
10 Teen Choice Awards
10 Detroit Music Awards
Nine World Music Awards
Eight American Music Awards
Seven ECHO Awards
Seven People's Choice Awards
Academy Award for Best Original Song
Four Brit Awards
Eminem Had a Rocky Relationship With His Mom 
Eminem and his mother, Deborah Rae "Debbie" Nelson, had had a torrid relationship which worsened after he became a successful rapper. Despite being the only parent in his life after she and his father, Marshall Bruce Mathers Jr separated, the two haven't been best of friends. Eminem has written several songs about his mom about how he abused him, proclaiming the woman an unstable drug user and the source of his addiction problems.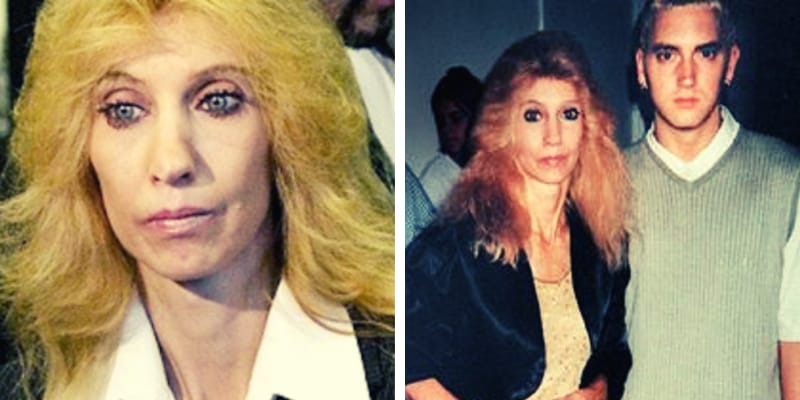 In 1999, she sued him for about $10 million for slandering her on "The Slim Shady LP". Eminem called his mum unprintable names in songs like "Cleanin' Out My Closet". However, the relationship between the two has improved over the years. Just as the rapper publicly dragged the woman, he publicly apologized to her in his 2013 song titled "Headlights". In the song, Eminem thanked Debbie for being both his mom and his dad.
The Rapper Married and Divorced Kim Scott Twice
Eminem has been married twice to Kimberly Anne "Kim" Scott whom he met while in high school. Kim and her twin sister Dawn ran away from home at the age of 13 and started living with Eminem and his family. Subsequently, Eminem and Kim began an on-and-off relationship.
The couple welcomed their first and only child together, a daughter named Hailie on Christmas Day of 1995. Kim was 20-years-old and Eminem, 23. In 1999, they tied the knot but divorced two years later. The couple later got back together and remarried in January 2006 following years of turmoil. Just three months later, the rapper filed for divorce again.
Apart from being the biological father of Hailie Jade Scott Mathers, Eminem has two other kids. He adopted his ex-wife's daughter from another relationship, her name is Whitney Scott Mathers. He also adopted Alaina Marie Mathers, the daughter of his ex-wife's twin sister, Dawn Scott. Several reports have it that the rapper has been a good father to his daughters. When his biological child obtained a degree in psychology from Michigan State University, Eminem publicly asserted that she made him a proud father.
Eminem Hasn't Had Any Serious Relationship Since His Marriage Packed Up
In one of his recent interviews, the hip-hop star disclosed that he uses dating apps such as Tinder to meet people with whom he goes out for a date. Because of how private he has kept his love life since his dramatic relationship with Kim came to an end, it is hard to tell who the people are.
Sometime in 2011, the "Love the Way You Lie" rapper disclosed that he has trust issues that prevent him from having any serious relationship. Affirming that he would want to be in a relationship someday, the rap star added that who he is and what he does makes it hard for him to meet new people. While he is believed to be single, he has been romantically linked to Rihanna, Tara Reid, and Mariah Carey.
Eminem has been bashed several times for lyrics that are homophobic. As such, it was quite a shock for many when he revealed that he uses Grindr, a popular dating app for gay and bisexual men. It later emerged that the rapper was only joking.
Profile Summary
First Name:
Marshall
Last Name:
Mathers III
Also Known As:

Eminem, Double MM&M Slim Shady, Em,
Sex/Gender:

Male
Profession:

Rapper, music producer, actor, entrepreneur
Famous For:
being arguably the greatest rapper of all time. He is also one of the most controversial musicians as well as one of the best selling artists of the 21st century
Colleges/Universities Attended:

Lincoln High School
Educational Qualifications:

None yet
Religion:

Christian
Birthday & Zodiac

Age/Date of Birth:

50 years old (October 17, 1972)
Zodiac Sign:
Libra
Birth Place:

Saint Joseph, Missouri, United States
Nationality:
American
Ethnicity/Race:

He is of German, Scottish, and Swiss-German, ancestry
Country of Residence:

The United States of America
Physical Attributes

Height:

in feet: 5 feet 8 inches
in meters: 1.72 meters
in centimeters: 172.1 cm
Weight:

‎In Kilogram: 68 kg
In Pounds: 150 Lbs
Eye Colour:

Blue
Hair Color:

Brown
Other Body Measurements:

Chest size‎: ‎43 inches (109 cm)
Waist size‎: ‎34 inches (86 cm)
Shoe Size‎: ‎US 10.5, Euro 43-45, UK 10

Relationships

Marital Status:

Divorced
Spouse/Partner:

Kimberly Anne Scott- Ex-wife
Family and Relatives

Father:

Marshall Bruce Mathers, Jr.
Mother:
Deborah R. Nelson-Mathers
Children:

Alaina Marie Mathers (Born May 3, 1993)
Hailie Jade Mathers (Born on December 25, 1995 )
Whitney Scott Mathers (Born on April 16, 2002)

Siblings:
Nathan Kane Samara (Brother)
Michael Mathers (Brother)
Sarah Mathers (sister)
Other Relatives:

Kimberly Anne Scott (Ex-wife)
Net Worth
Estimated Net Worth:

$230 million dollars
Salary:
Nil
Source of Wealth:

Music, movies, endorsements, and business
Your Questions Answered