Dr. Dre is an American rapper, actor, entrepreneur, audio engineer and producer who has a net worth of $820 million. He is considered to be one of the best hip hop producers of all time
What is Dr Dre's net worth?
Net Worth:

$820 Million
Salary:
$35 million
Income Sources:
Music and Film Production. Acting, His Record Label named Aftermath Entertainment, and Sale of his
Headphone Speaker Company, Beats Electronics
Age/Date of Birth:

58 years old (February 18, 1965)


Height:

In Feet, Inches: 6' 1"
In Meters: 1.85
Nationality:
American
Last Updated:

2021
Born Andre Romelle, Dre spent all his childhood life in South Central, Los Angeles during the nascent stages of West Coast hip-hop. He started visiting night clubs during his teen, where he learned to deejay. He shortly after joined an electro-hop group going by the name The World Class Wreckin' Cru, in 1984. Later on hooked with other rappers upon meeting Ice Cube and together they formed project NWA, headed by rapper Eazy-E. The group went ahead to release their debut album, "Straight Outta Compton", which was certified double platinum in due course.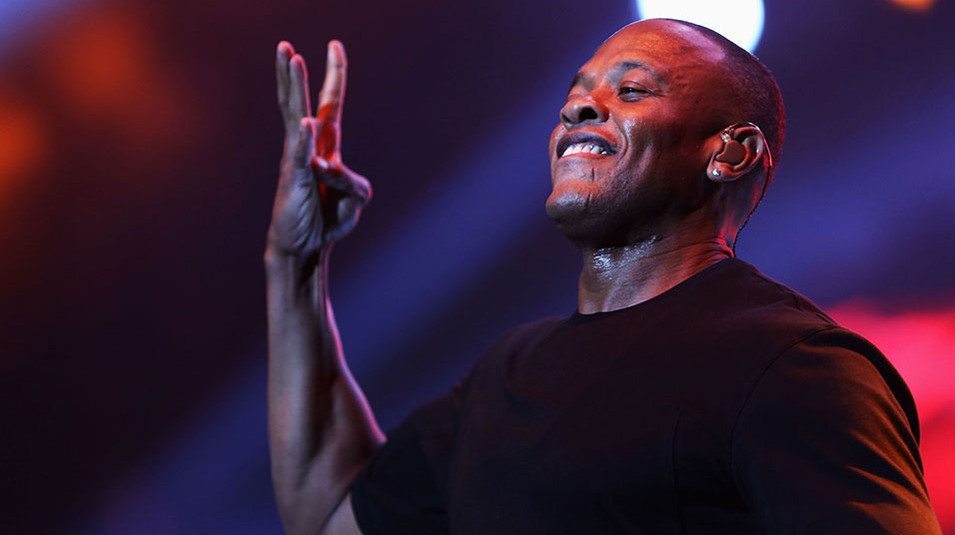 Music Breakthrough
Three years down the line, we have Dre hooking up with Suge Knight to co-found Death Row Records and thereafter releasing his first solo album that would eventually be certified multi-platinum after rising to position 3 on Billboard 200. The album also won him the first Grammy, with the single "Let Me Ride," in the Best Rap Performance category.
In 1996, Dre established his own label, The Aftermath, bringing in fresh talents and jump-starting the musical career of great artists such as Mary J. Blige, 50 Cent, and Eminem among others.
Dr Dre's Net Worth and Income From Other Sources
Dr. Dre is an American producer, rapper, entrepreneur, and actor, with an estimated net worth of $820 million. Forbes ranks him second on their 2015 list of the wealthiest hip-hop artists, close to Sean Combs (P-Diddy), in the first place, and Jay Z, in the third place. As with the rest of the rappers on the list, Dre's wealth is partly chained with his successful music career and, in greater part, with the numerous business ventures that he has outside music.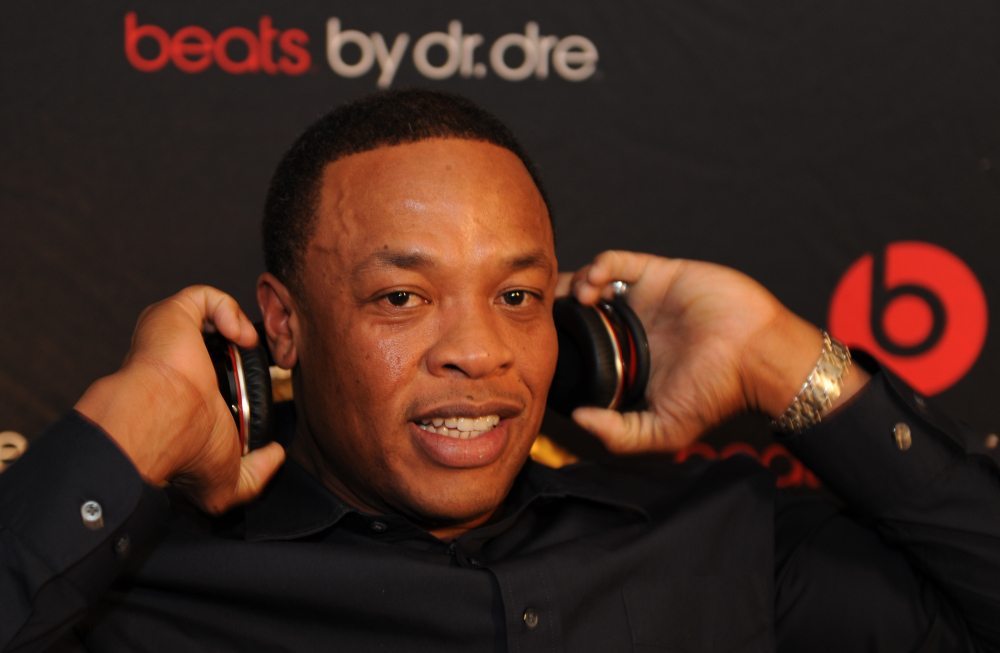 A greater bulk of Dr. Dre's wealth comes from the sale of Beats Electronics, a headphone speaker company he co-founded in 2008 alongside his longtime friend and partner, Jimmy Lovine. They sold the company to Apple at $3 billion, out of which Dre went home with $400 million, ballpark.
For a casual observer who can't do the math, a good portion of the money went to some of the key players actively involved with the success of the company. Lebron James is believed to be one of them, with a huge percentage going to Universal Music Group for featuring the headphone on almost every music video produced by Interscope.
Besides music and business, Dr Dre's success also extends to film. He's appeared in some of the 90's blockbusters including "Training Day", "Set it Off". Dre is also the producer behind the recently released blockbuster, "Straight Outta Compton," based on NWA rap group true story. He also had an acting role in the movie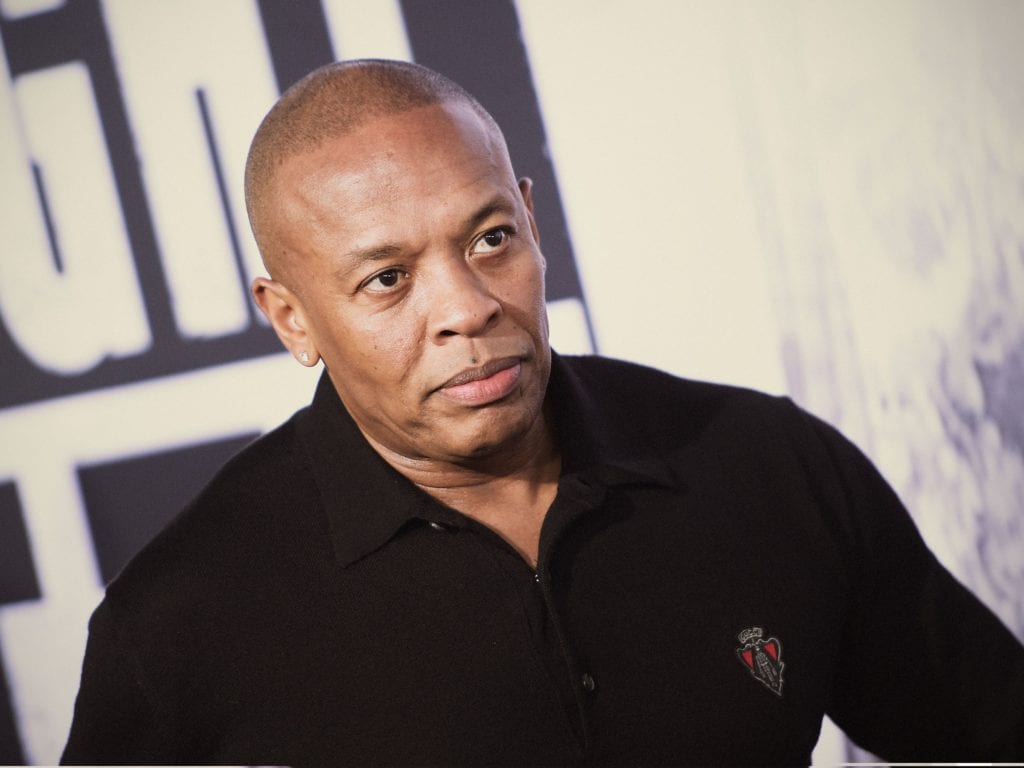 A Breakdown of His Net Worth and Earnings
In retrospect, his toll road to wealth began in 2011 when he sold part of his Aftermath shares for $52 million to Interscope. This, together with the accumulative amount he had earned from his album projects placed him in the 44th place in the richest musician's list. At the time, the richest person was estimated to have a net worth of $270 million. Later the same year, he was involved in a number of projects that sky-rocketed his wealth to a whopping $110 million.
By 2011, Dr. Dre's wealth had shot to $250 million, with the bulk of it emanating from his active involvement with Beats Electronics. Later the same year, HTC paid the company $300 million dollars for a 51% stake. Dre took with him $85 million, raising his net worth to an estimated $335 million.
He beat Jay Z in 2014 to become the second richest rapper with an estimated net worth of $550 million, holding the second place after Sean Combs who has been holding the number one position for quite some time.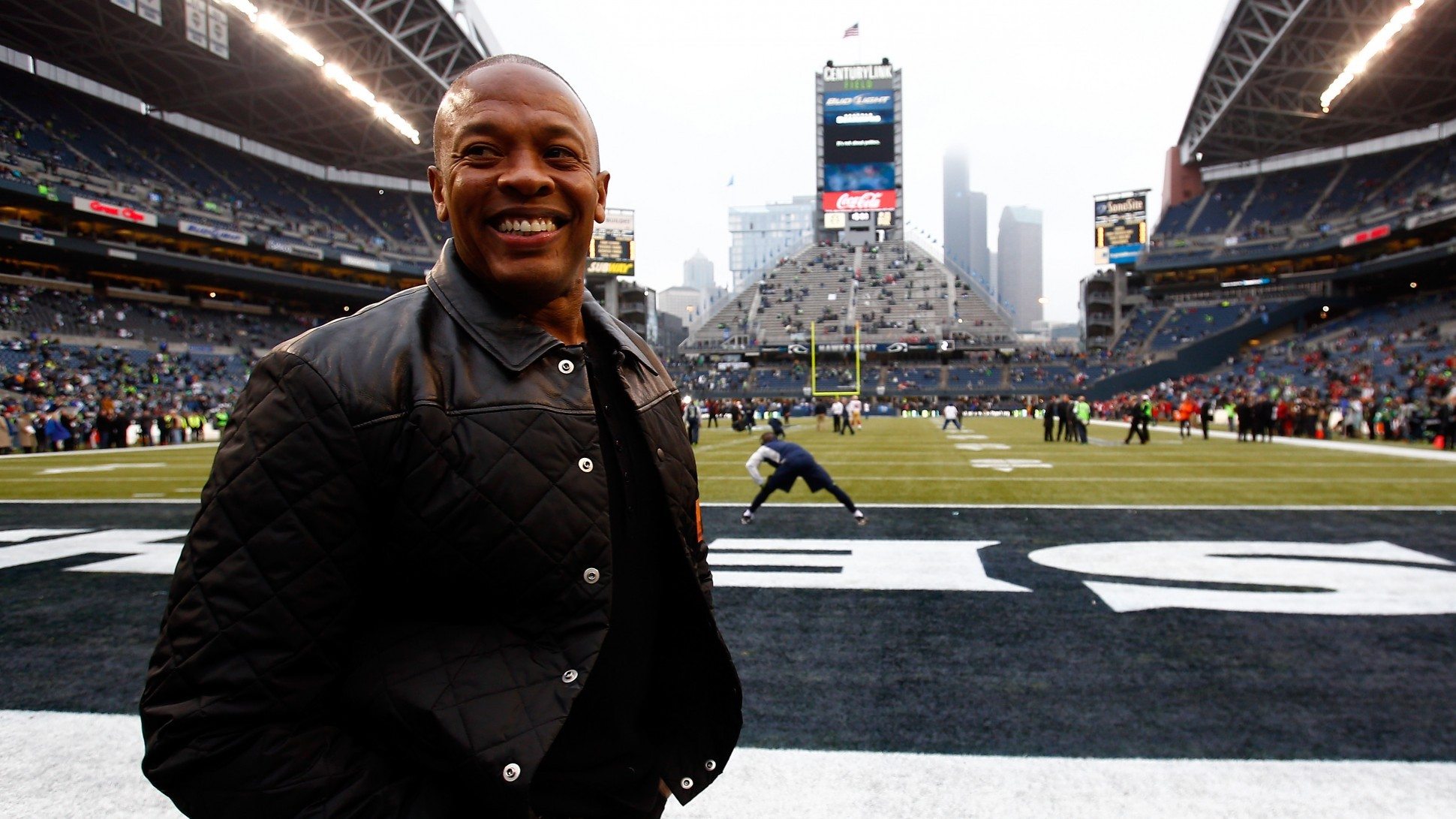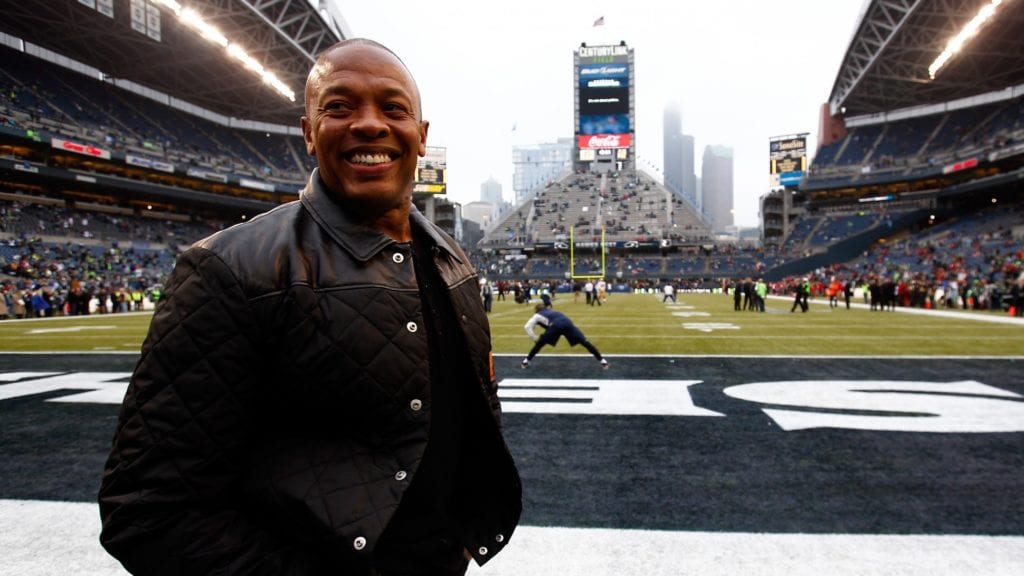 Dre's third studio album, Compton (2015), was certified silver in the UK. The album sold 276,000 copies within its first week of release, remaining in the chart's top ten for a number of weeks. This, altogether with the amount he made from the sale of Beats electronics brought his net worth to an estimated $700 million.
Besides making oodles of money both in and outside music, Dre is known to be an incredibly generous man. In May 2013, he donated $70 million to Academy of Arts, Technology and Innovation Business and to the University of South California.
Dr Dre Career Earnings (2007 till 2018)
2007 – $20 million
2008 – $15 million
2009 – $13 million
2010 – $17 million
2011 – $14 million
2012 – $110 million
2013 – $40 million
2014 – $620 million
2015 – $33 million
2016 – $41 million
2017 – $34.5 million
2018 – $35 million
Total Earnings: $992.5 million
KEY TAKEAWAYS
Dr Dre is currently one of the richest rappers in the world, falling just behind Kanye West, Jay-Z and P Diddy.
The American rapper has sold hundreds of millions of albums as an artist and producer
He suffered a brain aneurysm in early January 2021.
he Launched the careers of Eminem and 50 Cent through Aftermath Entertainment
Dr Dre didn't know Eminem was white when he decided to work with him
He Earned a large bulk of his fortune thanks to headphone company Beats by Dre
In 2011, Dre said he wanted Beats to be "second to Apple." Three years later, Beats was bought by Apple.
Sold Beats by Dre to Apple in 2004 for $3 billion
At the time of the sale Dre and co-founder Jimmy Iovine owned 25% of Beats
Dre and Jimmy earned $750 million pre-tax off the deal
They each received approximately 1 million shares of Apple from the sale
After Apple stock split 4-1 in 2020, it's possible Dre owns 4 million shares today, this would amount to approx $528 million
Dr Dre has made more money making Beats headphones than he ever did making music
Dr Dre sued Death Row Records for a reported $3 million, Dre lost the case due to a lack of proof of contracts
Dr Dre was named the world's highest-paid musician in 2014 by Forbes
He made history by creating the largest gap ever between the first and second top earners.
Dr Dre and Jimmy Lovine donated $70 million to make a new Academy for Arts
The Rapper Owns approximately $80 million worth of real estate in total
Dr Dre has won 6 Grammy awards
Dr. Dre has been married to his now-estranged wife Nicole Young for 24 years,
Nicole filed for divorce in June 2020
The couple reportedly does not have a prenup
In 2014, Dr Dre purchased a new house for $40 million.
Meet Dr Dre's Ex-Wife and Brother
Rapper and record producer, Dr Dre has won millions of fans, thanks to his songs. A lot is known about his professional life, but not much is known about his personal life and family, including his ex- wife! Dr Dre has been married to Nicole Young for a very long time, and the couple have been spotted vacationing with their children over the years. Before she married Dr Dre, she was married to now-retired NBA player, Sedale Threatt. Young was still married to Threatt when she met her ex-husband.
Dr Dre has six children, four sons and two daughters, by five different women
When Dr Dre was just one-year-old Dr Dre's brother Jerome passed away from pneumonia. He also lost half brother Tyree, who he dedicated the last song on 'Chronic 2001' 'The Message' to. Dr Dre and Warren G became steps brothers when Dre's mum and Warren's dad married and brought the families together. It's actually through Warren G that Dre met Snoop and signed him, as Snoop originally worked with Warren G and Nate G.
He purchased a $40 million mega-mansion in Los Angeles back in 2014 from New England Patriots Quarterback Tom Brady and Supermodel Gisele Bundchen. The house originally hit the market for $50 million after taking over 3 years to construct from scratch, it looks magnificent.
Dr Dre's Woes
Dre's life hasn't been all that smooth. In 1990, he was sued by Porter in Orange County Superior Court for Child support, which required him to pay $5000 every month. In February 1992, he faced another trial, filed by Dee Barnes, a Fox TV host. He was sentenced to a 24 hours community service and $2500 fine with 2 years of probation. In 2013, his earnings nose-dived when he only managed to earn $40 million from his music and other ventures.
Profile Summary
First Name:
Andre
Last Name:
Young
Estimated Net Worth:

$820 Million
Salary:
$35 million
Source of Wealth:
Music and Film Production. Acting, His Record Label named Aftermath Entertainment, and Sale of his
Headphone Speaker Company, Beats Electronics
Last Updated:

2021
Also Known As:

Dre, Dr. Dre
Sex/Gender:

Male
Profession:

Rapper, Songwriter, Record Producer, Entrepreneur, Record Executive, Actor, and Audio Engineer
Famous For:
Being Among The Best Hip-Hop Producers and Rappers of All Time, Popularizing the West Coast – G-Funk, and For Taking the Second Spot on Forbes 2014 List of Richest Hip Hop Rappers and Producers.


Colleges/Universities Attended:

Vanguard Junior High School, Roosevelt Junior High School, Fremont High School and Chester Adult School.
Educational Qualifications:

Not Available


Religion:

Evangelical
Birthday & Zodiac

Age/Date of Birth:

58 years old (February 18, 1965)


Zodiac Sign:
Aquarius
Birth Place:

Compton, California
Nationality:
American
Ethnicity/Race:

African American
Country of Residence:

United States America
Physical Attributes

Height:

In Feet, Inches: 6' 1"
In Meters: 1.85
Weight:

In Kilograms: 108 kg
In Pounds: 238 lbs
Eye Colour:

Dark Brown


Hair Color:

Black


Other Body Measurements:

Not Available


Relationships

Marital Status:

Married

Spouse/Partner:

Nicole Threatt (m. 1996)

Family and Relatives

Father:

Theodore Young

Mother:
Verna Young


Children:

Curtis Young (born 1981), La Tanya Danielle Young (born 1983), Andre Young Jr. (1988-2008), Marcel Young (born 1990), Truice Young (born 1997) and Truly Young (born 2001)
Siblings:
Jerome Crayon (Step Brother), Tyree Crayon (Step Brother), Warren G (Step Brother) (Rapper), Shameka Crayon (Step Sister)
Other Relatives:

Warren Griffin (Stepfather), Anthony "Sir Jinx" Wheaton (Cousin)


Your Questions Answered